Every police officer knows he might have to save his partner's life. Few will have to do so in the manner of Nick Belliveau, a 28-year-old cop in the small northern California town of Sebastopol.
Belliveau works with a German shepherd named Frank, an energetic 7-year-old who does what Belliveau calls "find-and-bite kind of work." Nestled in the gentle hills of wine country, Sebastopol is generally a calm place, but it has its cast of small-time crooks. Once, in February 2014, about an hour before midnight, Belliveau encountered one of these when he tried to accost a belligerent drunk in an alley behind a bar. The drunk, swinging a bottle, proved difficult to subdue, so Belliveau pressed a button that released Frank from the squad car. The German shepherd sprinted toward the two men and promptly clamped down on the suspect's hand, breaking it. That quickly ended the struggle.
Though Frank is a weapon, he is also a pet who comes home with Belliveau at the end of each shift. Last winter, Belliveau's wife was running her hands through Frank's thick mane when she noticed a "big old lump under his neck." This could mean many things, none of them auspicious. Belliveau took Frank to a veterinarian, who ran some tests and placed him on antibiotics.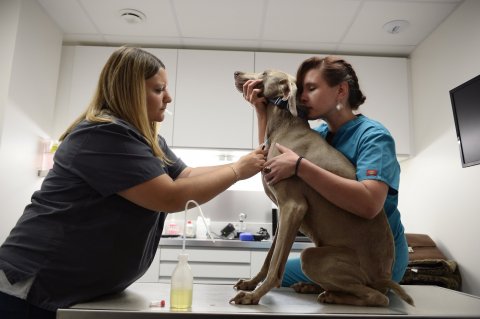 We asked readers to submit via social media their questions about what studying cancer in animals can mean for humans. The two experts in our story weighed in. You can view the reader questions and expert responses here.
The antibiotics did not help. Belliveau was working a graveyard shift several days later when his wife called. Frank was lethargic, eating nothing, cowering in a corner of the garage. This was uncharacteristic behavior for a dog who otherwise brims with energy; when Belliveau makes a traffic stop and leaves Frank back in the car, the barking is incessant. This was not a meek dog. Something was amiss.
Belliveau rushed home and took Frank back to the vet. This time, the German shepherd was diagnosed with lymphoma, a cancer of white blood cells whose telltale sign is enlarged lymph nodes. Belliveau now faced several options, including doing nothing. But if he did nothing, Frank would die, quickly. The most promising course of treatment involved 19 weeks of chemotherapy. This would cost $10,000, more than three times what Frank had cost the Sebastopol Police Department.
Related: The High Cost of Cancer Care: Your Money or Your Life?
"I didn't really think twice about it," Belliveau told me as we rode around in his patrol car through the crisp Northern California night. Frank had once saved him; now it was his turn to save Frank. The Sebastopol Police Department told him it could defray some of the costs, but that departmental funds would probably not be able to cover the full cost of the chemotherapy. So Belliveau turned to the Internet.
When I met him in February, he told me he'd made about $20,000 through the online appeal. This seemed to please and stun him. Many of the donors, Belliveau says, shared a common trait: They too had owned dogs who had suffered from cancer. Dogs are highly susceptible to cancer, with certain varieties of the disorder plaguing certain canine breeds. For example, the shaggy Bernese mountain dog is routinely felled by histiocytic sarcoma, while the puffy chow chow is one of several breeds prone to oral melanoma. Canines' plight highlights the deep genetic roots of cancer: breeding dogs for certain traits, like a golden mane or elongated snout, inadvertently passes other, undesirable, genetic traits from generation to generation, with cancer effectively piggybacking on the good looks we associate with pure breeds. Similar forces work on humans too: For example, women of Ashkenazi background are at increased risk for breast cancer stemming from the BRCA genetic mutation.
But while some dog breeds routinely get cancers, others do not. In their book Zoobiquity: The Astonishing Connection Between Human and Animal Health, the evolutionary biologist and cardiologist Dr. Barbara J. Natterson-Horowitz and science journalist Kathryn Bowers note that beagles and dachshunds are relatively cancer-free. Natterson-Horowitz and Bowers write that "these extra-healthy dog breeds may point to behaviors or physiology that offer cancer protection." What those behaviors or mechanisms may be, we do not know.
Dogs probably also get cancer because they are, more than any other animal, exposed to the cornucopia of toxins that are the products and by-products of modern civilization. "They breathe the same air [we do]; they drink the same water," explains Matthew Breen, who heads a canine cancer research lab at the North Carolina State University. Formaldehyde in furniture, bisphenol-A in plastic dishware, polyaromatic hydrocarbons in burned meat: Your poodle is about as exposed to these likely carcinogens as you are.
Lately, Breen has been trying to map canine cancer clusters across the United States. He explains that if an environmental pollutant—a toxin in the groundwater, say, or particulate matter in the air from a nearby factory—is present in a community, any resulting cancer would show up in dogs before showing up in humans. And since nearly half of American households have dogs, 80 million of them, Breen calls these beloved pets "the ultimate canary in the mine."
Related: That Bird Just Saved My Life: What Animals Can Teach Doctors
Breen is one of an increasing number of researchers looking to animals for answers about cancer. "The failure to pursue this path is scientifically irresponsible," says Natterson-Horowitz, the Zoobiquity co-author. "Every single minute of every single day, bird, fish, terrestrial mammals develop disease, and many of those diseases overlap with the diseases we have." Doctor Dolittle, in other words, may have plenty to teach us about human illness.
And then there are the mammals who do not get cancer at all, the anti-Franks, those super-dachshunds. The ones Dr. Harold E. Varmus, the former head of the National Cancer Institute, told The New York Times last spring he wants to know more about. The ones who have an innate armor against the disease that afflicts some 1.7 million Americans each year.
Those are the ones that fascinate Dr. Joshua D. Schiffman.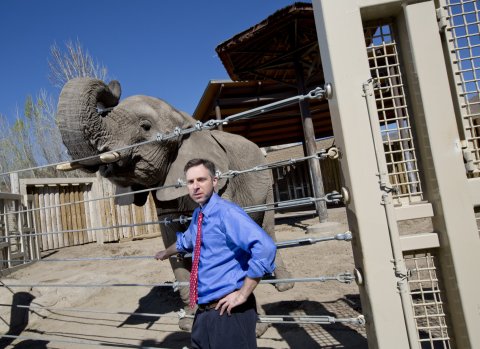 Schiffman knows all about cancer, of both the human and animal variety. He grew up in Providence, Rhode Island, the son of an oncologist who worked at the National Institutes of Health and at Yale before taking a position at Brown that he holds to this day. His father was a clinician, not a researcher. On the map of the human body, he knew exactly what cancer would look like, where it sprouted, where it went. His job was not to find out where the cancer came from, or why it came, but to simply make it go away so that his patients could live another day, and then another day after that.
Schiffman told me about one day in the early summer of 1989, when he was 15 years old. He came down from his room for dinner, and his father wrapped his hands tightly around Schiffman's neck. Schiffman thought he was being strangled by a parent not otherwise prone to violence, in which case he must have done something truly terrible. He hadn't: The older Schiffman was feeling the lymph nodes in his son's neck. Their enlargement, he well knew, was often a first sign of cancer. His fingers confirmed the first suspicion of his eyes. He did subsequent tests, which confirmed that Josh had Hodgkin lymphoma, a blood cancer that afflicts teenagers, a cancer similar to the one that paid a recent visit to Frank, the German shepherd.
What followed, Schiffman calls "a summer of R and R: rest and radiation." He was treated at a hospital in Boston. He and his father would drive there each day for the radiation therapy, then drive back to Providence. Schiffman says he would spend his evenings vomiting from the radiation, which touched on the area postrema of his brain, where the nausea response is triggered. Then, the next morning, they would do it all over again. It was a summer of curative brutality. Yet the cancer went away, and it has never come back.
Related: Programming Bacteria to Kill Cancer Cells
Today, Schiffman is 41 years old. He lives in Salt Lake City with his wife, Maureen, and their three children. After his bout with lymphoma, Schiffman wanted nothing more to do with medicine, especially the sort his father practiced. He was done with doctors, and he was certainly done with cancer.
Except it hasn't worked out that way: Schiffman is the director of the pediatric cancer genetics clinic at Intermountain Primary Children's Medical Center and the Huntsman Cancer Institute at the University of Utah. He treats children who are sick in much the same way he was 26 years ago, frightened kids facing death. A lot of his time, though, is spent trying to unravel the genetic and hereditary workings of cancer, figuring out how we inherit cancer risk, much like the chow chows marked for melanoma from birth. His only complaint about Salt Lake City is that the bagels are inedible. One can't be much surprised about that.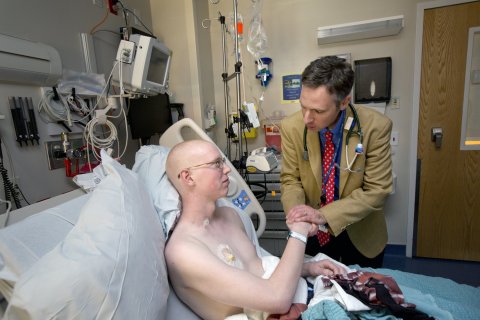 As his teenage experience with cancer receded, Schiffman's aversion to medicine eased. For college, he decided to attend the Program in Liberal Medical Education at Brown University, an eight-year course of study that emphasizes a humanistic approach to medicine, with classes taught by poets and playwrights. In a decision that was either improbable or inevitable, Schiffman became interested in pediatric cancer.
While at Brown, he started volunteering at a local hospital, where he met a patient named Derek Cute who had just turned 7. He had leukemia, and he was going to die from it soon. This was obvious to those who were treating him. Other volunteers warned Schiffman against becoming attached to Derek, but he didn't listen, perhaps recognizing something of himself in the ailing boy. He became increasingly close to Derek. Once, when Schiffman was visiting him at home, Derek said, "You know, Josh, you're my only friend." Derek died shortly thereafter; Schiffman was shattered.
Derek's death led Schiffman to a simple conclusion that continues to guide his work today: "Cancer sucks. And we have to do something about it." After graduating with a medical degree from Brown, Schiffman went on to Stanford University, where he became interested in pediatric palliative care, helping kids die if he could no longer heal them. In 2003, he and Maureen bought a house in Menlo Park, California, near the Stanford campus. Now that they had a house, they could also have a dog. They got a Bernese, Rhody, so named for the Schiffmans' home state of Rhode Island. Someone alerted Schiffman to the breed's susceptibility to histiocytic sarcoma, but he brushed the warning aside, thinking, What are the chances of an oncologist having a dog with cancer?
In 2008, Schiffman took a job with the University of Utah, where he could conduct genetic research while continuing his work in pediatric oncology. He was becoming increasingly interested in the fact that some children seem to be born with a predisposition to cancer, meaning that one or both parents had passed on some unlucky gene. Utah was the perfect place to conduct a study of cancer's path through families: Mormon families tend to be very large, and "genealogy is a big part of the culture," as Schiffman would soon discover. He was also entranced by the landscape, the Wasatch Range rising like a brown crest above the city, the clarity of alpine sunlight. "There's these big mountains, big spaces and openness to ideas," he told me. "It kind of all goes together."
The Schiffmans were settling into Salt Lake life when, in 2010, Rhody developed a limp. Schiffman remembered the warning about Bernese mountain dogs and sarcoma, how easily he had ignored what turned out to be a statement of deep-seated genetic risk. The warning had not been prescient but merely factual. Unlike Frank, the Sebastopol police dog, Rhody had little hope for treatment. "He was dead within a couple of months," Schiffman says.