The East Las Vegas neighborhood of Southridge is less than a 10-minute drive from the Strip but has none of its glitz. Blocks of modest ranch-style homes are fronted with scruffy patches of shrubbery and the white pebble lawns that are a stand-in for grass all across the arid Southwest. Caucasians are a plurality, but not a majority, in this Latino-heavy working-class neighborhood. This is not the Vegas that draws 40 million tourists a year. But for Hillary Clinton, Southridge and similar Vegas neighborhoods are central to her 2016 presidential ambitions.
Despite her good performance in the first Democratic debate, the latest polling shows Bernie Sanders, Vermont's liberal curmudgeon, closing in on Clinton in Iowa's first-in-the-nation caucuses and surpassing her in New Hampshire, which holds the first primary. That's heightened the focus on the next state on the 2016 primary calendar, which becomes a must-win firewall if Clinton stumbles in one or both of those places. Thanks to the dogged advocacy of longtime Democratic Senate leader (and native Nevadan), Harry Reid, that state is Nevada. How she does here could not only determine the nomination but also offer some sense of how she might do in a general election. This is a state that went for Bill Clinton twice, George W. Bush twice and Barack Obama twice—always by thin margins. Nevada isn't the nation's only swing state, but it's an important one.
Hillary's Nevada assault has already begun, based out of places like the single-level flophouse on Bonita Street in East Las Vegas used by Clinton staffers. It looks like any other home in Southridge, aside from the bright blue signs plastered along the exterior with the familiar "H" logo. On the Sunday before the Democratic candidates' first debate, Clinton's legion of volunteers gathered here to go canvass the neighborhood.
The candidate herself wasn't flying in until the next day, but a capable surrogate was there to rev up the mostly young, mostly Latino volunteers. "This is where you hear the real stories of America," Joaquin Castro, an up-and-coming congressman from Texas, told the group. (His twin brother, Julian, Barack Obama's secretary of housing and urban development, has been buzzed about as a potential Clinton vice presidential pick; he formally endorsed Clinton on October 15.) "And this is where you're going to make a difference today." Standard political pep rally stuff. But in this case, it also happened to be true.
Related: Hillary Clinton's 'Smart Girl' Triumph
Nevada has one of the highest proportions of Latino residents in the United States, 27 percent. And that's just one of the significant minority populations there—large numbers of blacks and Asian-Americans also call it home. Compared with snowy-white Iowa and New Hampshire, Nevada's ethnic potpourri is striking. And that's good news for Clinton, who has long-standing ties to the Latino and black communities, while Sanders has spent the last half-century in Vermont, where Latinos make up just 1 percent of population, tied for last in the nation.
Clinton's Nevada team knows those minorities are essential to their goal. State director Emmy Ruiz and organizing director Jorge Neri, both Latino, held the same positions for Obama in 2012. They are at the top of an operation of 22 paid staffers and have been on the ground since May. Sanders, by contrast, just hired his first paid staffer in Nevada in early October. "It puts him at a huge disadvantage," says Las Vegas-based Democratic political consultant Andres Ramirez.
Of the four states voting next February, Nevada is inarguably the toughest to campaign in, and not just because of the heat and the scorpions. It holds caucuses, not regular primary elections, which require a great deal more time and motivation on voters' part. And many of the voters Democrats rely on—shift workers, minorities, single women—are low-turnout voters. Getting them to show up requires a huge effort.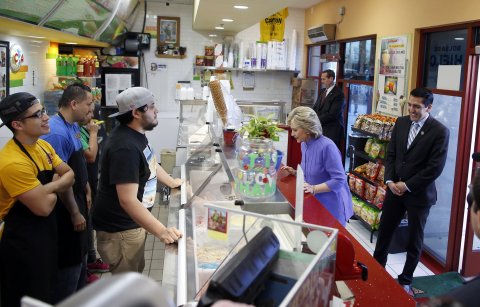 Then there's the fact that Nevada has no tradition of caucusing. The first time the Silver State held a politically relevant caucus was in 2008, and the process wasn't smooth. Squabbles broke out over holding caucuses amidst the slot machines and 24-hour buffets of Las Vegas casinos. Vote counting was slow and delegate allocation contested. It may not be easier in 2014, given how "Nevada is such a transient population," says David Damore, a political scientist at the University of Nevada, Las Vegas. "You're always having to relearn [the caucus process]. You're always having to teach."
Related: Poll: Hillary Clinton Won the First Democratic Presidential Candidate Debate
Clinton is building the organization to overcome those challenges. Not only are staffers and volunteers already conducting outreach in Clark County, which encompasses Las Vegas and is home to nearly three-quarters of the state's population, but they're also present in the state's more far-flung corners. That's a lesson the Clinton campaign learned in 2008, when Robby Mook, now the secretary's campaign manager, was her Nevada state director. Clinton won the popular vote among Nevada Democrats that year, but the Obama campaign proved savvier at playing the caucus game, turning out supporters in the less-populated precincts of north and central Nevada and, under allocation rules, earning more delegates. The same problem dogged her in several states that followed, and Clinton's lack of preparation for a delegate fight ultimately doomed her campaign.
This time around, the Clinton campaign is focused on winning over the entire state, not just the population centers in the south. In July, for example, senior staffers drove to Schurz, Nevada, a tiny desert town of less than a thousand on the edge of the Walker River Reservation, to woo Native American leaders. "I can guarantee you that we have been there more in the last three months than any campaign, Democrat or Republican, has been there in the last five years," one Clinton aide boasts.
Organized labor is a more powerful force here than in many Western states. Nevada unions, however, are a different animal than most. With the state's large number of Hispanic workers, immigration reform is more important to Nevada labor than free-trade agreements like the Trans-Pacific Partnership. That's a blow to Sanders, who has tended to do well with old guard labor.
Labor's heaviest hitter is Las Vegas's Culinary Workers Union Local 226, which has more than 55,000 members—mostly in casinos, more than half Latino. Clinton failed to get their endorsement in 2008, which led to fierce infighting. Teacher unions allied with Clinton sued over holding caucuses in casinos, which they argued unfairly advantaged workers who were backing Obama. Unite Here, the union umbrella group that includes the culinary union, responded with a Spanish-language radio ad , claiming, in part, that "Hillary Clinton does not respect our people."
Clinton stands a better chance of getting the culinary union's blessing this time. It doesn't hurt that she recently came out in support of the union's top issue: repealing the so-called "Cadillac Tax" on high-spending health insurance plans, a cost-containing measure included in the Affordable Care Act that will hit many union health benefits.
However, Annette Wright-DeCampos, a culinary union shop steward who works at Harrah's, said at a recent Las Vegas roundtable that she hears lingering concern from fellow members about Clinton's emails and Benghazi. And with his focus on inequality and taking on billionaires, Sanders may get some traction in a state where the contrast between glittering casinos and nearby poverty is stark.
University of Nevada Reno Professor Eric Herzik suggests that because it puts a premium on enthusiasm, the caucus system "actually makes up for some of the organization gaps [Sanders] might have." Sanders drew thousands to a rally in Reno in August, much as he's filled arenas elsewhere. Those who back him are intense about it, and "that's the type of person who shows up in a caucus," Herzik points out.
Still, Sanders will have to invest a lot more time and money in the state to be competitive, and it's not clear he's making that a priority. It's telling that the Vermont senator didn't hold any public events while he was in Las Vegas for the first debate—he met privately with postal union members—then jetted off to Los Angeles for fundraising the next day. Clinton, by contrast, made a shrewd appearance the day before the debate at the culinary union's protest in front of Donald Trump's Las Vegas hotel (allowing her to side with labor and chide the mogul). She closed the trip with an evening rally at a nature preserve in West Las Vegas.
With the setting sun painting the Spring Mountains pink behind her, Clinton bounded onstage at the outdoor amphitheater to appeal to the blend of Asian, Latino, white, young and old people in the crowd to support her in February. Nevada, she emphasized, was critical to Democrats' hopes of keeping the White House. Earlier in the day, she accepted the endorsement of the local International Union of Painters and Allied Trades. With union members lined up behind her waving black and yellow "IUPAT for Hillary" shirts, Clinton seemed in her element, her confidence returning after an underwhelming summer. " I'm feeling really lucky in Las Vegas," she said, beaming.