Kyaw Wanna Soe, a 40-something newspaper distributor in downtown Yangon, Myanmar, was twitching anxiously. While speaking, he wiped his brow and shifted in his chair. It was summer in Yangon, and that unholy union of heat and moisture was reaching a suffocating climax.
It was unclear whether his obvious discomfort was a result of the soaring temperatures or provoked by contemplation of his country's immediate future. Asked what ambitions he harbored for Myanmar's upcoming general elections, he meekly responded, "I just hope they happen without any problems.
"There are a lot of tensions right now," he continued, pointing to front-page images of protesting students. "So if something goes wrong…" His voice trailed off while he surveyed the maze of newspapers littering his shop floor. "I'm worried for my business."
While many are optimistic about the November 8 election, others are skeptical, worrying that if there are problems with the election, it could undermine the progress made by Myanmar thus far. Such skepticism was fueled by contradictory reports this month from the Union Election Commission—first that the vote would be postponed, then, 12 hours later, that it would go ahead.
Related: Who Are the Rohingya and Why Are They Fleeing Myanmar?
For people like Kyaw Wanna Soe, incidents like these are reminiscent of the ruling elite's capricious past, particularly the 1990 general election. It was considered the country's last relatively free and fair one, when the newly formed National League for Democracy (NLD) party, led by Aung San Suu Kyi, won 80 percent of the seats in the parliament. In response, the ruling military regime annulled the results, and many of the opposition candidates went into hiding. Suu Kyi was placed under house arrest, and the military retained its grip on society for many more years.
For half a century after the military coup in 1962, Myanmar, formerly known as Burma, stagnated under a dictatorial and antagonistic policy called "the Burmese Way to Socialism." It has been only five years since the country began making serious changes, easing up on the hermetic seal that kept it isolated and embracing both regional neighbors and the international community.
President Barack Obama hailed the gradual opening as a diplomatic coup, the result of a "carrot and stick" U.S. policy of dropping or imposing sanctions as Myanmar's internal situation evolved. In November 2012, Obama became the first U.S. president to visit the country, applauding the start of its "dramatic transition."
Now Myanmar has reached another milestone, in the form of what the government promises will be a free and fair general election. In reality, this will be a test of whether the country moves closer to democracy or remains a military kleptocracy characterized by cronyism.
This time, there are several parties running for the parliament's upper and lower houses, but most of the attention is focused on the two major ones: the NLD, headed by Nobel laureate Suu Kyi, and the incumbent Union Solidarity and Development Party (USDP), led by President Thein Sein.
Related: No Rest for the Rohingya of Myanmar
"It's certainly important, and it's shaping up to be the fairest and most inclusive [general election] since 1990," says David Mathieson, the senior researcher with Human Rights Watch in Yangon. "But," he adds, "there are still major caveats that need to be factored in."
For Mathieson, the lack of reform of the heavily criticized constitution of 2008 is one such failure. It was drafted by the old military junta and passed in the immediate aftermath of the deadly Cyclone Nargis. One of the most contentious points lies in Article 436, which requires a supermajority of more than 75 percent of parliamentary votes to amend the constitution. This point, combined with the fact that a quarter of the total seats are guaranteed to the military, means that the generals enjoy a de facto veto over any constitutional changes.
"I would call this is a 75 percent election, because 25 percent of the seats are guaranteed to the military," Mathieson says. "They have stated they are the guardian of the constitution.... They have made it very clear they won't countenance any changes."
One of the more dramatic signs of that came in August when the USDP ousted party chairman and presidential hopeful Shwe Mann in a surprise overnight move. He had disagreed with other party members over a number of issues, including his willingness for constitutional change.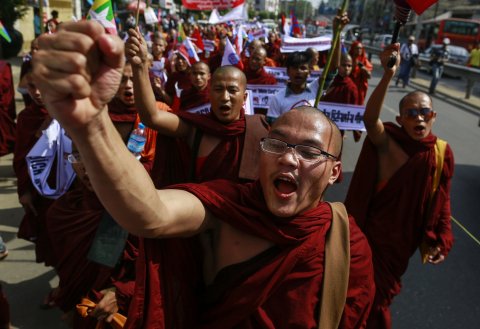 Another controversial article of the constitution bars anyone with a foreign spouse or child from holding the highest office. Suu Kyi's late husband was a British citizen, as are her children, and critics interpreted that article as tailored to exclude her.
In spite of the constitutional barrier, Suu Kyi sounds confident. At a campaign rally just north of Yangon, she told the crowd, "Make no mistake: Whoever the president is, I will be the leader of the NLD government."
There is another big factor weighing against a free and fair election: the many citizens who cannot vote.
There are bureaucratic problems, and the Union Election Commission—which oversees registration, campaigning and polling—is badly stretched, says Myat Thu, director of the Yangon School of Political Science. "I've been told by people that names are being repeated [on voting rosters], while others are missing. Sometimes a single name appears five times," he says.
Meanwhile, several pockets along Myanmar's border regions are still subject to violence that is part of a conflict between the military and a plethora of ethnic armed groups, now in its 67th year. The result has been the displacement of tens, if not hundreds, of thousands of the country's citizenry, either into camps or as refugees. Some estimate at least 110,000 refugees have fled the country in the past 20 years.
A much-touted two-year-long attempt to reach a nationwide cease-fire has just ended in disappointment, with only eight of the 15 invited groups willing to sign with the government. The various conflicts mean that nearly 600 village districts nationwide will have their voting canceled. "There are far more active conflict areas and displaced people now than in 2010. That should be a sobering assessment," Mathieson says.
Meanwhile, in western Myanmar, the ongoing persecution of the Rohingya, a Muslim minority group, has raised doubts over the sincerity of the government's transition. Myanmar does not consider the Rohingya citizens, referring to them as Bangladeshis and revoking many of their rights. This has left some 140,000 people displaced and wholly disenfranchised. Earlier this year, there was a surge in the numbers of Rohingya fleeing to neighboring countries, many of them risking their lives on rickety boats run by smugglers. Obama, while praising the country's "courageous process" of political reform, warned that "Myanmar won't succeed if the Muslim population is oppressed."
Myanmar's political elites, including Suu Kyi, were noticeably silent about the crisis, a sign that sympathy with the Rohingya is not politically expedient in Myanmar. Now the Rohingya face more discrimination than ever, partly as a reflexive response to condemnation from abroad, and partly thanks to the rise of Buddhist nationalist groups like the Association for Protection of Race and Religion, known locally by the Burmese acronym Ma Ba Tha.
The Ma Ba Tha, led by hard-line monks, has stoked sectarian tensions, particularly toward the Muslim minorities in this overwhelmingly Buddhist country. Last year, it proposed four so-called "protection of race and religion laws" condemning Muslims that were swiftly pushed through the parliament. They garnered huge support across the electorate.
"My view is that [the government has] simply just stood back, allowed [the Ma Ba Tha's rise] to happen and are now utilizing that sentiment for themselves," says Mathieson.
In recent months, state media have carried numerous reports of senior government officials making offerings to senior monks. Ma Ba Tha figures have praised government officials for the speedy enactment of the new race and religion laws, while explicitly calling on the movement's supporters not to vote for the NLD.
Suu Kyi, who spent 15 years under house arrest, has rejected such rhetoric mixing religion and politics as unconstitutional. She told supporters she was focused on reconciliation and building a bright future based on democracy. "The past should be something from which to take lessons," she said, "not something that ties us to anger and grudges."