On the morning of February 27, a 28-year-old Spaniard named Sergio Becerra Vasquez was just starting to get dressed when he heard a loud banging on the front door of his house in the Vallecas neighborhood of Madrid. Almost in the same moment, he heard male voices on the street: "Police! Open up! Open up!" Vasquez was terrified and did nothing, but the men would not go away. He put the safety chain on his door, opened it slightly and peered through. Seven men in civilian clothes stood outside. One asked if they could enter. "I want to see some ID," Vasquez said. The men obliged. The badges showed them to be Spanish counterterrorism police. Vasquez unhooked the chain.
The officers came in and told Vasquez he was under arrest. He was charged, they said, with possessing arms and explosives, complicity in murders and assassinations, and influencing the neutrality of Spain. The police led away Vasquez in handcuffs and drove him to the General Information Office, a unit of the National Police that deals with counterterrorism. There, he was placed in a row of chairs next to two friends of his. "Don't speak to each other. Don't even look at each other," an officer told them. They sat in silence until an officer took Vasquez into a separate room, where he was interrogated for over three hours. "Where are the arms?" his inquisitor demanded. "How many people have you killed?" A lawyer arrived to witness his deposition, and then the lawyer and four police officers took Vasquez back to his home to search the premises.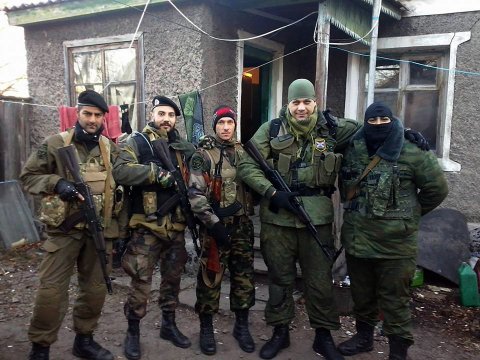 When they arrived, a crowd of journalists were waiting in the street outside; they had heard that the police had arrested eight men for participating in a foreign conflict. But Vasquez and the seven other suspects were not the sort of foreign fighters Europeans have become accustomed to seeing counterterrorism police lead away in handcuffs. The men had not returned from Syria or Iraq but from a war within Europe—in Ukraine. They had traveled to join the separatist rebels on the battlefields of the Donetsk and Luhansk regions in eastern Ukraine in what they considered selfless acts of conscience. Vasquez believed himself to be fulfilling the same obligation as the foreigners who decades earlier made the journey to Spain to fight against the fascist forces in the Spanish Civil War. Now his government was accusing him of serious crimes. Vasquez believes he was caught after pro-Kremlin Russian media, which support the rebels, featured him and others to show that despite the European Union opposing the separatists, EU citizens were fighting for them. Not that the press are solely to blame: During their time in Ukraine, Vasquez and his comrades posted a number of photos on social media, which Spain's interior ministry later used as evidence.
The police didn't find anything of note in Vasquez's house, but they bagged up his phone, some of his military uniforms and other souvenirs from the war. Unable to secure a warrant to detain him further, the officers drove him back to their headquarters and officially released him. Soon after, Vasquez received a letter summoning him to Spain's National Court, where a judge questioned him. Seven months later, Vasquez hasn't heard any more from the police. He doesn't know where his case stands, but he suspects the investigation is ongoing.
If Vasquez is confused about how his government sees him, that's largely because Europe's judicial and political bodies seem largely at a loss for what to do about the estimated 600 foreigners, excluding Russians, who have fought on both sides of the war in Ukraine. Most European governments have spent considerable time and resources on addressing citizens who have come back from fighting with jihadi groups in Syria and Iraq—policies vary from assertive prosecution to more liberal rehabilitation programs — but few, if any, countries appear to have clear policies on how to deal with the Ukrainian war's foreign fighters. To date, Spain is the only Western European country to have arrested people for fighting in the Ukrainian conflict. Across Europe, these men, who may have killed and seen terrible violence, generally just buy a seat on a flight home, pass through immigration without questioning and slot back into their communities.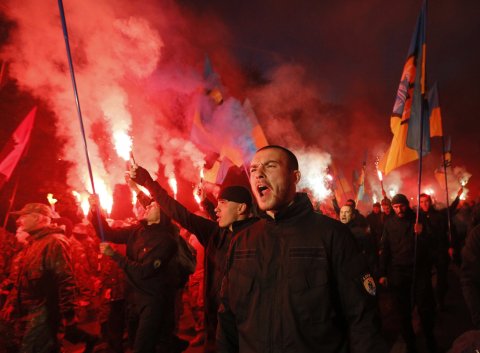 Foreigner Fight Club
Experts and historians agree that ignoring these foreign combatants and hoping they'll quietly reintegrate is a high-risk approach. While these men generally lack the animus toward their own governments that some returnees from conflicts in Syria and Iraq may hold, their exposure to violence, trauma and the murderous lawlessness of a brutal civil war is contributing to the fracturing of families and social bonds and untreated mental health problems. "To the extent that foreign fighters are isolated from society, they become more dangerous," says Jeremy Shapiro, fellow in the Project on International Order and Strategy and the Center on the United States and Europe at the Brookings Institution, a public policy organization in Washington, D.C.
The varied backgrounds, motivations and experiences of these men—the foreign fighters in Ukraine are overwhelmingly male—pose a challenge to governments trying to formulate a centralized approach. Those in Ukraine are neither terrorists nor mercenaries nor humanitarian volunteers. They also have no clear, shared ideology. They come from a range of countries, backgrounds and professions, and they are helping both sides in the conflict. Their political views range from the far left to the extreme right. In eastern Ukraine, some foreign communists —like Vasquez—are fighting on the side of the pro-Russian rebels. In direct contrast to the prevailing view in Europe and beyond, they see Ukraine, not Russia, as a fascist aggressor. Meanwhile, some neo-Nazis from EU countries have joined the Ukrainian army, which the EU and the United States support. And some foreign volunteers don't have any interest in politics at all; they just want to fight in a war.
But the war may have run its course. Since September 1, Ukrainian government forces and pro-Russian rebels have largely been observing a cease-fire, prompting some to down their weapons and declare the conflict over. As the Ukrainian fighters return to their towns and families, so too are many of Europe's foreign combatants heading back to theirs. For Vasquez and others, that homecoming has been hard.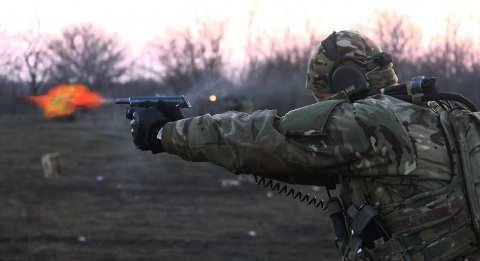 'Swastikas on the Walls'
Chris Garrett, a 31-year-old British tree surgeon, knows what it's like to shoot a man dead. He also knows what it's like to then sail through immigration without question. And he knows how much damage the choice to fight in someone else's war can do to one's mental health and the relationships one cherishes the most.
Garrett fought alongside the Ukrainian army from October 2014 to April 2015. Unlike Vasquez, Garrett didn't participate in the conflict because of his political ideals. His dream since the age of 12, when he first joined the Army Cadet Force—a voluntary youth organization set up by the British army and Ministry of Defense—was to be a soldier. At 16, he left school and enrolled in Britain's Army Foundation College, which trains 16- and 17-year-olds to become future soldiers. While at the college, he suffered a serious physical attack, details of which Garrett prefers not to discuss. The assault prompted him to cut short his service and return home. He never achieved his goal of becoming a soldier. On December 29, 2003, Garrett attempted to rob a gas station and was subsequently convicted and imprisoned for 19 months. His criminal record ruined his chances of joining the British army or from getting private security work. An injury that shattered his left heel ruled out the French Foreign Legion—the French army's legendary force made up of foreign nationals.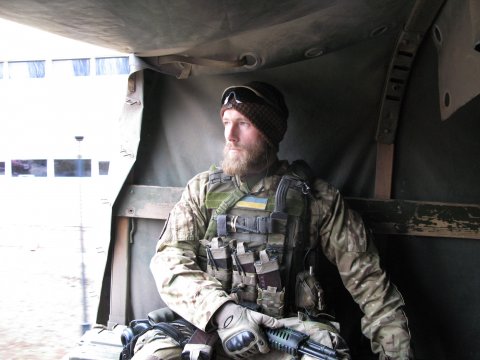 In 2008, he made his way to the border of Thailand and Myanmar to join the Karen National Liberation Army (KNLA), a rebel group whose goal is to establish an autonomous state in Myanmar for the ethnic Karen people. Garrett bounced between his home on Britain's Isle of Man and Myanmar. He assisted with training, rebuilding projects and land mine clearance, but fighting wasn't an option. Then, in August 2014, a friend in Ukraine, whom he had met online, suggested that he join the battalions there. "When I realized everything in Ukraine had kicked off," Garrett says, "I thought, I'm in the right mindset; I might as well go." He didn't expect to be involved in fighting, but Garrett did think he could help with removing munitions.
His Ukrainian friend was doing paperwork for the Azov Battalion, a volunteer group fighting alongside the Ukrainian army. Some of the battalion's members have far-right or neo-Nazi connections; its logo bears a striking resemblance to the Wolfsangel, a heraldic symbol often used by the Nazis. Garrett had known of the group's reputation but thought he should find out for himself if it was deserved. "When I got into Azov's place in Kiev, it was kind of like walking into a rundown boarding school," he recalls. "There were swastikas on the walls, and you could stereotype the people as right-wing nationalists." Garrett says he is not right-wing or a Nazi sympathizer. Politically, he says, he doesn't really know where he stands.
His duties in the battalion changed constantly. After a week and a half in Kiev, he moved to a training base near the eastern port city of Mariupol. There, along with a fluctuating group of foreigners, he trained in basic military maneuvers for four weeks. Once that was over, Garrett participated in reconnaissance missions and largely served as a marksman and bomb disposal technician for the team of foreigners.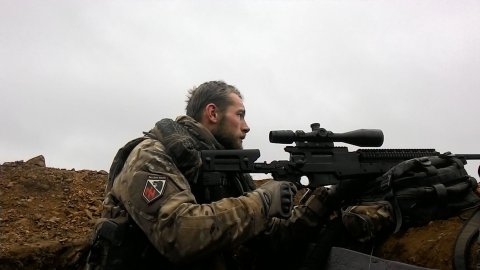 Garrett finally experienced the full brutality of war on February 13. The events of that day and the fighting that followed traumatized him and convinced him that it was time to leave eastern Ukraine. At dawn, almost the entire Azov Battalion, around 250 to 300 people, moved into the village of Shyrokyne in a bid to clear it of separatists. The militia members' instructions, Garrett says, "were to hold Shyrokyne to the last man." Ordered to provide sniper support, Garrett waited in a house facing enemy lines. At 5:30 a.m., he heard an enemy tank nearby. Then the shelling began. For 30 minutes, tank shells and rockets battered the front two rows of houses of the part of the city the battalion was holding. Some of the shells hit the house where Garrett was stationed. He ran down to the basement to take cover, but the attack continued, so he ran outside.
The Ukrainian forces decided to pull back and create a new defensive line. With eight other men, Garrett hid behind the back of another house. All of a sudden, an enemy tank rumbled around the corner, coming within 50 feet of the men. "I just froze," Garrett says. In the pandemonium that ensued, his fellow soldiers abandoned him, scrambling to get away from the advancing rebels. Desperately needing shelter, Garrett ran for a nearby house, but as he turned the corner he ran into a separatist. Garrett didn't hesitate; raising his rifle, he shot the man at point-blank range. Otherwise, he says, "he was going to shoot me." It was the first and only time Garrett is sure that he killed someone. But given his involvement in other firefights, he expects his total death toll is higher. Garrett, along with another Ukrainian soldier, eventually made it back to safety, reaching the Ukrainian forces in the early hours of February 15.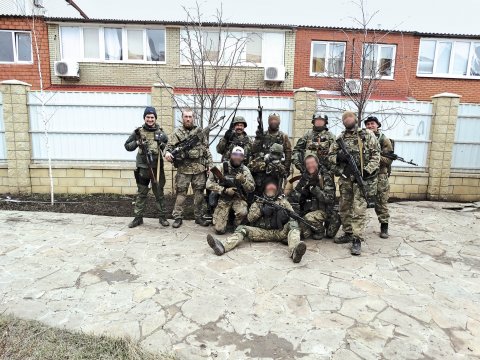 The Cost of Killing
In mid-April, exhausted, Garrett left Ukraine. "I needed a break," he says. "And I felt if I didn't come home, my relationship [with my girlfriend] would be destroyed." Unlike Vasquez, there was no dramatic arrest awaiting Garrett. Before he returned, he says, he tried to contact Britain's Home Office and the country's two main intelligence agencies—MI5 and MI6—wanting to know where he stood. But, he says, they didn't reply, and he has heard nothing from them since his return. Citing security reasons, the U.K. Home Office, which also represents MI5, and the U.K. Foreign Office, which represents MI6, declined to comment as to whether Garrett's claims that he reached out to them are true. A Home Office official tells Newsweek only that foreign fighters returning from Ukraine are assessed individually, depending on what they did there.
A different situation awaits those returning from Syria—governments closely monitor these individuals. "If we're only looking at the Islamist radicals and not those coming back from Ukraine, we might be missing something," says Kacper Rekawek, an analyst at the Polish Institute of International Affairs. The wars in the former Yugoslavia offer numerous examples of how disruptive foreign fighters can be when they come home. One returnee, a Swedish-Liberian man named Jackie Arklöv, went on to be convicted for the killing of two policemen in a bank robbery. Bolivian police shot a second, Hungarian-Bolivian Eduardo Rózsa-Flores, whom they suspected of being part of a terrorist group plotting to assassinate President Evo Morales.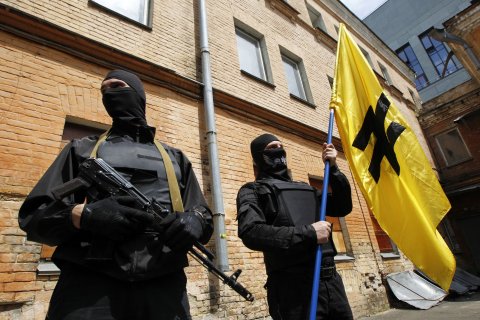 Garrett hasn't had any run-ins with the law since his return. But, he says, "Ukraine has definitely left a mark on me." When he returned to the U.K., a doctor diagnosed him with post-traumatic stress disorder (PTSD), and he says he feels isolated. "There is no one to talk to about it. No one can relate," he says. While he has support from friends who are ex-military, his other friends don't agree with his decision to fight in a foreign war.
Garrett's girlfriend, who asked that her name not be published, struggled with her partner's return. It was early in their relationship that Garrett announced he was going to Ukraine. She opposed the idea, even more so when she found out which group he had joined. "I personally don't understand why you would choose to affiliate yourself with a battalion like Azov," she says. While Garrett was away, she retreated into herself; family and friends condemned her new boyfriend's actions and said they had lost respect for her. "I find it hard to justify why I stayed with him," she says. "Like it or not, I do love him, and I do see the good in him, even if I think he has been more than a little misguided in this instance."
When Garrett first returned, she wasn't able to discuss what he had done. He was struggling with PTSD and was withdrawn and difficult, she says. "I tried to be there emotionally," she says, "but it is draining." The couple is now preparing to set up a small organic farm, and she is studying for a degree in international development. Though things are better, she says her relationship with family and friends has been damaged; her mother still won't speak to Garrett, so vehemently does she disagree with his going to Ukraine.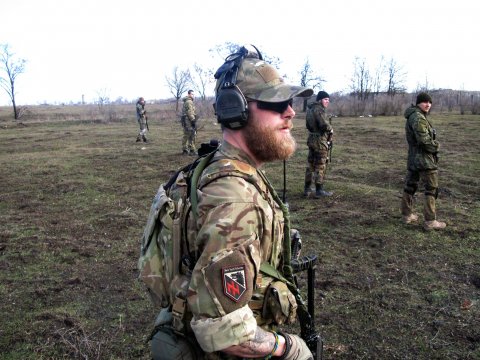 As for Vasquez, when he returned to Spain the day before Christmas Eve, he found that adjusting to normal life, away from the frenzy of war, wasn't easy. He moved back into his grandmother's former home, a sparsely furnished three-bedroom apartment. Fireworks that marked Madrid's Christmas celebrations made him think he was back in eastern Ukraine. When he walked the streets of the city, he still feared an enemy soldier might shoot him. "I didn't have anything when I came back. I didn't have a job. I couldn't get unemployment benefit. I had to live with my siblings." Suffering with feelings of isolation, Vasquez says he felt "angry with everything and nothing." The counterterrorism police arrested Vasquez two months after his return. Following their visit, unable to find work and facing mounting financial problems, he uploaded his résumé to a couple of EU-wide job sites. In August, he received a call offering him a job painting cars in Belgium, which is why he now lives alone in an apartment in Ghent.
Neither Vasquez nor Garrett intend to remain in Europe. For the sake of his relationship, Garrett isn't planning on returning to Ukraine, but he says he will travel to Myanmar sometime next year and help the KNLA with rebuilding projects and removal of explosive devices. Vasquez has a different reason for not going back to Ukraine: He doesn't want to be sent to prison. Spanish law forbids its citizens from engaging in conflicts that might influence the neutrality of Spain. The punishment for this, according to the Spanish penal code, is a prison term of four to eight years if convicted. If he returns to Ukraine, Vasquez is convinced he'll be locked up the moment he steps foot in Spain. "You can annoy the state once," he says, "but not twice. Can you imagine what would happen [if I went to Ukraine] a second time?" But if he weren't from the one Western European country that has arrested its citizens coming home from the war in Ukraine, would he want to go back to the battlefield? Vasquez doesn't hesitate: "Of course."