Omid Fatehi Karajo, his wife, Nadereh, and their 10-year-old daughter, Wanya, have made a bold decision. In a few days, they will pile into an inflatable raft and cast off from the Turkish coast in the hope of landing on one of the Greek islands. Sitting together on a sofa in front of their webcam, the adults don't smile much. Omid is busy explaining his story through a translator, his wife occasionally intervening, while their daughter alternates between sitting on them and sliding in next to them, grinning shyly through her mass of black curls at the webcam. "I am worried [about the journey]," Wanya says. "Especially from Turkey to Greece, because the sea is dangerous." She can swim, but her parents cannot. Omid says he will buy life jackets before his family sets sail.
The Fatehi Karajos used to live in Sanandaj, the capital of Iran's Kurdistan province. More than three years ago, following Omid's arrest and torture for his connections to Kurdish political parties, they fled to Iraqi Kurdistan. But when threats came from Iranian security forces, the family crossed another border, this time to the Turkish city of Eskisehir, where they have lived for 19 months. Despite the approaching winter and the increasing danger of traveling now, they say they can't stay in Turkey anymore, where, as Kurds, they are often targets of racial abuse. Omid says he was assaulted recently by his neighbor. When he reported it to the police, he was told to leave, that they didn't want Kurds in their country. "The most important thing for us is safety," he says. "We know that there is cold weather [in Europe], but it is better than being threatened here."
Despite the plummeting temperatures, the United Nations refugee agency, UNHCR, has recorded 218,394 refugees crossing the Mediterranean this past October, which is dramatically higher than the total for the same month in 2014, when there were 23,050 arrivals. In previous years, the refugee crisis was affected by the seasons—summer saw high numbers of arrivals, but those dropped off during winter. In 2015, things are different. One reason is the route has changed. Approximately four times as many refugees are setting sail from Turkey to Greece—a trip that can take as little as 25 minutes in a sturdy boat—as those going from North Africa to Italy. Though winter storms over the Aegean bring lashing rain and high waves, making traveling in a smuggler's rubber dinghy a daunting prospect, many refugees believe the short distance makes this a comparatively safe option, even as winter approaches.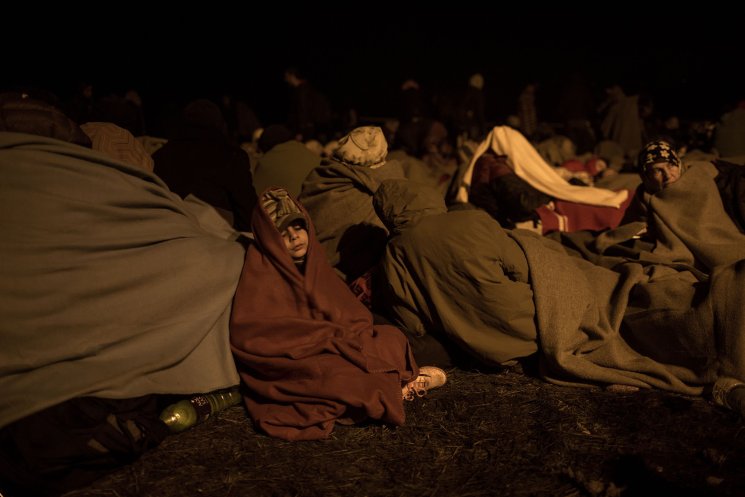 This trip, which over 41,000 people made in 2014, has been growing in popularity in 2015. "The route from Turkey to Greece and up through the Balkans is really a 2015 phenomenon," says Adrian Edwards, a UNHCR spokesman. One of the reasons for this is the worsening of conflicts in Syria, Iraq and Afghanistan—three countries whose citizens make up 93 percent of the arrivals in Greece. These refugees are geographically closer to Turkey; it makes no sense for them to take the North African route. The number of people fleeing these countries seems likely to continue growing over the winter too. Syria has experienced a surge in fighting, caused in part by Russia beginning airstrikes on September 30, while in Afghanistan the Taliban continue to make gains.
Unlike economic migrants, those escaping war cannot choose when to leave. For refugees in countries like Turkey and Lebanon, where many live in miserable conditions with little money, the success others have had making the journey is encouraging them to follow suit rather than endure yet another cold winter where they are. Others are scared that the European Union might be preparing to shut its borders or make a border arrangement with Turkey. Even though it's cold and dangerous, they'd rather cross now than risk being locked out.
To encourage refugees to make the crossing, many people-smugglers, fearing a drop in business, have slashed their prices. Speaking to Newsweek via WhatsApp, a people-smuggler who goes by the name Fida al-Hamwi says he is offering a special winter rate. A boat trip from Turkey to Greece costs between $1,500 and $2,000 in the summer. Now it's between $1,000 and $1,500, he says. Al-Hamwi's Facebook page, Smuggled Into Greece, shows a photo of a gleaming white yacht, though photos and videos on the page of people who have crossed safely show a black inflatable raft in the background.
The Fatehi Karajos will pay $1,200 each to their smuggler to make the crossing. They scraped together the money from friends and family, while Omid took various construction jobs, earning $10 a day. Assuming the crossing goes safely, they will find little shelter in Greece. Rights groups, including Amnesty International and Save the Children, have criticized the Greek government for a lack of proper reception centers and shelters. "There is an awareness that they need to winterize the tents," says Patrick Nicholson, director of communications at the Catholic charity Caritas Internationalis, which is headquartered in Rome. "But it hasn't happened." On the Greek island of Lesbos, refugees are facing up to 48-hour waits to be processed, sleeping in tents not designed for winter. Others, he says, can be found resting in doorways or under trees. In September, when Nicholson was in the Greek village of Idomeni, on the Macedonian border, he saw refugees sleeping on the train tracks.
Lack of shelter is a problem in Europe and along the Balkans route. "Europe as a whole hasn't had mechanisms in place for the mass arrival of refugees," says the UNHCR's Edwards. "Right now, if you look across Europe the asylum picture is extremely patchy." Even though sleeping outdoors or in flimsy tents may be feasible in the summer, it cannot continue into winter, which in the Balkans is brutal. Temperatures often drop to well below freezing, while heavy snow can block roads and stall transport. People routinely die of cold; others are stuck in their homes for days. These are the conditions that refugees plan to journey through to Western Europe in a march that many won't survive. "As we head into winter, it is looking extremely bleak," says Edwards. "Robust reception capacities simply aren't in place.… There's a very real risk of deaths, of more people dying."
At the Opatovac refugee camp in Croatia, close to the border with Serbia, temperatures have already dropped to around 37 degrees Fahrenheit, and it frequently rains. Charlotta Land-Al Hebshi, a child protection adviser for Save the Children who is currently in Croatia, says young children are soaked, freezing and sleeping in the open due to a lack of shelter and basic services. Since Hungary announced the closure of its border with Croatia on October 16, having already shut its border with Serbia, many refugees have had to pass through Slovenia to get to Austria, causing bottlenecks to build up. On October 21, refugees at a camp in Brezice, Slovenia, near the Croatian border, set tents on fire in protest of conditions there. They were tired of the delays, they said, while they lacked food, water and blankets to stave off the cold.
The Fatehi Karajos don't have proper winter clothes, but Omid says they will just follow the other refugees once they get to Greece. When asked where she wants to live, his daughter Wanya beams, turns to the translator and quietly says "Oslo," where her mother's relatives are. It is painful to imagine this skinny 10-year-old girl journeying all the way through Europe in the rain and biting cold. Though aid agencies are on hand in transit camps to distribute raincoats, dry clothes and blankets, they cannot follow the refugees across countries, ensuring that they stay warm. This is the biggest problem facing governments, agencies and charities. "We do winterization programs for camps, for urban settings," says Edwards. "But when it comes to winterizing a crowd—that's something for which there is no ready-made solution."
As they prepare supplies for winter, aid agencies know refugees will die. The grim question for the coming months is only "How many?"