Jessica Agutu spits through the gap between her two front teeth, then brings her son to her breast. "This baby has brought me problems," she says.
Agutu, in her early 30s, is one of many Ugandan women who bore children fathered by soldiers in the Lord's Resistance Army (LRA), a guerrilla group that many compared to a cult, not without good reason. Led by mass murderer and self-styled religious prophet Joseph Kony, the group abducted and raped thousands of women from its formation in 1987 through the late 2000s.
While the violence is largely over, women like Agutu are pariahs. "I have been rejected by my own family and community after successfully escaping from captivity," she says as she rests her tiny frame against the only tree stump at her new homestead at a rehabilitation center on the outskirts of the city of Gulu, in northern Uganda. "They told me my child was born in sin and I must kill him."
Dominic Ongwen, a top LRA commander indicted by the International Criminal Court (ICC), kidnapped Agutu when she was 12. She says he is the father of her oldest son, aged 14, who lives at the rehabilitation center, where around 1,000 women and children live isolated from the community and guarded by security forces. She gave birth to four more children from other LRA fighters, the youngest aged 4.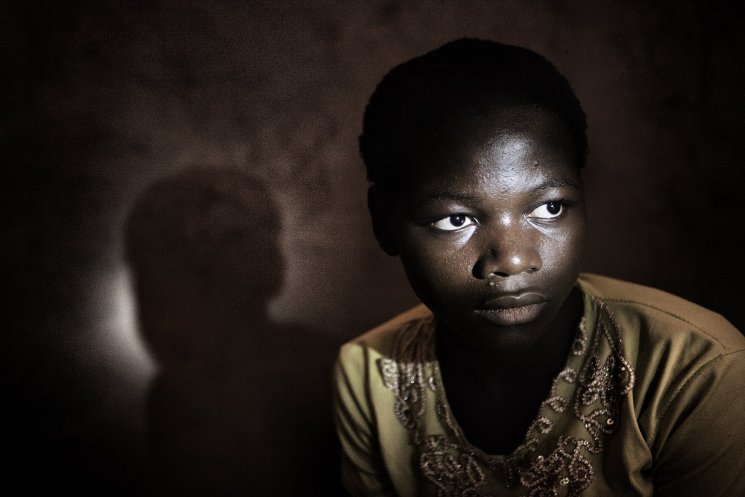 In Focus
Women who were abducted and raped by the Lord's Resistance Army (LRA) fighters in Uganda grapple with re-integrating into society.
Launch Slideshow

9 PHOTOS
The United Nations has said the LRA is responsible for more than 100,000 deaths and abducted between 60,000 and 100,000 children, forcing many of the boys to become soldiers and the girls to be sex slaves for fighters. Kony, 54, remains at large, and the LRA is estimated to have fewer than 200 combatants, largely operating in the Central African Republic, the Democratic Republic of Congo and South Sudan, according to the Washington, D.C.-based Resolve LRA Crisis Initiative. The United States has sent military advisers to help Ugandan forces find Kony and posted a $5 million bounty for him.
In 2006, the government and the LRA signed a cessation of hostilities agreement, and Uganda has since made progress in rehabilitating former child soldiers and resettling many of the 2.5 million people displaced by the conflict. By now, most LRA top commanders have either died or are facing charges in the Ugandan and ICC courts.
Even as Uganda emerges from its decades-long horror, some of those who endured the worst atrocities at the hands of the warlords find themselves grappling with the long-lasting consequences: Children fathered by LRA fighters are now the targets of reprisals. "My friend's son was murdered early this year after locals suspected that his father was Joseph Kony," says Agutu. "I'm also hiding my son because if people discover that his father is Ongwen, then they'll kill him. They say that they need to revenge atrocities they experienced under LRA." At the ICC court in The Hague, in the Netherlands, Ongwen is facing 67 charges that include recruiting child soldiers and keeping sex slaves.
While LRA leaders are being brought to justice, Agutu says authorities should do more to help their victims. "Our children are mistreated daily in schools and by communities because of their parents. We need this behavior to stop," she says. "We are all human beings, and we need to be treated equally. We need the government to protect us."
Lydia Nekesa, a mother of five LRA children, is a former abductee who says her oldest son, Erick, was fathered by Kony. Erick has fled to the Central African Republic, she says. "I was rescued by herders in the forest," she says, then motions with her hand, asking her youngest daughter to sit next to her. "When I arrived in my village after spending three days on the way with my children, we were attacked with machetes, sending us back into the forest. I was helped by a local administrator to start life again, but my son ran away after he realized people wanted to kill him."
Nekesa, who is now a member of a group that fights for the right of formerly abducted women and children, is among the many Gulu women living in rehabilitation centers across the region. In Lango, a part of Gulu where women were abducted, village elder Francis Mugoya says many former abductees hide the identity of their children's fathers. "It's a huge problem here," he says. "People are not willing to accept these women and their children in these communities. But we're working hard to try and change their attitudes towards these vulnerable people."
That will not be easy. One Lango resident, who declined to be identified, says the rehabilitation centers were the best place for such women and children: " They can't live with us. They can kill us. They have bad blood they inherited from Kony's soldiers. When they come here [in this community], we will kill them before they kill us."
Gulu Mayor George Labeja says he is seeking to draft a bill that would protect abducted women and children born in captivity. He says that LRA soldiers abducted up to 15,000 girls over more than two decades and that around 5,000 are at various rehabilitation centers. "We expect the number to be higher because some of the victims are not willing to come out and register," he says. "The few who are already integrated in their communities after they hid their identities fear to come out and speak because they fear rejection if locals realize."
The number could also rise because more abductees are still escaping from captivity, he says. "We only have like 5,000 girls right now.... We expect more than 10,000 girls to come and join us."
Labeja adds, "These women and children born and raised in captivity are still struggling to have an identity in our communities. We are still looking for ways on how we can reintegrate them with these communities."
Until that happens, children like Sammy Katoo, an 8-year-old fathered by an LRA fighter, will continue to endure prejudice and threats. "Other children at school tell me that my father killed their parents and burnt houses," says Katoo, who lives at the Gulu rehabilitation center. "I don't understand why they tell me things like this. I feel so bad.