About 30 minutes before our plane is scheduled to take off, Travis Maurer strolls up to the gate at Portland International Airport in shorts and flip-flops, flashing a square-jawed smile. Broad-shouldered and affable, Maurer looks like the perfect spokesman for any cause, and he deftly charms his way into a window seat. He's just eaten some ice cream, he tells me as we board, and he's in a surprisingly good mood for someone about to spend the next few hours in coach. A short while later, the plane lifts into the sky and Maurer falls asleep. The ice cream, it turns out, was laced with THC.
We are flying to Maurer's hometown, St. Louis, where he is launching a campaign to legalize marijuana in Missouri. A college dropout and convicted pot dealer, Maurer knows a lot more about selling drugs than legalizing them. But in 2014, he emerged as the driving force behind an improbable measure that legalized weed in Oregon. It's now one of four states, along with the District of Columbia, that no longer ban cannabis. From California to Maine, activists are eyeing new targets for 2016, mostly liberal or libertarian strongholds where polls suggest voters are ready to rewrite pot laws. Maurer, however, wants to replicate his quixotic effort in an unlikely battleground: Missouri, a deeply red state where many hold a dim view of "soft" drugs like marijuana. If he pulls it off, he can prove Oregon wasn't a fluke and make Missouri the model for legalizing cannabis anywhere in America, not just on the weed-friendly West Coast. The only problem: His black-market past keeps getting in the way.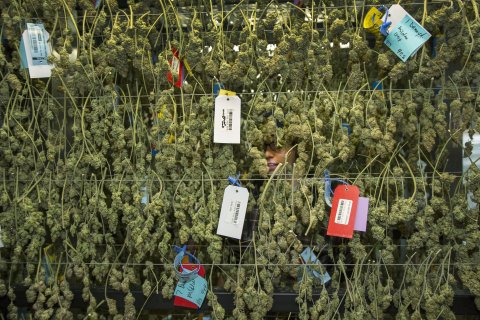 As we step off the plane on a sticky night in August, Maurer and I head to baggage claim. "Where are you staying?" I ask him.
He stares at me blankly. "Uh, I don't know."
He's not kidding. Maurer hasn't considered where he'll sleep tonight, or even how he's getting back to Oregon. When I tell him that I booked my hotel room and rental car days ago, he smiles. "Sweet. I'll just ride with you."
Not Your Average Stoner
Maurer books a room at my hotel in Clayton, the well-heeled seat of St. Louis County, and the next morning he meets me in the lobby wearing a T-shirt with the slogan "No more drug war" emblazoned across it. He wears the shirt everywhere to draw attention to his cause. I offer Maurer a vape pen filled with cannabis extract, which I snuck onto the flight. He quickly commandeers it, drawing a hit as we pile into my rental car.
We drive to the hipster haven of South City to pick up John Payne, a gay, Type A libertarian Republican who doesn't smoke. He's Maurer's opposite in many ways and his unlikely partner in Show-Me Cannabis, Missouri's largest marijuana advocacy group. Maurer founded the organization; Payne runs the day-to-day operations. They met four years ago at Hempstalk, a marijuana festival in Oregon. "One of the first things he told me is, 'We're going to legalize marijuana in Oregon and Missouri,'" Payne says. "I was thinking this guy maybe is nuts. But then he's introducing me to a pollster, an attorney, [and it clicked]. This isn't just some stoner who thinks he's brilliant and has a huge ego."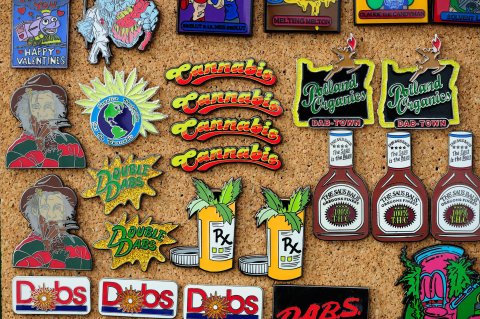 The three of us head to Springfield, the most conservative city in the state, where Brad Bradshaw, a Democratic candidate for lieutenant governor, has invited stakeholders to discuss the medical marijuana bill he's pushing. Maurer, however, wants full legalization in 2016.
As we wind south through Missouri's green rolling hills, we pass signs advertising straw and luring tourists to Branson. Soon we near Springfield and drive past billboards promoting the city's biggest tourist draw: Bass Pro Shops. We are a long way from Portland, one of the nation's most liberal cities in a reliably blue state run by America's first bisexual governor. In Missouri, two-thirds of the state legislature is conservative. And while the public is divided over legalizing pot, the cops aren't. Defying the law, Maurer twirls my vape pen, taking a hit every few minutes. "I want to lobby the legislature to legalize marijuana in the next session," he says. Payne laughs incredulously, and Maurer asks, "Is that like landing someone on Mars?"
It is, Payne explains, because polls show support at just under 50 percent. Before joining Show-Me Cannabis, he worked at a libertarian think tank, and he has far more political experience than Maurer, who doesn't seem to care. "You might mistake [Maurer's ambition] for a delusion of grandeur," says Troy Dayton, CEO of the ArcView Group, the nation's largest marijuana investment firm, based in Oakland, California. "But most people who have delusions of grandeur are about themselves. Travis's delusions of grandeur are about what he can accomplish politically."
We pull up to Bradshaw's office in Springfield, and I drop off Maurer and Payne for the meeting. Two hours later, they emerge, pissed.
'Can I Put Some Pants On?'
The first time Maurer smoked pot, he was 13 years old. He liked it, but it wasn't until two years later, when his friends started partying, that he became a habitual smoker. "I decided if I was going to intoxicate myself, marijuana was a better decision," he says.
Maurer definitely wanted to intoxicate himself. He struggled to make close friends as a kid. His childhood was rife with abuse, and that's all he will say about it. Pot numbed his pain in a way that alcohol did not. Not long after he started smoking it regularly, Maurer began selling it too. Weed also helped him make friends, which he'd found difficult.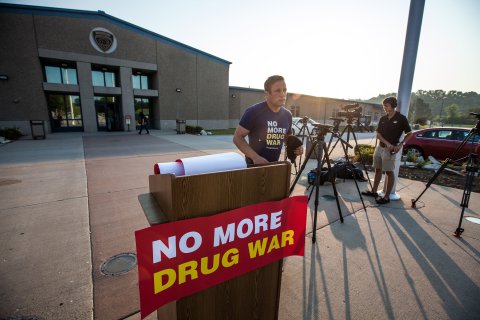 Two years after high school, Maurer met Leah Shantz, and they fell in love. In 1997, they moved two hours from St. Louis to Columbia, where they both enrolled at the University of Missouri. Maurer didn't last long. "I thought it was boring," Instead, he borrowed $1,100 from a high school friend and put it all into pot. "My buddy got me a pound," he says. "It was easy. I sold it right away." Eventually, Maurer says, he worked his way up the drug chain. His biggest buy was 200 pounds, a sale worth nearly $120,000. "People thought I was a whale," he says. "I could have taken it to the next level at any point. It was never my ambition." All he wanted was to pay his bills and have enough money to travel a little, mostly to Phish and Widespread Panic concerts. "I wasn't trying to build houses and buy boats. But I made as much money as I wanted."
Moving all that cash around made him a target. Maurer was often ripped off, he says, fronting someone an ounce and not getting paid for it. Once, in 1998, after a night at the Blue Note, a music venue in Columbia, a friend robbed him at gunpoint. "Give me your fucking money," his friend said, "or I'm going to shoot your ass." Maurer took out all his cash, $2,400, and laid it on the ground.
Eventually, Maurer starting growing his own pot in a closet in his townhouse, He sold to only handful of people, he says, to avoid getting busted, and he and Leah, now his wife, lived a comfortable life on his illicit income. In 2005, she gave birth to their first child, Mason. Their second, Linden, was born a year later.
Now a mother, Leah began pushing Maurer to find a different job. He kept growing weed, but in 2003 he started a natural stone company. It folded a few years later as the recession hit. Next, Maurer started an energy efficiency company, but that fell apart too—along with everything else in Maurer's life.
On the morning of March 9, 2009, Maurer was at home on his computer in his underwear when he glanced out the window and spotted a man in a flak jacket, wielding a gun. Maurer thought he was about to be robbed. "I was thinking, I have to go get my gun somehow without being shot." He stood up to run and spotted several more armed men. That's when he realized they were cops. One officer pointed a rifle at Leah through a window, he says, and demanded Maurer open the door. "OK, my wife is here, and I've got two dogs. We're nice. We're peaceful," he said. "Don't shoot. The dogs are nice." Maurer opened the door, and the police charged in, ordered him and Leah to the ground and began a search. "Then I heard the bookshelf pop open, a little squeak, and I heard one of the cops go, 'Holy shit.'"
A few minutes later, an officer came out with a smirk on his face. "We got your grow."
"Of course you did. You came in with an army," Maurer replied. "Can I put some pants on?"
Despite the SWAT team and the guns and that "Holy shit," Maurer got off light: He spent only a day in jail and pleaded guilty a year later; he was sentenced to five years of probation and paid $375 in fines. But he hadn't anticipated all the consequences of getting busted. "I guess I was really arrogant about it," he says. "I figured if I ever got in trouble, I'd get a get-out-of-jail-free card. But that shit ain't free."
Just ask his family. Local newspapers plastered Maurer's grinning mug shot on the front page. Parents who attended the same preschool as his kids threatened to remove their children if Mason and Linden were there. Leah's moms groups, which she started, essentially disowned her. "We were deeply rooted in this community," Maurer says.
Not long after the arrest, he says, he gave his wife an out. "If you need to go in a different direction here, I totally understand," he said. "I'll support you 100 percent." Leah didn't hesitate; she stood by her husband. "What he did was not an immoral thing," she says. "My love for Travis is so steadfast and so strong, I've never really wavered on that."
Three months after Maurer's arrest, his family packed their belongings and moved to Oregon. "I was in a rough spot," he says. "I was in the most rough spot I've ever been in. I had no fucking clue what I was going to do."
It didn't take him long to come up with something.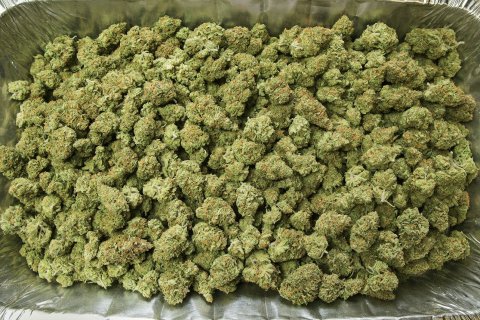 'What a Fucking Ornery Schmuck'
After their conversation with Bradshaw, Payne and Maurer join me in Columbia for dinner at a local pub. The meeting did not go well. Everyone in the room, an assembly of lawyers and activists, agreed that medical marijuana should be legal in Missouri. What they didn't agree on: how to pull it off. Bradshaw's proposal would require patients to buy pot from licensed dispensaries and ban growers from selling and distribution. The plan also called for a nearly 50 percent tax on the product, and convicted felons would be prohibited from participating in the industry for 10 years after their release from prison. The national cannabis groups that fund legalization efforts oppose these provisions, as do many activists in Missouri. They want patients to be able to grow their own pot, and they say the high taxes and a ban on doing business in multiple parts of the market would make it impossible for weed companies to turn a profit.
At the end of the meeting, Maurer told Bradshaw some activists won't like his plan and might support a rival initiative. "He didn't even let me finish," Maurer says, adding that Bradshaw threatened to "crush" any competition to his medical bill. "What a fucking ornery schmuck," Maurer says. (In a separate interview, Bradshaw tells me, "Travis seems like a nice guy," but he insists Maurer's Missouri initiative is going to fail.)
Bradshaw's leverage is money, which will allow him to hire staff and begin the expensive work of signature-gathering for a petition. Maurer wants to raise enough to fund a rival campaign. That won't be easy. But as we eat, Maurer declares he's determined not to let Bradshaw bigfoot him. He just needs to raise $1.2 million in the next year or so.
After we finish dinner, the owner of the pub, Tom Smith, picks up the check. He's a friend of Maurer's and the legalization effort, and he just asks us to cover the tip. I look at Payne and Maurer. Neither has any cash, so I toss $30 on the table.
Marijuana Mastermind
After that SWAT raid, the safe move for Maurer would have been to find a "real" job. He had a felony case hanging over his head, and marijuana is illegal at the federal level. But Maurer does not make safe moves. Once he unpacked his stuff in Oregon, he started growing pot again.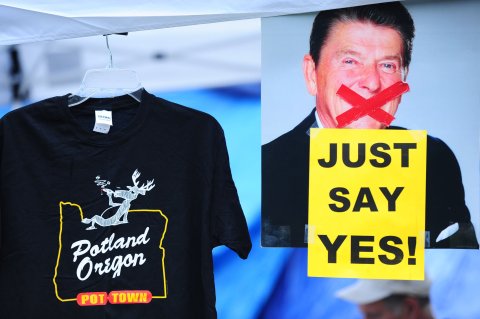 Only this time Maurer had wider ambitions. Using the proceeds from his new grow operation, he founded Show-Me Cannabis. He gobbled up as much information as he could: how bills are passed, how polls work, how lobbyists reach legislators. He bought a website, TheWeedBlog.com, now one of the most widely read marijuana forums in the world.
"Most of the people who want to change cannabis laws, it's primarily because they want to make money," says Steve DeAngelo, a California-based marijuana activist who has also been convicted on pot-related charges. But Maurer, he says, has a different motivation, partly because of his bust. "Being arrested and put in a cage...you never forget that," DeAngelo says. "You never forget the people who are still being subjected to that kind of treatment. It becomes personal."
Maurer wanted to change the drug laws in Missouri, but he decided to try Oregon first; he knew voters there would be more receptive. In April 2012, he launched the National Cannabis Coalition, also with profits from his grow. The fledgling group took out ads backing the pro-pot candidate in the race for Oregon attorney general. She won, and while Maurer doesn't deserve much credit for that, being a part of that victory emboldened him.
Maurer shifted his focus back to Missouri. In 1996, Jeff Mizanskey was sentenced to life in prison without possibility of parole for conspiring to sell 6 pounds of marijuana in the Show-Me State. The court based his sentence on a three-strikes law that the legislature later repealed. In 2013, Mizanskey's son Chris went to a meeting of Show-Me Cannabis and soon began lobbying the governor for a pardon. Maurer helped him by using one of his brilliant tactics: texting to collect data, raise cash and blast messages to supporters. In 2012, he bought the text code 420420 and began using it to lobby on Mizanskey's behalf. By texting "Jeff" to that number, users received information about how to reach their legislators and appeal for his pardon. Show-Me Cannabis also held town hall meetings around the state and paid for billboards across from the governor's mansion and by the highway exit to the Capitol. The campaign received widespread attention, and the petition garnered 390,000 signatures. In May, Governor Jay Nixon commuted Mizanskey's sentence, and he was freed in August.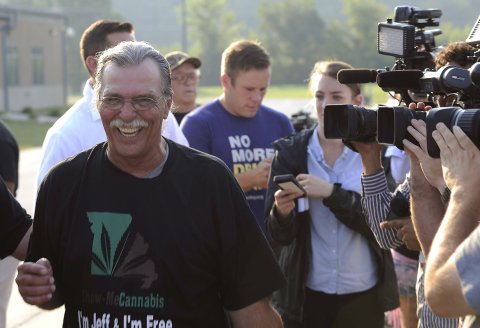 Two years ago, Maurer shifted back to Oregon. At the time, the state's cannabis advocates were splintered. Some worried that legalizing recreational pot would squash medical growers and medical dispensaries (as it has in other states). Others thought voter turnout in a midterm election didn't bode well. They'd tried to amend marijuana laws twice in recent years and lost both times. The risk with a 2014 campaign was straightforward—fail, and you waste millions of dollars and set the movement back. A better idea, many felt, was waiting for 2016, a presidential election year, when greater voter turnout often means a greater chance of success for cannabis causes. Pushing for legalization also presented a huge risk to Maurer—fail, and he shatters his credibility.
Maurer was concerned but determined. He used his own money (and some IOUs) to build a political machine: a law firm, a polling company, a public relations rep. "He personally doesn't have a history in politics," says John Horvick, a pollster Maurer hired for the campaign. "But he has the humility about himself to put smart, talented people in the room and let them do the work."
In April 2013, Maurer cold-called two major legalization advocates—Ethan Nadelmann, executive director of the Drug Policy Alliance, and Graham Boyd, former director of the American Civil Liberties Union's Drug Policy Litigation Project—and convinced them to attend a meeting with stakeholders at the law firm he'd hired. He told the group about the Columbia raid and his plan to legalize marijuana in Oregon. "It was the most impressive presentation I've seen by a state-based group," Nadelmann tells me. "But my response was, 'Travis, it's really dependent on the polling."
So Maurer did some research. He and Horvick discovered that they got better results by wording a ballot initiative in "professional" language, says Brian Gard, who runs the advertising and public relations firm Maurer hired for the campaign. "He found that if you treat it as a regulate-and-tax thing, more like alcohol, you could pick up another 10 percent in the polls, at least." Maurer paid for half of the poll with his own money. "It's a personal mission," DeAngelo says. "He believes in what he's doing, he has a tremendous amount of energy, and he's completely fearless."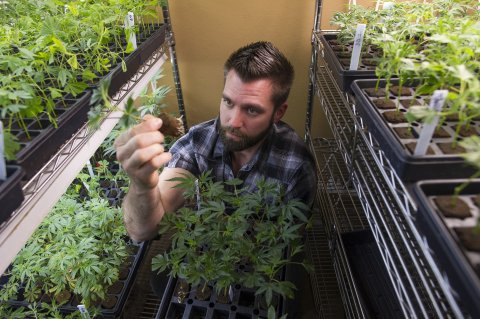 He also convinced veteran political strategist Liz Kaufman to run the campaign—an idea she initially rejected. "He's one of the most positively persuasive people ever," she says. "He's a good motivator, and I don't mean that in a bullshit way."
Being a family man helps. Leah has been volunteering at events, giving speeches and working side-by-side with Maurer on fundraising and other efforts, and she helped found two pro-cannabis groups on her own. "She's a central-casting mom," says Kaufman. "Her kids play the trumpet, and they're not weird."
Worried that his felony rap might damage the effort, Maurer stayed in the background and focused on fundraising. He took a consulting job at Privateer Holdings, a Seattle-based investment firm that owns the dispensary-ranking website Leafly, among other enterprises. After four months, though, Maurer had to leave the company. The gig required frequent trips to Canada, and his felony rap made that difficult.
Against the odds, Oregon passed the legalization measure by the widest margin of any marijuana initiative in a nonpresidential election year. Maurer's gamble paid off, and with his probation ending, he could finally tell his story. In July, The Oregonian newspaper dubbed Maurer the "mastermind" of legal weed, and his picture was once again in the newspaper, only this time it wasn't a mug shot. Maurer had become a marijuana folk hero. He had picked apart prohibition in Oregon and set his sights on the next battleground: Missouri. "Just because he got it done right once doesn't mean it's going to work the next time," says Dayton, the ArcView CEO. "But...Travis is great for states on the edge of a big longshot. I hope he does it again in Missouri and in other places."
Behind the scenes, however, Maurer had a major problem.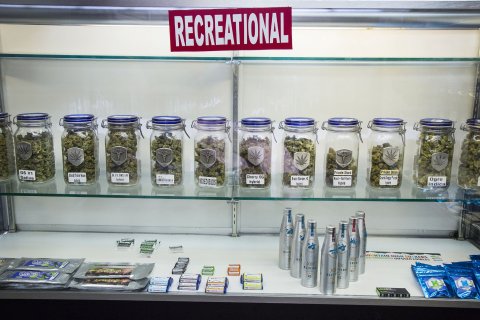 Half-Baked
After winning in Oregon, Maurer was nearly broke. In February, he received an eviction notice at the warehouse where he was growing weed; the landlord found a tenant willing to pay twice as much rent, he says. That meant Maurer could no longer supply patients with the weed he was growing. With his business in trouble and all his money invested in politics, Maurer began looking for a partner to bankroll him, pay his bills and fund his activism.
Enter Randy Quast, a successful trucking company owner who was convicted of felony possession of marijuana after a burglar broke into his house in 2007 and the responding cops found a few ounces of weed in a safe. Like Maurer, Quast's arrest inspired him to change the law. And after watching Colorado, Washington and Oregon legalize pot, he thought he could make some money too. In February this year, Quast moved to Oregon and met Maurer at a pro-pot confab. Weeks later, Maurer asked him for a $20,000 loan.
Quast gave him the money, and Maurer used that loan to pay some bills. Eventually, the Missouri-native convinced his new friend to buy into his entire enterprise: the dispensary, the blog, the text code and whatever else might turn a profit. Maurer wanted $1.5 million, Quast says, for an undefined stake in the business. He forked over the first few checks, and the two set up a company. Like many marijuana deals, this one was based on trust, on handshakes. There was no agreement on how the business would work or the proceeds would be spent.
Over the next six months, Maurer burned through about $850,000 of Quast's money. He put $400,000 into building a dispensary in northeast Portland and another $450,000 into paying down his debts and funding his political goals. Quast tells me he questioned some of Maurer's spending but ultimately understood it was necessary to pay for things unrelated to the dispensary. But he also wanted to know his investment would see some kind of return. "We're giving out donations, and we're not even up and running," Quast says. "He was borrowing from Peter to pay Paul. I don't think he had any idea how to run a business."
Maurer says Quast had no qualms with how he spent the money. Because he was evicted from the warehouse, though, he still can't turn a profit. Like others in the industry, he's struggled to transition from the illegal drug market, where profit margins are astronomical, to a legitimate business that's far less lucrative or predictable. "That's what I've been doing my whole life—cash and carry, handshakes," Maurer says. "Now I'm to a point where in order to participate in the legal world you have to really formalize things and make them legitimate. You have to sign contracts, have attorneys and official agreements."
Except there are no contracts, no agreements. And the fallout that ensued has become all-too common in states looking to legalize weed. Maurer is part of a wave of weed dealers turned activists who emerged in the late 2000s, fighting the drug war on principle. But over the past few years, as pot has become legal in four states and the District of Columbia, another group of advocates have arrived: experienced entrepreneurs looking for "green gold." The two groups have sometimes clashed, just like Maurer and Quast.
Maurer says he has a new Las Vegas–based investor who's convinced his partner to keep working with the company in exchange for a return on the dispensary and other proceeds. (Quast did not respond to a request for comment about the purported partner.) Maurer says the new investor has pledged $350,000 to get the business running again. Until that check clears, though, Maurer is in limbo and is struggling to pay his rent.
'I'd Like Everybody to Write a Check Today'
Maurer's last—and one of his most crucial—meetings in Missouri is in a back room at a swank Columbia restaurant called Bleu. Dozens of people—venture capitalists, entrepreneurs, farmers and even a registered nurse are chatting under the dim lights. All want to get into the pot business if Missouri changes the law. Maurer and Payne are here to ask them for the seeds of the $1.2 million they need to get a measure on the ballot.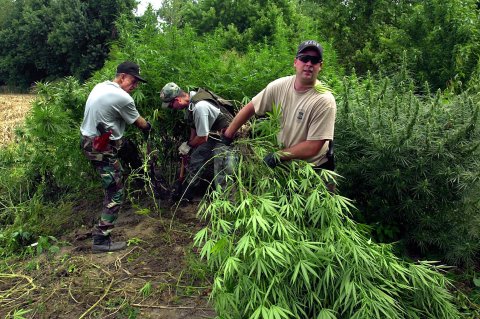 Joining them is Eapen Thampy, a former ally of Maurer's and now his rival. In 2009, Maurer met Thampy at a bar in Columbia. The two drank wine and talked about cannabis. Then they began working together to push for legalization. Not long after they started collaborating, though, Maurer and Thampy began to clash—over money, credit and control.
The meeting begins, and soon the two are at it in front of everyone. Maurer introduces himself as an activist and the owner of The Weed Blog. He's finalizing a grow, he says, and doing some consulting about the industry. He offers to use his text code to send out alerts for the group. But Thampy pipes up. "I've been offered the same text code before," he says. "And I'd be very uncomfortable getting into that agreement without knowing who owns the data and how it's managed."
Maurer tries to shut him down. "[The association] owns all the data and would be able to manage it exclusively," he replies testily.
Next, Payne gives his pitch for money. Someone asks about Bradshaw's bill and Payne parries. "We're still in the process of negotiating an agreement," he says. "I'm confident we can on the ballot regardless of whether we have his support or not."
Maurer jumps in, warning that Missourians who want legal cannabis will need to put their wallets behind the effort. "There's literally no other way we can move forward, without money," he says. "I'd like everybody to write a check today."
The next hour is chaotic. Everyone is arguing and speaking out of turn. Everyone wants money, but no one is actually donating. And Thampy is constantly taking shots at Maurer, who snipes right back at him.
Lee Winters, a local farmer in a plaid shirt, interrupts Maurer with another problem. "The industry backers I'm speaking with want to know what this industry is going to be constructed upon. What does it look like? What regulations are there, and how can they move into it? Until the [legalization] petition is formalized and public, nobody is putting money forward."
"I totally understand that," Maurer says. "But, unfortunately, to get to that point requires some money."
The questions, sniping and fruitless fundraising appeals continue until Maurer and Payne—both clearly frustrated—slip out so they can head home.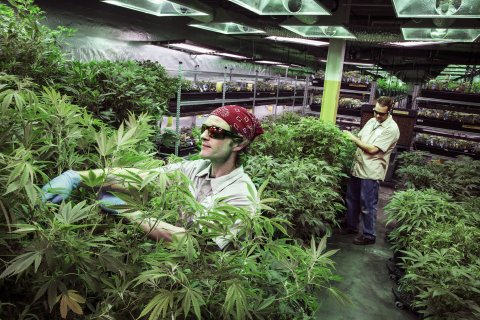 A month later, Show-Me Cannabis files its medical marijuana initiative in Missouri, which rivals Bradshaw's effort for cash, volunteers and votes. Maurer, however, still vows to keep pushing for full legalization. That is, as soon as he can find the money to buy the polling that he says will confirm that he can win in Missouri—if not this year, then in 2018. And while other cannabis crusaders have their eyes on easier targets, such as California and Maine, Maurer's thinking about another state in the heartland: Ohio, where a legal pot bill recently failed. "There's a big fracture there between the money guys and the grassroots," he says. "Maybe I can build a coalition."
Maybe. Because there's nothing Travis Maurer likes more than proving people wrong—not even THC-laced ice cream.