In 1978, Janet Delaney had just returned to San Francisco from Central America, where many countries were in the midst of armed conflict. But while her journey through war zones proved safe, coming back to the city she had lived in for years did not. As she was snapping away beneath the Bay Bridge, Delaney was mugged at knifepoint, her camera taken from her. While the experience might rattle any urban explorer, it did not keep Delaney from photographing a city on the cusp of tremendous change. Delaney kept taking pictures, not only in San Francisco but also in New York City, where she frequently traveled in the 1980s.
The result is a photographic oeuvre that captures two of America's most significant cities emerging from the postwar white-flight years, on their way to becoming the international megalopolises they are today. A single construction worker stands in the cavernous, half-built interior of the Moscone Center, named for San Francisco's slain mayor; a not-especially threatening policeman in owlish glasses rests against a fire hydrant in the lower Manhattan neighborhood of SoHo. For the most part, Delaney's photographs show only one or two people, usually at work, usually with their hands. A tricky hybrid of portrait and landscape, they capture the paradox that wafts through every stalled subway train, that flits across the face of everyone who pretends not to notice the beggar on the corner:
While the city is huge, the people within it are small. Instead of cowering from this fact, Delaney celebrates it.
"I'm just a citizen who reads the paper," Delaney, 63, told me when I visited her studio in Berkeley, on the second floor of a house blanched by noon light. On the kitchen table, that day's issues of The New York Times and San Francisco Chronicle lay splayed. In each, one could find laments about rising rents, whether in Brooklyn or Oakland. The closing of a barbecue joint run by the same Louisiana family since the Northern Migration, and an ersatz tiki lounge with $18 mai tais opening in its place. Yet another billion-dollar valuation for a company that promises to Uberize some facet of your existence.
As more Americans move to cities, the concerns of cities increasingly matter more to Americans. Delaney, who has been chronicling cities for four decades, is sort of like the Jeff Goldblum character in Jurassic Park , except that her admonitions are rendered in pictures, and there is little chance of raptors running free in the Mission District—that is, until Elon Musk gets bored with outer space. Her photographs of San Francisco were recently exhibited at the de Young Museum in San Francisco, while her images of New York from the 1980s were featured at the Jules Maeght Gallery . In their catalog, the de Young curators describe how Delaney was moved to photograph the previously neglected SoMa district, as the area south of Market Street is known, after watching relentless slum clearance rid the neighborhood of poor people in the 1960s and '70s. The same thing has been happening in San Francisco again, making Delaney's work acutely relevant.
Delaney once thought of becoming an urban planner and is fascinated by the "machinations of power that create a city." Her work is informed more by curiosity than judgment, the photographs of New York and San Francisco avoiding the easy trap of ruin porn, an especially tempting lure for someone working in the second half of the 20th century, when there was ever more artful blight to photograph.
Often, it takes an outsider to love a city. Delaney's longstanding enthusiasm for urban life can be traced back to her Southern California youth. Born in 1952, she grew up in Compton, a section of Los Angeles then populated in good part by middle-class whites, many of them employed in the aerospace industry. That changed for good in 1965, with the Watts Riots; she remembers local storeowners with guns prowling the streets. Her parents moved to Long Beach, a port south of Central L.A. It wasn't the place for Delaney. As a teenager, she fled to San Francisco, where her sister was living. During the Summer of Love, she was 14; with a wistful chuckle, she makes clear just how much fun she had back then. "I thought that's what cities were like."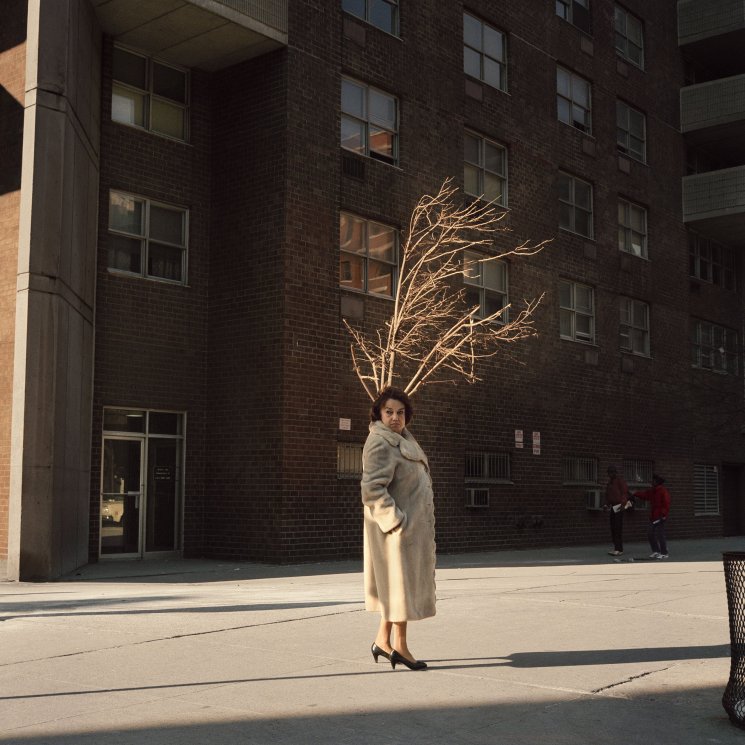 In Focus
A brief collection of Janet Delaney's photographic cityscapes show two cities emerging from the postwar white-flight years.
Launch Slideshow

10 PHOTOS
Delaney studied photography at San Francisco State University at a time when photography was coming into its own as a serious art form. And she was also a woman entering yet another field long dominated by men. "Just watch Mad Men," she says of the gender dynamic in the arts back then with a half-joking sharpness. "It's all true." In her studio, next to a sequence of maps on the Israeli-Palestinian conflict, is a postcard listing the benefits of being a female artist. These include "not having to undergo the embarrassment of being called a genius" and "not being stuck in a tenured teaching position."
Delaney chronicled working-class and poor people without romanticizing poverty, revealed dignity instead of conferring it from above. Her New York photographs show a city at work, often with its hands: a man pushing a dolly across a cobblestone street in SoHo, an office worker reading a paper with his morning coffee, into which he dunks a sandwich, a kneeling woman selling fireworks in Chinatown, a vendor in a subway platform newspaper kiosk framed neatly by rows of magazines. You can see in her work shades of the French impressionists who celebrated Paris street scenes: Gustave Caillebotte's The Floor Planers , toiling shirtless; Manet's famously plangent barmaid at the Folies-Bergère cabaret. Each image is an urban history, and maybe an urban lament.
The camera can easily become a tool of politics: Think of Dorothea Lange's chronicle of the Dust Bowl or the myriad photo essays that depict Detroit's empty spaces and urban farms with a mixture of hope and rebuke. Delaney refuses to bludgeon the viewer with meaning. Make what you will of the lone waitress leaning against the entryway of Hamburger Mary's, beneath a sign that says, "Enter at own risk." She may want our pity, our compassion—or maybe nothing at all. The emptiness of Clementina Street is haunting precisely because the street is so close to antiseptic: the front of Lathe Tool Works, some parked cars, the pavement receding toward a gray concrete horizon. Were the image filled with junkies or hoodlums, it would be little more than another comment on the social ills of the 1980s precipitated by Ronald Reagan's shredding of the social safety net, blah, blah, blah… But the street is empty. You're left to deal with your own unease.
Delaney's work has been featured in outlets like The Economist, The New Yorker, the Guardian and The Atlantic, at least in part due to widespread fascination with a San Francisco that is no longer a lefty bastion but, rather, a factory pumping-out hoodie-clad billionaires. Delaney captured the city when Sergey Brin was still learning to ride a bike. At the same time, as a featurette in Mother Jones noted, her work is not "unequivocally bleak. For every photo of a demolished hotel or evicted family, there's an elegantly composed shot of children skipping rope, business owners posing proudly in their shops, and streetscapes of hushed, now elegiac, beauty."
Unlike many Bay Area old-timers who wistfully remember the halcyon days before the Prius invasion, Delaney refuses to rail against the young lords of the sharing economy now settling in the golden hills. "We use tech. We need tech," she says, and if she said it any louder, I fear some of her Berkeley neighbors might have shown up with pitchforks.
Recently, Delaney finished working with an organization called the Homeless Prenatal Program, photographing struggling women in the Mission District. And for her recent de Young show, she returned to the SoMa neighborhood for several new photographs. One of these shows a well-dressed, middle-aged woman sitting alone in an apartment that seems little more than a glass cage. The woman is obviously lonely; none of her surroundings give her evident comfort or joy. On the facing page is a photograph of a SoMa street, the composition evenly divided between the façade of a new condominium, protected by a gate, and a warehouse decorated with a serpent mural. Against the warehouse's roll-up door leans a mattress, some pillows and a suitcase, the makeshift but tidy homestead of someone without a home.
The view is unobstructed, except for the lower left corner of the photograph, filled by the gleaming prow of a Mercedes-Benz.