Jalen Rose is one of the most likable NBA commentators, and that's at least partially thanks to his ability to turn a phrase. When players are on the road, they don't "go out" at night—they "champagne and campaign." Instead of comparing the Warriors' title defense to another team's, he likens their mentality to Clubber Lang in Rocky III (played by Mr. T), "doing pullups in a windowless basement." And Steph Curry? Like Tom Brady, Rose says he's a "baby-faced assassin," smiling for the cameras but killing you between the lines. The title of Rose's new, best-selling autobiography contains another of his signature phrases, Got To Give The People What They Want, and when it comes to the NBA, no one has more to give than the gregarious Detroit native.
Rose was known as a hard worker when he played in the NBA, and his post-retirement gig is nearly as difficult. Since 2012, he has held a seat on the panel of ESPN's NBA Countdown, but it's no cushy studio job. He's traveling constantly, and on Christmas Day he'll deliver commentary for all five games airing on the Worldwide Leader, starting at noon and ending well after midnight. (We doubt he gets overtime.) Newsweek recently caught up with Rose to talk about a 2015 NBA season that has been especially rife with compelling storylines.
The Houston Rockets have been one of the biggest disappointments of the year so far. Things have gotten so bad that they recently called a players-only meeting. What usually goes down during these? Is one guy talking? Does everybody get to talk? Is there hostility?
It serves as a forum for everyone to be heard, whether it's the best player or a player that doesn't play at all. It's a forum where there are no holds barred to articulate what you like—if somebody is taking bad shots, if somebody is not hustling, if somebody is not playing to their potential, if you don't feel like your coach is doing their job. You know how kids and the elderly are uncensored? That's what happens in those meetings. Veteran teams actually do them before they have a couple of meaningful games happen. This is because, one, you want to see the progress of the meeting take place on the court, and two, you understand that you have a couple of winnable games, and you're already struggling, so if you don't win these couple, this thing could spiral out of control.
The Rockets aren't the Boston Celtics or the Detroit Pistons, with a bunch of guys who have never been all-stars, that have never been in the MVP race. They have James Harden and Dwight Howard. Both of those guys, if they continue to do 75 percent of what they've done, will be in the Hall of Fame. I think Kevin McHale last year should have garnered more respect for Coach of the Year, the way he got that roster to the No. 2 seed in the Western Conference. But this is on the players. They haven't changed their style, they haven't changed their approach or their goals. This is up to those two guys I just mentioned to lead and be held accountable. To me it's head-scratching that 30 days into the year I've already seen multiple players miss games because of "rest." One of those guys has been Dwight Howard. To me, it starts and ends with those guys.
As a player that played multiple positions and now works for the media calling games, I truly decided there's a line in the sand between the players that are in the game because of their skill, and players that are in the game because of their will. When I'm watching the Boston Celtics play against the Houston Rockets, one team is about will—the Celtics. One team is about skill.
[Editor's note: The players-only meeting was on Tuesday, and the Rockets fired head coach Kevin McHale on Wednesday. That night they beat the Portland Trailblazers in overtime. James Harden scored 45 points to go along with 8 rebounds and 11 assists. Dwight Howard grabbed 19 rebounds.]
The Warriors, on the other hand, are undefeated, and they haven't even had coach Steve Kerr. Every few years we talk about a team that starts off hot as having a chance to break the Bulls' record. Is that something the Warriors are thinking about? Outside of staying healthy, what will be the key to winning 72?
I don't think they're going for 72 wins. I think they're going for something that money can't buy: respect. Look at Rocky [III], when he's won a championship and they move to the suburbs and they got a robot in the house, versus Mr. T, who is Clubber Lang, doing pull-ups in a basement with no windows. You saw that with Ronda Rousey [on November 15]. This is why people should stop doing what they're doing and salute Tom Brady. If there was somebody who could kick their feet up and be content, it's him. But he doesn't.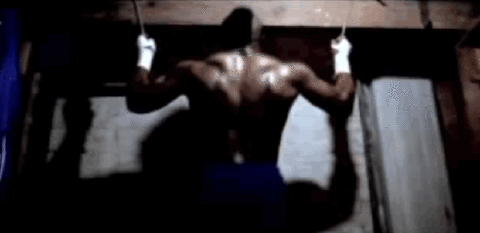 With the Warriors, all we heard was that they only won because they were facing teams that were injured, and people questioned whether Steph [Curry] was the MVP of the league last year. That happened all the way until training camp. So now what they said is, "We returned all our rotation players except David Lee. We were second in offensive efficiency, which is what you knew us for; we were first in defensive efficiency, which no one ever talks about; and we had 67 wins." So in theory, the best team did win. So now for them to come back as a young team that still has room to grow because they're all young and have confidence, they're like, "We're going to tear the league up."
Steph is spearheading an effort to crush the league, and I compare what I see from Steph to what I see from Tom Brady. Tom was the champion last year and all we talked about was Deflategate. Steph was the champion and all we talked about was what I described. They both can be considered baby-faced assassins. Tom is handsome, married to a model. Steph, you see him in commercials with his dad and brother, his daughter and wife. So he's out to do what I see Tom Brady doing.
Is it fair to say Steph Curry has taken the Best Player in the League crown from LeBron?
Here's the beauty of sports: The best evolves. I'm not looking at what happened in the past. If you're judging Steph based on what you're seeing right now, how could you not say he's the best? It's just like boxing. He has the two most important belts: He has the championship belt and he has the MVP belt, and he's not resting on his laurels. He's actually doing better. There's a reason why there's a Player of the Week; he's the best player in the world that week. There's a reason there's a Player of the Month; he's the best player of month. I actually was Player of the Week before, and I felt like I was king of the courts. When you're Player of the Year, you're just that, and he still has the crown. So yes, LeBron is the four-time MVP, the two-time champion, and could be considered in the conversation for Best Player. But if I just came from a different country and if I just saw 11 straight games, No. 30 for the Golden State Warriors is the best player in the league right now.
How sad is it for you to watch Kobe right now? Is there any way he can redeem this season or has he just plain lost it and that's all there is to it?
I was fortunate enough to play 13 years. He's been fortunate enough to play 20 years and has accomplished more than 99.9 percent of people can or ever will. And by the way, for somebody that admittedly couldn't walk well after the game the other day and is playing on a team that's going to the lottery, he's actually making $24 million to play basketball this year. So the words "feel sorry" do not come to mind.
We are in a salary-capped sport. He has dealt with injury the last few seasons, not just this season. For those who really do their homework, there has been a Kobe with Phil [Jackson] and a Kobe without Phil. If you look up the statistics, if you look up the playoffs and the championships, he's been a different player without Phil. More importantly, he's been a different player the last four years as he's gotten older, playing on the perimeter, and his body is breaking down. Gravity is undefeated.
I have a suggestion. Unfortunately for me, I was there when he was at his greatest. I was there for the first championship. I was there when he had his 81-point game. I know his greatness better than anyone. But I will tell you this: Watching him this year is no different than watching Peyton Manning for me. I think they should get on the phone with a construction worker and start erecting his statue. Play him 25 games the rest of the year. Allow us to celebrate his greatness like we did for Derek Jeter playing on a Yankees team that wasn't going anywhere, and at the end of the year give him the farewell that he deserves, and allow him to go off into the sunset. But make it special. Erect the statue while he's playing.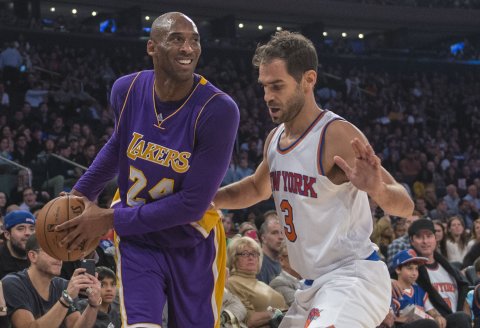 Even sadder than Kobe are the Sixers...again. If you're a fan, are you worried or are you still "trusting the process"? How long can this go on?
I'm so glad you asked me this question. So… They're an abomination. First off, they should be giving away their tickets. When you talk about "trusting the process"? When is the last time you've seen a team that continued to play so many undrafted players? When I turn on one of their games and 30-plus percent of their minutes are being played by undrafted players, the first thing that comes to my mind is that somebody has job security that we don't know about. Normally, sports is about improve today and win tomorrow. I'm embarrassed for the league. They've started 0-10 the last two years. I love Okafor, by the way, and I love this rookie class. I'm not going to get on him because there's nothing he can do about it, but what I will say is that those tickets need to be free.
Can you remember a time when a rookie class looked this impressive this early?
There's a qualifier. Teams are so bad. Minnesota was so bad that [Karl-Anthony Towns] can come in and play 30-plus minutes. You can develop him, get him shots. The Lakers are so bad that they're eventually going to develop Russell. The Sixers are so horrific that they're going to develop Okafor. The Knicks are so abominable that they can develop Porzingis. Normally when a rookie got drafted, yes, they need the production, but they are going to rely on the guys they know they can get it from. These are unique situations they fell into, but I do applaud them for doing what they're doing to take advantage of it. I love this rookie class.
Are people getting a little too worked up too soon about Porzingis, or does he seem like a surefire franchise guy to you?
For those that don't know, everything that happens on the East Coast happens on steroids, especially in New York. Ask us about Linsanity. Scoring 15 in New York is like 25 somewhere else based on the PR you get. Ask Landry Fields. Did he get $20 million from Toronto after averaging nine points in New York? That's what happens.
But Porzingis is different. I see a legitimate prospect. I see a seven-footer who can run, jump and shoot, that plays with poise, that has skill facing the basket, skill with his back to the basket. I see a legitimate prospect that they can build around, along with Carmelo Anthony, as they head into the future. They struck out on a lot of draft picks in the past. But it's not just him. The rookie class is performing well. I mentioned Okafor. Towns is getting double-double. Winslow is playing quality minutes. I see some flashes from Stanley Johnson in Detroit.
This year the NBA decided it will no longer use divisions to seed the playoffs, a move that most felt was long overdue. Are there any other changes to the way the game is structured that you'd like to see the league consider?
Absolutely. As a basketball lifer, I didn't appreciate when the three-point line was shorter. I didn't appreciate when the basketball was changed. I think that David Stern was the greatest commissioner in any sport of all time, but I can also appreciate the fact that changing from David to Adam [Silver] was like changing from a Blackberry to an iPhone. He's pushing the correct buttons. The open seeding in the conference is really just a precursor to one of the moves I hope to see changed, which is open seeding for the entire playoffs. The 16 best teams should be in the playoffs, period. That's how you truly get a champion. And don't tell me about travel. Please don't. Don't tell me about scheduling. Please don't. When you're flying G-whatever jets, with nutritionists, with therapists, with psychoanalysts, it shouldn't matter. And by the way, just create one more day between games! How about that? That's what I want to see.
What about shortening the season?
I think one of the best things that ever happened to the league is the San Antonio Spurs. They get great shots. Coach Pop had an older bunch that he was not managing until April, he was managing them until June 20. He was resting healthy players, but they were still a No. 1 or 2 seed. He was resting players, but their 7, 8, 9 players were still winning games. So now all of a sudden teams are resting healthy players, and that has made the media and the players think that it is actually too tough for NBA players to play 82 straight games. I would love to see a list of players that played 82 straight games. That proves the integrity in the league we're losing by resting healthy players. I am not a fan of that—at all. You have to rest Kobe at this point in his career, Dwyane Wade at this point of his career, Tim Duncan at this point of his career, Dirk at this point in his career. There is a line in demarcation.
Which side of the line is LeBron on?
Him also. Not for two weeks, though. I'm not going there. But I will say this: He's played more minutes at this point in his career than Magic or Bird. When you see wear and tear, there's a difference between resting a healthy player and resting an aching player. When I see a player of his caliber getting back inflammation shots two seasons in a row? I don't remember seeing any of my favorite players get that. I don't remember seeing any of my teammates get that.
You recently published an autobiography. You've experienced a lot. Did you come away from writing about everything with a new perspective that you may not have had before? What lessons did you learn from the process?
For me that was a professional and an emotional cleanse. Whatever happened prior to the moment, I'm going to own it—good, bad, or indifferent. I'm going to share it, because it may give others inspiration. But now I'm also going to become a better person. That's what that meant to me. I'm not proud to be telling people I was peeing the bed until the fourth grade, but if that's going to help someone else who's been dealing with that, then I'm willing to do it. That's really what that meant to me. And the people I dedicated it to—my mom, my grandmother—if they tell me they loved it, and if a group of people make it a best-seller, which they did, then it was well worth it.