Every time Gator ejaculated, Dan Marvel grossed 10 grand. At the time of his death last year, the bull was a ton and a half of genetic perfection—or as close to it as has ever been recorded for his breed (Red Brangus, a dewlapped, humpbacked strain, three-eighths Brahman, five-eighths Angus and usually russet in hue, hence the name). And he was prolific: Marvel, his owner, says with pride that Gator once produced more than 400 "straws"—a half-cubic-centimeter swizzle stick of bull semen being the standard measure—from a single ejaculation.
Gator's semen was white gold because, drop for drop, the seed of a prize-winning bull is worth more than gasoline, penicillin and human blood combined. It's not the most valuable liquid in existence (that distinction goes to scorpion venom, which has medicinal properties), but it's close.
Five years ago, Marvel received an intriguing phone call from John Parke Wright, a wealthy investor from Naples, Florida. Wright knew someone who wanted to create a beef cattle herd, and his client needed a hefty amount of Gator's semen: thousands of straws. The deal would earn Marvel and his wife, Sandra, $50,000, a huge haul for them. The only catch: They had to make it happen in one of the least business-friendly places on earth: the communist island of Cuba.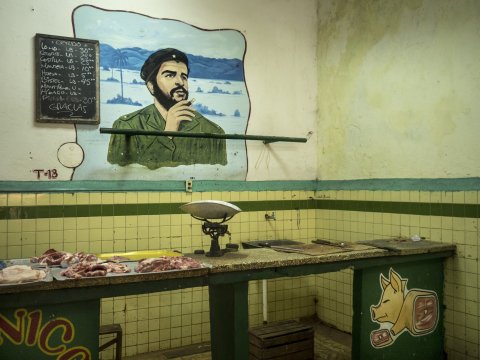 Six months after that chat, the Marvels were in Havana. They met Wright at a nondescript office building in Miramar, the city's diplomatic quarter, which serves as the headquarters of the National Enterprise for the Protection of Flora and Fauna, the Cuban equivalent of the Environmental Protection Agency. A receptionist led them to a small conference room with a dark wood table and chairs, the walls lined with portraits of the Castros and other Cuban leaders. As they sipped espresso and bottled water, an elderly Cuban official walked into the room and greeted them. He kissed both of Sandra's cheeks—"the Latin kind of kiss," as she describes it. His name was Guillermo García Frías, a comandante in the Cuban army who fought alongside the Castros during the revolution, a former vice president and current head of the environmental agency.
García, who reportedly saved Fidel Castro's life during the revolution, is Cuba's canniest cattleman, Wright says. He had a new ranch called El Macho, he told the Marvels, and he wanted to turn it into the first large-scale, high-quality beef production operation on the island in more than five decades. He had the land: 150,000 acres in Camagüey. What he didn't have: cows or capital.
There are two ways to increase the size of a herd. Go the natural route (put bulls and heifers together and wait), which can take years, or import a large number of heifers (20,000 would suffice, Wright ventures) and artificially inseminate them—but that method can take a lot of cash. "We're talking about a serious investment," he says.
Still, García chose the latter option. A couple of weeks after meeting with the comandante, the Marvels received in the mail a check for about $50,000. What García got in exchange was more than just spunk; it could be the seeds of a capitalist revolution.
¿Dónde Está la Carne?
In Cuba, shortages—from toothpaste to toilet paper—are a fact of life. Food is no exception. Beef, once a staple of the Cuban diet, can be next to impossible to find on the island. Sometimes, it will disappear from markets without warning for months, says Alexis Naranjo, whose restaurant, Los Naranjos, recently debuted in Havana's tony Vedado neighborhood. "I can't sell it," he says, because "there isn't any place to buy it." When you can find it, it's exorbitantly expensive, which means tourists are among the few people in Cuba who consume it.
Like most restaurant owners here, Naranjo sometimes turns to the thriving black market to meet his needs. But he won't buy beef there. "If you get meat and the police find out, they will close the restaurant," he says. It's not that the government is concerned about the health ramifications of eating black market beef, which is mostly pilfered from state-run butcher shops. It's because beef is so scarce, the government controls who gets carne and who doesn't. To protect its monopoly, the state even passed legislation making slaughtering cattle without explicit government permission a crime carrying a sentence of up to five years in prison—even if you own the cow.
The shortage is worse outside the major cities. And the contrast between meat served at Havana's privately owned restaurants and what rural Cubans eat is "shocking," says Parr Rosson, head of the Department of Agricultural Economics at Texas A&M University and an expert on U.S.-Cuba trade. "There are cuts of chicken you can't identify," he says. "I don't know what they are."
Cubans would like less mystery in their meat, but change happens slowly on the island. Un poco, un poco, "a little, a little," as people here like to say. But it's happening, especially with respect to the United States: In April 2009, U.S. President Barack Obama took the tentative first steps to ease the tension between the two countries. The administration lifted restrictions barring Cuban-Americans from traveling to the island and uncapped the amount of money they could send to relatives back home. Havana later implemented reforms designed to encourage small pockets of capitalism. In 2010, the government began allowing more Cubans to work for themselves and to hire others. Since then, the number of small-business owners and entrepreneurs has more than tripled, according to one recent paper.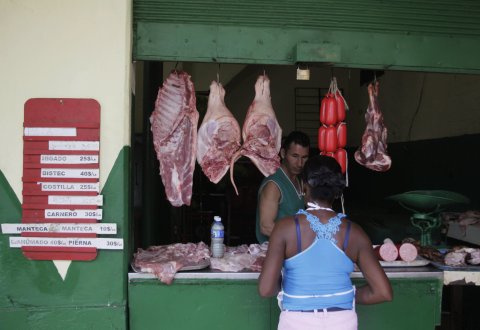 Now, six years after Obama's first announcement—the Cuban government's arrest and imprisonment of the American aid worker (and alleged spy) Alan Gross in 2009 slowed things down—the relationship between the two Cold War adversaries is finally starting to thaw. Most Cubans welcome this development, but few want things to go back to how they were before the revolution, when Cuba was a de facto colony of Washington and Havana was a decadent playground for wealthy gringos.
Doing business with Americans presents Cuba with not only an opportunity but also a threat. To improve the lives of their people, Cuban officials are dabbling with capitalism across the economy, including the beef industry. In need of everything from new tractors to plow their fields to wind turbines to upgrade the island's turn-of-the-century electrical grid, they have begun to bargain with businessmen such as Wright and Marvel. But they're afraid of giving away too much in the process—especially to their neighbors up north. So as Cuba transforms and opens to free enterprise, the Communist Party is proceeding cautiously, trying to make sure nothing endangers its monopoly on power. As Fidel Castro explained in a 1966 speech, "Revolutions are not undertaken to leave things as they were."
Soviet Sugar High
Cuba hasn't always been a nation with empty shelves, and its beef shortage is a relatively recent phenomenon. In 1958, one year before Castro ousted the U.S.-backed dictator Fulgencio Batista, there was nearly one cow for each of the island's approximately 6.5 million inhabitants. More than 50 years later, there are almost twice as many Cubans, but the country's herds are 30 percent smaller than they were in 1958, according to Carmelo Mesa-Lago, a Cuban-born economist at the University of Pittsburgh.
Most Cubans point to the embargo to explain the state of the beef industry, and many economists agree that it's at least partly responsible. But some analysts say Cuba's socialist system deserves a big part of the blame for the country's economic misery. "You've got a central planner sitting in a high-rise Ministry of Agriculture building in Havana, trying to tell growers in the eastern provinces what to do with their pastures," says William Messina, an agricultural economist at the University of Florida's Food and Resource Economics Department. "What the hell does a person in Havana know? Maybe it's been a rainy summer. Maybe there's been a drought…. Pretty poor decisions get made."
At the root of all Cuba's food woes is its greatest resource: sugar. The island had been almost entirely dependent on the crop since it was introduced hundreds of years ago, allegedly by Christopher Columbus. As Castro put it in a 1959 televised address, "One of our greatest causes of economic dependence on the United States is sugar, and it is imperative that we diversify our production and our markets." Following the revolution, the Castro government announced plans to do just that, but two years later, Havana changed its tack; the Soviet Union offered to pay above-market prices for Cuban sugar in exchange for access to the island. Despite its earlier ideas about diversification, the Castro government again poured most of the nation's resources into sugar. By the 1980s, Cuba was the world's third-largest sugar producer, behind Brazil and India.
Then, in 1991, the Soviet Union collapsed and took Cuba's economy with it. By that time, Cuba's agricultural sector was heavily mechanized, and Moscow was the source of most of what was needed to sustain the industry—from fertilizers to new tractors. Lacking the infrastructure to grow much beyond sugar and unable to command the inflated prices it had enjoyed for 30 years, Cuba had no way to feed itself. This era of Cuban history—euphemistically called the Special Period—saw the average Cuban shed about 12 pounds, according to a 2013 paper published in the British Medical Journal. Cubans ate domestic cats, and peacocks and buffalo mysteriously vanished from the Havana zoo, according to The Economist.
With some of the best farmland and pastures in the Western Hemisphere, Cubans don't need to eat pets. "Cuba should increase its beef production, without any question," says Pedro Sanchez, the Cuban-born director of the Agriculture and Food Security Center at Columbia University. In four to five years, Cuba could be importing 40 percent of its food, instead of 80 percent. "We have to make a proper plan, but all the elements are there," he adds.
One of those elements arrived by private plane in Havana last year. Inside, supercooled with liquid nitrogen, was a gallon of Gator's goo.
Can You Make a Buck in Cuba?
Earlier this year, Wright invited me to El Macho to witness what's become of Gator's seed. To reach the ranch, his chartered Chinese minibus passes through the Sierra del Chorrillo nature preserve, one of 48 protected areas managed by García's agency. The preserve is 10,000 acres of pristine wilderness where unshod ponies caper beneath a canopy of piñon pines and fossilized tree stumps jut from the earth.
As Wright steps off the minibus, he introduces me to Barbaro Casa López, the ranch's foreman, an intense-looking man with a blue-black mustache and straw cowboy hat. Casa López is already putting Gator's semen to use, he says, and offers to show us. He leads Wright and me down a muddy lane between rows of enormous, empty pens. In one, about 20 bulls are corralled. These are Gator's offspring, Barbaro tells me. Wright claims they're the first cross between an American bull and Cuban heifers in more than 50 years. They're a year old and fattening up nicely, gaining nearly 2 pounds per day, Barbaro says. They'll keep gaining until they weigh about 1,400 pounds. Then they'll be sent to slaughter.
El Macho turns a small profit, but its earnings are limited because it can sell only to the state, and the state, not the market, dictates prices. In June, Barbaro says, the government increased the price for steers to 2,000 Cuban pesos a head—roughly $80. The result is that cowboys and ranch owners both earn less than bartenders and taxi drivers in Havana.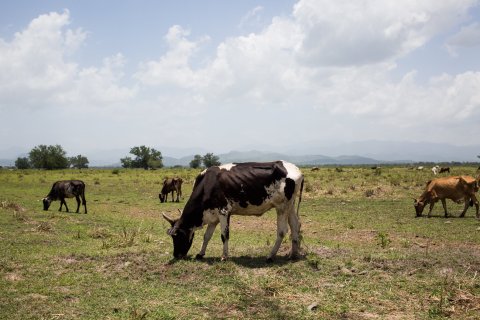 The only way to make real money in the cattle business in Cuba is to scale the operation massively. And the only way to do that quickly is with foreign direct investment. That's why Wright is helping García find partners and investors stateside. "It's very simple," he says. García can offer American investors a stake in El Macho—"sa y $200 million for 50 percent." That $200 million will be used to increase the breeding stock and ramp up production of meat.
But many Americans are wary of investing in Cuba because the state almost always insists on having a majority stake in partnerships with foreign companies. And the island doesn't have a sterling reputation in the minds of investors—expropriating billions in assets from U.S. corporations doesn't scream "open for business." Wright insists American companies shouldn't be afraid. It's a myth that you can't make a buck in Cuba, he says, and he intends to prove it with El Macho. If Americans discover a business-friendly climate here, Wright believes Congress will be inclined to lift the embargo. "We're going to use these cows to break the blockade," he crows.
"Sí," Barbaro says. "It all depends on the blockade."
It's not so simple. As part of the thaw, Washington is rolling out incremental reforms, like allowing ferry service to Havana and lifting export restrictions on telecommunications equipment. But Cubans have been hesitant to embrace American investment. "We haven't gotten Cuba to green-light a single deal," says James Williams, president of the lobbying group Engage Cuba. "Part of it is they're just overwhelmed. People from all over the world are coming here like they've never come before."
There are other hurdles too. For the Cubans, the end of the embargo is the next step in the negotiations. But the U.S. sees the end of the embargo as the last step, a reward for progress on human rights, property claims and law enforcement, among other things. "We think Congress would look very favorably on those [changes]," says a State Department official with knowledge of the negotiations, who spoke on the condition of anonymity because the talks are sensitive. "Support would be more attainable if they could make progress."
Maybe, but Congress seems reluctant to let Americans deal directly with the Cuban government, preferring to encourage investment in small businesses. Of course, in Cuba the difference between privately owned and government-owned is rarely clear-cut, says Paul Johnson, co-chair of the U.S. Agriculture Coalition for Cuba. "I don't know if you'll ever be able to draw a distinction," he says. "It's a one-party system, and the government has a lot of control in business decisions." Johnson says U.S. investors should flock to Cuba, even if it means getting into business with the Communist Party, because that's the way Cubans want it. "We need to respect their sovereignty," he says. "It's in the U.S.'s best interests in the long run. Otherwise, you're just laying the seeds of future revolution."
Williams agrees. Most Americans, he says, don't know how to do business in Cuba. The Cubans "have a process," he says, "and companies have been ignorant or naive of that process."
John Parke Wright is not most Americans. He has been doing business in Cuba since the mid-2000s, shipping beef and dairy cattle from Texas, Florida and elsewhere (the embargo on agricultural commodities to Cuba was lifted in 2000). Until Washington and Havana hammer out their differences, Wright is comfortable conducting his business the Cuban way. And for Wright, beef is more than just business. Beef is personal.
Yankees, Worms and Trash
"This was my family's land," Wright says, stepping off his minibus and waving his hand at 15,000 acres of Cuban wilderness. He plucks a Romeo y Julieta cigar from the breast pocket of his guayabera, lights it and inhales the smoke. Wright always wears a guayabera when he's in Cuba, but there's no mistaking him for a local. His 10-gallon Stetson, navy Brooks Brothers blazer and ruddy complexion give him away. Americans are a rare sight in Havana, and they are virtually unknown on this stretch of rural highway in the foothills of the Sierra Maestra, some 450 miles southeast of the capital. Except for Wright, who for the past 17 years has been a frequent and quizzical sight here.
Through his mother, Wright is a member of the Lykes clan, the 12th-largest landowner in the U.S., according to The Land Report. With a net worth of $1.2 billion, the Lykes are the 193rd wealthiest family in the country, according to Forbes. Before the Cuban revolution, his family owned two cattle ranches in Cuba, plus various properties in Havana, including the city's largest meat-packing plant. Like many Americans who lost wealth during the revolution—or, as many Cubans see it, whose property was returned to its rightful owners—Wright thought his family's riches were gone. Then, in the late 1990s, he says, he met a diplomat named Carlos Lechuga, who was Havana's ambassador to the United Nations during the Cuban missile crisis. "Señor Lechuga suggested I show more interest in my mother's land," Wright says. Before long, Lechuga introduced him to Ramón Castro, Fidel's older brother. The two became "dear friends" and traveled the country together, Wright says. After Ramón became too old to leave Havana, his son, Ángel, took his place on Wright's rural sojourns.
On the afternoon that I join Wright on his trip to the countryside, Ángel comes too. A portly, amiable man in his mid-50s, Angel has short, gray hair and coke-bottle glasses. Unlike his father and his uncles Fidel and Raúl, he's clean-shaven. As Wright and I survey the land, Ángel takes a siesta in the back of the bus.
Outside, butterflies bob in the tall, sun-blanched grass. The flatbed trucks and horse carts that pass for buses and taxis in this part of the country intermittently trundle back and forth from nearby towns. Wild turkeys loiter near a dusty dirt track leading to La Candelaria, one of the two cattle ranches that used to belong to Wright's family. Once, seven royal palms grew here, one for each of Wright's great-great-uncles, who earned the family's fortunes in Cuba. They're gone now. A tumbledown portcullis, 10 or 12 feet of orange brick, is all that remains to mark the entrance. "It's a little sad," he says with a half-smile. "I'm glad they've kept the gate, at least."
A few miles down the road, a suntanned farmer in yellow sweats pulls aside a razor-wire fence to let us inside. Wright leads me down the dirt road to the interior of the ranch, seemingly impervious to the heat, the mud sticking to his shoes or the fat sow that waddles away resentfully at his approach. Soon we arrive at the old ranch house. There are holes in the roof. Inside, the floor is a jumble of broken cobblestones. Shadowed hollows suggest where doors and windows used to hang.
In the 1950s, La Candelaria, which is slightly larger than Manhattan, was one of Cuba's best ranches, Wright says. It employed a dozen or so cowboys who tended 7,500 head of cattle, according to an article from Fortune in 1954. Today, its only permanent tenants are a timorous herdsman and a few dozen rangy crossbreeds. "For 10 years, I've been asking the Castros about why these ranches that were so well-run up to 1959 are idle today," Wright says. "The answer's been, 'It's the blockade. The embargo.' That's a good excuse, but it doesn't cut it."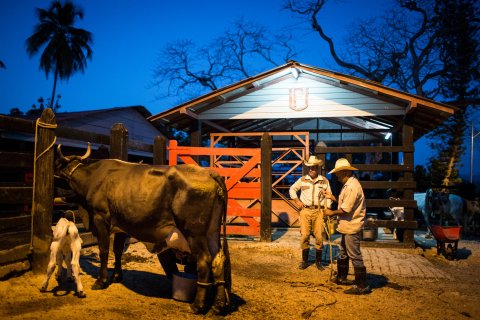 Wright wants to come back, to restore La Candelaria. But the Cubans have so far responded tepidly to his requests. While they may need people like him—people familiar with the culture who have a vested interest in seeing Cuba return to prosperity—they are also wary of returning expropriated property. To do so would set a dangerous precedent, one that might see a flood of Cuban exiles and their descendants returning to the island, demanding their land back, or, failing that, compensation for it, which the Cubans can't afford to pay. And fear of the exiles' homecoming is pervasive on the island, says Michael Kelly, a Cuba policy expert and associate dean at the Creighton University School of Law. "That's what the Castro government has been feeding them," he says. The government cannot be seen to be doing business with the exiles, a group it has spent decades denouncing as gusanos (worms) and escoria (trash).
Wright is adamant about returning to his family's former plot, even though it's illegal in the U.S. for citizens to negotiate with the Cuban government. "If Congress tries to stand in my way, I'll go around them," he growls. "If they think they can stop me from living on land that belongs to me, and they want to throw me in jail, let them try."
And while Wright stands to profit from having his family's land returned to him, he says money isn't his only—or even primary—motive for wanting to return to Cuba. His main motivation, he says, is restoring an industry that can feed the island's 11 million people. That may sound self-serving, but Wright is already rich, and if he wanted to become wealthier, there are easier ways to do so than negotiating with Communist Cuba. "It's criminal," he says. "They're using food as a weapon of mass destruction."
A Castle of Cuban Capitalism
Whether or not Wright succeeds, there is one place in Cuba, at least, where beef is not so rare. A morning's drive from La Candelaria is one of the best cattle ranches in the Western Hemisphere. It is called El Alcázar, which means "the castle" or "the fortress." It sits cloistered in the rising limestone foothills of the Sierra Maestra in the country's southeast. El Alcázar is one of the few cattle ranches not nationalized during the revolution. While other ranchers saw their land confiscated, Maria Antonia Puyol Bravo held on to hers. Wright describes her as Cuba's only card-carrying capitalist.
A diminutive 88-year-old with a crooked smile and mischievous, watchful eyes, Puyol has run the ranch for most of her life. She never married and has no children. Wright, Castro and I join her on a warm evening in June. Her white curls are cropped short and her chestnut skin is creased after years working in the sun. She wears old Nikes, pearl earrings and a wooden cross around her neck.
Puyol is wealthy by Cuban standards and makes no effort to hide it. Her home, a Spanish colonial villa, is ringed with manicured gardens where a fountain of clay pots feeds a bubbling pool. Flamboyán trees form a canopy overhead. In the afternoon sunlight, their fallen leaves look like shriveled tongues of fire.
Dinner that night is plain by American standards but plentiful—platters of roasted potatoes, corn fritters, plantains, rice and beans, all grown on Puyol's land. Piles of food arrive on sterling silver trays. As we eat, the cattle baroness reminisces about the revolution. In 1959, the Cuban government seized and nationalized estates larger than about 1,000 acres. El Alcázar is about 1,500 acres, yet it survived the revolution untouched.
These agrarian reforms were supposed to eliminate the sprawling plantations that enriched wealthy landowners but left their workers, mostly seasonal laborers, impoverished. The law succeeded in its goal, but it had unintended consequences. After their ranches were taken from them, Cuba's cattle kings mostly chose life in exile. Those tasked with managing the confiscated estates had neither the experience nor the skills required.
Perhaps, as Puyol suggests, the ranch survived because of her: She cites an exemption to Cuba's agrarian reform laws, which left especially productive ranches immune to expropriation, but that didn't stop cadres of government enforcers from confiscating many of them anyway. Puyol says she fought hard with the authorities to keep El Alcázar. Her close ties to the Castros probably didn't hurt either.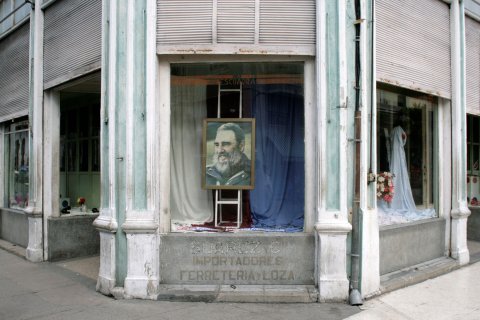 Puyol grew up in Birán, the Castros' hometown. With fondness, she recalls a youth spent riding horses and fishing alongside Ramón, Fidel and Raúl Castro. Even then, she remembers, they seemed preordained to rule. "Today, they run all of Cuba like they used to run Birán," she whispers with a smile. Puyol's dogs were gifts from Raúl, she says, as were her two televisions. She owns four cars, gifts from Fidel, and a signed copy of The Strategic Counteroffensive in the Sierra Maestra to Santiago de Cuba, one of his many books. When the revolution came, Fidel came looking for supplies, Puyol says. She provided them: gasoline, food, equipment and whatever else they wanted. Even so, not even the Puyols were left alone entirely. "Many, many ranches were ruined after the revolution," Puyol says between sips of chilled tamarind juice. Among them, a 20,000-acre estate seized from her father.
"What happened to it?" I ask.
With a knowing look, she draws her thumb across her throat.
"A shoemaker," she says, "can't run a ranch."
Today, it's 20,000 acres of dirt.
But not El Alcázar. Her land is pristine, quite unlike any I have seen in Cuba. Her pastures are green, her cattle are healthy and well-fed, and her workers get to eat beef. Small farms and ranches similar to Puyol's have sprouted up all over the country since Raúl Castro's wave of agrarian reforms beginning in 2007. According to one recent paper by researchers at the University of Havana and the City University of New York's Lehman College, about 70 percent of the country's arable land is now in private hands. If Puyol's ranch is any indication, that's a good trend. And it's a good opportunity for American businesspeople such as Wright, who are permitted to sell the Cubans agricultural commodities.
Before we leave, she invites us to see her land on horseback. Wright, Ángel Castro and I follow a cadre of Cuban cowboys and a herd of Puyol's mares as they bolt out of their corral and up-country. The horses wade through the Rio Contramaestre, where a pair of young women cavort in the muddy water. We follow the herd until we reach a hill the Cubans call la vista. Wright lights another cigar, and we watch the sunset. "Maria Antonia's ranch is the model," he says, "for the future of Cuban agriculture."
I hope he's right. It would be a shame to let Gator's seed go to waste.
With Hannah Berkeley Cohen in Havana.