When you are the most notorious alleged college rapist in the country, it takes a lot of guts to attend your graduation ceremony.
For most of Columbia University's Class of 2015, graduation day was an exuberant celebration of four years of hard work at one of the country's most prestigious schools. For Paul Nungesser, it was yet another reminder of how alone he was on that storied campus, and how hated he was. He and his parents had agonized over whether to attend the ceremony because his classmate Emma Sulkowicz had accused him of raping her, and for more than eight months she had carried an extra-long twin-size mattress around campus, vowing to do so until he was expelled, or fled. Despite this very public shaming, Nungesser had stayed in school and earned his degree. But now he worried that people would boo him as he crossed the stage to claim his diploma, that reporters would hound him, that the image of him in his cap and gown would spread across the Internet. He also feared that Sulkowicz would lug that mattress onstage, even though Columbia had warned the seniors not to bring "large objects which could interfere with the proceedings or create discomfort to others."
At the last minute, the family decided to attend. His parents flew in from Berlin, where they live and where Nungesser is from. His mother, Karin, recalls that on graduation day it was pouring rain "like it's perhaps the last day of New York." Despite the apocalyptic weather, a thousand students lined up in their blue caps and gowns, eager to take their prize. Nungesser wore a matching blue bow tie and khaki pants, while some of his classmates stuck red tape to their caps, part of a campus anti-sexual-violence organization called No Red Tape, co-founded by Sulkowicz.
As "Pomp and Circumstance March No. 1" played over the loudspeakers, the soon-to-be graduates filed from the student center to the campus green and took their seats on white folding chairs under giant tents. On the way in, Nungesser spotted Sulkowicz, carrying the mattress. He texted his parents about it but knew there was nothing they could do. So he sat nervously, awaiting his turn to cross the stage. At one point, the keynote speaker, Los Angeles Mayor Eric Garcetti, said, "You took risks. You've held contrary opinions, held die-ins and sit-ins and carried mattresses.... Never stop being activists."
"It was like a slap in the face," says Andreas Probosch, Nungesser's father. (Karin Nungesser and Andreas have been together 25 years but are not married.)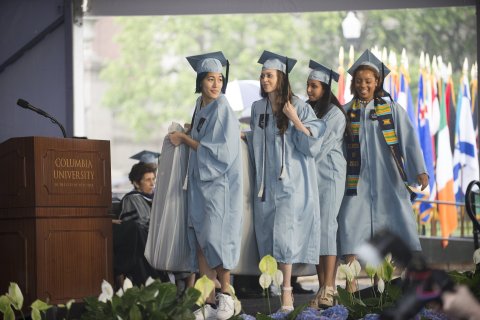 After the speakers had all passed along their platitudes and homilies, administrators began calling students to the stage. Fortunately for Nungesser, when the announcer read his name, no one booed or protested. But eight minutes later, it was Sulkowicz's turn. The announcer stumbled over her name, perhaps distracted by the giant mattress wrapped in a waterproof cover being lugged to the dais by Sulkowicz and four friends. A loud burst of applause drowned out the names of the next few classmates called after her.
Sitting among all the rain-soaked parents, Probosch remembers feeling relieved that nobody knew who he was. "I wondered...What would they do if they knew we were the parents of the guy Emma accused? What would they do? Would they spit in front of us?"
Karin, however, felt defiant. "I would have liked to go to every single parent in that audience and say, 'I am the mother of Paul, and I am very proud of my son, and I hope you discuss with your sons and daughters what they did to him.'"
Sulkowicz's final act of rebellion that day—and the fact that Columbia did not stop it—is now part of a lawsuit Nungesser has filed against his alma mater. Even though Columbia found him not responsible for what Sulkowicz alleged, his suit claims the school was complicit in her long-running effort to destroy his reputation and declined to intervene because he is male. Some people believe the claim is absurd. Others say it's the wake-up call higher education needs to start protecting all students.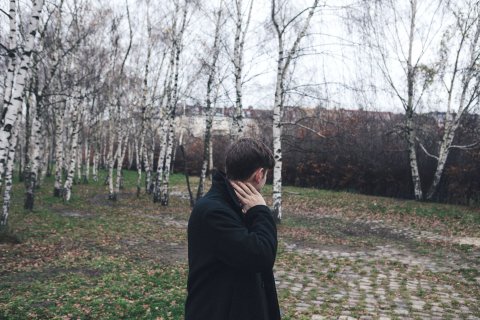 'Starting to Snowball'
Colleges have recently ramped up their investigation of sexual assault accusations because a 19-page letter told them to do so. In 2011, the U.S. Department of Education's Office for Civil Rights issued a "Dear Colleague" letter. It clarified that sexual violence is a subset of sexual harassment, which in an education setting falls under Title IX of the Education Amendments. The OCR threatened to investigate schools thought to be insufficiently zealous with sexual assault cases, and if it found a school had violated Title IX, the OCR might rescind federal funding.
"We were seeing quite a bit of noncompliance and quite a bit of concern around the country," says Catherine Lhamon, assistant secretary for civil rights at the Department of Education, who believes the "Dear Colleague" letter did its job. "I think we've seen just a cataclysmic change around the country in terms of attention to the issue, responsiveness to it, and training, preparation for our students so that we can see safer campuses," she says. The OCR is investigating 152 colleges for their handling of sexual violence claims, and, she adds, complaints about sexual violence at colleges have increased more than 400 percent.
Victims' advocates say the OCR letter helped destigmatize sexual assault and encourages survivors to report. But a less-told consequence is the tendency by schools to trample due process rights for the accused, according to some higher education and legal experts. "There was for a long time a perception that colleges were not responsive at all to claims of sexual misconduct," says Samantha Harris, director of policy research at the Foundation for Individual Rights in Education. These days, however, "a growing number of people are starting to be concerned that the pendulum has swung too far in the other direction."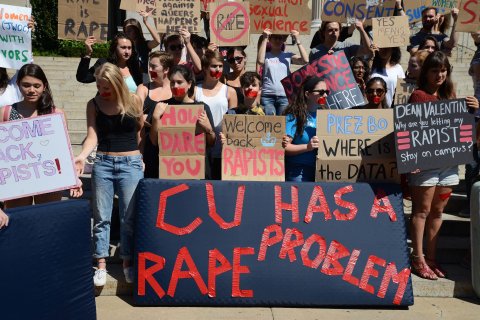 "I think probably a lot of colleges translated the 'Dear Colleague' letter as 'favor the victim,'" says Brett Sokolow, executive director of the Association of Title IX Administrators and president of the National Center for Higher Education Risk Management, which consults with schools. "We very quietly started to say to our clients.… Don't overcorrect on this because it will touch off a spate of litigation by accused individuals."
The message, he adds, was "You went too far. Swing the pendulum back." Sokolow says schools didn't heed the warning and resented the suggestion. "[We] really took it on the chin. I mean, this was such an unpopular thing for us to say. And it does not feel good in any way, shape or form to have been absolutely right."
Nungesser leads the swelling ranks of male students suing colleges, seeking damages and asking judges to force schools to clear their records. A database on the website of advocacy organization Boys and Men in Education says at least 90 men have filed such lawsuits in the past few years, and some lawyers say the total number is even higher. Until recently, the lawsuits focused on claims such as breach of contract and lack of due process. But increasingly, lawyers are throwing gender discrimination into the mix. Accused men are now echoing the complaints of their (most often) female accusers: that schools are violating Title IX, the federal law that prohibits sex-based discrimination in federally funded education programs.
At a time when a movement is finally growing to prevent campus sexual assault and support the survivors, the claim that schools are anti-male can sound as absurd as white people suing for racial discrimination. After all, new findings reaffirm the statistic that 1 in 4 or 5 college women is a victim of a sexual assault, and research published in the journal Violence Against Women says that only 2 to 10 percent of campus sexual assault accusations are false. But at least 14 so-called reverse Title IX cases are moving through the courts, and new ones are being filed every few weeks. All it takes is one victory in court to set a legal precedent and end what some higher education experts say is an overcorrection on sexual assault.
"Things are starting to snowball. There's kind of a gathering storm of resistance," says Jonathan Taylor, founder of Boys and Men in Education. Since 2011, accused students have sued too many schools to list.
At Vassar College, the daughter of a longtime professor had sex with her teammate on the rowing team. She later told him on Facebook that she had "had a wonderful time," court documents say. A year later, though, she reported that she had not consented and that she had tried to resist and felt trapped. After an investigation and hearing, the school expelled him. He sued, but a judge dismissed the case.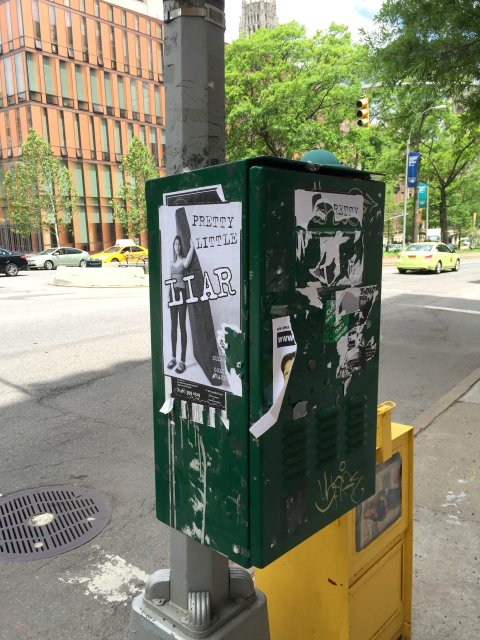 At Brandeis University, a male student accused his ex-boyfriend of "numerous inappropriate, non-consensual sexual interactions" during their two-year relationship, according to the federal complaint. Those apparently included waking the accuser with a kiss in the morning (because the accuser was half-asleep, the school investigator said he was incapacitated) and seeing his then-boyfriend naked in the dorm shower. The accused was found responsible for sexual misconduct, and he's suing.
A case against Washington and Lee University recently survived a motion to dismiss. According to the complaint, a female student started kissing a male student, led him to his bed and removed his clothes. They apparently performed oral sex on each other and then had intercourse. She spent the night, and in the morning they exchanged phone numbers, the complaint says, and a month later, they had sex again.
The next semester, the female student attended a presentation on sexual assault, during which the school's Title IX coordinator allegedly spoke about how "regret equals rape." (The school has denied this.) Soon after, the female student filed a complaint, and the coordinator from the presentation opened an investigation. That person allegedly omitted important details from the report, such as quoting the girl as saying, "I usually don't have sex with someone I meet on the first night" and leaving out her caveat: "But you are a really interesting guy." The school expelled him. He sued, and a jury trial is scheduled for April.
Lawsuit after lawsuit paints a picture of some accused college rapists that's far different from the stereotype of the roofie-dropping frat boy or violent jock. "I'm not representing students who are being accused of violent gang rapes," says Kimberly Lau, a lawyer who represented the accused Vassar student. "I'm talking about the gray area, the he-said, she-said, two people in a room, two people drinking...and coming away the next day with different narratives of what occurred."
Nungesser's case was a he-said, she-said, and its details are well-known by now. He and Sulkowicz were friends who had had sex on two occasions before they hooked up again in August 2012, on the first day of their sophomore year. They seemed to remain friendly afterward, but several months later, Sulkowicz filed a report with Columbia, claiming Nungesser had anally raped her that night in August during what had started as consensual sex. She also said he had slapped her, choked her and pinned her down and wouldn't stop despite her screaming. "He could have strangled me to death," she told The New York Times.
"That was obviously a huge shock, and a whole world for me broke apart," Nungesser says of the accusation. He told the school the sex had been consensual. In November 2013, Columbia found that Nungesser was not responsible and denied Sulkowicz's appeal.
Shortly after Sulkowicz filed her report, two more women came forward with accusations against Nungesser. One said he had groped her and tried to kiss her a year earlier; another said that when she dated Nungesser, she had felt pressured to have sex with him. Nungesser's accusers have said they each decided to speak up when they learned of the others' cases. Columbia exonerated Nungesser in all cases. (In one, the school initially found him responsible; after an appeal, a second hearing cleared him. A fourth accuser, a male student, later said Nungesser had sexually assaulted him; again, the school found him not responsible.) "This is the point where all of us say, Well, this is finished, OK," says Karin, his mother. "Now everything can cool down."