When you are the most notorious alleged college rapist in the country, it takes a lot of guts to attend your graduation ceremony.
For most of Columbia University's Class of 2015, graduation day was an exuberant celebration of four years of hard work at one of the country's most prestigious schools. For Paul Nungesser, it was yet another reminder of how alone he was on that storied campus, and how hated he was. He and his parents had agonized over whether to attend the ceremony because his classmate Emma Sulkowicz had accused him of raping her, and for more than eight months she had carried an extra-long twin-size mattress around campus, vowing to do so until he was expelled, or fled. Despite this very public shaming, Nungesser had stayed in school and earned his degree. But now he worried that people would boo him as he crossed the stage to claim his diploma, that reporters would hound him, that the image of him in his cap and gown would spread across the Internet. He also feared that Sulkowicz would lug that mattress onstage, even though Columbia had warned the seniors not to bring "large objects which could interfere with the proceedings or create discomfort to others."
At the last minute, the family decided to attend. His parents flew in from Berlin, where they live and where Nungesser is from. His mother, Karin, recalls that on graduation day it was pouring rain "like it's perhaps the last day of New York." Despite the apocalyptic weather, a thousand students lined up in their blue caps and gowns, eager to take their prize. Nungesser wore a matching blue bow tie and khaki pants, while some of his classmates stuck red tape to their caps, part of a campus anti-sexual-violence organization called No Red Tape, co-founded by Sulkowicz.
As "Pomp and Circumstance March No. 1" played over the loudspeakers, the soon-to-be graduates filed from the student center to the campus green and took their seats on white folding chairs under giant tents. On the way in, Nungesser spotted Sulkowicz, carrying the mattress. He texted his parents about it but knew there was nothing they could do. So he sat nervously, awaiting his turn to cross the stage. At one point, the keynote speaker, Los Angeles Mayor Eric Garcetti, said, "You took risks. You've held contrary opinions, held die-ins and sit-ins and carried mattresses.... Never stop being activists."
"It was like a slap in the face," says Andreas Probosch, Nungesser's father. (Karin Nungesser and Andreas have been together 25 years but are not married.)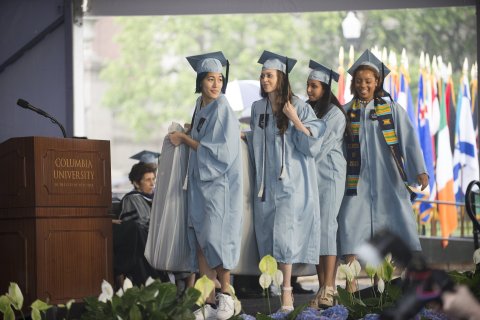 After the speakers had all passed along their platitudes and homilies, administrators began calling students to the stage. Fortunately for Nungesser, when the announcer read his name, no one booed or protested. But eight minutes later, it was Sulkowicz's turn. The announcer stumbled over her name, perhaps distracted by the giant mattress wrapped in a waterproof cover being lugged to the dais by Sulkowicz and four friends. A loud burst of applause drowned out the names of the next few classmates called after her.
Sitting among all the rain-soaked parents, Probosch remembers feeling relieved that nobody knew who he was. "I wondered...What would they do if they knew we were the parents of the guy Emma accused? What would they do? Would they spit in front of us?"
Karin, however, felt defiant. "I would have liked to go to every single parent in that audience and say, 'I am the mother of Paul, and I am very proud of my son, and I hope you discuss with your sons and daughters what they did to him.'"
Sulkowicz's final act of rebellion that day—and the fact that Columbia did not stop it—is now part of a lawsuit Nungesser has filed against his alma mater. Even though Columbia found him not responsible for what Sulkowicz alleged, his suit claims the school was complicit in her long-running effort to destroy his reputation and declined to intervene because he is male. Some people believe the claim is absurd. Others say it's the wake-up call higher education needs to start protecting all students.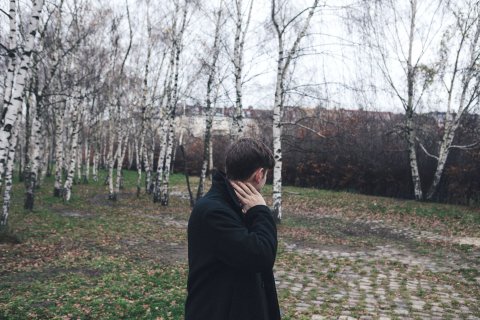 'Starting to Snowball'
Colleges have recently ramped up their investigation of sexual assault accusations because a 19-page letter told them to do so. In 2011, the U.S. Department of Education's Office for Civil Rights issued a "Dear Colleague" letter. It clarified that sexual violence is a subset of sexual harassment, which in an education setting falls under Title IX of the Education Amendments. The OCR threatened to investigate schools thought to be insufficiently zealous with sexual assault cases, and if it found a school had violated Title IX, the OCR might rescind federal funding.
"We were seeing quite a bit of noncompliance and quite a bit of concern around the country," says Catherine Lhamon, assistant secretary for civil rights at the Department of Education, who believes the "Dear Colleague" letter did its job. "I think we've seen just a cataclysmic change around the country in terms of attention to the issue, responsiveness to it, and training, preparation for our students so that we can see safer campuses," she says. The OCR is investigating 152 colleges for their handling of sexual violence claims, and, she adds, complaints about sexual violence at colleges have increased more than 400 percent.
Victims' advocates say the OCR letter helped destigmatize sexual assault and encourages survivors to report. But a less-told consequence is the tendency by schools to trample due process rights for the accused, according to some higher education and legal experts. "There was for a long time a perception that colleges were not responsive at all to claims of sexual misconduct," says Samantha Harris, director of policy research at the Foundation for Individual Rights in Education. These days, however, "a growing number of people are starting to be concerned that the pendulum has swung too far in the other direction."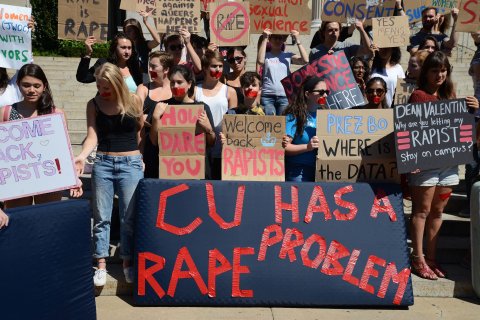 "I think probably a lot of colleges translated the 'Dear Colleague' letter as 'favor the victim,'" says Brett Sokolow, executive director of the Association of Title IX Administrators and president of the National Center for Higher Education Risk Management, which consults with schools. "We very quietly started to say to our clients.… Don't overcorrect on this because it will touch off a spate of litigation by accused individuals."
The message, he adds, was "You went too far. Swing the pendulum back." Sokolow says schools didn't heed the warning and resented the suggestion. "[We] really took it on the chin. I mean, this was such an unpopular thing for us to say. And it does not feel good in any way, shape or form to have been absolutely right."
Nungesser leads the swelling ranks of male students suing colleges, seeking damages and asking judges to force schools to clear their records. A database on the website of advocacy organization Boys and Men in Education says at least 90 men have filed such lawsuits in the past few years, and some lawyers say the total number is even higher. Until recently, the lawsuits focused on claims such as breach of contract and lack of due process. But increasingly, lawyers are throwing gender discrimination into the mix. Accused men are now echoing the complaints of their (most often) female accusers: that schools are violating Title IX, the federal law that prohibits sex-based discrimination in federally funded education programs.
At a time when a movement is finally growing to prevent campus sexual assault and support the survivors, the claim that schools are anti-male can sound as absurd as white people suing for racial discrimination. After all, new findings reaffirm the statistic that 1 in 4 or 5 college women is a victim of a sexual assault, and research published in the journal Violence Against Women says that only 2 to 10 percent of campus sexual assault accusations are false. But at least 14 so-called reverse Title IX cases are moving through the courts, and new ones are being filed every few weeks. All it takes is one victory in court to set a legal precedent and end what some higher education experts say is an overcorrection on sexual assault.
"Things are starting to snowball. There's kind of a gathering storm of resistance," says Jonathan Taylor, founder of Boys and Men in Education. Since 2011, accused students have sued too many schools to list.
At Vassar College, the daughter of a longtime professor had sex with her teammate on the rowing team. She later told him on Facebook that she had "had a wonderful time," court documents say. A year later, though, she reported that she had not consented and that she had tried to resist and felt trapped. After an investigation and hearing, the school expelled him. He sued, but a judge dismissed the case.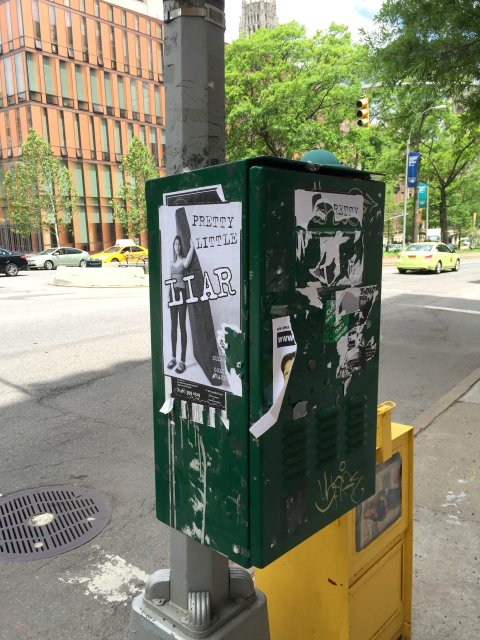 At Brandeis University, a male student accused his ex-boyfriend of "numerous inappropriate, non-consensual sexual interactions" during their two-year relationship, according to the federal complaint. Those apparently included waking the accuser with a kiss in the morning (because the accuser was half-asleep, the school investigator said he was incapacitated) and seeing his then-boyfriend naked in the dorm shower. The accused was found responsible for sexual misconduct, and he's suing.
A case against Washington and Lee University recently survived a motion to dismiss. According to the complaint, a female student started kissing a male student, led him to his bed and removed his clothes. They apparently performed oral sex on each other and then had intercourse. She spent the night, and in the morning they exchanged phone numbers, the complaint says, and a month later, they had sex again.
The next semester, the female student attended a presentation on sexual assault, during which the school's Title IX coordinator allegedly spoke about how "regret equals rape." (The school has denied this.) Soon after, the female student filed a complaint, and the coordinator from the presentation opened an investigation. That person allegedly omitted important details from the report, such as quoting the girl as saying, "I usually don't have sex with someone I meet on the first night" and leaving out her caveat: "But you are a really interesting guy." The school expelled him. He sued, and a jury trial is scheduled for April.
Lawsuit after lawsuit paints a picture of some accused college rapists that's far different from the stereotype of the roofie-dropping frat boy or violent jock. "I'm not representing students who are being accused of violent gang rapes," says Kimberly Lau, a lawyer who represented the accused Vassar student. "I'm talking about the gray area, the he-said, she-said, two people in a room, two people drinking...and coming away the next day with different narratives of what occurred."
Nungesser's case was a he-said, she-said, and its details are well-known by now. He and Sulkowicz were friends who had had sex on two occasions before they hooked up again in August 2012, on the first day of their sophomore year. They seemed to remain friendly afterward, but several months later, Sulkowicz filed a report with Columbia, claiming Nungesser had anally raped her that night in August during what had started as consensual sex. She also said he had slapped her, choked her and pinned her down and wouldn't stop despite her screaming. "He could have strangled me to death," she told The New York Times.
"That was obviously a huge shock, and a whole world for me broke apart," Nungesser says of the accusation. He told the school the sex had been consensual. In November 2013, Columbia found that Nungesser was not responsible and denied Sulkowicz's appeal.
Shortly after Sulkowicz filed her report, two more women came forward with accusations against Nungesser. One said he had groped her and tried to kiss her a year earlier; another said that when she dated Nungesser, she had felt pressured to have sex with him. Nungesser's accusers have said they each decided to speak up when they learned of the others' cases. Columbia exonerated Nungesser in all cases. (In one, the school initially found him responsible; after an appeal, a second hearing cleared him. A fourth accuser, a male student, later said Nungesser had sexually assaulted him; again, the school found him not responsible.) "This is the point where all of us say, Well, this is finished, OK," says Karin, his mother. "Now everything can cool down."
Or heat up. In December 2013, the New York Post ran a story about the first three claims, referring anonymously to a "jock 'rapist'... still walking around like a big man on campus because the school dropped the ball." In January 2014, a student publication detailed the claims against him, with pseudonyms for all involved. Then, in April 2014, Sulkowicz spoke at a press conference with New York Senator Kirsten Gillibrand. A press release quoted Sulkowicz as saying, "My rapist—a serial rapist—still remains on campus, even though three of the women he assaulted reported him.... Every day I live in fear of seeing him."
A month later, Sulkowicz appeared on the front page of The New York Times and penned an article for Time about the alleged rape. Nungesser's name soon appeared on fliers and graffiti around campus, along with the words "serial rapist." Days later, Sulkowicz filed a police report. The district attorney decided not to bring charges, which, Nungesser's lawyer at the time says, was because the office felt it could not prove the case beyond a reasonable doubt. Sulkowicz has said it was because she declined to participate in the DA's investigation. (The DA declined to comment to Newsweek.) But the report was enough for the Columbia Daily Spectator to publish Nungesser's name, confirming the identity of Sulkowicz's long-alleged rapist. "I knew that was the point of no return," Nungesser says. "I knew life was never going to be the same again."
Throughout the ordeal, Nungesser's parents regularly emailed school administrators, including President Lee Bollinger. Every email expressed a new concern:
We have just learned that our son was ambushed outside his residence by two reporters.... Do we have to wait until Paul is beaten up, severely wounded or even killed?... We just talked to Paul on the phone and found him devastated, depressed and without any support.... We feel that his well-being is seriously in danger.... You are again massively worsening our son's situation.... Shame on you, Mr. President!
Columbia's responses, which the parents provided to Newsweek, were usually boilerplate, stating that the school "takes these matters extremely seriously." "Every time we said, 'Please, Columbia, do something,'" Karin says. "And they didn't."
Then came the art project for which Nungesser's accuser would gain international fame—and credit for her school thesis. She titled it Mattress Performance (Carry That Weight). In a September 2014 video, she declared she would carry a mattress around campus "for as long as I attend the same school as my rapist." That video now has more than 2.2 million views.
Nungesser was appalled and scared. "Immediately, when I found out about the project, I reached out to Columbia. I said, 'There is someone apparently doing a school-sponsored project about getting me either bullied or expelled. This can't be going on. You should be doing something about it. I'm not feeling safe. This is against school regulation.' And I was just completely—yeah, ignored is not even strong enough" for how little they seemed to care.
The image of Sulkowicz struggling under the weight of her mattress became a national symbol, her "Carry That Weight" slogan a rallying cry. She appeared on the covers of New York magazine and the New York Times Arts section. New York art critic Jerry Saltz named her project the best "art show" of 2014. She attended President Barack Obama's State of the Union address as Gillibrand's guest, and women's groups showered her with awards. Students at more than 150 schools participated in "Carry That Weight" days of action, hauling mattresses across campuses.
"I would hear people talking about it who didn't even know me or didn't recognize me. I would hear people discussing it on the subway...non-Columbia people," Nungesser says. "I kept telling myself, 'I'm not that person.'"
He considered leaving school but knew people would take that as an admission of guilt. So he and his parents stopped emailing Columbia, pleading for help, and lawyered up.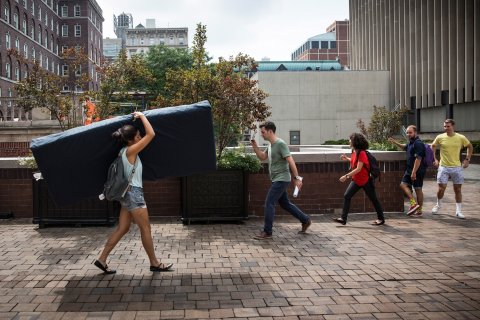 'Dark Days Ahead'
Four thousand miles away from the ivy-covered residence halls, neoclassical libraries and Alma Mater sculpture that watches over the Columbia campus, Nungesser, who turns 24 this month, sips espresso macchiato in a dimly lit café in the trendy Prenzlauer Berg section of Berlin. He grew up around the corner and later moved away, long before it was trendy. It took months of negotiating to arrange this meeting; he's wary of reporters and hadn't spoken with one at length since before graduation.
Nungesser has been depicted as a privileged Ivy Leaguer from Europe, but he attended Columbia on a need-based scholarship, and his family had to borrow to pay his legal fees. These days, he lives with his parents and freelances as a cinematographer. He plans to apply to film school, but he feels that he's lost all of his New York connections and that he can't return to the U.S. He says prospective employers Google his name and question him about what happened at Columbia. "It's something that I have to explain in detail every single time, which is very painful to do, and ultimately it's also been leading up to me missing out on several jobs," he says.
If the "mattress protest" turned Sulkowicz into the poster girl for campus sexual assault survivors, it made Nungesser the poster boy for alleged campus rapists. "The question was always, What can we do to clear Paul's name?" Karin says. As the "mattress protest" went viral, and Columbia was doing nothing to stop it, Nungesser's father flew to New York City to hire an attorney. He happened to visit just as Sulkowicz's New York cover hit newsstands, and he saw it everywhere. He met with Andrew Miltenberg, a lawyer who had gained media attention for representing 75 to 100 accused students (by his count) and who had previously sued Columbia.
On April 23, 2015, Nungesser filed a federal lawsuit against Columbia, its trustees and president, and Jon Kessler, an art professor. (Kessler declined Newsweek's interview request. Lawyers for Columbia and Kessler did not respond to Newsweek's requests for comment, but in court filings they deny responsibility for Sulkowicz's conduct.)
The complaint details the many ways Columbia allegedly allowed Sulkowicz to commit gender-based harassment: Kessler helped Sulkowicz develop the "mattress" idea; Columbia let her carry the mattress in school buildings and on school-provided transportation; Bollinger supported Sulkowicz in the press; the school promoted her project on its website and paid part of the cleanup fee for a "Carry That Weight" rally. The suit claims those actions "significantly damaged, if not effectively destroyed Paul Nungesser's college experience, his reputation, his emotional well-being and his future career prospects" and "deprived him of equal access to educational benefits and opportunities at Columbia on the basis of his gender."
One name that doesn't appear on the list of defendants is Sulkowicz's. "Ms. Sulkowicz believes what she believes, and she's created this story for herself," Miltenberg says. "The greater distress is at Columbia for allowing her to have on-campus rallies, allowing her to base her thesis on this, allowing her to essentially legitimize her story.... At this point, she's sort of a footnote."
Sulkowicz declined to speak with Newsweek but said by email, "Paul Nungesser's complaint is filled with lies.... I want to warn you to be conscientious about what you publish as 'fact' for I may work with a lawyer to rectify any inaccuracies and misrepresentations."
Two days after Nungesser filed, Kessler posted a link on Facebook to an article about the lawsuit. He tagged Sulkowicz and wrote, "Dark days ahead..."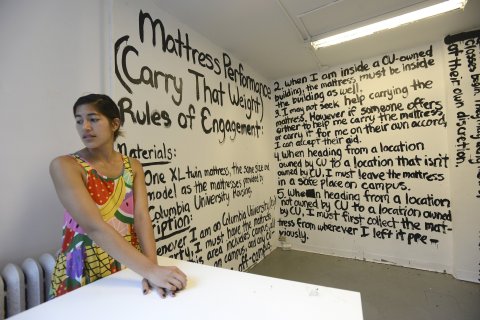 'Sex Is Confusing'
Twenty years before Sulkowicz carried that weight, a woman at Vassar, once all-female, accused S. Tim Yusuf of sexual harassment. At the time, schools were just starting to grapple with "date rape," which Ms. magazine had called a campus epidemic. Court documents are now sealed, but Yusuf recalls that his accuser claimed he had tried to pull the towel off her as she came out of the shower. "It was terrifying, that's really the only way to put it," he says. "At the time, you don't really understand everything that's going on. You're too emotionally involved to really question what's being said to you."
Yusuf maintained his innocence and had records proving he was elsewhere at the time of the alleged incident, but he says the disciplinary panel refused to consider them. The school suspended him for a semester.
Soon after, in 1992, Yusuf sued Vassar for discrimination based on gender and race. (He is South Asian–American.) A judge dismissed the case, but Yusuf appealed, and another judge reinstated the gender claim and issued an opinion. It was likely the first time a court had supported a claim of erroneous outcome from a discriminatory school disciplinary hearing. Yusuf and Vassar eventually settled before trial, but the precedent was set.
The current wave of male-Title IX cases often cite Yusuf v. Vassar, but proving that a school not only discriminated against a male student but also did so because the student is male is difficult. "You almost have to show that a woman who was accused in a similar situation would have gotten more favorable treatment somehow, and that's an almost impossible standard," says Patricia Hamill, a lawyer in the Brandeis case. That's because "it's so rare that a woman is accused," she notes.
Few male-Title IX cases since Yusuf v. Vassar have been even remotely successful, and those ended in settlements, not full-out wins. "I don't think a Title IX lawsuit against a college or university by anybody is going to go to trial because higher ed won't let it, because the attorneys and the insurance companies will settle these cases to make sure that that precedent is never set," says the Association of Title IX Administrators's Sokolow. "You're going to have to find a plaintiff, whether they're an accused student or a victim, who refuses a settlement, no matter what it is, and insists on their day in court, which is a very expensive thing to do."
Miltenberg, Nungesser's lawyer, has brought a handful of Title IX claims by accused male students to court but says they're not "getting a tremendous amount of traction." Despite that, he remains optimistic. "The courts are going to have to see enough of these that there is a sense across the country that, Wait, this is coming up too much, there really must be something wrong."
Advocates for sexual assault victims are scornful of these Title IX lawsuits. "I worry that it encourages or it incentivizes universities to evaluate actual allegations of sexual assault and dating violence not based on their merits, and not to investigate the truth of what happened, but simply to evaluate who poses the greater sort of threat of litigation," says Zoe Ridolfi-Starr, a recent Columbia graduate. She helped Sulkowicz carry her mattress at graduation and is now deputy director of Know Your IX, a survivor-run anti-sexual-violence campaign. "The impact on individual survivors can be tremendous," she says, adding that the lawsuits can expose survivors to unwanted publicity and give the impression that the number of false rape accusations is higher than it is.
Perhaps the problem isn't wrongful accusations but the definition of sexual assault. "I don't think anybody knows what it is," Sokolow says. "It's fascinating to watch what these women and men—it's both—want to label as sexually unacceptable behavior. And I wonder if it's generational. I wonder if we're all behind the times, and they're redefining their own sexual mores, and we haven't figured it out yet. Or if they've redefined what's acceptable to them based on hypersensitivity, which their generation is known to possess."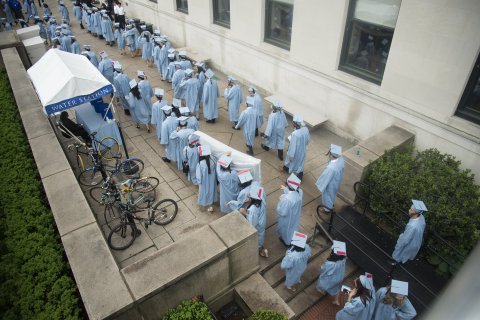 The hypersensitivity debate goes beyond sexual assault; it could apply to everything from "trigger warnings" to "safe spaces" to the recent unrest at Yale University after an administrator defended potentially insensitive Halloween costumes as free speech.
Ridolfi-Starr dismisses the "hypersensitivity" thesis. "Students finally have the confidence and the cultural space and the vocabulary to articulate when certain things are unacceptable.... That's not because we've now become a bunch of delicate flowers," she says. "You would never talk to a war veteran who has PTSD and say, 'Aren't you being a little hypersensitive?'"
School Title IX administrators, who investigate sexual misconduct complaints, aren't receptive to the male-discrimination angle either. During an October seminar for Title IX administrators, Justin Dillon, a lawyer in a firm that settled an accused male-Title IX case against George Washington University, and who has two such cases now pending, cautioned attendees from holding only one student accountable after two incapacitated students have drunken sex. "They are frankly raping each other," he said. The audience bristled, and the lawyers presenting with him, Hamill (from the Brandeis case) and Susan Kaplan, had to tell attendees to settle down.
Dillon found that reaction "completely unsurprising" and adds that his firm gets one to three calls per week from concerned young men or their families. "Sex is confusing. And sex when you are a college student, often away from home for the first time and trying to figure out who you are in the world, is confusing," he says. "There is no sense at schools anymore that maybe we should just sit down with the complainant and say, 'Wow, it sounds like you really wish you hadn't had sex with him, but did you ever say no? And were you really so drunk that you didn't know what you were doing?'"
The issues lawyers take with school proceedings include the vague notices schools send accused students; the single-investigator model, in which one person is responsible for the entire investigation; the lack of access the accused have to records; and the way some schools bar advocates or attorneys from aiding the accused. Samantha Harris, of the Foundation for Individual Rights in Education, says, "Even though people seem to understand the importance of due process generally, there seems to be this blind spot with regard to these sexual assault claims."
Hamill has represented about two dozen male respondents in the past few years. She got one of the rare settlements for a male-Title IX case, against Swarthmore in 2014. "These are young people who are navigating relationships. Communication isn't always as clear as everybody might like it to be," she says, speaking generally. "I would hate to be on a college campus today—on either side of this—because of the threat."
'They're Ruining Kids' Lives'
For six of Luke's eight semesters at Colgate, college was everything he had hoped it would be. He helped lead six student organizations at once, studied abroad in China, had a long-term girlfriend and spent a summer researching climate change with a professor in a Costa Rican rain forest. Once, during a "Walk a Mile in Her Shoes" event to raise awareness about sexual violence, he strapped on red high heels and marched around campus. Another time, he helped a female activist classmate carry her mattress.
In October 2014, coinciding with a "Carry That Weight" day of action, a female student with whom Luke was friendly allegedly helped organize a forum at Colgate on sexual assault. Over the next two days, she and two more women who allegedly attended the forum filed sexual misconduct complaints against him. "I didn't tell anybody at that point because I had no idea what I was up against," says Luke, who asked that Newsweek not use his real name because he fears the allegations will destroy his reputation. He didn't even tell his parents. "I had complete faith in the Colgate administrator's system because Colgate had been so good to me and I trusted that they would find the truth and they would find me not guilty."
"He's a college kid. He was 21 years old. He doesn't know that he's just been hit by a truck," says Luke's father.
More than five months passed before the school told Luke the details of the allegations. He says he was allowed to review them only in a file at the associate dean's office, during office hours and with his adviser present. "So while the three complainants had three years to come up with their case and the investigator had five and a half months to come up with her case," Luke says, "I was given less than a week to read through an 85-page file and come up with a defense."
One of the women alleged Luke had "digitally penetrated" her vagina without her consent. Another said he had "touched her buttocks" and breasts without consent and exposed his penis and forced her to touch it. The third claimed he had touched her breasts without consent, "digitally penetrated" her vagina without consent, exposed his penis, forced her to touch it and "pushed" it against her thigh without consent. These incidents had all allegedly happened two and a half to three years before the complainants filed.
"I remembered the encounters I had with these women my freshman year, but I did not see anything wrong," Luke says, "so I was replaying them through my head hundreds, thousands of times. I couldn't sleep." He insists that the first woman allowed him to touch her breasts and that they did nothing else. He says he never went beyond consensual kissing with the second woman, while she was shirtless, and consensual kissing and under-the-shirt touching with the third woman.
A hearing panel—which included the administrator who allegedly spoke at the October sexual assault forum that one of the complainants organized—reviewed all three accusations at once, found him responsible for all and expelled him. It was 39 days before he was set to graduate.
"I didn't know the unfairness," Luke's father says, "[until] I went online and said, Holy cow, this is happening all over America. And he was one of those guys that got hit, that got swept up in this. These administrators don't have any capability to give a fair process. They're just not qualified, and they're ruining kids' lives."
Luke filed a Title IX lawsuit in August. Colgate has not yet filed a response. A spokeswoman for the school declined to comment on pending litigation, and its lawyers did not respond to Newsweek's emails. The names of the accusers are not public, and they are not defendants in the lawsuit.
Perhaps lawsuits such as Luke's and Nungesser's indicate that a fundamental shift is underway in the campus rape debate. "I don't think this is the beginning of the end, but I think it's the end of the beginning," says Miltenberg, who also represents Luke. "Hopefully, people take a closer look at allegations like this. Now, that's not to say that there aren't real sexual assaults and rape. Those are very serious problems. But so is being falsely accused of something."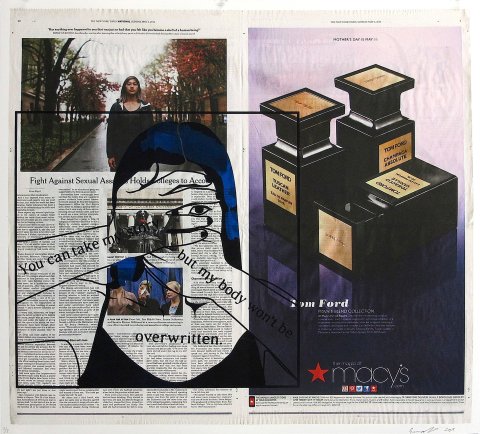 'How Would You Feel?'
Weeks after filing their lawsuit, and days before that tense Columbia graduation, Nungesser's parents visited Dodge Hall, a brick building near the center of the campus. An art exhibition on the third floor featured work by graduating seniors. They expected to find Sulkowicz's mattress there. They knew seeing it would be painful, but they wanted to bear witness to what their son had endured.
Instead, they came across Sulkowicz's large portrait of a man who they instantly thought resembled their son, printed over an issue of The New York Times that included a story about him. The figure was grinning and pulling down his underwear, exposing his erect penis.
Another print, over the Times article about Nungesser, showed the same man in profile, naked and on a mattress, on top of a woman they thought resembled Sulkowicz. She was naked, pinned down, on her back with her knees by her shoulders. The male figure was penetrating her in the same way Sulkowicz has said Nungesser raped her. A third print showed the female figure covering her eyes, with the words "You can take my story but my body won't be overwritten."
"How would you feel having your face and your genitals drawn over an article with your name, which is then exhibited to the entire school?" Nungesser says. "Columbia is hosting this, is facilitating this.... A Columbia faculty [member] approved those prints, supervised those prints, hung those prints on the wall and then gave a toast to this exhibition."
Nungesser and his parents say they have no interest in settling the lawsuit. "My faith in justice has been so fundamentally shaken," he says, "that I'm hoping by going forth and putting this into a court of law there's going to be someone who says this behavior that occurred here was [an] injustice.
"What happened to me...could happen to any other college male," he adds. "Institutions are capable of intense cruelty without even realizing what they're doing."