When Alexei Svyatin, a retired Russian army officer, emerged this summer from a vodka haze to find the battered body of merchant sailor Sergei Karelsky lying dead at his feet, he immediately telephoned police to report that he had neutralized a "spy." His suspicions, he told startled officers in Bykhovskaya, a picturesque village around 160 miles from Moscow, had been aroused by Karelsky's tales of frequent work-related trips abroad. Some five months later, on November 17, a 76-year-old man in central Russia's Kaluga region stabbed an acquaintance to death after a drinking session. His explanation? His guest had announced—in what appears to have been an ill-considered joke—that he worked "for Obama and will tell him all about you." Enraged, the ultra-patriotic senior citizen shouted, "Ah, you American agent!" and grabbed a knife, according to Russian media. In both cases, the attackers have been charged with murder.
Vodka, to paraphrase the Russian author Anton Chekhov, can make a man do the strangest things. But alcohol-frazzled villagers and senior citizens aren't the only ones seeing traitors and foreign agents everywhere in today's Russia. Since the imposition of Western sanctions over the Kremlin's annexation of Crimea in March 2014, a spike in treason cases has sucked in a diverse group that includes a mother of seven, an air-traffic controller, a Russian Orthodox Church official, a top physicist, businessmen and a former military intelligence employee. There were 15 convictions for state treason in Russia last year, an almost fourfold rise from 2013. While there are no official statistics for 2015, lawyers and human rights defenders tell Newsweek this year's figure is already approaching two dozen.
"Absolutely anyone can be charged with treason now, even people without access to state secrets," says Zoya Svetova, an opposition journalist and human rights activist, who has met some of those convicted on that charge. "Trials are carried out behind closed doors, and we often only find out about them after sentences have been handed down." Because fewer than 1 percent of criminal trials in Russia result in an acquittal—a figure that is even lower than during Soviet dictator Josef Stalin's Great Terror—Svetova suggests that people falsely accused of treason usually plead guilty in the hope of a shorter jail term.
Related: Putin: Russia's Troller-in-Chief
This increase in the number of Russians being charged with betraying their homeland stems from controversial legislation introduced by President Vladimir Putin in 2012. Under the vaguely worded law, anyone providing information "directed against Russia's security" to a foreign or international organization can be charged, even if that information comes from open sources. Defendants, along with their lawyers, are often kept in the dark about the exact nature of their alleged crimes. Many of these treason cases are linked to Ukraine, whose pro-Western government Russian officials accuse of being a U.S. puppet.
Among the most high-profile cases is that of Svetlana Davydova, a 37-year-old mother of seven young children. She called the Ukrainian Embassy to report that she had overheard locally based soldiers discussing their secret deployment to the war-torn former Soviet state, because she was against the war and wanted to avoid casualties. Even though the Kremlin denies Russian troops are active in Ukraine, armed Federal Security Service (FSB) officers raided Davydova's apartment and charged her with treason.
"This was intended to frighten people, to show them that even a breast-feeding mother can end up in a cell if this is in the interest of the special services," says lawyer Ivan Pavlov, who represented Davydova, as well as others accused of treason. Earlier this month, Pavlov and other lawyers concerned by the growing number of treason cases published an online legal advice guide titled "What to Do if They Come for You."
Charges against Davydova were eventually dropped, after tens of thousands of people, including the widow of Nobel Prize–winning Russian author Alexander Solzhenitsyn, petitioned the Kremlin on her behalf. But the majority of those charged have not been as lucky.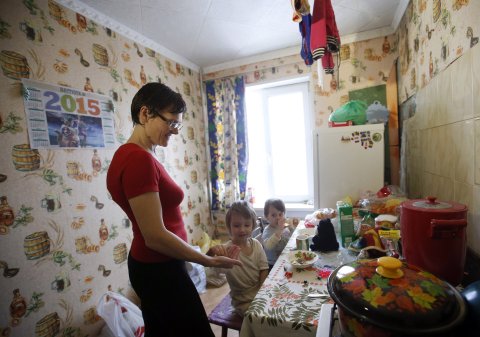 In September, Gennady Kravtsov, who worked as a radio engineer for Russian military intelligence from 1990 to 2005, was jailed for 14 years after sending his résumé to a Swedish company. The FSB accused Kravtsov of revealing "top secret" information that threatened Rus sia's security, even though the radio surveillance system that was his area of expertise has not been in use since 2000. Restrictions on Kravtsov working abroad, imposed by the military over the sensitive nature of his previous employment, ended in 2010. In November, Maxim Lyudomirsky, a physicist previously involved in weapons development, was sentenced to nine years in a maximum security penal colony over allegations that he had transferred information to an unnamed country.
Related: Putin Uses Assad Visit to Talk Up Kremlin Role as Syria Political Broker
"State propaganda depicts the rest of the world as a threat to Russia's national security," says Lev Shlosberg, an opposition politician. "To convince people of this myth, enemy agents are necessary. The special services hunt for people who have dealings with foreigners and portray this as espionage."
The FSB did not respond to Newsweek's request for a comment. Alexander Sidyakin, a hard-line lawmaker from Putin's ruling United Russia party, denies there is a political motivation to the arrests. "It's very simple," he says. "Russia's special services have started working more effectively, and Western special services have got much worse."
Ex-KGB officer Putin has never made a secret of his suspicion of foreigners. In April 2000, in his maiden speech to parliament, he warned that government officials, lawmakers, heads of political parties or "any other Russian citizen" would face criminal charges if they were found to be "maintaining contacts with representatives of foreign governments" outside their official duties. In fact, there was not—and never has been—any such law on the statute books.
It's not only individuals who are being accused of betraying Russia. Under another law passed by Putin in 2012, nongovernmental organizations funded from abroad and engaged in "political activity" are required to publically declare themselves "foreign agents" or face closure. A number of groups have halted work rather than accept the designation, which in Russia clearly connotes espionage. Memorial, a human rights group that investigates crimes by the Soviet-era authorities, is the latest organization to be hit by the label.
Related: Would Putin Be a Reliable Ally in the War on ISIS?
Russian authorities are also increasingly seeking to discourage ordinary people from traveling abroad. The Foreign Ministry has repeatedly warned that U.S. intelligence agencies are engaged in a worldwide "hunt" for Russian citizens and recommends avoiding travel to countries that have an extradition treaty with the United States. In early November, Vadim Solovyov, a Communist Party lawmaker who is the deputy head of a parliamentary committee on constitutional law, said discussions were underway to introduce Soviet-style "exit visas." He later claimed he had been misunderstood. Just days later, however, an official at Russia's Foreign Ministry said a possible ban on Russians traveling to European Union countries was "being worked out."
This atmosphere of suspicion has already pushed many Western-leaning Russians out of the country. Marat Guelman, a former Kremlin adviser turned opposition supporter, believes the Kremlin would be only too happy to see the rest pack their bags. "I think they are pushing those 14 percent who don't agree with Putin's politics to leave [Russia] as soon as they can," wrote Guelman, in an online post. "They are saying, 'Why are you delaying things? There's nothing here for you, and tomorrow you'll wake up and the doors will be closed.'"