I am opposed to abortion. I believe women have the right to choose.
This is not a contradiction.
Unfortunately, in a country torn apart by absolutists, the abortion wars are stuck in a brutal stalemate. Both arguments are infused with hypocrisy, and consequences often go unconsidered while bumper-sticker logic prevails. Making it worse are politicians who use abortion as reliable red meat for their supporters—both liberal and conservative—by continuing to beat the same drums America has heard for decades.
Attempts to cut this Gordian knot are often dismissed out of hand, with the motives of the messenger attacked mercilessly. Male commentators are frequently—and often rightfully—accused by pro-choice advocates of "mansplaining,'' a term for men telling women what to think. Anyone broaching the other side of the argument is deemed a baby killer, even when such hyperbole spawns murders like the ones at a Planned Parenthood in Colorado last month. But the reality is, neither side looks for a solution; they have simply descended into maudlin intellectual ping-pong, knocking the same claims back and forth, year after year. Those who are pro-choice believe, correctly, that all people have rights regarding their bodies. By that logic, an embryo or fetus is part of a woman, and she retains the right to make decisions as to whether she will bring that pregnancy to term. On the flip side, anti-abortion proponents argue that since every person alive was granted the right to be born, those who argue that life should be denied to others through an abortion are violating the golden rule.
Related: 'I Am Guilty!' Accused Planned Parenthood Shooter Robert Dear Belts Out in Courtroom
But public policy is not a philosophy class. Decades of listening to activists scream at each other proves that answers will never come from them. Instead, the rational middle has to examine the hypocrisy and flaws in the activists' positions and finally bring this war to an end.
Kill the Famous Violinist?
A building is on fire. On one floor, five healthy babies are in cribs. On another, 10,000 embryos are in petri dishes, being grown for 10,000 women who want them implanted (new scientific advances guarantee that all the embryos will survive until birth). Because of the rapidly advancing flames, you have time to evacuate only one floor: Either five babies will die or 10,000 future humans will be destroyed. Which do you choose?
Hopefully, the answer is obvious—anyone who decides to rescue globs of cells over living, breathing babies is a monster. But this hypothetical exposes the absurdity of the claim that women who choose abortion are "murdering" babies or that a human being pops into existence at conception, even though a zygote or embryo is no more sentient than a sperm.
Now change the numbers. Three babies and 1,000 fetuses at 21 weeks' gestation. Again, all of the fetuses would survive to birth. Which do you choose—the three babies or the 1,000 fetuses? Or how about two babies versus 40 fetuses at 32 weeks, when both the babies and the fetuses could feel pain? What's your choice? Change it one last time: one healthy baby or five fetuses at full term, 40 weeks. Now which do you choose?
This scenario shows how the moral issues surrounding abortion transform as a zygote grows to an embryo to a nonviable fetus, to a viable fetus, to a conscious being that could be born at any minute. The moral balance shifts as a fetus evolves, which is why viability was the standard adopted by the landmark case of Roe v. Wade, which recognized women's right to abortion.
Related: Four Decades Later, Roe v. Wade Is Still Monumental
While it's hard to believe, given the constant arguing about third-trimester abortions and fetal heartbeats, about 90 percent of abortions occur in the first 12 weeks of pregnancy; about 1.3 percent take place after the 21st week. And that 1.3 percent includes extremely complex circumstances, such as when a fetus has an incurable, dreadful disease or the mother is at risk of death.
A different hypothetical—crafted by Judith Jarvis Thomson, a prominent moral philosopher who is professor emerita at MIT—strikes at the heart of another issue in this debate. Imagine a woman goes out for the night, and a stranger knocks her unconscious. When she awakens, she finds she has been hooked up to a famous violinist who must depend on the woman for life support. The woman has been placed in this circumstance without her consent. Thomson argues that the woman has the right to unhook herself should she choose, even if it means the death of the famous violinist.
That imaginary situation, of course, addresses the issue of rape. For a rape victim to be impregnated against her will, forced by law to carry the fetus, then forced into motherhood, is no different than requiring that unfortunate woman to remain hooked up to the violinist against her will. The woman's body is being used as sustenance for another without her playing any role in the decision; the choice of what to do—with the violinist or the pregnancy from rape—is hers alone.
There is a reason to use hypotheticals in emotional debates like the one about abortion: intellectually honest combatants can't fall back on standard talking points. Sweeping declarations, such as the claim that embryos are babies, are exposed as nothing more than hot air when a hypothetical applies them literally. So one more. A pregnant woman is opposed to abortion and wants the child. But her water breaks at 22 weeks, meaning there will not be enough amniotic fluid for the fetus's lungs to develop. This innocent baby would have no possibility of living and would be in agony for as much as 15 minutes before dying. Which do you choose—an abortion or a newborn's excruciating death?
I lied. This is not a hypothetical. It happened in 2010 to Danielle Deaver, a resident of Grand Island, Nebraska. Unfortunately for her, Nebraska had passed a law declaring all abortions after 20 weeks illegal, so she was not allowed to decide what was best for her daughter. Since inducing birth would have been considered an abortion, Deaver was forced to carry her doomed child for 10 days. After the birth, Deaver held Elizabeth, her daughter, as she suffocated, one of the most terrifying and torturous ways to die.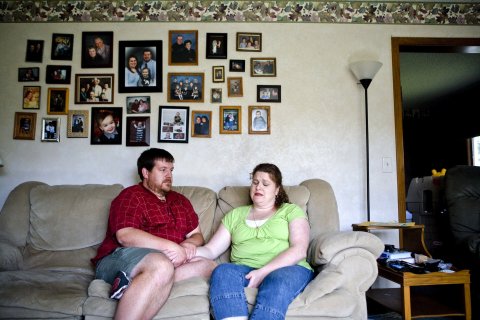 Anti-abortion activists who never met the Deavers expressed remorse about the death but celebrated the fact that they had forced a decision on a woman they did not know. "Isn't it more humane for the baby to die in a loving manner with comfort, care and in the arms of her parents than by the intentional painful death through abortion?" Julie Schmit-Albin, who heads Nebraska Right to Life, said at the time. In other words, strangers—who, by ignoring the science that shows a 22-week fetus does not feel pain in an abortion while proclaiming that a baby's agonizing death by suffocation was one of "comfort," revealed they have no comprehension of medicine—felt justified in using the law to decide what was best for Elizabeth, without regard to her mother's wishes.
The trauma transformed Deaver from an abortion opponent to a supporter of women's choice. She sent a letter telling her story to legislators and governors in states considering the 20-week abortion ban. "When asked about my circumstances, the author of Nebraska's law said it worked as intended,'' she wrote. "This is not about politics, it's about leaving the practice of medicine up to doctors and most importantly, it's about trusting women to make the best decisions for themselves and their families."
She added, "That my pregnancy ended, that choice was made by God. How to handle the end of my pregnancy, that should have been private."
Kill the Poor?
Abortion will never be stopped. That is one of the few indisputable facts in this debate.
One of the worst conceits of the anti-abortion movement is the belief that, if only enough laws are passed, abortion will end. It is a theory espoused by people too ignorant or too disinterested to study history. Roe v. Wade was decided in 1973, which means only people over 60 might even remember what it was like when abortion was illegal in America. Based on surveys, the best estimates are that somewhere between 200,000 and 1.2 million illegal—and often unsafe—abortions were performed in the United States each year in the 1950s, according to Dr. David Grimes, former head of the abortion surveillance branch at the Centers for Disease Control and Prevention and author of the acclaimed book Every Third Woman in America. According to the Guttmacher Institute, a health research group, about 1.1 million abortions were performed in 2011—fewer than the highest estimate for illegal abortions during the 1950s, despite the fact that the country now has a much larger population.
This tells us that making abortions illegal or more difficult to obtain will not necessarily decrease the number of terminated pregnancies. According to the Texas Policy Evaluation Project—researchers from the University of Texas and three other universities and health institutions—international evidence shows that countries with onerous rules against terminating a pregnancy have a higher number of unsafe and illegal procedures, and the number of abortions is not reduced.
And some massive religious revival will not change those numbers. According to Lifeway Research, which provides analysis to church leaders, 70 percent of the women who have had an abortion identify themselves as Christians; 3 percent say they are Jewish, and 4 percent are atheists. About half of the Christian women surveyed—36 percent of all women who had a pregnancy terminated—were attending church once a month or more.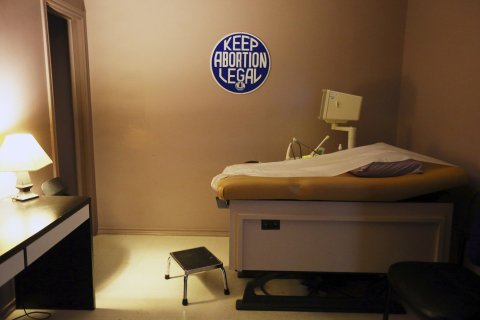 The point is, for all the Sturm und Drang by the anti-abortion activists over what many of them call the number of babies "murdered" since Roe, there is no reason to expect that those statistics would be lower if abortion had remained illegal. And remember, none of the statistics for illegal abortions in the 1950s account for the wealthy women who traveled to countries where the procedure was legal and safe. (The same will apply if abortions are made illegal tomorrow; anyone who can afford a trip to Mexico can access misoprostol, which causes early abortion and is available there, usually without a prescription.)
And make no mistake: Laws prohibiting abortion kill people. Grimes's research showed that during the 1940s more than 1,000 women were known to have died each year from complications caused by an illegal abortion, although the true number was much higher. Every large hospital maintained a "septic abortion ward" for infected women with incomplete terminations.
This underscores why the anti-abortion movement cannot be called pro-life: Its members support policies without concern for all the dead bodies left in their wake. Outlawing abortion is not the only law that kills; even modern attempts to restrict abortion—often based on lies and misrepresentations—have begun to jeopardize the health of women. For example, in 2013 Texas adopted a law requiring facilities that perform abortions to have a doctor on staff with admitting privileges at a hospital no more than 30 miles away and forced the clinics to meet standards for "ambulatory surgical centers," which include onerous rules concerning buildings, equipment and staffing. The Supreme Court last month agreed to hear a challenge to the constitutionality of the law.