New Yorkers picking up a quick meal could begin to see a black triangle with a white salt shaker pictured next to some menu items. A new rule from the New York City Department of Health and Mental Hygiene goes into effect Tuesday, requiring establishments that are part of chains with 15 or more locations nationally to mark dishes that contain 2,300 milligrams (about a teaspoon) or more of sodium.
"With the high sodium warning label, New Yorkers will have easily accessible information that can affect their health," Health Commissioner Dr. Mary Bassett said in September, after the Board of Health unanimously adopted the resolution on sodium warning labels. The board had published its intention to make the change in June and held a public hearing the following month.
"We're talking about a leading cause of death here," Bassett added at a news conference Monday held at an Applebee's restaurant in Time Square.
A sign with the following statement needs to be visibly posted in addition to the icons appearing next to specific items: "Warning: [This icon] indicates that the sodium (salt) content of this item is higher than the total daily recommended limit (2300 mg). High sodium intake can increase blood pressure and risk of heart disease and stroke." Violators of the new rule stand to incur a $200 fine, though the city will reportedly not begin to issue fines until March.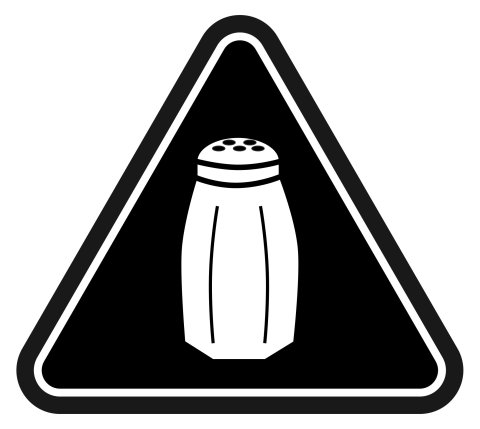 In its notice about the amendment, the Department of Health and Mental Hygiene cited cardiovascular disease as the leading cause of death in New York City—responsible for 17,000 deaths in 2013—and hypertension (high blood pressure) as a major risk factor for heart disease and stroke, as the required warning states.
Though that 2,300 mg cutoff comes from the maximum recommended daily sodium intake, the " Dietary Guidelines for Americans 2010" says that a lot of people should consume even less, or a daily limit of 1,500 mg (the guidelines cite groups including people 51 years old and up, African Americans and those with hypertension, diabetes or chronic kidney disease). The American Heart Association reduced its own recommended limit from 2,300 mg to 1,500 mg in 2010.
Still, Americans tend to eat more than the recommended daily limit regularly—around 3,400 mg of sodium per day, according to the Centers for Disease Control and Prevention. For New Yorkers, the number is slightly lower—the health department cites a study that found the city's residents consumed an average of 3,239 mg daily in 2010—but that still means that more than 80 percent of participants went over their recommended limit.
The health department also pointed to a study that found a 23 percent increase in the average sodium content of items from eight leading fast-food chains between 1997 and 2010, and another that found that a third of the sodium Americans consume is from food in restaurants.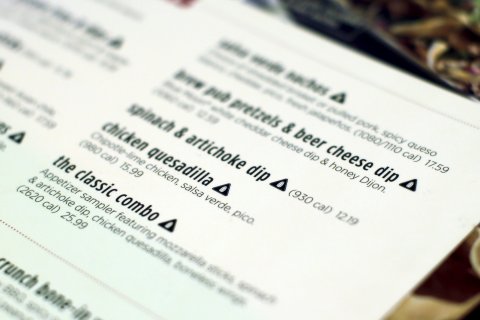 How much sodium is in some fast food favorites?
At Chipotle, a burrito with chicken, white rice, black beans, fresh tomato salsa, cheese and guacamole runs 2,380 mg. Add a side of chips and fresh tomato salsa, and the count goes up to a total of 3,300 mg.
A McDonald's hamburger has 490 mg of sodium, but upgrade to a double quarter pounder with cheese and that's 1,310 mg. A bacon clubhouse burger has 1,480 mg. A big breakfast with hotcakes (regular sized biscuit) runs 2,010 mg.
At Applebee's, several menu items exceed the maximum daily recommended sodium intake, including the chicken quesadilla (2,800 mg), the cedar grilled lemon chicken (2,480 mg), the American BLT (2,610 mg) and the salsa verde pulled pork nachos (4,890 mg).
According to the health department's website, New York is "the first city in the nation to require chain restaurants to post warning labels next to menu items that contain high levels of sodium."
New York City has previously amended its health code to phase out the use of artificial trans fat at food establishments throughout the city and to require restaurants with 15 or more locations to post calorie counts on menu items. An attempt by former mayor Michael Bloomberg to ban sugary drinks in containers larger than 16 ounces was ultimately rejected by the New York State Court of Appeals.
Not everyone is pleased about the city's latest move. "Every one of these cumbersome new laws makes it tougher and tougher for restaurants to find success," New York State Restaurant Association President Melissa Fleischut said when the amendment was passed.
But Zane Tankel, CEO of Apple Metro, the New York metropolitan area franchisee for Applebee's, took the new rule in stride. "We got in front of it simply because you gotta do it," he said at the news conference Monday.