2016 Clip of Kayleigh McEnany Decrying People Asking for Recounts 'Based On No Evidence' Resurfaces
White House Press Secretary Kayleigh McEnany made unsubstantiated claims during a Monday press conference that Democrats were "welcoming fraud" and "illegal voting," saying they don't want an "accurate count" in the election. Now, a clip of McEnany criticizing people making similar allegations in 2016 after President Donald Trump's win has resurfaced.
"There is only one party in America trying to keep observers out of the count room, and that party, my friends, is the Democrat Party," McEnany said during the press conference this week. "You don't oppose an audit of the vote because you want an accurate count. ... You take these positions because you are welcoming fraud and you are welcoming illegal voting," she added, without providing evidence.
Fox News anchor Neil Cavuto cut away from broadcasting the White House official's remarks, pointing out that the allegations were unfounded. "Unless she has more details to back that up, I can't in good countenance continue showing you this," Cavuto said.
On Thursday, CNN reporter Andrew Kaczynski shared a clip during a 2016 CNN segment, in which McEnany criticized people calling for recounts and alleging Trump had won by fraud "based on no evidence."
"You have people out there calling for recounts that are unsubstantiated, based on no evidence," she said. "You have [Green Party candidate] Jill Stein coming on our network an hour or so ago suggesting there were hacks or potentially hacks and, 'we won't know until we count the votes.' There are people trying to delegitimize the President-elect [Donald Trump]," she complained.
Newsweek reached out to the White House press office for comment, but it did not immediately respond.
Trump and many of his supporters have claimed, without providing evidence, that Democrat President-elect Joe Biden and Vice President-elect Kamala Harris won the election through widespread voter fraud. Republican and Democratic election officials, as well some prominent GOP lawmakers, have pushed back against these unverified allegations.
Analysts have pointed out that voter fraud is incredibly rare in U.S. elections and that it would be next to impossible to coordinate fraud at the scale being alleged by the president. They have also noted that Republicans won in close Senate and House races in the same battleground states where Trump is claiming the Democratic president-elect secured victory through fraud.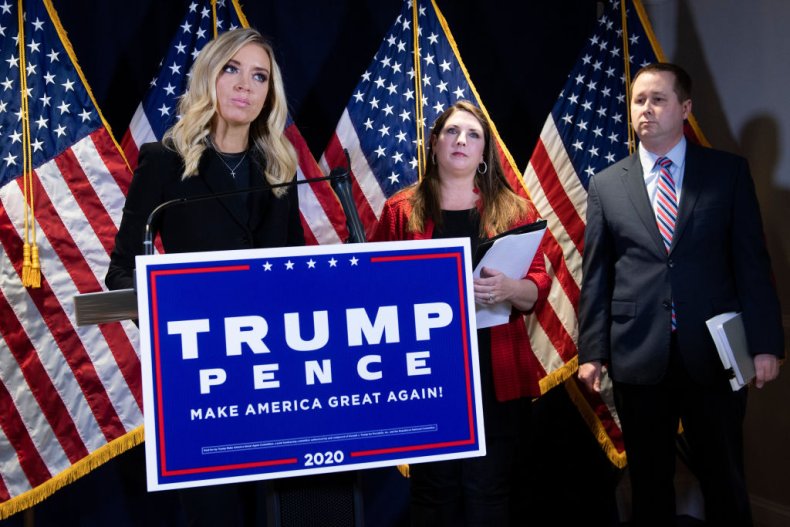 Despite Trump's unwillingness to concede the election, Biden has moved forward rapidly with organizing his presidential transition. Meanwhile, every living president—including former Republican President George W. Bush—has congratulated the president-elect on his win. Biden has also been fielding calls with foreign leaders from around the world, who have publicly expressed their congratulations and support.
Biden described Trump's unwillingness to concede as "an embarrassment" in Tuesday remarks to reporters. "We're just going to proceed the way we have. We're going to be doing exactly what we'd be doing if he'd conceded and said we won—which we have. So there's nothing really changing," the president-elect said.