'Your Money, Your Vote': 2016 Presidential Undercard Debate Live Blog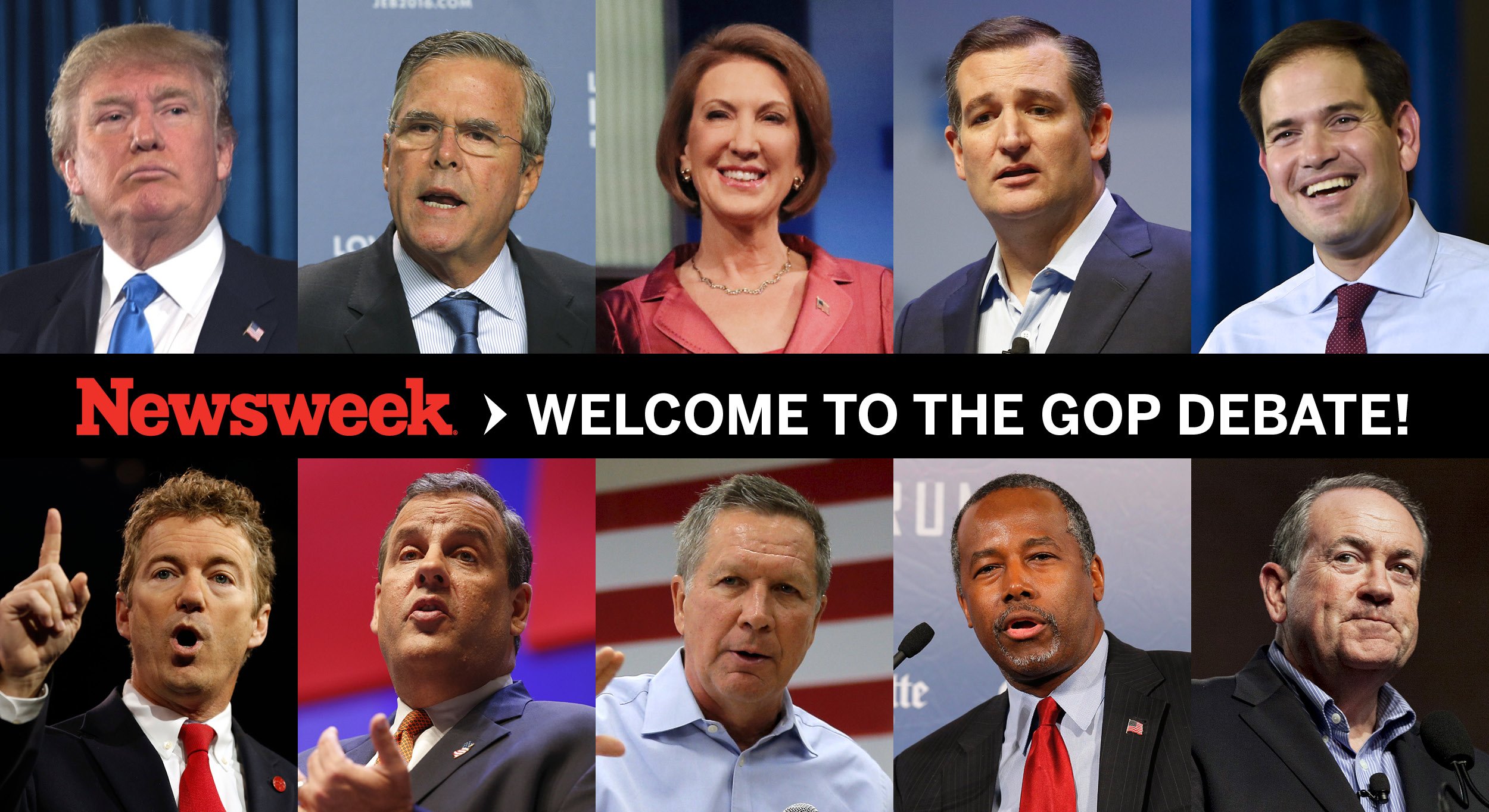 On Wednesday evening, the Republican candidates for the 2016 presidential race gathered in Boulder, Colorado, to debate for the third time this election cycle. As with previous debates, the debate included an 'undercard' event—featuring candidates polling at less than three percent—and a main debate with the leading candidates. The undercard debate included Louisiana Governor Bobby Jindal, former Pennsylvania Senator Rick Santorum and former New York Governor Geroge Pataki.
Unlike previous debates, which have covered a broad range of subjects, CNBC aimed to focus Wednesday night's event on business and the economy.
Live coverage:
7:18 p.m: As the debate winds down, CNBC begins its analysis. And the takeaway quote of the night? Graham taking pot shots at the Democratic presidential field. "The No. 2 guy went to the Soviet Union on his honeymoon, and I don't think he ever came back," he says to raucous applause.
7:10 p.m: The candidates are invited to give closing statements. Graham makes a crack about Trump's "make America great again" slogan. "America is great," he says. "I intend to make America strong again... I will be a commander in chief worthy of sacrifice for those brave Americans defending our nation." Pataki says: "I take the 10th Amendment very seriously....We need to work with the next generation of millenialls. ...The 21st century will be America's greatest century." Santorum says he will get American workers on the side of the GOP. "When I announced my run for president, I announced from a factory floor….It's not just talk when I talk about having the opportunity for people to rise again," he says. "I allied myself with working men and women who feel neither party, and certainly Washington D.C. cares about them." Jindal says that we can save the idea of America before it's too late. "My message is to conservstives. This is our hour. The American people are ready to turn their government over to us....We can not allow Hillary Clinton to lead us further down this path of socialism. We can save the idea of America before it's too late."
7:08 p.m: Should the day after the Superbowl be a national holiday?
Jindal: "Absolutely..[athletes] can be great role models for our children...so yes it should be a holiday."
Santorum: "We [Pittsburgh] are used to being in the Superbowl, so actually it is in Pennsylvania already."
Pataki: "I am a long-suffering Jets fan, so there's no reason to take off after the Superbowl...the Mets are going to win tonight. Let's go Mets!"
Graham: I think a national holiday would be the day the commander in chief Barack Obama doesn't have a job....Go Tom Brady, go Patriots."
7:07 p.m: Lightning round time! The candidates are given 20 seconds each to respond to lighter questions. What apps do they use the most? Jindal says he doesn't have an iPhone, but plays brick breaker on his Blackberry. Santorum says he loves Major League Baseball, the National Hockey League, and the Wall Street Journal. Pataki goes for Uber and Twitter, while Graham says "the only reason I have an iPhone is because I gave my number to Donald Trump."
7:01 p.m: Graham is asked what would he do to get families to save more money, and what he thinks of Social Security. "Social security is not just a concept to me," he replies. "Fifty percent of today's seniors would be in poverty with social security check. I promise you that if you make me your president I will save Social Security, because I know why it exists."
As in the past, Graham takes a moment to mention his humble upbringing and his family's reliance on survivor benefits that are part of Social Security.
6:58 p.m: Santorum is asked what he would do to solve inequality and poverty. "I believe that we need to reduce the size of government, yes, but we also need to reduce the size of the deficit...The family is the first economy," he says. "I will have policies not only tax policies that will makes sure families are strong in America." Santorum wants to increase growth 1 percent every year, while Bush advocates annual growth of 4 percent. Good luck to both of them—that's much faster than the U.S. has grown historically.
6:55 p.m: Pataki slams his fellow candidates for questioning vaccines' efficacy and the impact of climate change. "It's not appropriate to think human activity...doesn't make the Earth warmer. All things being equal, it does," he says. " Pataki also suggests that fracking has led to lowering greenhouse emissions in the U.S. He's right—but concerns about methane release suggest that it could still have a deadly effect on the climate.
6:52 p.m: On the Anheuser-Busch InBev and SABMiller beer merger, Santorum says we don't need to worry about consumers lacking beer choices. "There are no shortage of breweries around the United States of America," he says. "I do pints and politics and I go to breweries all over the place...I'm not concerned that Americans will not have choices of beer."
6:47 p.m: Santorum speaks on the Export Import Bank: "A true conservative wants to create a level playing field. That's what the government is supposed to do…in order to have a level playing field, which we talk about all the time...then we have to have export financing."
6:45 p.m: Pataki slams Obamacare, saying there's "no question Barack Obama inherited an economic disaster in 2009....But what did he do? He ran through Obamacare, the worst law of my lifetime."
6:43 p.m: Graham's pivots the conversation to defense — a talent of his. "[The military needs] a commander in chief who knows what the hell they're doing...If I'm president of the United States, you will be welcome in America," he says.
6:40 p.m: Jindal says that Obama tries to teach America that government is the answer to all of our problems. "Yes, I want families to have better-paying jobs and better-paying benefits," he says. "But we're not going to get that with a government mandate. We're going to get that with a growing economy."
6:38 p.m: On the subject of immigration, Santorum says the U.S. isn't giving workers the right training or investing in them properly. "We're bringing in people to compete against low-wage workers," he says. The question gets at a key points about immigration: Does it help or hurt the economy? Santorum's argument that immigration floods the labor force and drives down wages used to be an argument offered by Labor. Today, it's more likely to come from the GOP.
6:33 p.m: Graham is questioned on climate change. He is the only GOP candidate to acknowledge that climate change is man-made and to suggest something be done about it. "You don't have to believe that climate change is real," Graham says. "I'm not a scientist, and I've got the grades to prove it, but I've talked to the climatologists of the world and 90 percent of them are telling me that greenhouse gas effect is real, that we're heating up the planet. I just want a solution that would be good for the economy that doesn't destroy it." Still, Graham continues to oppose regulatory moves suggested by the current Environmental Protection Agency.
6:30 p.m: Jindal outlines how his tax plan is different than that of the other candidates, saying a) "I think everybody should pay something," b) "I'd get rid of the corporate tax" and c) "I'd purposely shrink the size of government."
6:27 p.m: Santorum, who has tried to run a more working-class campaign, says that putting tariffs on anything hurts working men and women in the country, and notes his opposition to entitlement cuts. "I'm going to make America the No. 1 manufacturer so that hard working men and women can have good jobs in America," he says. (Worth noting that Santorum is a traditional Republican when it comes to regulation.)
6:25 p.m: Pataki is quoted on statements he made about the 2014 Sony hack and asked about the role of military response in cyber-hacking incidents: "No, I don't think we need a military response—we need a coordinated response," he replies. "The Obama administration has been completely lax...in dealing with these cyber attacks. I would put in place a policy… where we would retaliate against companies and cut off trade." Pataki goes on to bring up Hillary Clinton's private email server, saying that her use of an unsecure server should disqualify her for the presidency.
Later, Graham ponders whether Russian president Vladimir Putin would be in Ukraine today if Ronald Reagan were president instead of Barack Obama. "At the end of the day...the foreign policy of Barack Obama should be replaced," he says. "Make me commander in chief and this crap stops."
6:17 p.m.: There were no surprises in the first minutes of the GOP undercard debate. All candidates embraced hawkish policies and cutting spending. Governor Jindal discusses economic thrift, saying, "We cut state spending...The left always complains there's not enough money for government....Do you grow the government economy or the American economy." Jindal says he will not increase taxes, saying "these are dangerous times for America....Let's be honest of where we are today. We are running off of a cliff," he says.