With Pats' Super Bowl Triumph, An Incredible Sports Year Comes To An End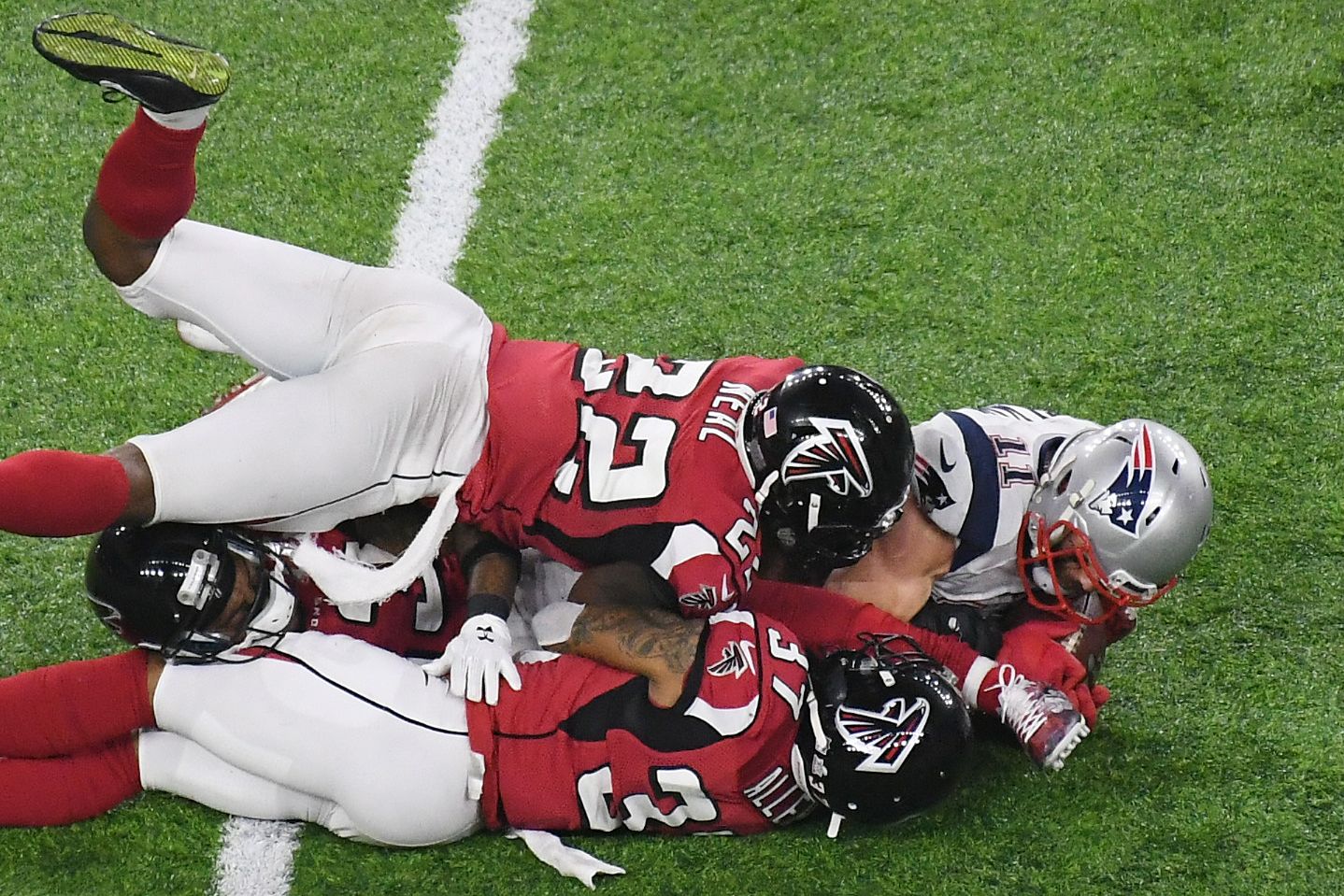 December 31 marks the end of the calendar year, but Super Bowl Sunday is the end of the sports year. After all, both dates end in a blizzard of confetti and champagne. The Super Bowl is annually the most-watched television event in American life, which means it is the premier event in American sport. It is the consummate moment on the calendar of our secular religion.
The Super Bowl ends our national sports year and the Daytona 500, "America's Race," launches it (the two- to three-week interregnum is a moribund wasteland of empty-calorie events: the Westminster Dog Show, the NBA All-Star Game, the NFL combine, all of them designed to help us forget that we are not fabulous enough to own a timeshare in St. Bart's). If you accept that premise, courtesy of a fully licensed and FDA-approved sportswriter, then allow me to submit that the just-concluded year was without equal.
This was the most incredible, indelible, astounding and unforgettable sports year that ever was (read: in my feeble memory). In terms of its major events, never has one year featured as copious a bounty of thrilling finishes or semi-miraculous comebacks. Or both. In simpler terms, 2016 kicked ass.
Let's review:
Daytona 500
February 21, 2016
Daytona, Florida
Denny Hamlin, who entered the final lap of the race in fourth position, crossed the finish line .01 of a second ahead of Martin Truex. Hamlin's bumper-width victory was the closest finish in the 58-year history of America's Race.
NCAA Men's Basketball Championship Game
April 4, 2016
Houston
Make that two shining moments. North Carolina trailed Villanova 74-71 when the Tar Heels' Marcus Paige made an improbable double-clutch three-point shot with 4.7 seconds left. That this occurred in NRG Stadium in Houston, site of last night's Super Bowl, only makes the comparison between Paige's acrobatic shot and Atlanta Falcons wideout Julio Jones balletic catch more palpable. Paige's shot is delegated as a footnote because after a timeout, Villanova's Kris Jenkins launched a game-winning three from 25 feet that swished through the net as the buzzer sounded. That was a first for an NCAA title game since Lorenzo Charles of North Carolina State in 1983, but Lo Charles was really just cleaning up an errant shot by a teammate.
Game 7, NBA Finals
June 19, 2016
Oakland
In what was both a lopsided—Golden State won Game 2 by 33 points, while Cleveland won Game 3 by 30—and a dead-even series (both teams accumulated 610 points through six games), the Warriors and Cavs played a taut and suspenseful Game 7 at Oracle Arena. There were 20 lead changes and 11 ties.
With the score tied at 89 apiece and 1:50 to play, Cleveland's LeBron James appeared out of another galaxy to pin Andre Iguodala's fast-break layup attempt against the backboard. The visiting Cavs would not allow another point as they won their first NBA championship in franchise history while with "The Block," King James at last had his signature NBA Finals moment.
Olympic Men's 400-Meter Final
August 14, 2016
Rio de Janeiro
There were more dominant performances (we see you, Katie Ledecky) at the 2016 Summer Olympics, but the most scintillating moment was authored by Wayde van Niekerk of South Africa. Competing in his first Olympics and running from the far outside lane, where no man had ever started and won gold, van Niekerk not only broke the tape but erased Michael Johnson's 17-year-old world record with a time of 43.03. Pure magic. Jamaica's Usain Bolt may be the fastest man alive under 200 meters, but one full lap of the track is Wayde's world.
Game 7, World Series
November 2, 2016
Cleveland
As if their 108-year famine was not insufficiently torturous, the Chicago Cubs fell behind 3-1 in the Fall Classic to the Cleveland Indians. The Cubbies won the next two and took a three-run lead into the bottom of the eighth inning at Progressive Field. They squandered it. Then came a rain delay. Finally, after four hours and 28 minutes and one extra inning, the Cubs won, 8-7. The curse of the billy goat—and of Steve Bartman—had at last been exorcized.
College Football National Championship Game
January 9, 2017
Tampa, Florida
In a rematch of the previous year's title bout, defending national champion Alabama broke out to a 14-0 lead against Clemson. Against the nation's top-rated defense, Clemson scored 21 fourth-quarter points and quarterback Deshaun Watson threw for a championship-game record 420 yards. There were three lead changes in the final five minutes, the last coming when Watson found former walk-on wide receiver Hunter Renfrow from two yards out and :01 on the clock. Clemson won the rematch, 35-31.
Super Bowl LI
February 5, 2017
Houston
The 25-point deficit for the Patriots midway through the third quarter. The pick-six thrown by Tom Brady, his first in 34 career postseason games. The comeback, aided both by Falcon miscues and a Cirque du Soleil-meets-"Yakety Sax" catch by Julian Edelman on a pass that should never have been thrown. Or caught. Brady finished with 43 completions (44 if you count his interceptions), a Super Bowl–record 466 passing yards and the unquestioned label as the greatest quarterback in NFL history.
And that was the sports year we will never forget, a montage of moments to savor. Sport always has a way of exceeding our expectations, though. Who knows what this year will bring?