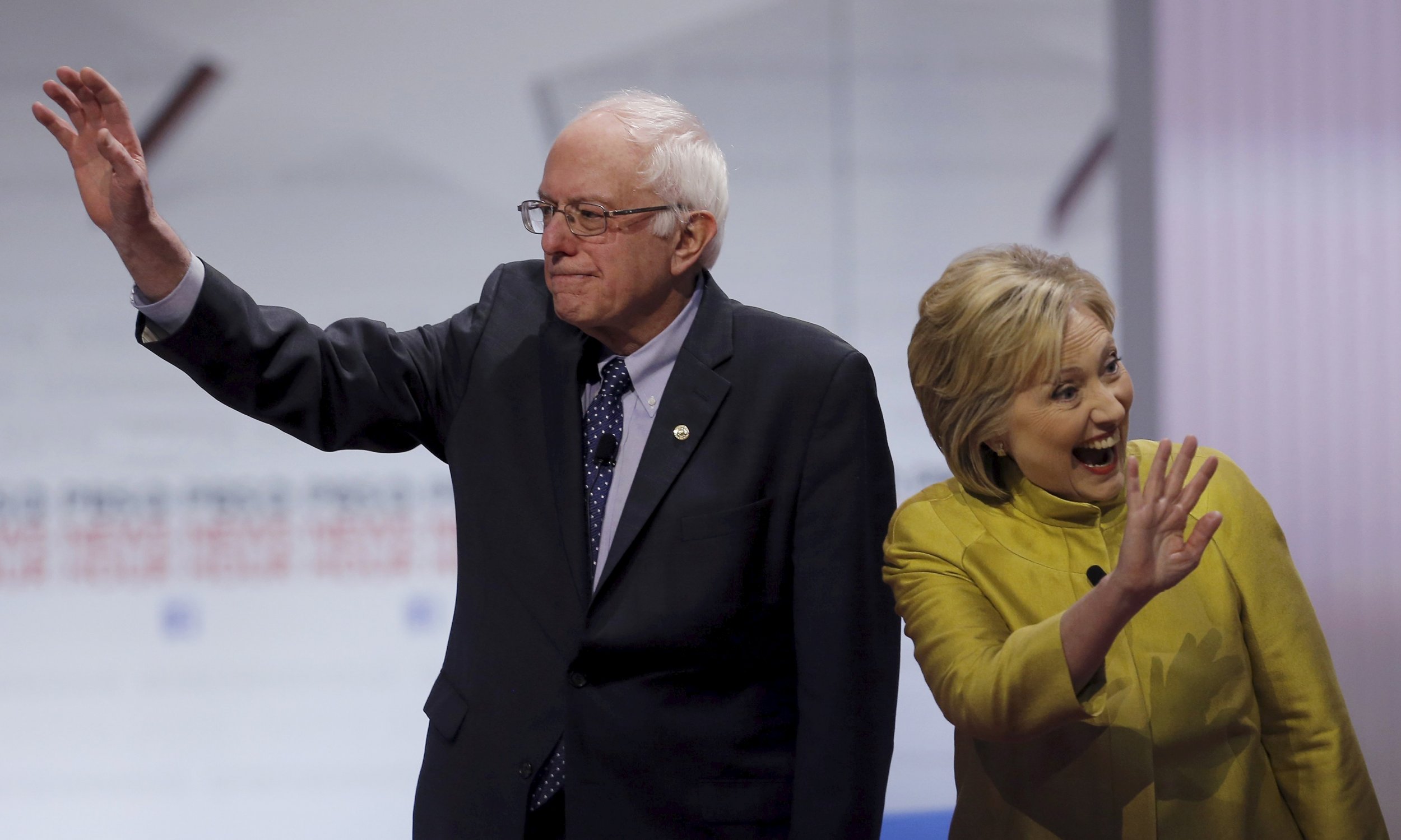 On Thursday night, Senator Bernie Sanders and former Secretary of State Hillary Clinton each had the chance to reinforce their messages to Nevada Democrats before they head to the polls on Saturday for the third primary of the party's 2016 nominating contest.
In Nevada, where around 28 percent of the population is Latino, and around eight percent are undocumented immigrants, immigration reform is a lightning rod, and both candidates faced questions on the topic. Several so-called DREAMers—undocumented immigrants who were brought to the United States as children—were among those who questioned the candidates.
Both candidates reiterated their support for comprehensive immigration reform and both said that, if elected, they would work to end programs to deport the undocumented spouses of American citizens. Clinton promised to end three and 10-year bars placed on foreign spouses of American citizens from entering the country, while Sanders promised to fight laws that deport foreign-born veterans who commit nonviolent crimes.
And, while both praised President Obama's executive actions to protect undocumented immigrants, they insisted that the support of Congress would be necessary to pass comprehensive immigration reform. "We will use our executive power and office as much as we can," Sanders told an audience member. "Hopefully we will have the cooperation of the United States Congress."
But Secretary Clinton also pointed to some of Senator Sanders's past criticism of the president, a move designed to hurt him with Democrats, among whom Obama remains very popular. "He's called him weak, he's called him disappointing," she said of Sanders's remarks on Obama. And, as Clinton has said many times in the past month, Sanders called for a primary challenge to President Obama in 2012. Sanders's rebuttal was succinct: "There is only one of the two candidates here who actually ran against President Obama [in 2008], and it wasn't me."
The moderators also pressed Sanders on his proposals for healthcare and higher education. One audience member asked Sanders how he planned to pay for his "medicare for all" plan, which is expected to cost $70 billion. "You're right, it will cost 70 billion dollars a year," Sanders answered. "I think that we should impose a tax on Wall Street speculation. It's Wall Street's time to help the middle class of this country. That will raise all the money that we need."
For her part, Clinton was hammered about her ties to Wall Street and corporate America. Faced again with calls to release transcripts of speeches to Goldman Sachs, for which she was paid $600,000, Clinton once again said she would release transcripts of her remarks when her competitors did the same. She did, however, say that she would support a federal minimum wage of $15 per hour, and stressed her many union endorsements as evidence of her working-class appeal.
Clinton stressed her years of work in government, at several times pointing to members of Congress in the audience, whom she described as her friends. But Sanders, too, had a friend in the audience: Senate Minority Leader Harry Reid of Nevada, who announced his plan to retire at the end of his term in 2016. "The people of Nevada are going to miss Harry Reid," Sanders said with a smile. Reid, who endorsed Obama in 2008 but has yet to endorse either candidate this year, smiled back.