2016 Election: 24 Essential Reads About Donald Trump and Hillary Clinton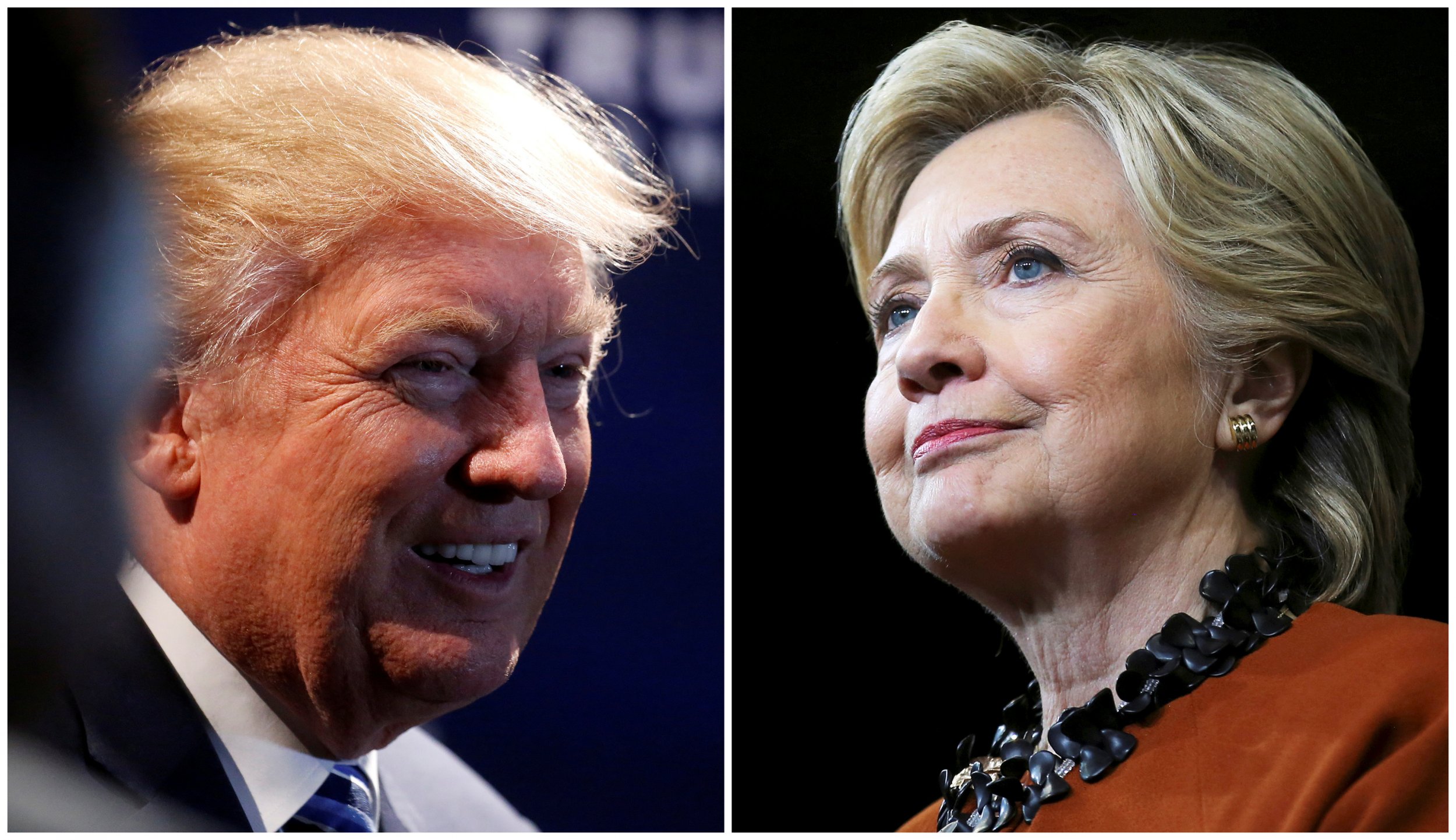 Americans are preparing to cast their ballots for the 45th president of the United States. In the weeks leading up to the election, we heard about the FBI's review of newly discovered Hillary Clinton emails (and then the agency's decision, again, not to recommend the former secretary of state be prosecuted) as well as a bombshell 2005 tape on which Donald Trump crudely brags about how he groped women, to name just two major news stories.
Clinton, the Democratic nominee, now holds a two-point lead over Trump, the Republican nominee.
Here's your chance to browse the Newsweek archives to brush up on your knowledge about the two major presidential candidates—and the news surrounding each—before you head to the polls Tuesday.
Donald Trump
Why Mormons Reject Donald Trump: The Wall, The Ban, The Man
Third-party candidate Evan McMullin is winning over Utah voters, who are wary of Trump's rhetoric on immigrants, Muslims.
Why Vladimir Putin's Russia Is Backing Donald Trump
Inside the Russian president's complex gambit to weaken NATO.
While NRA Puts its Money on Donald Trump, Opponents Pour Cash Into State Initiatives
With the National Rifle Association's focus on federal elections, groups like Everytown for Gun Safety have seized an opening to outspend the gun lobby on state ballot initiatives.
North Carolina's Black Voters Shrug Off Donald Trump's Talk of Fraud
Experts worry the GOP nominee's call for supporters to prevent voter fraud may lead to intimidation, but there are no signs of that yet in this diverse swing state.
Donald Trump's Excuse for Not Releasing Tax Returns Is Bogus
There are tax documents not under audit that Trump can release, but won't.
How Donald Trump's Company Violated the United States Embargo Against Cuba
Through Trump Hotels, the GOP nominee secretly conducted business in Cuba, ignoring American laws. Later, he falsely told Cuban-American voters he would never spend money on the island so long as Fidel Castro remained in power.
Donald Trump's God Problem
Why are evangelicals backing a man who knows so little about Christianity or even the Bible?
What If Donald Trump Becomes President?
As president, would Trump be a fascist? A reformer? A savior? A buffoon? Probably a bit of all that, but much closer to Carter than Hitler.
Donald Trump Steps Off Campaign Trail to Promote Brand as Election Approaches
Taking time off of the campaign trail, the Republican nominee chooses to spend time promoting his brand.
Can Donald Trump Do What Bill Cosby Has Not?
This election could change the way women's stories about sexual harassment are treated in the media and in life.
'He Grabbed Me': Woman Alleges Donald Trump Groped Her Exactly as Described on Tape
Jill Harth alleges "relentless" sexual harassment and assault by Trump, who was caught on tape boasting he "can do anything" to women.
Trump Foundation Ordered to Halt Fundraising
Meet the man with the (subpoena) power to derail the Trump train.
Hillary Clinton
FBI Recommends No Charges After Latest Clinton Email Review
Bureau Director James Comey is sticking by his initial assessment that her email behavior doesn't warrant prosecution.
Hillary Clinton and Cybersecurity: Has She Learned From Hacks and WikiLeaks Dumps?
Leaked speeches and emails show the Democratic presidential nominee wrestling with issues of privacy, cyber surveillance and security.
What Hillary Clinton Could Do for Gun Control If Elected
There's little chance she would be able to live up to her campaign promises on the partisan issue.
Hillary Clinton Still Has Edge in Presidential Race, Early Voting Shows
The Democratic nominee is looking strong in the Mountain West and Southeast, while Trump faces an uphill climb to win the White House.
FBI Now Releasing Documents About Bill Clinton and Marc Rich
Questions swirl as the bureau becomes more deeply entwined in the election.
Why FBI Director Made Clinton Email Announcement Now
The truth is James Comey didn't have a choice.
Hillary Clinton's Old Girls' Network
The candidate's relentless cadre has put decades of effort and millions of dollars into getting the first woman into the White House.
Hillary Clinton Spreading the Wealth, With Eye on Congress
As her advantage widens, Clinton and her team are looking beyond the presidential race to increase the number of Democratic allies in Congress.
Hillary Clinton Steps Up Republican Outreach in Wake of Donald Trump Video Scandal
The Democrat's campaign believes many independents in the election lean Republican but don't want to vote for Trump.
What Millennials Want From Hillary Clinton
This key demographic wants to hear more from the candidates than promises of cheaper higher education.
Philadelphia: Hillary Clinton's Unlikely Bellwether
The Democratic nominee needs to perform well in Philadelphia, but she doesn't yet seem to be connecting with some key constituencies.
Hillary Clinton Says She, Not Donald Trump, Best for Economy
The Democrat rebuts Donald Trump's economic proposals as the two duel to be seen as the voice of the working class.