The Greatest (Worst) Sports Moments of the 2016 Presidential Election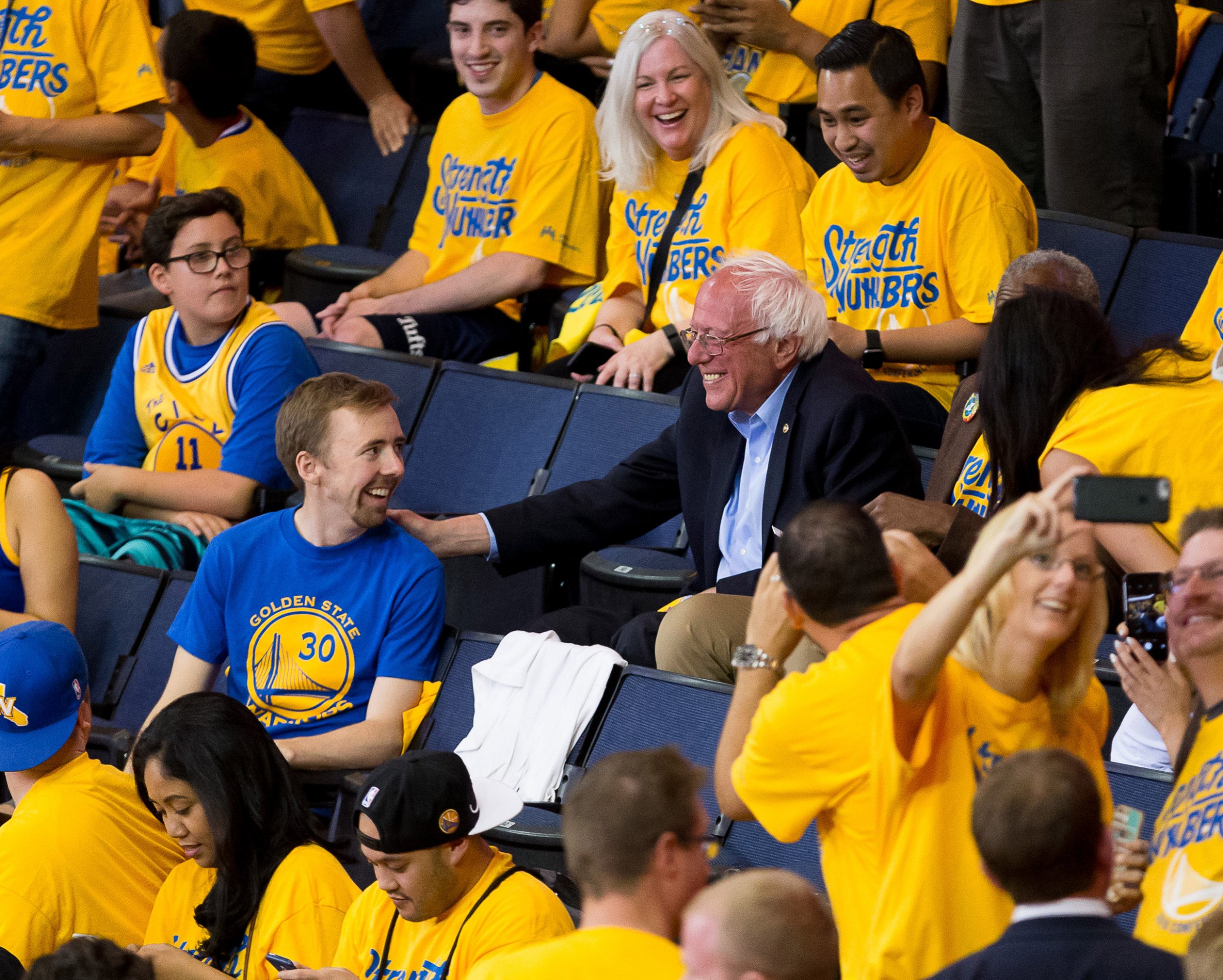 Bernie Sanders attended Game 7 of the NBA's Western Conference Finals between the Golden State Warriors and the Oklahoma City Thunder on Monday night. The game was held in Oakland's Oracle Arena, which of course is in California, where Sanders must win decisively in June 7's primary to have any chance at becoming the Democratic presidential nominee. The senator from Vermont probably isn't much of a sports fan, but the appearance wasn't surprising: Engaging with sports is a time-honored way for politicians to connect with the masses. By donning an ill-fitting cap and rooting for the home team, they can demonstrate that despite the suit and tie (or pantsuits), when it comes down to it, they are "just like us."
Sanders's mere appearance at the game would have sufficed, but no: His campaign had to go and ruin everything by forcing a comparison between the Warriors and Sanders's battle against Hillary Clinton.
This is a weird and cringe-worthy example of someone running for office co-opting good old-fashion fun and games for political gain, but may Stephen Curry never make another three-pointer in his life if this was the first time this election cycle a candidate has awkwardly traipsed into an arena (sometimes literally) in which they do not belong. Here are some of those other instances.
1. Ted Cruz horrifies Indiana woman by calling a basketball hoop a basketball "ring"
This was a gaffe that could only have been made by Ted Cruz or Mitt Romney, and guess what? We're all out of Romney.
2. Donald Trump's faux bromance with Tom Brady
Donald Trump loves Tom Brady. The Patriots quarterback is handsome. He's a winner. He's got it all. Great guy, that Tom Brady. Really terrific. Unfortunately for Brady, who doesn't seem to be interested in anything other than football and luxury mattresses, Trump's show of support during #Deflategate meant Brady had to field questions about Trump's candidacy. His mind possibly clouded with his slate of high-end product endorsements, Brady simply told reporters a Trump presidency "would be great," which the press quickly turned into a signed-and-sealed endorsement. A few weeks later, Brady backtracked.
So fierce is Trump's allegiance to Brady that football isn't even worth watching for the mogul unless his chieseled "friend" is under center.
3. Marco Rubio uses a football to take out a small child
Poor Marco Rubio. He lobs a football to a cute kid running a slant route, the cute kid stumbles his face directly into the ball, and then: MARCO RUBIO HITS DEFENSELESS CHILD IN FACE WITH FOOTBALL. Such is politics. Rubio later parodied the incident, but the damage was done.
In January, Rubio attempted to prove that he loved football despite the danger of hitting children in the face by filming a campaign ad in which he fielded a variety of football-related questions while repeatedly catching a football tossed to him from off camera.
He can multitask.
4. Carly Fiorina's disgusting display of pandering
Carly Fiorina attended Stanford University. One of the first commandments of sports fandom states that you root for the university you attended, especially when it is successful and playing in the Rose Bowl against freaking Iowa. But the commandments of sports fandom and the commandments of politicking were not etched onto the same tablets, and thus:
Despicable. Stanford won the game 45-16, spawning a #CarlyCurse hashtag among actual Iowa fans. Fiorina didn't seem to understand what the big deal was, though. "Let's just say, if the biggest mistake I make is a tongue-in-cheek tweet about a Rose Bowl, the American people will sleep safely when I'm president of the United States," she told CNN's Dana Bush.
5. Old, white coaches shower Trump with praise
Trump has been endorsed by more than a few old, white sports coaches. I guess this isn't really that surprising, considering the sports world's inherent conservatism, but then again it's also kind of weird. His backers include Lou Holtz, Mike Ditka, Gene Keady, Rex Ryan and, most notably, Indiana basketball legend Bobby Knight, who is best known for rage-throwing a chair across the court. "He does a great job of finding good people and teaching good people," Knight said while introducing Trump at an event in Indiana. "And even as important, he's really good at getting rid of people." Knight also called Trump "the very best choice that's ever been made to take over as a president."
Trump was appreciative.
Other sports figures who have given a nod to The Donald: Dennis Rodman, John Daly, Mike Tyson, Paul O'Neill, Terrell Owens, Tito Ortiz, Dana White, Richie Incognito, Matt Light and probably a few other offensive lineman.
6. John Kasich alienates crucial swing state by banning the letter "M"
To prove he truly bleeds Buckeye red, Ohio Governor John Kasich issued a resolution to ban the letter "M" when Ohio State played hated rival Michigan in November. Very cute.
The move actually paid off. Kasich won his home state's presidential primary by bringing in almost 47 percent of the vote. He didn't even do that bad "up north," either. His letter-banning move offended only 75 percent of poll-visiting Republicans.
7. Jeb lets loose on Twitter
It's too late, Jeb. You already lost.
Also: It's "Dwyane."
8. Pete Rose's non-endorsement of Trump
It's a safe bet that Pete Rose has signed more baseballs than anyone in the history of baseball signing. Since he was banned from baseball in 1989, the all-time hit king has practically made a career out of it, even at various times offering to sign anything on a ball for a certain price. One such message was, "Mr. Trump Please Make America Great Again." This Trump ball, with Rose's signature at the bottom, somehow ended up in Trump's possession, and then was featured on Trump's Twitter feed. Trump called it an endorsement, which Rose's people refuted. Could someone working for Trump have paid Rose to sign the ball with the intention of giving it to Trump so he could erroneously pass it off as an endorsement? The world may never know.
9. Ted Cruz goes hunting
Hunting isn't really a sport in the rah-rah-connect-with-a-local-voter-base sense, but it is technically a sport, and so we're going to use this opportunity to remind you that Cruz painted his face to land an endorsement from the Duck Dynasty guy.
10. Chris Christie's takes his M&Ms to the next level by adding more M&Ms at Sweet 16 game
At an NCAA tournament Sweet 16 game in Philadelphia, Christie was spotted pouring a bag of M&Ms into a box of M&Ms.
This seems like pretty strange behavior, or at least that of someone who takes their candy eating way too seriously, but it actually makes sense. Most movie-theater-style boxes of M&Ms actually contain bags of M&Ms. It's true. It's up to the consumer whether they want to p0ur the bag in the box. Christie chose to, and despite all of the ridicule, defended the move. "You get the box, you open the box," he explained on a WFAN morning show. "There's a bag inside the box—why they do it that way I have no idea—but you open up the bag, you pour the bag into the box, so it's easier to hold."
We're still waiting for Christie to defend his endorsement of Trump.
11. Trump is golf; golf is Trump
While most of this is transparent pandering, only one candidate has a real, non-orchestrated connection to sports. Trump genuinely loves golf, and has been trading in course real estate for years. Recently, he applied for a permit to build protection from the effects of "global warming" along the coast of one of his courses in Ireland. A month earlier, he said the planning involved in building courses in Scotland is what prepared him for the White House. He's also criticized President Barack Obama for playing golf and, of course, thinks he could beat him. In the end, though, golf is now "small potatoes" to Trump. All he really cares about is making America great again. How noble.
For what it's worth, here is a video of Trump swinging a golf club.
This horrendous contortion of flesh is an apt metaphor for Trump's candidacy, of course. It is ugly, objectionable and makes no technical sense, but somehow, some way, the ball goes down the fairway. During a Golf Channel segment in which famed swing coach Hank Haney was tasked with deconstructing Trump's form, Trump called himself a natural and defended the herky-jerky swing. "I'm more of a believer in ability than I am in instruction," he said.