Differences Between Men and Women Voters Widen in 2016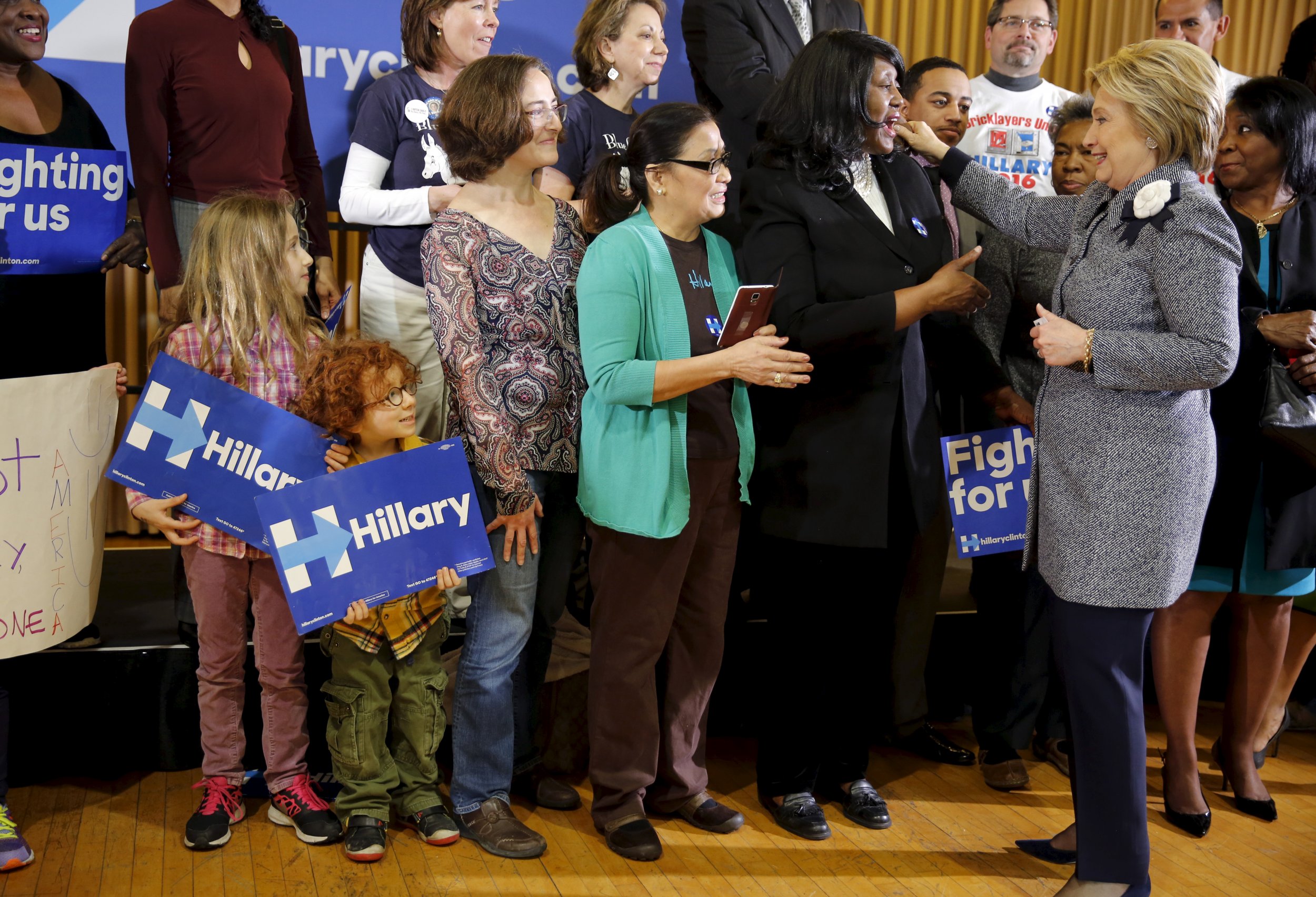 In 2008, Hillary Clinton mostly avoided gender in her presidential campaign, waiting until her concession speech that June to acknowledge how close she'd come to shattering "that highest, hardest glass ceiling." This year is different. Clinton regularly cites her potential for making history as the first woman to become president and reiterates her new role as grandmother to appeal to female supporters.
It seems to be working, with Clinton opening up sizable advantages with women over Bernie Sanders (despite all the fanfare about young female voters who support the Vermont senator). The flip side, however, is that Clinton is losing men to Sanders by bigger margins than she did to Barack Obama in 2008, particularly white men. That proved a factor in her surprise—albeit narrow—loss to Sanders in Michigan on March 8, and it is likely to be evident again on Tuesday as voters go to the polls in major swing states such as Ohio, Florida and North Carolina. That's problematic for Clinton as she looks toward a general election matchup, potentially with Donald Trump, who could all but cement his status as the Republican nominee if he sweeps Tuesday's states. Trump's support among white male voters has proved one of his strongest assets in the GOP primary.
But Trump's own deficit with women could also prove damaging—a CNN/ORC International poll released March 1 showed the former secretary of state would beat the real estate mogul by 8 percent, despite losing men by double digits. She more than makes up for that, however, with a huge margin among women—62 to 34 percent.
The "gender gap"—the difference in proportions of men and women voting for a candidate—is not a new phenomenon in national politics. Democrats have long enjoyed a sizable edge among women voters, to the point where Susan Carroll, a senior scholar at the Center for American Women and Politics at Rutgers University, says it's now "embedded in the party identities." President Obama beat 2012 Republican challenger Mitt Romney by 11 points among women voters, which helped him make up for a 7-point loss among men.
There's been less research, however, into gender among primary voters, although we know that Clinton's gap between male and female voters was sizable in 2008. And that gap has widened even further in 2016 in the states that have voted thus far, according to a comparison of CNN exit polls. On average, Clinton's performance with women in those states was 7.5 percent better than it was with men in 2008. This year, that gap has reached 10.5 percent.
In Virginia, which voted on Super Tuesday and will be a swing state this fall, Clinton won 70 percent of women to Sanders's 30 percent. She also won among men, but by a smaller 57 to 42 percent margin. In the 2008 Virginia contest, Clinton lost both voting segments handily to Obama. And her gender gap was narrower—getting the support of 39 percent of women voters and 30 percent of men.
In the Michigan election earlier this week, Clinton beat Sanders among women voters by a 5-point margin. But she lost men by a wider 11 points and the race by just 1.5 percent. It's unclear what is driving this widening gap in Clinton's performance between women and men. There's plenty of speculation that male voters are angrier than women voters, and that's why they're turning to candidates like Sanders and Trump, who've both promised to challenge the establishment. But there's little evidence that anger is what's driving the gender gap in the Democratic primary. In fact, one of the few surveys to break out voters' anger levels by gender, a January online poll from NBC News, Survey Monkey and Esquire, found that "women slightly edge out men in their outrage, 53 percent to 44 percent."
It's also worth noting that the "angry electorate" meme is a bit overplayed in general. An ABC News/Washington Post poll released Tuesday found that the number of voters who report being angry about the way government works has actually been dropping for the last several years—it's down 11 points from a high of 32 percent in October 2013.
Carroll wonders if the growth in Clinton's gender gap is because, unlike in 2008, she is "openly talking about being a woman and appealing to women voters." That, she says, could both draw more female support while turning off some men. "I don't think there are big ideological differences there that can explain why Bernie Sanders is getting more support" from white male voters, says Carroll. "Is there something going on with white men there?"
That's the same question that's being asked on the GOP side, where white men make up a much bigger chunk of the electorate. Trump has been performing well with both women and men in the GOP primary contest thus far, but his edge over his opponents among male voters has been particularly significant. In Michigan, for example, CNN's exit poll shows the real estate tycoon won among men by a double-digit margin, but he was in a virtual tie with Texas Senator Ted Cruz and Ohio Governor John Kasich for female voters.
The March 8 ABC News/Washington Post poll found Trump struggles more with GOP women at a national level. Among Republican-leaning voters, 62 percent of men said they view Trump favorably compared with just 41 percent of women. Trump's deficit with women voters, generally, is a major factor in his poor performance in recent polls pitting him against Clinton.
The problem with trying to measure general election matchups now is that polls are a snapshot of this particular moment of time. And the vast majority of the electorate has not even begun to tune in to the presidential race. In the meantime, it's safe to expect that both Clinton and Trump would try to broaden their appeal as they shift to a general election campaign. With Trump, in particular, there are some elements of his rhetoric that could appeal to women.
Traditionally, the gender gap exists in part because women are more supportive of some federal programs, says Carroll, particularly "preserving the social safety net." And that's an area where Trump is actually much more moderate than his GOP rivals. He argues against changes to Social Security, for example, and for health care coverage for the poor so people aren't left "dying on the streets," as the billionaire likes to say. Trump has also taken a softer stand on Planned Parenthood, pointing out that the abortion provider provides a lot of other important health services to women.
Marcy Stech, national press secretary for EMILY's List, acknowledges that Trump is difficult to pin down ideologically. The advocacy group helps elect pro-choice women and is actively backing Clinton in the presidential race. Says Stech, "There is no conventional wisdom when it comes to [running against] Donald Trump." But her organization is certainly ready if the GOP front-runner tries to pitch a softer, gentler, more woman-friendly version of himself in the general election.
Stech suggest Trump has a long record of degrading and insulting comments regarding women—"talking about pregnant women being disgusting," for example (he actually was addressing a breast-feeding female attorney, who displayed her breast pump as evidence she needed to take a break from courtroom proceedings). "That speaks to his character, and it speaks to his worldview," says Stech. It's a sampling of the debate yet to come if this does indeed turn out to be a Clinton vs. Trump race. And it could ultimately produce the widest gender gap yet within the American electorate.