The 2016 Grammy Awards Live Blog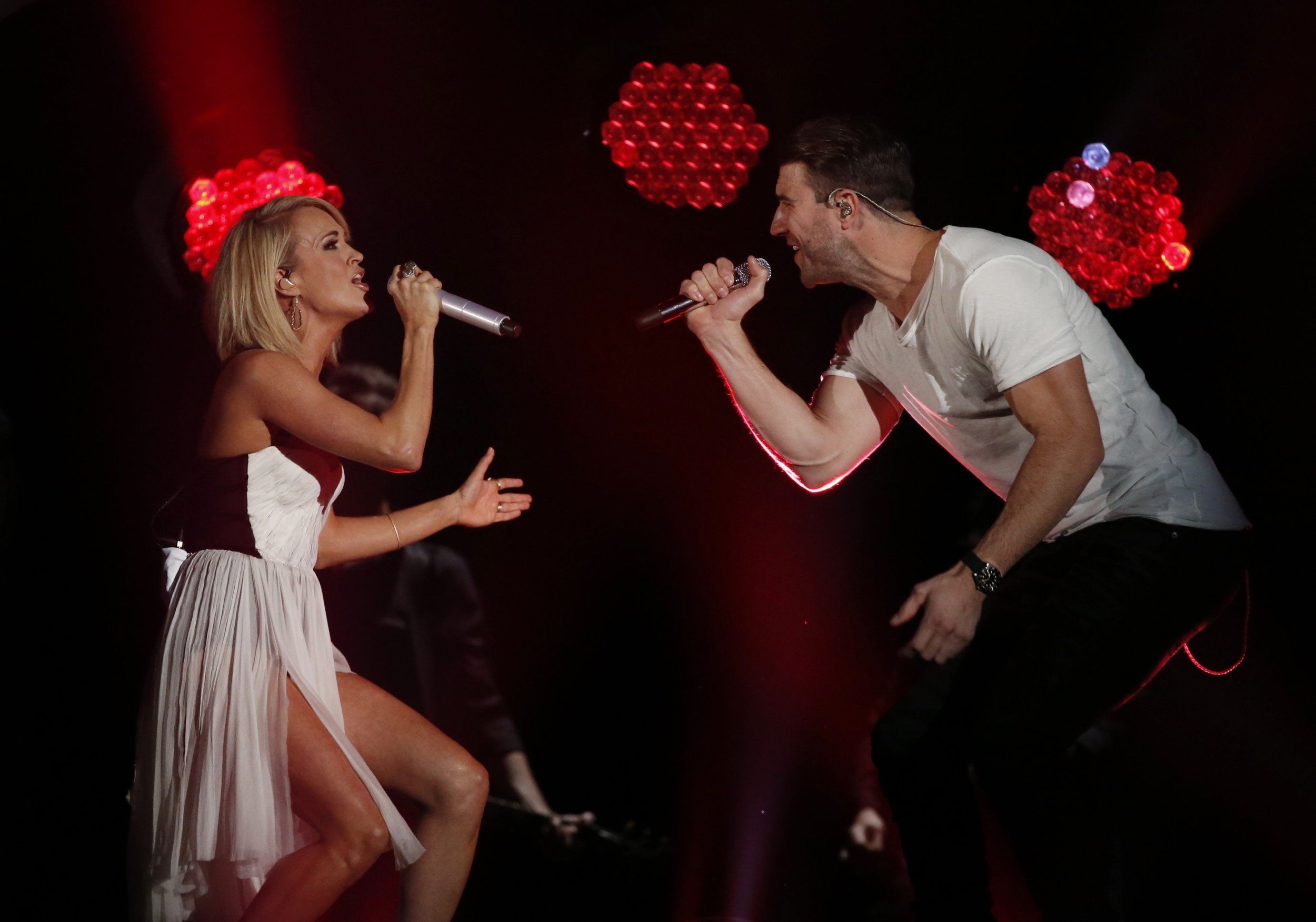 Monday night marks the 58th Annual Grammy Awards, music's biggest night. While some things are easy to predict (Lady Gaga will totally slay her David Bowie tribute, Taylor Swift and Kendrick Lamar will inevitably take home a slew of awards), the show often has some shocking moments.
This year, will we see Swift call out Kanye for his misogynistic lyrics? Who will have the best on-stage collaboration? And will Lamar win an album of the year award, or will Grammy voters snub yet another deserving hip-hop act?
Tune in here at 8pm EST on Monday (and here's how to watch the show). We'll be here all night, keeping track of the biggest performances, wins and interruptions of the 2016 Grammy Awards.
11:26 PM: Aaaand "Uptown Funk" wins Record of the Year, ensuring that you will continue hearing it on supermarket playlists until 2018.
11:23 PM: Taylor Swift's acceptance speech was a powerful message for women—and a thinly veiled dig at Kanye West, who claims in a new lyric that he made Swift famous with his 2009 VMAs stage crash.
11:22 PM: Taylor Swift wins Album of the Year for 1989. This makes her the first female artist ever to win the award twice, and her acceptance speech made a powerful message to aspiring women.
11:10 PM: Grammys are making a strong statement about music streaming and artists' rights. Is Kanye watching this?
11:12 PM: A crowded In Memoriam segment. Ben E. King, Dan Hicks, Maurice White, Lemmy Kilmister, Chris Squire, David Bowie, Lesley Gore, Lynn Anderson, B.B. King, Percy Sledge, Ornette Coleman, Glenn Frey, Natalie Cole and many more. The world lost a lot of great artists this year.
11:09 PM: Common and Recording Academy President Neil Portnow say some things about, um...the Grammys? Look, it's been three hours. Fortunately, they let 12 year-old piano prodigy Joey Alexander shred a Steinway and we started paying attention again.
11:06 PM: The Motorhead tribute was... uh, really something. Here's what Dave Grohl said in memory of Lemmy:
11:03 PM:
10:55 PM: Dave Grohl gives a touching speech in memory of Lemmy Kilmister of Motörhead. He introduces the first televised performance by Hollywood Vampires, a group consisting of, for some reason, Alice Cooper, Johnny Depp and Joe Perry, and accompanied by Duff McKagan. Reliably, there is a lot of pyro. Johnny Depp is not afraid to solo. Alice Cooper's still got it, baby. To close, Duff McKagan and Cooper sing Motörhead's "Ace of Spades" together.
10:54 PM: Alabama Shakes deserve a Grammy just for that scream at the beginning of "Don't Wanna Fight."
10:52 PM: Hey, this isn't such a farfetched idea.
10:50 PM: Whoa, Brittany Howard was a mail worker? LL Cool J announces Alabama Shakes' performance of "Don't Wanna Fight," off their excellent record Sound & Color.
10:45 PM: They just said Beyoncé will present the Album of the Year award. Is this the Grammys' way of acknowledging that she got snubbed last year?
10:38 PM: Bonnie Raitt announces that "Queen of R&B" Ruth Brown is a Lifetime Achievement Award recipient, and introduces a tribute to B.B. King featuring Chris Stapleton, Gary Clark Jr. and herself.
10:30 PM: This medley is so fast, it's hard to get into any individual song.
Also worth noting: Bowie won a single Grammy during his lifetime. Plus, a Lifetime Achievement Award in 2006.
10:26 PM: If anyone can mimic David Bowie's shape-shifting genius, it's Lady Gaga.
10:22 PM: Can we give every single Grammy award to this tweet (sent during Bieber's performance)?
10:20 PM: Is the Best New Artist category cursed? Discuss amongst yourselves.
10:18 PM: A rugged-looking Sam Smith introduces Best New Artist. Meghan Trainor wins (which we called, though we thought it ought to be Courtney Barnett). Trainor delivered a sweetly emotional acceptance speech.
10:11 PM: Kaley Cuoco introduces Justin Bieber, Skrillex and Diplo. Bieber opens with a stripped-down, powerful rendition of "Love Yourself." Then a full band. including Diplo and Skrillex playing instruments, comes in for "Where R U Now."
10:03 PM: Adele, who just performed, apparently yelled: "I love you, Kendrick! You're amazing!" Not sure we're on board for that future collaboration.
9:58: PM: Alabama Shakes take Best Rock Performance. Will they take Album of the Year as well?
9:53 PM: Miguel sings "She's Out of My Life," in honor of Michael Jackson's 1979 album Off The Wall. Would have been nice to hear him sing his filthy song "Valley," but parents have to watch too.
9:48 PM: Seth MacFarlane announces Best Musical Theater Album. The winner is Hamilton. The cast accepts it onstage in New York, still in costume. Lin-Manuel Miranda raps his thank you's, making sure to shout out "Biggie and Pac."
9:47 PM:
9:40 PM: Don Cheadle introduces Kendrick Lamar's highly-anticipated performance. Lamar enters dressed as a prisoner, opening with "Blacker the Berry." He moves from stage to stage, and on to "Alright," with wild dance bursts (and a lot of background performers) and tons of pyrotechnics behind him, though he never lyrically misses a beat. A (literally) fiery performance. If another performance tonight comes even close to that, it will be the Grammys broadcast to beat.
9:34 PM: Will time as we know it stop if Kendrick Lamar doesn't win Album of the Year? Or will Earth find a way to carry on?
9:30 PM: Stephen Colbert introduces a live performance by the cast of Hamilton: "Prepare to witness something truly special. This is a New York story. This is an American story. This is like nothing you have ever experienced. Ladies and gentleman, from the Richard Rodgers Theatre, this is Hamilton!" (Shameless plug: Be sure to read our feature on how teachers are obsessed with using Hamilton in the classroom.)
9:23 PM: Anna Kendrick introduces Tori Kelly and James Bay, singing Bay's "Let It Go." Getting kind of sick of presenters using the phrase "Grammy moment" before anything has even happened.
9:15 PM: A tribute to Glenn Frey, featuring Jackson Browne and the remaining members of the Eagles singing "Take It Easy."
9:10 PM: Stevie Wonder introduces "Song of the Year," and mocks the crowd for not being able to read Braille. Before announcing the winner, he says, "I just want to say we need to make every single thing accessible to every single person with a disability." Announces Ed Sheeran's "Thinking Out Loud" as Song of the Year.
9:08 PM: Stevie Wonder joins Pentatonix (who he maybe called Platonics?) onstage for an a cappella tribute to Maurice White of Earth Wind & Fire's "That's the Way of the World."
9:06 PM: News coming in that Rihanna has cancelled her Grammy performance. According to TMZ, she showed up to rehearsals but was fighting bronchitis, for which she was taking medication.
9:02 PM: Ryan Seacrest introduces country group Little Big Town, who will perform their surprising crossover hit "Girl Crush."
8:55 PM: Luke Bryan and Meghan Trainor also join in, but most notable is Tyrese's stirring take on the Commodores' "Brick House." Lionel Richie also just came up onstage to do a group sing-along of "All Night Long."
8:47 PM: Lionel Richie honored as Music Cares Person of the Year. John Legend kicks off the all-star tribute to his career so far by singing "Easy," from Richie's stint in the Commodores. Demi Lovato brings a powerhouse rendition of Richie's 1983 hit "Hello."
8:45 PM: That Lime-A-Rita commercial reminds us that Nelly won the Grammy for Best Male Rap Solo Performance for "Hot in Herre" in 2003. Halcyon days.
8:43 PM:
8:41 PM: Singer Cam and actor/musician Gary Sinise announce Best Country Album. Winner is Chris Stapleton, Traveller. "I'd like to thank Taylor Swift for glitter-bombing me before," Stapleton says upon accepting his award.
8:38 PM: They sing a mash-up of sorts of Day's "Rise Up" and Goulding's "Love Me Like You Do." Many high notes are hit.
8:34 PM: Selena Gomez announces the performance by Andra Day and Ellie Goulding, both first-time nominees. Are the awards being given out off-screen somewhere?
8:31 PM: Let us also acknowledge that Lady Gaga's red carpet look is a refreshingly theatrical return to form.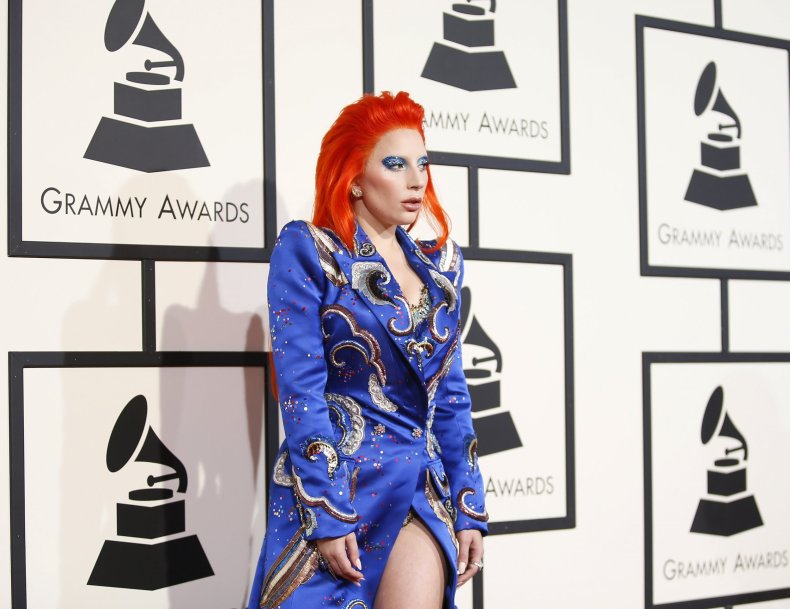 8:26 PM: The Weeknd can't feel his face when he's with you, can definitely feel his hair.
8:25 PM: Ariana Grande just loves doing impressions of other artists. Her take on The Weeknd when she introduced his performance of "Can't Feel My Face" and "In the Night" wasn't half bad.
8:14 PM: Sam Hunt and Carrie Underwood perform Hunt's hit "Take Your Time."
8:12 PM: Kendrick Lamar spends his acceptance speech shouting out hip hop albums that came out before the Grammys realized hip hop exists.
8:11 PM: Best Rap Album announced by Ice Cube and his son O'Shea Jackson Jr. (who played him in Straight Outta Compton). Winner: To Pimp a Butterfly by Kendrick Lamar. He dedicated his award to hip-hop: "This for Snoop Dogg, Doggystyle. This for Illmatic, this for Nas. We will live forever."
8:05 PM: LL Cool J has won two Grammys (both for Best Rap Solo for "Mama Said Knock You Out" in 1992 and "Hey Lover" in 1997) but has hosted five times consecutively.
8:00 PM: Taylor Swift kicking things off with "Out of the Woods" off 1989, alongside some very interesting tree set pieces.
7:59 PM: Was that Dave Grohl we just saw playing in the Preservation Hall Jazz Band before the show started?