Roe Anniversary Kicks off a Pivotal Year for Abortion Rights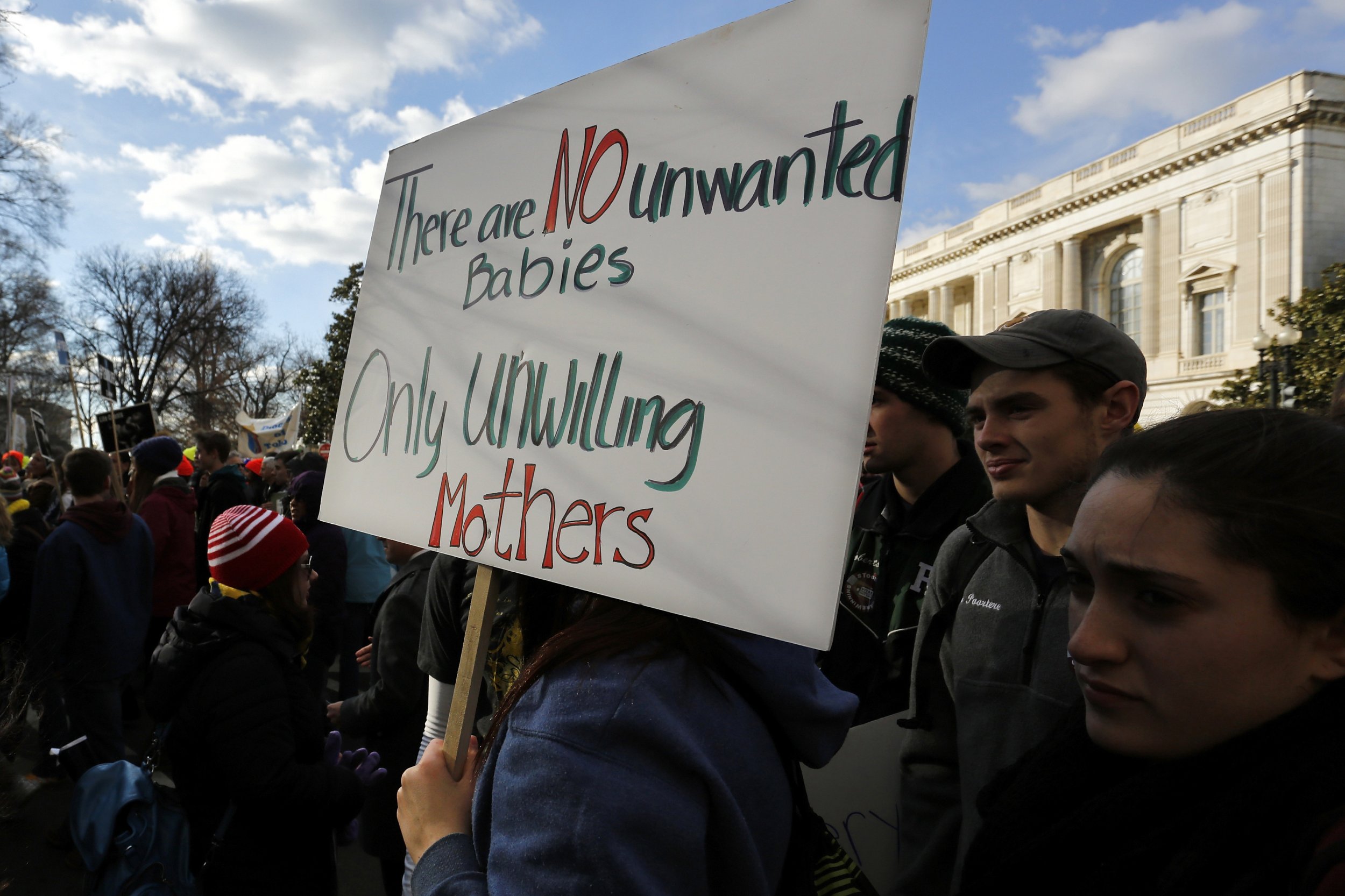 Thanks to a little-known conservative advocacy group and provocative series of undercover videos, 2015 was one of the most eventful years in America's long-running abortion wars. This year could be even more explosive.
Friday marks the 43rd anniversary of the Supreme Court's Roe v. Wade decision, legalizing abortion in all 50 states. As anti-abortion advocates gather in Washington for the annual March for Life (which is happening despite apocalyptic blizzard predictions) and abortion rights defenders fight back rhetorically, both sides are bracing for a political season that could dramatically expand or severely curtail abortion access.
In the courts and in the states, abortion will be front and center, as well as in the general election.
On a conference call earlier this week, Ilyse Hogue, the president of abortion rights advocacy group NARAL Pro-Choice America, warned that the state of reproductive rights is "precarious." In particular, she cited the rise in what are known as "TRAP laws," which impose restrictions on abortion clinics, like requiring doctors there have admitting privileges at hospitals or that a clinic be within a certain range of hospitals. Since 2010, the number of state TRAP laws has increased more than fourfold compared to the previous five-year period. In 2015, states introduced 45 such bills and six made it into law. But many have also been challenged in court as a thinly veiled attempts to shut down clinics with medical requirements that aren't necessary to perform abortions.
On March 2, the Supreme Court will hear arguments regarding a 2013 Texas law with these kind of standards. Abortion defenders blame the law for putting dozens of clinics out of business and making access to abortion effectively inaccessible for many Texas women, violating Roe v. Wade which, ironically, began in the Texas courts. Hogue called the case " a once-in-a-generation opportunity to stop anti-choice activists in their tracks." A decision is expected in June, right as the general election for president is heating up (assuming, that is, that there are no contested conventions).
For abortion opponents, the key prize in 2016 is the White House where the general election is guaranteed to be a battle between a pro-choice nominee and a right-to-life Republican. "We are worlds away from 2012 and certainly before that," says Mallory Quigley, spokeswoman for the Susan B. Anthony List, which supports anti-abortion candidates. She's referring specifically to the Republican field, where many of the top-tier candidates have taken a harder line on abortion than past Republican nominees. "All the candidates are willing to use this as an issue going against Hillary Clinton," Quigley said.
NARAL and other groups who support abortion access are backing Clinton for the very reasons abortion opponents revile her. " If we're going to save Roe v. Wade and keep this country moving forward, we need...a leader who understands how critical this issue is, who will not only work to defend our rights—but expand them too," Stephanie Schriock, president of abortion rights advocacy group EMILY's List, wrote on the website Medium Friday. Specifically, Clinton has pledged to take on the Hyde amendment, a law first passed in 1977 that bars the use of certain federal funds to pay for abortions. Schriock went after not just Republicans but also spent several paragraphs critiquing Clinton's rival for the Democratic presidential nomination, Vermont Senator Bernie Sanders. Sanders—who had to walk back a comment earlier this week suggesting Planned Parenthood is part of the "political establishment"—"does not have what it takes," Schriock wrote.
Sanders tried to make nice on Friday, issuing a statement marking Roe v. Wade's anniversary promising to "join with Planned Parenthood, NARAL and all Americans who have been fighting the never-ending attacks on women's right to choose." But by promising to take on the Hyde Amendment, this is one issue where Clinton has gone further to the left of Sanders. As Quigley notes, it also puts Clinton to the left of President Obama, who has not challenged the law. "If she wants to pick this fight...we welcome it," Quigley says.
A repeal of the Hyde amendment isn't the only setback the anti-abortion movement could face if Democrats keep the White House. A president who supports abortion access could also stall what Quigley says are the movement's two top priorities, blocking all public funding for Planned Parenthood, a reproductive health provider that conducts the lion's share of the country's abortions, and outlawing abortion after 20 weeks, when a fetus is thought to be capable of feeling pain.
Abortion foes made huge strides on both in "a pretty historic year" last year, Quigley says. Two states—West Virginia and Wisconsin—passed 20-week abortion bans. And after years of pushing, the Senate held a vote on a similar ban, called the Pain-Capable Unborn Child Protection Act, last September. They even won a few Democratic votes, but not enough to overcome a Democrat filibuster threat. And undoubtedly, Obama would have vetoed the bill.
Meanwhile, a series of Planned Parenthood sting videos documenting the harvesting of fetal tissue for research drove a frenzy of activity against the group. Several states passed new regulations on the disposal of fetal tissue, and in January, Republicans sent a bill a bill defunding Planned Parenthood to the president's desk, which he vetoed. A this point, Republicans lack the majorities in Congress to override him.
The U.S. House set up a select committee to investigate Planned Parenthood. Democrats have dubbed the panel the "Committee to Attack Women's Health" and this week sent a letter to the chair complaining that its document requests violated medical privacy. The committee could hold hearings this year
Quigley says forcing the president's veto proves there's a pathway in Congress to further restrict abortion, now they need to win the White House or build on their congressional majorities.
Opponents agree that anti-abortion forces have been effective around the country. "The GOP's ideological war on women has systemically restricted women's rights to make the healthcare decisions that are best for them and their families," Democratic Congresswoman Barbara Lee said in a press release marking the anniversary of Roe v. Wade.
There's likely to be more action this year, with a handful of states considering 20-week abortion bans and Congress' Planned Parenthood investigation ongoing. But legislators won't be driving the agenda the way they did in 2015. This year, it will be up to nine Supreme Court justices and the American voter.