U.S. Presidential Election: What Is Russian Media Saying on Polling Day?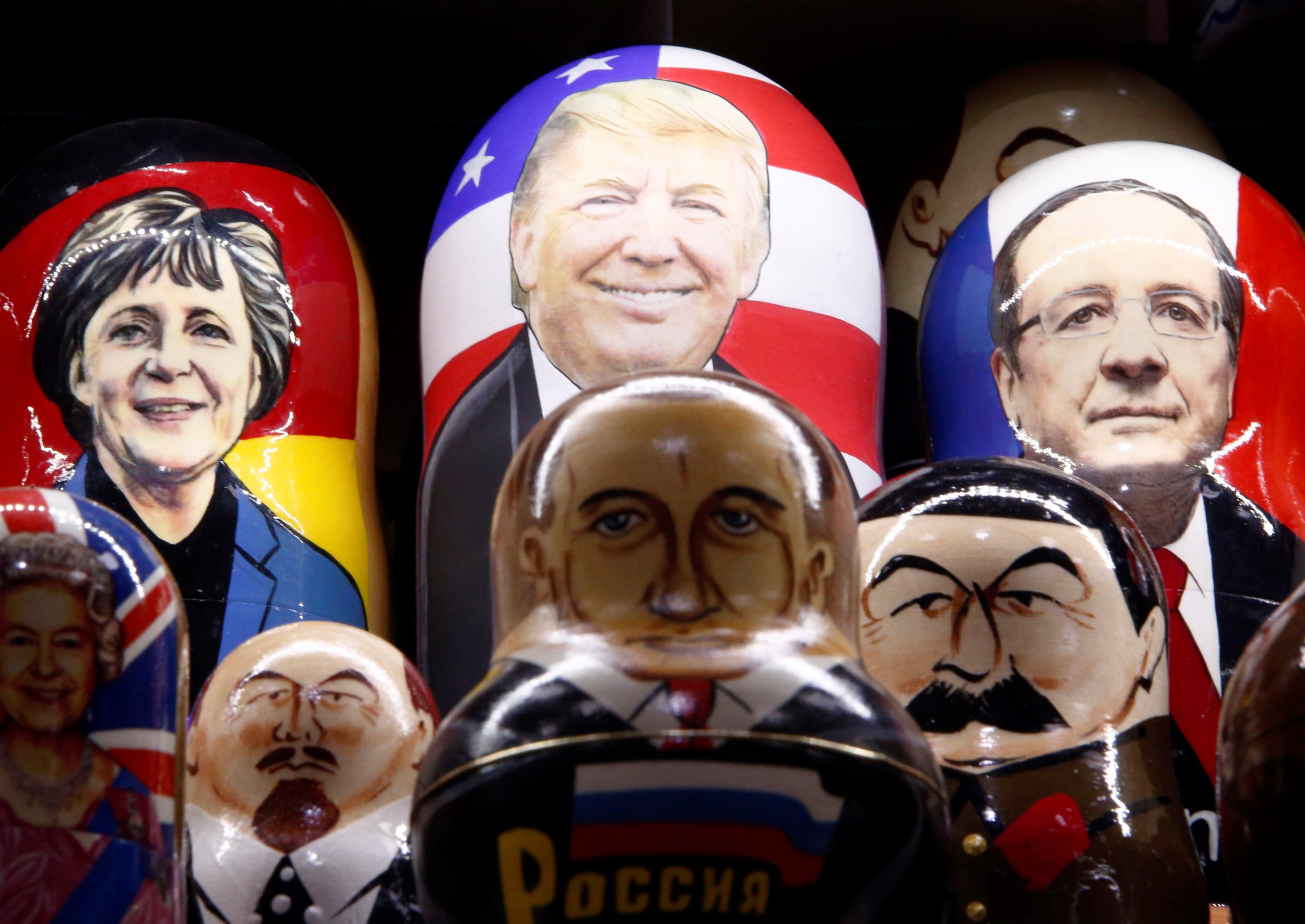 Russian President Vladimir Putin's spokesman Dmitry Peskov cut a calm figure Tuesday, saying the Kremlin would "follow (the U.S. presidential election) along with other international events," the state news agency Itar-Tass reported.
The Kremlin was open to working with either candidate, he said. Yet as polls in the U.S. opened, the message from Russia's pro-Kremlin officials and media lost all nonchalance.
"Clinton will surround us with nuclear rockets, while Trump will recognize Crimea," the mass market pro-government tabloid Komsomolskaya Pravda declared, citing experts. "Clinton is a witch," Vitaly Milonov, member of parliament from Putin's United Russia party told Russian NSN news agency. "I see the mark of Satan on her."
"If Trump wins, I am convinced sanctions (on Russia) will be dropped completely," Gennady Zyuganov, leader of Russia's second largest party, the Communist Party, told state news channel Rossiya 24. "In this case, I believe Madam Clinton will win," he added, blaming the "American oligarchy" of backing the former secretary of state.
Russian daily business newspaper Kommersant set up its own poll, asking Russians which candidate they preferred. At the time of publication, the poll was strongly in favor of Trump, who had almost 84 percent of the vote. Clinton won only 16 percent.
So expansive was the coverage on national airwaves that some Russians were outraged. A number of social media users expressed particular puzzlement at Rossiya 24's decision to feature a countdown to the closing of the polls throughout the day, as this is not a common practice in Russia, let alone for covering foreign elections.
"Correct me if I am wrong but there was no such thing during Russian elections," Russian opposition activist and former MP Dmitry Gudkov wrote on Facebook. Indeed, the most recent Russian parliamentary election, in September, was declared one of the least dynamic in history by Russian observers, with a record low turnout and a record high win for United Russia.
Meanwhile, Russian state media and officials have rallied to drum up conspiracy theories and questions over the likelihood of fraud in the U.S. election.
"Questions from experts about the effectiveness of the U.S. electoral system arise, not for the first time, in particular with respect to transparency," the Rossiya 24 anchorwoman of the two o'clock news declared.
"I would like to remind you that the U.S. and EU regularly accuse Russia of unsavoury practices in voting," Alexey Mukhin, one of these experts, said. "We observed numerous violations in the realization and organization of the referendum in the U.K. (in July), now we see them here."
The news segment focused on a petition submitted to Congress last month with over 100,000 signatures calling for the removal of "George Soros owned voting machines from 16 states." Two weeks before polling day, however, the Washington Post had already debunked notions that liberal business magnate George Soros owned any company that produced voting machines.
Russian Deputy Foreign Minister Sergey Ryabkov fired another criticism at the legitimacy of the U.S. election Tuesday morning, telling state news agency Itar-Tass that he was aware of "some situations" that resulted in Russian diplomats being barred from acting as independent observers. His statement quickly made the lunchtime news broadcasts, followed by Russian Ministry spokeswoman Maria Zakharova saying on Facebook that the U.S. State Department and FBI were encouraging Russians to keep away from the voting process.
Meanwhile, Russian Senator Andrey Klishas dealt the knockout punch by asking why the U.S. was "so scared of Russian observers" that it resorted to "open threats against Russian diplomats," Russian state news agency RIA Novosti reported Tuesday. "Could it be that upon close inspection, U.S. elections are not as open and not at all as transparent as those who hail the U.S. as an example often love to tell us?" Klishas asked.
U.S. State Department spokesman Mark Toner has subsequently dismissed claims that the U.S. turned away Russian observers as "false." He called the allegations "nothing more than a PR stunt," noting that Russia had to apply to individual states to act as an observer, or apply through the international monitoring body, Operation for Security and Cooperation in Europe (OSCE). (Zakharova posted a copy of the purported letter from the U.S. State Department to Russian diplomats on Facebook, which contained a request to apply through the OSCE and no threats to Russian officials. U.S. delegates observed Russia's last elections through the OSCE).
Sergey Mironov, leader of A Just Russia, one of the four parties in the Russian parliament, did not accept the U.S. State Department's suggestion, telling RIA Novosti that "if they don't let us [observe their elections], then they have no business at our elections."
One man yet to comment on the election is Vladimir Putin himself. His spokesman, Peskov, said the Russian leader would weigh in on the election in due course, possibly during an award ceremony for foreign envoys in Moscow on Wednesday.
He urged journalists asking how Putin was planning to congratulate the winner of the election not to get ahead of themselves.
"I cannot say how exactly President Putin will choose to send congratulations," he said. Asked on Tuesday morning if the Kremlin was ready to accept the U.S. result, whatever it was, Peskov said "it would be unwise to comment on elections that have not taken place yet."