Today, the luxury goods business has become a savvy career choice, but happily there are still people like Henri d'Origny around to remind us of a time before MBAs, when people were attracted to a life of work in luxury because they liked it and they lived it. Origny is an octogenarian and a legend, and without him Hermès would not, in my eyes, be quite the same; after all, this is the man who "invented" the Hermès tie.
I first met him about 15 years ago, and visiting him recently in his elegantly lived-in apartment on the Left Bank, I find him little changed: snowy hair still abundant, smile still charmingly roguish, eyes still bright, and impeccable English still ever so slightly accented. It is easy to see the lady-killer that he must have been before he married his charming and much younger American blueblood wife, Sybil. He wears his years, and everything else, lightly and sits surrounded by a comfortable confusion of objects, which, only when viewed individually, emerge as things of beauty: the delicate translucent jade bowl; the Helleu portrait of his grandmother; even the studded Hermès dog collar, made 90 years ago for a canine far more fearsome than the little Jack Russell called Tiptoe it now adorns.
Instead of being one of Hermès's designers, Origny looks more like one of the brand's old-school customers—which is exactly how he grew up. "We were clients of Hermès," he says of the Orignys, and by the sound of it, they were fairly important ones. "My grandfather, who loved shooting, bought an estate just before the First War. And I lived there practically all my childhood. Every holiday, we went there. My grandfather was a very compulsive rider. He had beautiful horses, and all his saddlery was Hermès. Everything…all of which was stolen by the Germans when they invaded France."
That abundance of Hermès saddlery may have been looted, but it left an impression on Origny's mind that endures to today. "My madeleine is the magnificent, special aroma of nice old saddles," he says. "I am sort of naturally Hermès style."
Origny has always had the gift of making life and work look supremely easy: "All my life has been about luck, and I've been shrewd enough never to turn my back on it," he says. What he insists is just an extraordinary run of luck began in one of the schools he attended, "a sort of hell on Earth called Les Roches. Which is a sort of fake, second-rate French Eton."
The school is redeemed in his memory, however, because it was where he became friends with Patrick Guerrand, the grandson of Emile Hermès, whom he met again "dans le monde," a few years later when "I was trying to make a living. Although that's a big word, because I had another piece of luck. I had rich parents, and I didn't have to bother about being fed and lodged. So what I mean is that I was amusing myself thinking that I had talent for designing."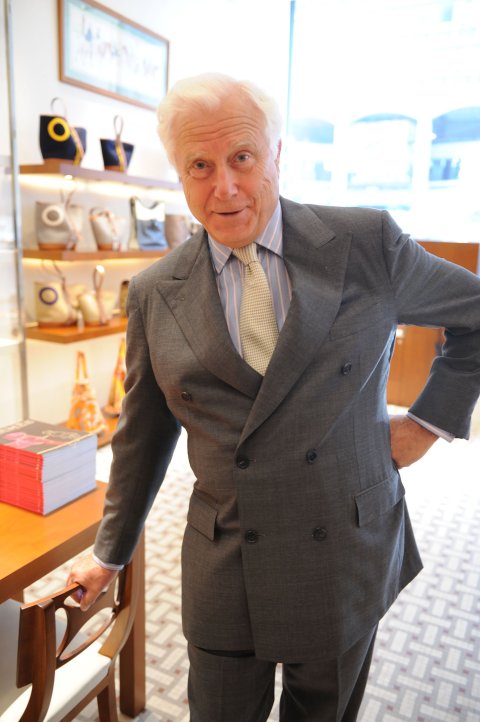 And so in 1958 he went to work for Hermès, although his was not an entirely conventional career path. For a time, he worked from home—an estate he had inherited in the Caribbean. "After my father's death, I asked for special status," he says. "I needed a different schedule because I had to move to Martinique."
Before he left to live in the tropics, he had been told that if he wanted to work for Hermès he would need to get to know the Hermès client and would have to spend six months working in the Hermès shop on the Rue du Faubourg St. Honoré , which was a much less grand and busy affair than it is today.
"If we had 50 clients in a day, we would open a bottle of champagne," Origny says. "And they were old clients. We knew them, they knew us. It was a sort of salon, with old clients buying old things. So I bored myself in the shop for six months, and I made my doodles on my desk because there were so few clients. Patrick Guerrand saw me making those little doodles and said, 'Well, that's a good idea. We could use them as a print for the ties.' In those days in Paris, people would wear either little dots or club ties with stripes. We created the thing of having little doodles that represented more or less the things having to do with the horse world or yachting. And it was an immediate success. And we were absolutely sure it was a success when Gucci started making them as well. This is the best way of knowing if you did something good or not in the world of fashion."
But this was more than merely creating a scrap of silk to wear around the neck; it was establishing a new identity for a then-dusty name in the world of fashion. In the overly formal world of Bon Chic Bon Genre Paris in the 1960s, Origny's Hermès ties—with their geometric, almost abstract designs based on equestrian and nautical paraphernalia—were a splash of color. Not too daring but different—and hugely successful, selling in the millions.
Since then, Origny has designed scarves, tableware and watches, and this autumn he entered the digital age, with the design he created for the face of the phenomenally successful Cape Cod watch that appears on the new Apple watch made in collaboration with Hermès.
That he is still working at 82—a new watch, this time mechanical, is just one of the projects occupying him—and can't wait to get out of the house and over to his studio at Hermès is something Origny would probably put down to his good genes and, of course, his good luck. (I would argue that the good luck belongs as much to Hermès as it does to him.) His wife has another theory about why Origny is so happy to go to work every day: the large number of attractive young women working at the Hermès design studios.