Mare Island would make a fine set for a zombie flick. A military base in Vallejo, California, that predates the Civil War, it once housed the components for Little Boy, the atomic bomb dropped on Hiroshima. When the Navy decamped in 1996, it left behind a vast array of buildings, a ghost city of hollowed-out concrete. Some of the buildings have been reclaimed by businesses that need square footage more than foot traffic—an earthquake protection firm, a brewery—and though there are people working on the island, you never really see them, which only heightens the unease that pervades the place.
In 2002, a new tenant arrived in Building 627, the sand-colored warehouse that once housed the nuclear payload. Wines Central hoped to take advantage of Vallejo's location, near the base of grape-rich Napa Valley but also close to San Francisco and Sacramento.
As Frances Dinkelspiel writes in her new book, Tangled Vines, one of the patrons of Wines Central was to be a corpulent bon vivant named Mark C. Anderson, who stored some 5,600 cases of wine in Building 627. Anderson was the proprietor of Sausalito Cellars, in the tony seaside village at the foot of the Golden Gate Bridge, where he lived in a houseboat. He wrote for a local paper and generally gave the sense that he was one of the many "estate babies" living the easy life in Marin County. But after a while, Anderson could no longer pay the Sausalito commercial rents; Mare Island would be cheaper. So in 2004 he moved the cases to Wines Central, without telling the wealthy collectors, restaurateurs and vintners who were his clients.
There was another thing his clients didn't know: Anderson had been stealing from them for years. There are several varieties of wine crime, but the one in which Anderson engaged was about as brazen as yanking a glass of pinot out of an eager drinker's hand: He simply pulled expensive bottles from their collections and sold them, betting that people with vast stores of expensive wine would not notice if just a bit of their expensive wine disappeared.
Anderson started selling wine from Sausalito Cellars to Golden West Wines of San Francisco in 2001, Dinkelspiel writes, offloading eight bottles of Château Ducru Beaucaillou at $105 a bottle and, a little later, a $400 bottle of 1982 Château Cheval-Blanc. Anderson kept selling and Golden West kept buying, happy to add prestigious bottles to its arsenal. Golden West bought $279,418 of wines from him; Premier Cru, in the East Bay town of Emeryville, bought $296,235 worth of pilfered wine.
In late 2003, a Sausalito Cellars client decided he wanted his wine back. Samuel Maslak had been paying Anderson $600 a month to store 756 cases of wine from a restaurant of his that had failed. Hoping to auction his wines at Christie's, he sent a mover to retrieve the wine from Sausalito Cellars. The mover informed Maslak there were only 144 cases of wine, leading to questions about what happened to the other 612, questions that Anderson answered with implausible excuses. Another collector, Ron Lussier, had entrusted Anderson with valuable bottles from Stags' Leap, the legendary Napa vineyard whose cabernet triumphed in the 1976 "Judgment of Paris," the oenological version of a feel-good, I-can't-believe-it Rocky Balboa victory. Inside one of the cases he'd entrusted to Anderson were bottles of Trader Joe's "Two-Buck Chuck." The missing bottles of Stags' Leap had been valued at $650 each.
Law enforcement was closing in too. A district attorney in Marin County filed embezzlement charges in February 2004, then added more charges in December. The following April, both local police and the Internal Revenue Service raided Anderson's home. Inside they found books like The Modern Identity Changer and Hide Your Assets and Disappear: A Step-by-Step Guide to Vanishing Without a Trace. In June 2005, Wines Central told Anderson to take his wine elsewhere.
On October 12, Anderson arrived at Wines Central, presumably to clear out his storage space. With him he carried a blowtorch and rags soaked in gasoline. Inside his storage space, he used a blowtorch to light rags soaked in gasoline, then ran. The fire burned for eight hours, destroying about $250 million worth of wine. Anderson did not just obliterate the collections of his own clients; his spite, and the fire that spite ignited, destroyed the wines of people who had nothing to do with him but were simply his "neighbors" in Wines Central. The fire was intended to mask the evidence of his theft, but it was also a cruel strike against all those who had the sophistication, and the wealth, that Anderson had long envied. Dinkelspiel avoids psychoanalysis in Tangled Vines, which is probably wise. But it's not hard to see Anderson's motive as the rage of a poseur who knew he would soon be unmasked.
Inside the warehouse, pallets collapsed onto each other, shattering bottles. Some of the wine that was left intact was "cooked" by the heat. "It's remarkable," Dinkelspiel writes, "how little it takes to ruin 4.5 million bottles of wine."
Don't Forget to Spit
After my visit to Building 627, I drove north into Napa. Even the name is seductive, an enigmatic parcel of trochaic beauty. When a cork factory appears on the side of Route 29, you know that you're close, and when you reach Yountville, you're in the heart of it. Named after Napa's first white settler, Yountville has a downtown that looks like an ersatz Mediterranean village. A sure sign of the town's wealth is that in the middle of the afternoon, middle-aged men ride through town on expensive bikes, heading toward scorched hills yearning for rain. Tourists amble from tasting room to tasting room, reminding themselves to swirl and smell. Or they head out on the Silverado Trail, whose undulations goad you into an irresistible comparison with Tuscany.
The Napa Valley is, in many ways, the obverse of the Santa Clara Valley, south of San Francisco. Until the 1960s, Napa was "an agricultural backwater given over to prune and walnut trees, pastures and some vines," James Conaway writes in his history of the region. Santa Clara was a sleepy collection of orchards too, but then an ambitious new breed of craftsmen settled the South Bay towns of Palo Alto and Menlo Park. Instead of bottling zinfandels, these renegades etched semiconductors. Today, some of the vast wealth of Silicon Valley, as Santa Clara is now universally known, flows north, over the Golden Gate Bridge, into the vineyards of Napa and Sonoma. Worth magazine recently noted that "many of the best wines" in California "were built with handsome profits from Silicon Valley ventures." One vineyard profiled by Worth was founded by the head of Cypress Semiconductor, who called his newest enterprise Clos de la Tech.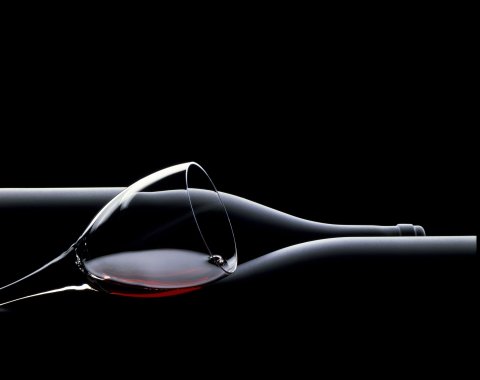 But if only Silicon Valley code cowboys were producing and drinking Russian River pinot noirs, the California wine industry wouldn't be the $24.6 billion behemoth it is today. Despite the long-standing image of the American populace as either too sanctimonious to drink anything at all or not sophisticated enough to drink anything more refined than Michelob, in 2014 the United States became the top wine consumer in the world. The wine market has become phenomenally democratic, so that while you can pay thousands of dollars for a coveted Screaming Eagle cabernet, you can buy a 2013 Kendall-Jackson Vintner's Reserve Chardonnay, rated 91 by Wine Enthusiast, for $15.99. All you need to be a wine snob today is a 20-dollar bill.
With so much money, curiosity and envy tied up in the wine business, it's easy to see why the greedy and the unscrupulous have taken to wine in the way they haven't quite taken to cream soda or cheese. Some, like Anderson, resorted to theft, figuring that with 31.4 billion bottles of wine swapping hands each year, nobody will miss a few prized cases that fell off the truck. Far more lucrative than theft is fraud, the passing off of cheap wine as expensive stuff. It's art forgery in a bottle, except that a fake painting is probably easier to sniff out than a fake Bordeaux chardonnay. An unopened bottle of wine is difficult to authenticate, since corks and labels can easily be faked, especially for older wines, often the very ones collectors seek. You can try to verify by taste, but opening a bottle immediately abrogates any value outside your memory of the sensation. Even then, you don't really know what you're drinking. "Nobody in the world, nobody, is able to authenticate via taste," wine fraud expert Maureen Downey recently told NPR.
In 2007, a German wine dealer named Hardy Rodenstock became infamous after it was convincingly alleged, in a lawsuit filed by William I. Koch, that he had passed off bottles of wine he'd mixed himself as having belonged to Thomas Jefferson. Koch, a prominent wine collector and a member of the much-reviled political clan, came to realize that many of the wines in his cellar were probably fake. He told The New Yorker in 2007, "When I get finished going through all the wine in my collection, I'm going after all the people who sold it to me. The retailers, they know they're doing it. They're complicit."
Koch also sued Rudy Kurniawan, a Los Angeles dealer who perpetrated what Vanity Fair called "the largest known 'wine' fraud in history." His counterfeiting was eventually uncovered by French winemaker Laurent Ponsot, but not before Kurniawan had dispatched countless bottles into auction houses and cellars. One merchant called him a "gentleman thief," and Kurniawan struck a plangent note as prison loomed: "I thought these people were my friends, and I wanted to be accepted in their world."
To fake a great wine takes a great palate, as well as great ingenuity. What Anderson did is more crude, and fairly common. Last Christmas, someone stole 76 bottles of wine worth a total of $300,000 from the French Laundry, the Yountville restaurant sometimes called the best in America. The wine was later found in North Carolina. According to Bloomberg Businessweek, the thieves had likely been after Domaine de la Romanée-Conti, a prized pinot noir from Burgundy that they also tried to steal from other Bay Area restaurants. In fact, DRC is so revered that a father-son duo tried to extort the vineyard's proprietor, threatening to destroy his vines.
Once in a while, real blood flows. Earlier this year, a struggling winemaker in Napa, Robert Dahl, shot and killed an investor named Emad Tawfilis, then killed himself. Tawfilis was involved in the Silicon Valley tech sector, while Dahl was a shady businessman from Minnesota. Tawfilis gave Dahl hundreds of thousands of dollars, but Dahl Vineyards remained, according to The New York Times, "little more than a leased renovated barn." Both men were entranced, one Napa winemaker told the paper, by the "lifestyle" of owning a vineyard, "drinking wine every night and having great dinners." The culture of wine can be as intoxicating as wine itself. The hangover can be just as brutal.
'Almost Animaly'
One evening a few months ago, I met Dinkelspiel at La Botella Republic, a wine bar in downtown Berkeley that almost exclusively serves wines from California. A single glass there can run to $25, which could in other establishments fetch a respectable bottle of wine. The party for the just published Tangled Vines had been held there the previous night. We ordered a red from The Scholium Project, a petite syrah almost the color of oxblood. Dinkelspiel pronounced it "almost animaly" and noted that the winemaker was "an L.A. guy," an imprecation on which she did not need to expound. She ordered a glass of something else, but I continued to drink the dark red juice, surly and spicy on my tongue. It was a wine that did not want to be liked, which made me like it all the more.
In 2008, Dinkelspiel published Towers of Gold, about her great-great-grandfather Isaias W. Hellman, a prominent Los Angeles banker. In the course of her research for that book, she discovered that Hellman had once owned the Rancho Cucamonga winery in the San Bernardino Valley, east of Los Angeles. About 175 bottles of Hellman's wine ended up in the possession of Miranda Heller, a cousin of Dinkelspiel's. Heller decided to store the bottles at Wines Central.
Wine is never just what's in the bottle, and when Anderson set that fire, he was setting alight not only countless hours of human toil but entire histories of immigration, assimilation, struggle and success. "The loss of the wine felt like the severing of my past," Dinkelspiel writes in Tangled Vines. She corresponded with Anderson as he awaited sentencing, after pleading guilty to charges of arson and embezzlement. He never expressed remorse for the fire, continuing to deny his involvement, despite overwhelming evidence against him. Now serving a 27-year sentence in prison, he seems not to grasp the extent of the ruin he caused. As the winemaker Ted Hall said at his sentencing, "We can't simply call up a factory and ask them to make us another vintage of 2001 cabernet sauvignon. It is gone forever. The fruit of our hands and of our hearts is irretrievably gone, like a piece of fine art trashed by a barbarian sacking a city."
Dinkelspiel worries that Napa has become "a victim of its own success," a concern many also voice about a San Francisco enthralled by all the disruption and delight promised by the tech world. The more people want rare, expensive wine, the more likely they are to come under the spell of those willing to supply it dishonestly. It behooves nobody to ask too many questions about a dealer who seems to have a bountiful supply of Domaine Leflaive Montrachet Grand Cru, which runs about $6,000 a bottle. And should the authenticity come into question, you can probably offload the bottle on the Asian market, even less regulated than the American one. "It's usually luck when people are caught," Dinkelspiel says.
The next day, I went to the flagship store of Kermit Lynch, the famous Berkeley-based wine merchant. "It is no exaggeration to say that a significant segment of the fine wine industry today is stamped in Mr. Lynch's image," New York Times wine critic Eric Asimov wrote in 2007. Lynch is famous for selling only French and Italian wines, in what may seem like an affront to California. But by promoting European wines, he tutored New World winemakers in the craft, showing them the best of what the Old World had to offer.
The people who wandered his store obviously knew wine better than I did, moving through the racks with a quiet, clinical intensity. I picked one of the cheapest wines I could find, a $16 carignane from France's Languedoc-Roussillon region. Anything could be in that bottle: I'd never heard of the vineyard, and I certainly wouldn't know if someone had spiked my carignane with grenache or, frankly, just swapped labels with a bottle of Two-Buck Chuck. But this was not a prestige purchase: I have no cellar, no auctioneer to impress. The stakes were low. And, as I discovered a little later, the wine was good.