On October 9, 2015, a former Philadelphia altar boy reported to the office of Dr. Stephen Mechanick to undergo a court-ordered forensic psychiatric evaluation. It took nearly three hours because the two men had a lot of ground to cover. Daniel Gallagher is a slender 27-year-old with a wispy beard who is better known as "Billy Doe." Under that pseudonym, he made national headlines in 2011 when he claimed to have been serially raped as a fifth- and sixth-grader at St. Jerome's parish by two priests and a Catholic schoolteacher.
Gallagher subsequently became the Philadelphia district attorney's star witness at two historic criminal trials. His graphic testimony helped convict three alleged assailants, as well as Monsignor William Lynn, the Archdiocese of Philadelphia's former secretary for clergy, who was found guilty of endangering the welfare of a child. The monsignor became the first Catholic administrator in the country to go to jail for failing to adequately supervise a sexually abusive priest.
The Billy Doe rape story was so sensational it attracted the attention of crusading Rolling Stone writer Sabrina Rubin Erdely. She described Billy Doe in a 2011 story, "The Catholic Church's Secret Sex-Crime Files," as a "sweet, gentle kid with boyish good looks" who had been callously "passed around" from predator to predator. According to the charges recounted by Erdely, two priests and a Catholic schoolteacher "raped and sodomized the 10-year-old, sometimes making him perform stripteases or getting him drunk on sacramental wine after Mass."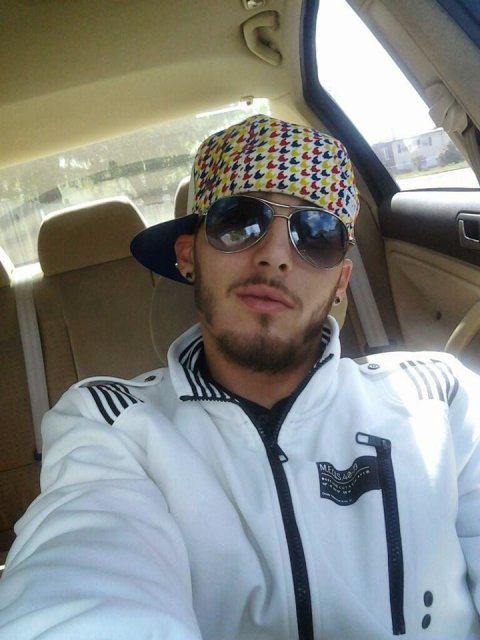 Erdely is the same reporter who later wrote about "Jackie," a University of Virginia student who claimed she was gang-raped by seven men at a fraternity party. The 2014 story, which dominated headlines and cable TV news for weeks, was subsequently exposed as a hoax by "Jackie," retracted by Rolling Stone and is now the subject of a couple of libel suits.
Judging from Mechanick's report, Billy Doe has as much credibility as Jackie. In a 40-page report obtained by Newsweek, the forensic psychiatrist recounted Gallagher's test results from the Minnesota Multiphasic Personality Inventory test known as the MMPI-2:
The client is apparently immature and self-indulgent, manipulating others to his own ends…. He refuses to accept responsibility for his problems. He may have an exaggerated or grandiose idea of his own capabilities and personal worth. He is likely to be hedonistic and may overuse alcohol or drugs. He appears to be quite impulsive, and he may act out against others without considering the consequences…. Paranoid features and externalization of blame are likely to be present…. His manipulative and self-serving behavior may cause great difficulties for people close to him…. An individual with this profile is usually viewed as having a Personality Disorder, probably a Paranoid or Passive-Aggressive Personality. Symptoms of a delusional disorder are prominent in his clinical pattern.
On top of bombing out on the MMPI-2, Gallagher admitted he lied and provided "unreliable information" to Mechanick about his substance abuse and psychiatric history, as well as his personal and medical background. After a painstaking review of the subject's medical records gathered from 28 different drug rehab facilities, hospitals, doctors and drug counselors Gallagher visited, the psychiatrist wrote that Gallagher admitted he was "not always honest with his medical providers." Such as in 2007 and again in 2011, when he claimed to be a paramedic and a professional surfer who had to give up the sport because of his drug addiction; he also claimed to have suffered a herniated disc.
Gallagher admitted to Mechanick that his claim to be a paramedic was a lie. He testified in a civil deposition that he did "not really" earn any income as a surfer. In addition, Mechanick wrote that medical records "do not indicate that Mr. Gallagher was ever diagnosed with a herniated disc."
All that might be dismissed as trivial, but Gallagher had also provided "conflicting and unreliable information" about his history of sexual abuse, as well as "conflicting and unreliable information" about the specifics of the alleged attacks by the two priests and schoolteacher, Mechanick wrote. "It is not possible to conclude to a reasonable degree of psychiatric or psychological certainty that Mr. Gallagher was sexually abused as a child," Mechanick added.
The psychiatrist isn't the only person deeply skeptical of Billy Doe and his stories. The detective who led the Philadelphia district attorney's investigation into Gallagher's allegations against the priests and teacher also has some disturbing doubts. In a confidential deposition obtained by Newsweek, retired Detective Joseph Walsh was asked on January 29, 2015, about nine significant factual discrepancies in Gallagher's story. The detective testified that when he questioned Gallagher about those discrepancies, Gallagher usually just sat there and said nothing. Or claimed he was high on drugs at the time. Or told a different story.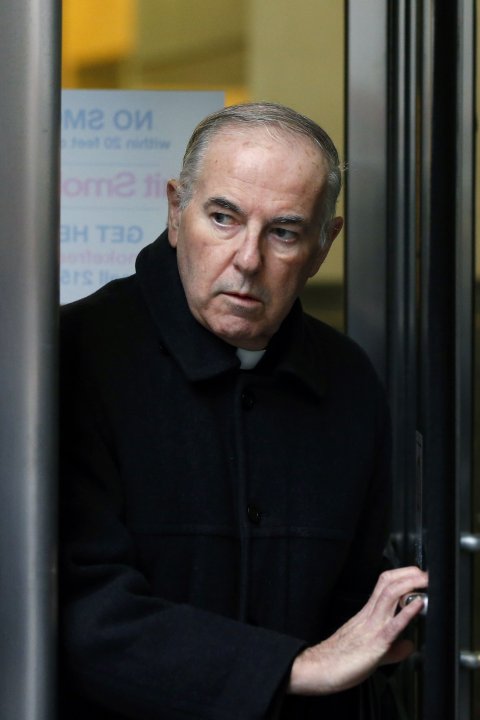 'Suck All the Blood Off'
In addition to being the Philly DA's star witness in two criminal trials, Gallagher filed a civil suit against the Archdiocese of Philadelphia in 2011, as well as his alleged assailants—the Reverend Charles Engelhardt, former priest Edward Avery and former schoolteacher Bernard Shero. The archdiocese settled with Gallagher in August 2015, according to two sources, for an estimated $5 million. (A spokesman for the archdiocese and its lawyer did not respond to a request for comment.)
Avery and Shero are still in jail. Engelhardt died in prison in November 2014, hours after the 67-year-old priest was handcuffed to a hospital bed, kept under armed guard and denied a potentially lifesaving heart operation. The members of Engelhardt's religious order, the Oblates of St. Francis de Sales, have continued the battle to exonerate their fallen brother; they paid for Mechanick to evaluate Gallagher for the civil suit.
Shortly after receiving Mechanick's report on October 28, Gallagher's lawyer, Slade McLaughlin, dropped the civil suit against the individual defendants, on the night before jury selection. Some speculate that McLaughlin, who did not respond to Newsweek 's requests for comment from him or his client, withdrew the suit because he'd already hit big with the deep-pocketed defendant in the case, the archdiocese. Others suggest McLaughlin, did not want to put Gallagher on the stand, where he would have had to answer questions about the forensic psychiatrist's report. But there were plenty of reasons to doubt Gallagher's credibility long before Mechanick examined him. Gallagher is a former heroin user and dealer who had been kicked out of two high schools and been in and out of 23 drug rehabs over a 10-year period. He'd been arrested six times on charges of drugs and retail theft, including one bust for possession with intent to distribute 56 bags of heroin.
The sexual assaults of Gallagher allegedly occurred during the 1998-99 and 1999-2000 school years, when he was 10 and 11 years old. From the beginning, he told an incredible, lurid story, the details of which were often changing. When he first reported his abuse to two social workers for the Archdiocese of Philadelphia on January 30, 2009, Gallagher claimed Engelhardt had accosted him after a 6:30 a.m. Mass. He said the priest plied him with sacramental wine and then anally raped him behind locked doors in the church sacristy in a brutal "ramming" attack that lasted from 7 a.m. until noon. After the rape, Gallagher claimed the priest threatened him, saying, "If you ever tell anyone, I will kill you."
But Gallagher told Mechanick a different story, the same one he told a grand jury and at the criminal trial—that he and the priest had engaged in mutual masturbation and oral sex. Gone were the five hours of anal rape and Engelhardt's threat to kill him.
Gallagher told the two archdiocese social workers that in the second attack Avery "punched him in the back of the head, and he fell down." And when he woke up, "he was completely naked, and his hands were tied with altar boy sashes." Gallagher claimed the priest then anally raped him, smacked him in the face and "made him suck all the blood off his penis." When this vicious assault was over, Gallagher said, the priest threatened that if he ever told anybody, he would "hang him from his balls and kill him slowly."
But when Gallagher talked to the police and testified before a grand jury, he dropped the punch in the head, as well as the claims about being tied up with altar sashes, smacked in the face and forced to suck blood. He also omitted the priest's threat to "hang him from his balls."
Instead, Gallagher said he'd engaged in mutual masturbation and oral sex with Avery and described a subsequent attack in which the priest forced Gallagher to perform a striptease.
Gallagher at first told the social workers that his third attacker, homeroom teacher Shero, asked him to stay after class and offered to drive him home. In the teacher's car, Gallagher claimed, Shero punched him in the face, attempted to strangle him by wrapping a seat belt around his neck, performed oral sex on him and made Gallagher masturbate him.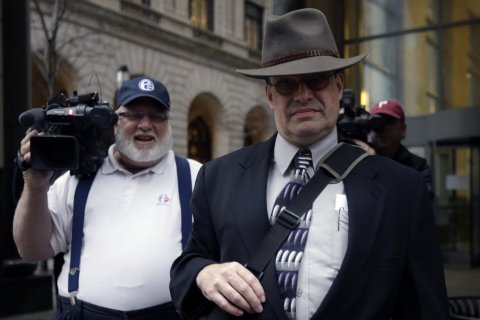 Gallagher claimed that this attack took place in the parking lot of an apartment building near his home and that Shero told Gallagher if he told anyone, "I will make your life a living hell."
But when Gallagher testified in court in 2013, he didn't say Shero made him stay after class. This time, he said Shero pulled up across the street from a strip mall and offered him a ride home, and the attack took place in a parking lot. Gallagher dropped from this new version of his story the punch in the face, the seat belt wrapped around his neck and the threat to make his life a living hell.
When confronted in court with these factual discrepancies, Gallagher testified that he was high on drugs and "basically in a semi-comatose state" when he spoke to the two social workers and didn't remember what he told them. (The two social workers testified that Gallagher walked and talked normally, did not smell of alcohol and did not appear to be impaired in any way when they interviewed him.) During an examination by Mary Gail Frawley-O'Dea, a clinical psychologist hired by his lawyers, Gallagher "acknowledged that he originally embellished the overt violence and the extent of what happened to him," Frawley-Dea wrote. "He was, and is, so ashamed; so guilty that he 'did not do something,' that he 'did not stop [the attack],' so self-blaming that he tried to make himself appear more overpowered, physically helpless, and unable to fight back than he actually was."
When talking to Frawley-O'Dea, Gallagher also put a new ending on his Shero rape story. At trial in 2013, he testified that after the rape, "I just ended up getting out of the car and walking" home. But Gallagher told Frawley-O'Dea that after Shero raped him, the teacher "threw the boy out of the car and drove away."
When he first told his improbable story to the district attorney, Gallagher was locked up in Graterford Prison on a probation violation. On January 28, 2010, Detective Andrew Snyder sprang Gallagher out of jail and drove him to the district attorney's office, where Gallagher's parents were waiting, along with Assistant District Attorney Mariana Sorensen from the Special Investigations Unit.
When Snyder and Sorensen interviewed Gallagher, then 21, his parents, including his Philadelphia police sergeant father, were allowed to sit in on the interview, although the regular policy in the Philadelphia Police Department, as well as the DA's office, called for interviewing an adult complainant by himself. The DA gave Gallagher what defense lawyers characterized as the "red-carpet treatment" because Gallagher was one of the few alleged victims of sex abuse whose allegations fell within the statute of limitations, which meant charges could be filed.
In his report, Mechanick tracked the conflicting stories Gallagher told his many doctors and drug counselors about his alleged history of sex abuse as a child. Before he told the archdiocese he had been raped by two priests and a schoolteacher when he was 10 and 11, Gallagher claimed to doctors that he had been (1) molested at 6 by a friend, (2) sexually abused at 6 by a neighbor, (3) sexually assaulted at 7 by a teacher, (4) molested at 8 or 9 by a friend and (5) sexually assaulted at 9 by a 14-year-old.
'Prosecutorial Lust'
In Philadelphia, the Billy Doe case remains front-page news three years after the original trial that convicted Lynn. On December 22, the Pennsylvania state Superior Court for the second time overturned Lynn's conviction and ordered a new trial. A three-judge panel ruled that the trial judge in the case, M. Teresa Sarmina, abused her discretion when she admitted into evidence against the monsignor 21 supplemental cases of sex abuse dating back to 1948, three years before the 64-year-old Lynn was born.
Lynn, however, isn't getting out of jail anytime soon. He continues to work for 19 cents an hour as a prison librarian, pending an appeal by Philadelphia District Attorney Seth Williams. The DA last month filed a petition to reargue the case before all nine judges on the appeals court. Also blocking Lynn's release is Sarmina, who has repeatedly denied his applications for bail.
Lynn had served 18 months of his three- to six-year prison sentence on December 26, 2013, when the Superior Court reversed his conviction and ordered that he be "discharged forthwith." But Sarmina ordered that Lynn be kept under house arrest in a church rectory and forced to wear an electronic ankle bracelet.
On April 27, 2015, the reversal was reversed by Pennsylvania's highest court, and the DA filed a motion to revoke his bail. Sarmina agreed and, after 16 months of house arrest, sent Lynn back to prison.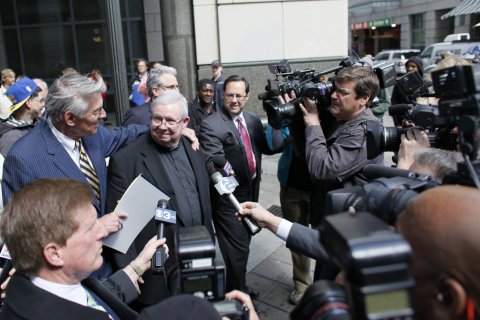 At a December 28 press conference, DA Williams vowed to do whatever it takes to keep Lynn in jail, "where he belongs," including, if necessary, a retrial. Williams, elected in 2013 to a second four-year term as DA, declined to comment to Newsweek.
On January 3, Philadelphia Daily News columnist Christine Flowers, herself a lawyer, blasted the DA. She wrote that Williams was originally "aiming either for a halo or a higher office" when he was overcome by "prosecutorial lust" in his crusade to put Lynn behind bars, and that the DA "is [now] aiming to be one of those prosecutors who don't end up as the laughingstock on a future Nancy Grace marathon."
"Monsignor Lynn has clearly been mischarged, deprived of a fair trial because of a judge's flawed evidentiary decisions, and subject to punitive detention," the columnist wrote. She described Lynn as "the sacrificial lamb for an angry mob of 'victim's advocates,'" but added that "there is a very good chance that he will be vindicated and the prosecution shown to be a hollow act of vengeance."
Pot and Brass Knuckles
In a sharp contrast to how Daniel Gallagher was portrayed by the DA and the media at the time of his trial ("a sweet, gentle kid with boyish good looks"), his personal Facebook page has many images of him flipping his middle finger and looking like someone who would probably terrify the stereotypical altar boy.
Besides his improbable and constantly changing tales of rape, there's an entirely different set of reasons to believe that Gallagher is a habitual liar. Mechanick used Gallagher's school and medical records to disprove the numerous allegations of injuries, both physical and psychic, he has claimed over the years.
In his civil suit against the archdiocese, Gallagher claimed that in addition to the "physical trauma of the acts of forcible oral and/or anal rape and sodomy perpetrated" by his attackers, he had "sustained severe psychological and emotional distress, including post-traumatic stress disorder, manifested by physical ailments and complaints, including, but not limited to, sleeplessness, loss of appetite, pain in his testicles, and uncontrollable spontaneous gagging and vomiting…. The plaintiff has suffered and continues to suffer great pain of mind and body, shock, emotional distress, physical manifestations of emotional distress, embarrassment, loss of self-esteem, disgrace, humiliation, and loss of enjoyment of life, and has suffered and continues to suffer spiritually."
Mechanick, however, concluded that Gallagher's "academic records did not support his claim that he developed emotional and behavioral symptoms due to sexual abuse." Gallagher claimed that after the alleged attacks by the priests, he lost interest in school, was absent a lot and became seriously ill. But his grades did not decline during fifth and sixth grade, Mechanick wrote. Nor did he have a "significant increase in days absent."
Gallagher's medical records also did not support his claim of developing emotional and behavioral symptoms. Gallagher told a grand jury in 2010 that he was "coughing profusely and vomiting violently" after he was allegedly raped in sixth grade by his homeroom teacher, the doctor wrote. Gallagher told the grand jury that because of his ailments, he was sent to a specialist. "However, Mr. Gallagher's medical records document that he had respiratory and gastrointestinal problems that predated the alleged sexual abuse, and that dated back to the late 1980s," Mechanick wrote.
While Gallagher's civil lawsuit contends he suffered testicular pain as a result of sexual abuse, a claim he also made in criminal court, Mechanick didn't buy it. The forensic psychiatrist found that Gallagher's medical records dated his complaint of testicular pain back to April 1999, a year before the May 2000 date when Gallagher claimed he was raped by Shero.
Gallagher testified at trial that he lost "a good amount of weight" after the attack by Shero. However, the psychiatrist wrote, "Mr. Gallagher's recorded weights and height during his office visits and on his growth charts showed consistent increase, before, during and after" the alleged attacks.
Mechanick concluded that Gallagher's "social activity after his alleged abuse is not consistent with his claim that he became socially isolated and a 'loner' due to the sex abuse." Gallagher played roller hockey and football in grade school, and Mechanick points out that he testified during his civil deposition that he worked on the high school yearbook and was a member of the chess club, the art club and the math club. Gallagher also testified that in high school he had five girlfriends and four male friends.
Mechanick also concluded that both of Gallagher's parents contradicted their son's claim that he had undergone a dramatic personality change after the alleged attacks. In an undated note, Sheila Gallagher, a registered nurse, told her son's counselor from 2004 to 2007 that the "major, life-changing event" for her son was when his grandmother died of cancer in 2002. The grandmother has been described as a second mother to Daniel; he has a large tattoo of a crucifix on his back that says, "In memory of Maggie." Two months after her death, Gallagher was expelled from Archbishop Ryan High School for possession of pot and brass knuckles.
Sheila Gallagher told that same story to a Philadelphia grand jury on November 12, 2010:
Q: Did there come a time when you noticed a change in Daniel's behavior?

A: Yes. At age 14, as he entered high school, freshman year at high school, he wasn't the same child. He was very troubling to us.

Q: OK. Prior to that, what was his personality?

A: He was basically a very pleasant, active, happy person prior to that, and he was defined by some people as either Dennis the Menace or the all-American boy up to that point.

Q: OK. So he's leaving St. Jerome's and entering into high school?

A: Uh-huh.

Q: And at this time what's going on that's different?

A: Freshman year started in September, and in February we were called and he was thrown out of Archbishop Ryan for having some marijuana and having brass knuckles.
The Philadelphia district attorney's office made that factual contradiction go away by rewriting the mother's grand jury testimony. The DA's 2011 grand jury report stated, "Billy's mother also told us of a dramatic change in her son's personality that coincided with the abuse…. Billy's mother watched as her friendly, happy sociable son turned into a lonely, sullen boy. He no longer played sports or socialized with his friends. He separated himself and began to smoke marijuana at age 11."
For three years, Williams has refused to answer questions about this factual error in his grand jury report, as well as some 20 other factual errors in that report, which is still posted on the DA office's official website. Sorensen, who no longer works in the DA's office, disputed that there are multiple errors in the report in an online comment to a previous Newsweek story. The DA's office was presented with an itemized list of the 20 errors in mid-January but refused to comment.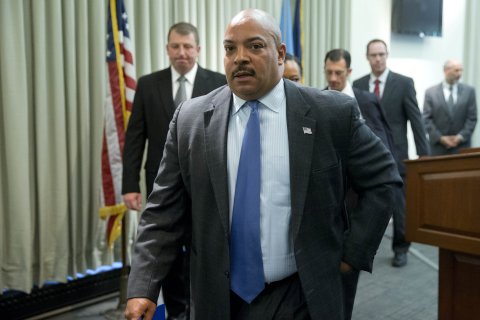 Gallagher's police sergeant father, James Gallagher Sr., also told the grand jury that his son's personality change took place in high school. At the 2013 trial of Engelhardt and Shero, James Gallagher Sr. was asked when his son developed behavioral problems. "His first year as a freshman at Archbishop Ryan, he was expelled," Gallagher Sr. testified. "And shortly after that is when we started noticing all the behavioral problems…. He became more withdrawn. He became a loner. He wasn't the same boy after he got expelled from that school…. He changed from my Danny, and he changed into another boy that I didn't know."
Mechanick proposes a cause for this change. "Information from Mr. Gallagher's parents indicates that their son's behavioral changes were related to his drug abuse," he wrote. James Gallagher Sr. testified that his son became involved with drugs and "stared right through him," probably around the age of 14.
While Daniel Gallagher's civil suit claimed he suffered "loss of self-esteem, disgrace, humiliation, and loss of enjoyment of life," Mechanick reached the opposite conclusion. He wrote that Gallagher's statements to him, as well as his medical records and testimony in the civil case, "indicate that regardless of whether he was abused by anyone, his psychiatric condition has substantially improved."
In 2013, one of his drug counselors wrote, "His self-esteem has greatly improved and he continues to learn how to deal with his everyday life without drugs."
Gallagher now works for his grandfather's landscaping business. According to Mechanick, "He feels better about himself now than he did in the past. He states that he feels he is trying to start his life now, and that he has a nice family and a good business."
"The results of Mr. Gallagher's MMPI-2 support the conclusion that Mr. Gallagher does not currently have a psychiatric disorder due to his alleged sexual abuse," Mechanick wrote. He added that those test results do "not indicate that he has a depression, anxiety disorder, post-traumatic stress disorder, or any other psychiatric disorder that is attributable to his alleged sexual abuse."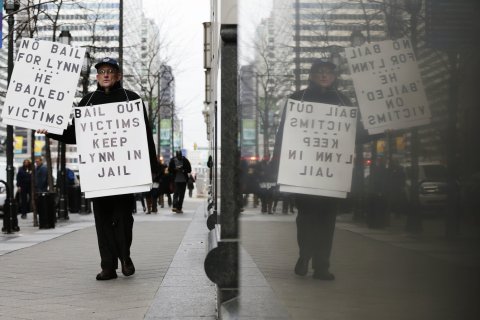 How Lucky He's Been
When Detective Walsh was deposed on January 29, 2015, in Gallagher's civil case against the archdiocese and his alleged abusers, the retired 35-year veteran of the police force was asked about Gallagher's assertion that Engelhardt raped him after an early-morning Mass in the fifth grade.
The problem here was that Gallagher's mother kept meticulous calendars in her kitchen that recorded all the daily activities of her two sons, including the dates and times when they were assigned to serve as altar boys. And not once during the entire school year when Gallagher was in fifth grade did his mom record on her calendars that he served as an altar boy at an early-morning Mass.
When Walsh asked Gallagher about that contradiction, "he didn't answer me," the detective said.
Walsh said he confronted Gallagher about "a lot of the discrepancies and how the stories had changed." The detective was talking about times, places and circumstances of the alleged attacks. "[A] large percentage of time where there was a discrepancy and I brought it to his attention, he would not answer," Walsh said. "He would just remain silent...or said, 'I was so high on drugs, I just said anything.'"
Or he would tell a different story.
For example, the 2011 grand jury report said that when Billy Doe was a high school student, his mother found two textbooks on sex abuse under his bed. When she questioned him about the books, the grand jury report said, "he covered up for his abusers by telling her that he had them for a school assignment." The implication was that poor little "Billy" was trying to come to terms with the abuse he had endured.
But Gallagher told Walsh a different story. "One day in the DA's office, he saw the book on my desk, and he pointed out the indentations in the cover of the book," Walsh testified. "He used that book he said to crush pills to get high."
Walsh questioned Gallagher about the alleged attack by Engelhardt after Mass in December 1998. "He told me he walked to the church from his home to serve 6:15 Mass," Walsh testified, citing a slightly earlier time than Gallagher gave the social workers. "And then when [the rape] was over, he left the sacristy and went to the school and sat on the steps of the school until the school opened."
Walsh said Gallagher told him that "his parents let him walk approximately three-quarters of a mile at quarter to 6 in the morning in the winter" from home to church, and "that no one was there to meet him after Mass and take him home and get him ready for school."
Walsh testified that he reminded Gallagher that his school didn't open until 7:30 a.m. "That's when he said, 'Well, I would just sit on the steps'" until school opened. Walsh said he informed Gallagher that the detective had taken a statement from Gallagher's older brother, James Jr., on January 9, 2012, that said whenever he had a Mass to serve, his parents would drive him to and from the church. At trial, Sheila Gallagher testified that she was such a helicopter mom, she would drive both of her sons to and from Mass, even though the church was less than a mile away from home.
Asked if Daniel Gallagher had any response to that contradiction of his story, Walsh replied, "No, he did not."
Meanwhile, four men were sent to jail because of Gallagher's accusations, and one of those men died in prison. At Engelhardt's funeral, the Reverend James Greenfield, the provincial who leads the Oblates of St. Francis de Sales, revealed that on the eve of his criminal trial, Engelhardt could have negotiated a deal that would gotten him off with just community service. Instead, he got sentenced to six to 12 years in prison "because he would not perjure himself by pleading guilty to 'make a deal,' to admit to a crime that he did not commit."
Talk to the eight defense lawyers in the criminal cases and they'll all tell you Daniel Gallagher is a chronic liar, a junkie hustler and a confabulator. They can't believe how lucky he's been. After the DA got Gallagher out of jail so he could tell his stories of sexual abuse, he was arrested twice on charges of drug possession, including one bust for possession with intent to distribute 56 bags of heroin. But, thanks to his criminal lawyer, that heroin was thrown out of court as evidence. A subsequent drug bust, on charges of possession of a controlled substance, also disappeared after nine continuances in 18 months, when the DA let Gallagher into an accelerated rehab program for which he ordinarily would not have been eligible.
Today, Daniel Gallagher is a free man with a clean record living in Florida with his new wife, who's expecting the couple's first child. And, thanks to the Archdiocese of Philadelphia, he's also a multimillionaire.