"I don't know what comes next."
Connor Halliday sits in front of the fireplace at his mother's home in the leafy South Hill neighborhood of Spokane, Washington. Outside, the world is blanketed in a white sea of serenity, the aftermath of an overnight snowfall. Inside the two-story dwelling, the former Washington State quarterback, the holder of three NCAA passing records, is restive.
Despite everything he has accomplished on a football field, Connor Halliday is just another 23-year-old college grad back living with his mom and looking for a job. "It's very stressful," says Halliday, "when you have to be someone you're not used to being."
He will not miss 2015. During last spring's NFL draft, Halliday, who was recovering from a major injury, did not hear his name called. Then, after the Washington Redskins signed him to a free agent deal, he ditched rookie camp. Vanished. Played golf "until the money ran out." Got married. Was signed by a Canadian Football League team and then cut a day later. Got dumped by his wife.
"I had a second interview with an advertising agency the other day," the handsome, auburn-haired Halliday says. "The interviewer made a big deal about being a leader in the classroom. I told him that my major was leading an offense. That every decision I made in college was designed to get me to the NFL."
Two full months into the 2014 season, Halliday was leading the nation in passing (430 yards per game) by a robust 60-yards-per-game margin. Through eight games he was on pace to have the most prolific single-season passing total in NCAA history. On October 4, 2014, he passed for more yards (734) in one contest than anyone in the history of college football.
Despite being overshadowed by fellow Pac-12 conference quarterback Marcus Mariota of Oregon, who would win the Heisman Trophy, Halliday's GPS coordinates were known to most NFL scouts—more than two dozen made pilgrimages to Pullman, Washington, to see him. Most assured him he was anywhere from a fourth- to fifth-round pick, which meant a signing bonus of between $1.3 million to $2.2 million. (It's actually closer to half that.) "I called a friend of mine who works at an auto dealership in Spokane," says Halliday, whose father, Duane, played quarterback at Boise State. "I told him when I got my signing bonus, I wanted a white BMW 760 with 20-inch rims."
Three games later, it was over. Halliday broke his fibula and tibia while completing a pass against the University of Southern California, ending his collegiate career.
Halliday has etched his name more than once in the NCAA record book—he also set marks for most completions in a single game, 58, and most attempts, 89. His name is just nowhere to be found on an NFL—or even CFL—roster. Will it ever be?
"I am disappointed that I'm one of those stories," says Halliday. "'Do you know Connor Halliday? He had all the talent in the world, but it just didn't work out for him.'"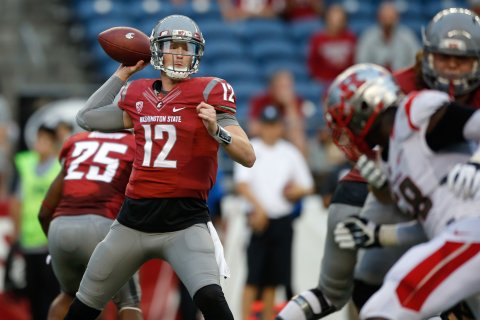 November 1, 2014, begat a raw, misty afternoon in Pullman. "Crappy weather, the stadium was empty, and we weren't ready to play," says Halliday.
The Cougars trailed Southern Cal 14-0 midway through the first quarter when Halliday took the shotgun snap on third-and-6 from the Cougars' 23-yard line. He shaded left, completing a 14-yard pass off his back leg. He twisted to avoid the Trojans' 290-pound All-American defensive tackle Leonard Williams, who was falling toward his knees. "I was wearing leggings, so I couldn't see the bone sticking out," says Halliday, whose lower limb snapped under the weight of Williams. "As soon as I lifted my right leg, I started screaming."
A team physician leaned over Halliday's prone form. "Yeah, compound fracture," he diagnosed. "Tib-fib."
Halliday moaned. "Why?" he said. "Why? Why?"
"It all set in immediately," he recalls. "Twenty-two years of work, and I was three weeks away from my lifelong dream of playing in the NFL. The money was at the end of the tunnel. And I realized that it was all over for me."
Three weeks earlier, California had visited Washington State. On the bus ride to the stadium, Halliday asked his coach, Mike Leach, which player held the record for most passing yards in a game. Leach, who has coached four quarterbacks who led the nation in passing, replied, "Are you fucking kidding me? You shouldn't be worrying about that."
"Well, I'm gonna break it," said Halliday, and damned if he did not. Halliday completed 49 of 70 passes against the Golden Bears for 734 yards, six touchdowns and zero interceptions. The game, which was only televised regionally, was a genuine Wild West shootout, as Cal quarterback Jared Goff threw for more than 500 yards and five touchdowns.
Both teams scored 28 points in the third quarter. They exchanged the lead four times in the fourth quarter. Finally, with Wazzu trailing 60-59, Halliday led the Cougars to the Cal 1-yard line with time enough, perhaps, for two plays. "I figured, I'm going to call timeout," says Halliday. "We can't miss this field goal."
They did. Shanked left, from 19 yards out. After the most prolific passing game in college football history, Connor Halliday finished 1 yard shy of satisfaction. Who even knew? "Goff and I combined for 11 touchdown passes and no picks and the game got 7 seconds on [ESPN] SportsCenter," says Halliday. "If that game gets remembered at all, it'll be for a missed game-winning 19-yard field goal."
Goff, meanwhile, will almost certainly be the first quarterback taken in next spring's NFL draft. "It pisses me off some," says Halliday, "because before the injury, I am Jared Goff."
The oldest of three children and the only son of Duane and Jessica Halliday (since divorced), Connor's devotion to sports dates back to his first word ("ba," for ball). He was a gifted athlete and an industrious pupil of the quarterback position. "I could always throw the ball farther than anybody," says Halliday, "but I'd also come home from school and work on my footwork for two hours so that I wouldn't mess up at practice that night."
Halliday's meticulous preparation was rewarded in his redshirt freshman year. In his debut, replacing an ineffective senior after one series, Halliday passed for 494 yards in a 37-27 defeat of Arizona State. The following week, he got his first college start against Utah. In the first quarter, Ute linebacker Chaz Walker torpedoed him in his torso as he released a throw. The pain was so severe—"I thought I'd cracked a rib"—that Halliday needed to have his running back call out the signals on the next few series. But he never came out.
"After the game, they took me to the hospital and told me I'd broken a rib. I told the doctor, 'I don't mean to sound like a [wimp], but it feels worse than that.'"
A thorough examination revealed that Halliday had a 9-centimeter laceration of his liver. The hospital staff was incredulous. Such a wound was only seen in gunshot or car accident victims. Halliday spent the next four days in the intensive care unit.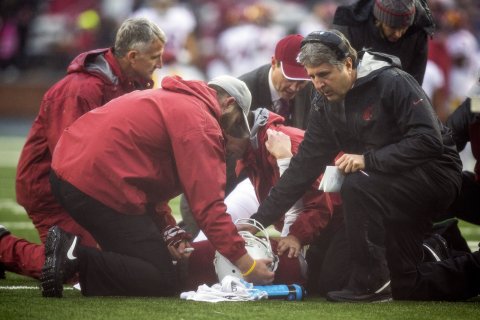 "Connor had mono and an enlarged spleen in high school," says his mother, an English professor at Gonzaga University. "Our doctor would not grant him a medical release to allow him to play, but we found another one who would. Connor said, 'I'd rather die than miss this game.'"
Hence, when Halliday's right leg snapped like kindling beneath the near-300 pounds of Williams (chosen sixth overall in the 2015 NFL draft), his resolve did not quiver. "The doctors told me I wouldn't be able to work out until May or June," says Halliday, who attended the NFL combine in February for team interviews. "I scheduled my pro day"—i.e., a private audition—"for the beginning of April. At that point, I was so dead-set on proving everybody wrong."
Barely two weeks off crutches, Halliday held his workout for NFL scouts outdoors at Washington State's Martin Stadium on April 1. Throwing in sub-30 degree temperatures with winds gusting up to 30 miles per hour, he completed 59 of 62 passes. All three misses were drops.
"When it was over, the scout from the Carolina Panthers shook my hand and said, 'You made yourself a lot of money today, Connor.' I'll never forget that."
The Redskins had been in touch with Halliday's agent, Peter Schaffer. They informed him that they would likely select Halliday in the sixth round. "I didn't care where I got drafted," says Halliday, who embedded himself in his mom's basement to watch, "I just wanted to hear my name called."
It wasn't. Minutes after the 256th and final selection was announced, Halliday turned off his phone. All of those years of preparation. All of those hours of rehab. Where was the reward? "After that, I thought, You've got to be kidding me. Fuck this!" says Halliday. "My mind wasn't in the right place."
At 6-foot-4, 200 pounds, Halliday has NFL size, but as a quarterback in Leach's Air Raid offense, he is partly guilty by association. The four former Leach QBs who led the nation in passing—Kliff Kingsbury, B.J. Symons, Sonny Cumbie and Graham Harrell (twice)—combined to attempt six passes in their NFL careers. The "system quarterback" tag is difficult to shake.
"One scout told me he thought I was one of the top passers in the draft," says Halliday, mindful that the top two overall picks in 2015, Jameis Winston and Mariota, were quarterbacks, "but that being a Leach QB would scare teams off."
He spent nearly two weeks at the Redskins' facility in Ashburn, Virginia, ingesting coach Jay Gruden's playbook. Like a law school grad cramming for the bar exam while his mind is plagued with self-doubts about practicing law, Halliday was easily distracted. Mentally and emotionally, he had tapped out. On the eve of the three-day rookie training camp, he bought a one-way ticket home.
"I felt bad about not telling coach Gruden face-to-face," says Halliday. "But I also felt like they told me that they were going to draft me, and then they didn't."
Halliday's flight out of Dulles International Airport departed before dawn. His cab arrived at 3:45 a.m. As the taxi approached the on-ramp of the highway, a lone vehicle pulled directly in front of it: a BMW 760, just like the one he had dreamt of owning. "It was right in front of us," says Halliday. "Then the driver floored it. He must have been going 100 to 120 miles per hour. And that was my dream disappearing in front of me."
For the first time in memory, Halliday had no routine to follow, no season for which to prepare. A two-handicap golfer, he whiled away most daylight hours at Qualchan golf course in Spokane. "It was nice for three hours a day that I didn't have to think what I was doing with my life," he says.
His agent did, however. "I have a 15-year-old daughter who rides horses," says Schaffer, who is based in Denver. "When she falls off, she gets back up. It comes with the territory."
In September, Schaffer landed Halliday a tryout with the B.C. Lions of the CFL. Halliday also married his childhood sweetheart, partly so that she would have a work visa when they relocated to Vancouver, British Columbia. He spent a day at the team's facility, watching practice and film. The following morning, before Halliday ever threw a pass, the Lions cut him.
"We had a quarterback go down, and so we decided to bring in Connor," says Lions director of football operations Neil McEvoy. "But then our guy wasn't as badly hurt as we thought."
Halliday's wife moved out two months later. "After I got cut, I could tell her feelings changed," he says. "I think she felt that I let us down."
It is the first day of winter. A new season. Halliday looks out the window and contemplates why he walked out on the Redskins. "I was so down, and I felt so little," he says. "I felt so helpless. I have battled through so much, and I have never gotten a reward for this."
He vacillates between a return to football in some form—he helped coach his high school team last autumn—or walking away. "I'm optimistic about Connor's career whatever he chooses," says Schaffer. "We're going 100 mph in both directions. He's a great young man."
The bones are repaired, but there is other healing to do if Halliday is to return to the game he always loved. Connor Halliday has come so far, but he remains 1 yard shy. The game may feel as if it's over, but there is still plenty of time on the clock. He has so many seasons ahead of him.