Updated | Imagine the Titanic minus the smokestacks, framed out of timber rather than iron. Imagine that instead of a doomed ocean liner bustling with well-dressed elites, it's home to 2,000 seasick animals, a handful of teenage dinosaurs and one patriarchal family headed by a 500-year-old man bent on saving the world. Cultures all over the globe share the legend of Noah's Ark, but this summer one especially enthusiastic Christian ministry will try to convince you that it looked exactly like this—dinosaurs and all—when it opens its biblical theme park. Its pièce de résistance is a 510-foot representation of Noah's giant boat. (OK, the Titanic was bigger, but you get the idea.) Tickets for the July 7 opening go on sale January 19, and the ministry folks are betting big—with borrowed money—that people will want to see the show.
Related: Creationist Raised Enough Money After Bill Nye Debate to Build Noah's Ark
The masterminds behind this monument to theological devotion are fundamentalist Christian organization Answers in Genesis (AiG) and its Australian-born president, Ken Ham. For the unfamiliar, Ham, AiG and their followers believe in a literal interpretation of the Bible and disparage anyone who doesn't. Dubbed the Young Earth Creationists, they maintain that the Earth and its universe were created 6,000 years ago in six days, as described in Scripture. And while they argue that their worldview deserves as much classroom time in public schools as science, for now they are focused on molding young minds through their oft-mocked Petersburg, Kentucky, Creation Museum and the forthcoming Ark Encounter theme park in nearby Williamstown. By AiG's calculations, dinosaurs and humans roamed the planet in harmony because God said in Genesis that all the animals were made in one day, which seems to indicate that they were made simultaneously. Ergo, dinos on the ark.
Despite many competitive advantages, including buying a 99-acre parcel of land from the city for a mere dollar, the $101 million project has been plagued for five years by setbacks that include a lack of public support, unfruitful fundraising efforts and a bitter lawsuit over $18 million in tax incentives that the state withheld due to church-state separation concerns. But none of this has discouraged Ham, who says his ark could draw as many as 2 million visitors in its first year, although such projections are highly disputed.
Last month, I flew to Kentucky to meet Ham and tour the ark site and AiG's design studio. The ark—which is still being built at the end of a very long, carefully guarded dirt road with a sign marked "Danger… Keep out"—is hidden from public scrutiny, and for good reason. In order to incentivize building there, Williamstown declared the ark site and the surrounding 1.25 miles a tax increment financing (TIF) district, which is a fancy way of saying that over the next 30 years, 75 percent of sales and real estate taxes generated within the area will go back to fund Ark Encounter. There's also an employment tax for workers in the district, but more on that shortly.
Ham didn't stand up when an assistant shuffled me into his office one Friday afternoon. He has railed against the media time and time again for, he says, falsely claiming that taxpayer money is going toward building the ark. When he speaks, he does so slowly, his words even and calculated. "No Kentucky taxpayer money is going to build the Ark Encounter," he tells me. Several times.
Ham is telling the truth, but it's a literal interpretation of the truth. The money used to build Ark Encounter came from donations of almost $30 million, plus $62 million in high-risk, unrated municipal bonds backed by the project's future revenues. If Ark Encounter never makes significant profits (and bond documents warn that it may not), neither the city nor AiG is on the hook for the bond money. However, according to Mike Zovath, chief actions officer for AiG and Ark Encounter, the millions in tax dollars that will be rebated through the formation of the aforementioned TIF district could go toward repaying the bonds and funding future attractions. What neither of them mentioned in conversations with me or in their many blog posts on the subject is that, as part of the TIF agreement, employees working within the TIF district will be subject to a 2 percent employment tax on gross wages for the next 30 years. In other words, $2 out of every $100 earned by people working at or around the park will go directly to paying off the attraction. So while tax dollars might not actually have been used to build the ark, a boatload that would otherwise go back into the community will instead be used to pay off Ark Encounter's debt.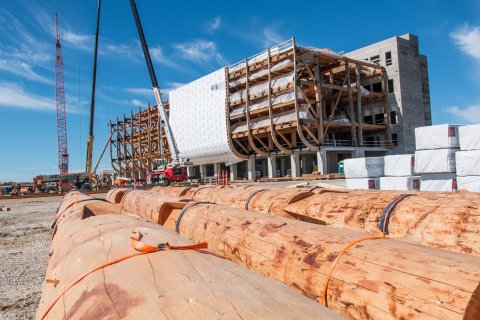 Salvation Testimony Required
It's a sensory overload inside AiG's 66,000-square-foot warehouse. Roaring power tools, myriad props, Noah-themed inspiration boards, bearded mannequin heads, headless mammal replicas and other menagerie delight and alarm. I saw fawns being cut from foam, faux fur painted by hand, bird cages by the dozen and a Tyrannosaurus rex the size of a pit bull. "The ones you see in Hollywood are grandpas and grandmas," says AiG's director of special projects, LeRoy LaMontagne.
Behind the scenes and running this circus is Vice President of Attractions Designs Patrick Marsh, who worked on the Jaws and King Kong attractions at Universal Studios before joining Ham's operation. "It's really unusual, especially for ministries, to have these capabilities," he says of his work. Marsh considers the lumber, the vintage fabric, computers, a 3-D printer—even the craftspeople—God's blessings. "Travis here, he was just a homeschool kid when I got him right out of high school," Marsh says of a young designer nearby. "God has provided all of these little miracles along the way."
When it came to the $18.25 million it was seeking in tax rebates, perhaps God came up a bit short of AiG's expectations. Back in 2009, AiG applied for Kentucky's Tourism Development Incentive program. Under the decade-old initiative, eligible attractions that bring in tourism dollars can recover up to 25 percent of costs over a 10-year period through rebated tax money. State tourism officials right away expressed concerns about "separation of church and state issues," according to documents, but after a series of meetings with AiG representatives the maximum tax rebate was approved for costs incurred through May 2014. The caveat? Ark Encounter would not be permitted to make any hiring decisions on the basis of religion. It reluctantly agreed.
Over the next few years, a series of setbacks stalled construction, and skeptics began to wonder if the park would ever get built. Ultimately, when AiG failed to secure enough private investors, it initiated the $62 million "junk" bond offering and scaled back the project—eliminating rides and other attractions—to cut costs. These changes, paired with the fact that construction would not begin until after the spring of 2014, required a new application to the incentive program. This time, the application was denied.
Why did the state reject an application nearly identical to one it initially approved? Because AiG posted Ark Encounter job listings on its website requiring a "salvation testimony" and a creationist statement of faith. Bob Stewart, then-secretary of the Kentucky Tourism, Arts and Heritage Cabinet, wrote in a letter to AiG: "The Commonwealth doesn't believe that Ark Encounter, LLC will be complying with state and Federal law in its hiring practices." AiG insisted that the job posts were not exclusive to Ark Encounter, but state officials remained unconvinced. After months of pleading with the tourism cabinet, AiG filed a lawsuit against Kentucky officials, asserting that the refusal to extend tax aid was a form of religious discrimination.
When I asked AiG general counsel John Pence about the company's revoked promise of non-discriminatory hiring, he referred me to the Civil Rights Act of 1964. "That allows religious organizations to discriminate in hiring," he says. "If you can't hire religious people for a religious organization, you can't function as a religious organization."
But should taxpayers have to pay for that discrimination? Even Williamstown Mayor Rick Skinner, who has been criticized for being overly optimistic about the ark project, says no. "I don't think they can do that and expect to get the tourism rebate from the state," he tells Newsweek.
"AiG is confusing what they have the right to do as a private organization with what taxpayers are required to fund," says Greg Lipper, senior litigation counsel for Americans United for Separation of Church and State. "They're saying Kentucky taxpayers should pay for them to expand a religious ministry. That kind of argument would make Thomas Jefferson turn in his grave."
Kentucky Governor Matt Bevin, who took office last month, has said he supports tax rebates for the project, but both Bevin and the Kentucky Tourism, Arts and Heritage Cabinet declined to comment on this story.
There's more than just public money at stake. Other Ark Encounter attractions will reportedly include a petting zoo, a first-century village and so-called teaching exhibits with titles like "Flood Geology" (how the separation of continents and marine fossils found on mountaintops "are a direct result of the flood" ) and "The Ice Age" (AiG insists there was only one). Famed scientist and educator Bill Nye, who came under fire from some scientists in 2014 for dueling with Ham in a televised evolution vs. creationism debate, warns that using commonwealth dollars to suppress science is bad for the whole country. "Raising a generation of young people who are confused about the natural history of the Earth is not in our best interest," he says. "This project is going to slow the response of voters in the Commonwealth to climate change and it's going to hold us all back." Given the way AiG rejects scientific evidence, he thinks it might not be so bad if the ark park goes the way of the Titanic.
Update: This story has been updated to reflect Federal judge Gregory Van Tatenhove ruling in favor of AIG on January 25. The ruling stated that Kentucky's Tourism Cabinet cannot exclude the Ark attraction from the $18.5 million tax incentive based on its religious purpose and message. "The judge made a very serious error of First Amendment law," says Greg Lipper of Americans United for Separation of Church and State. "If the Commonwealth chooses not to appeal, it will be a very curious decision." A spokeswoman for Gov. Matt Bevin said that the state has no plans to appeal.