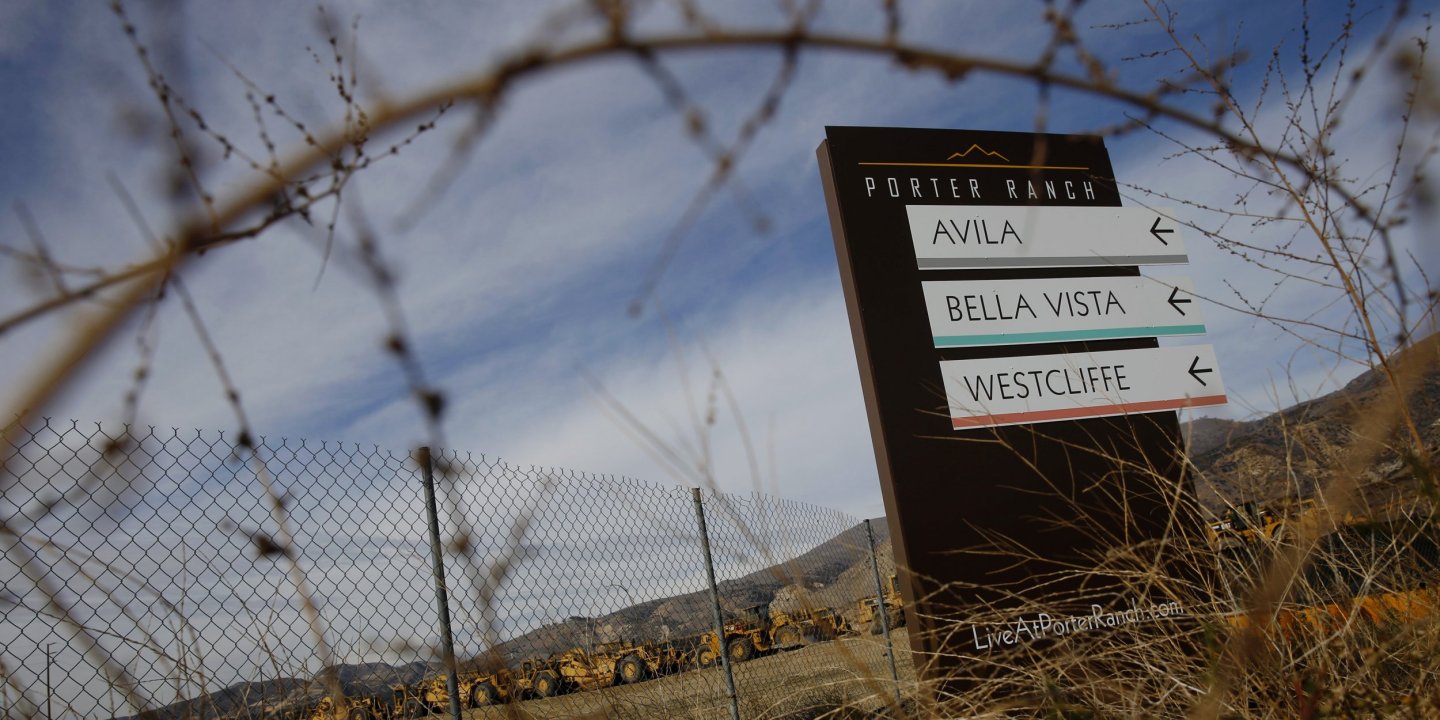 In the winter of 2008, a real estate column in the Los Angeles Times profiled Porter Ranch, a collection of subdivisions in the San Fernando Valley that feels utterly removed from the huge city on whose northern edge it lies. The neighborhood is "graced with lush parks," the Neighborly Advice column gushed, and "attracts residents seeking sanctuary from the urban hubbub." Toll Brothers, the upscale builder that has developed much of the land here, promises potential residents they will "relax in open, natural spaces and live within a true community."
Until very recently, you would have had to do a considerable amount of Internet sleuthing to discover that Porter Ranch, home to 30,000 people, is not exactly the pristine, quasi-rural paradise promised by its developers and boosters. The hills that frame its Instagram-ready backdrop also cradle the Aliso Canyon Storage Facility, a parcel of 3,600 acres in which the Southern California Gas Company has turned 115 defunct oil wells into an underground warehouse that can hold 80 billion cubic feet of natural gas. On October 23, workers discovered that a 7-inch casing in one of those wells had ruptured, and that well has been continuously pouring methane into the atmosphere, at a peak rate of 60,000 kilograms per hour (the rate of loss has been reduced since then). A counter on the website of the Environmental Defense Fund estimates that, as of Thursday morning, the total loss has been more than 79,000 metric tons of methane sent into the air above Los Angeles.
Methane, or CH4, traps about 85 times more heat radiation than carbon dioxide, when effects of the two are compared over a 20-year span, making it a much more potent contributor to climate change; according to the Environmental Defense Fund, the Porter Ranch methane leak was equal in mid-December to emissions of six coal-burning plants or 7 million new cars on the road. Despite its green image, California is second only to Texas in its contribution to the United States' carbon footprint, and the Porter Ranch leak is believed to be adding 25 percent to the state's daily methane output.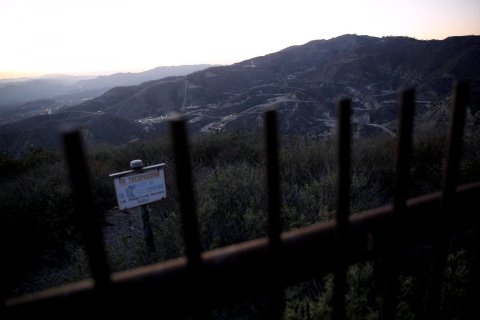 As for the much-touted serenity of Porter Ranch, that's also gone. Methane is not a killer on the order of carbon monoxide, but medical research suggests it can cause a variety of chronic ailments, including bloody noses, headaches, vomiting and rashes. A compound called mercaptan is routinely added to methane in order to alert a household of a potential leak, since methane is colorless and odorless—sulfurous mercaptan is so noxious, you have no choice but to pay attention. To live in a methane effluvium has been, for many in Porter Ranch, an experience ranging from unpleasant to excruciating. Thousands of families have left, spending their winter holidays in hotel rooms or rentals (SoCalGas is paying). They do not know when they will come back, since SoCalGas does not know when the leak will be plugged. It might be late February, but it could be late March.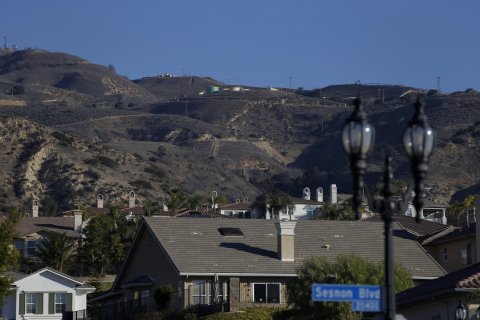 "We are not refugees living in tents," says Porter Ranch resident Matt Pakucko, acknowledging the community's relative affluence. "But this shouldn't happen." He says SoCalGas and public officials have turned him and his fellow residents into "guinea pigs." He does not believe the company's assurances that long-term methane exposure poses no known health risks. Nor is he convinced that SoCalGas can stop the leak by next month. And he is troubled by his proximity to Aliso Canyon, the source of all the troubles that have befallen Porter Ranch, posing a question that must haunt many others here: What else is going on in that hill?
Boots and Coots
Porter Ranch started appearing with some frequency in the headlines just as world leaders convened in Paris for a landmark climate change conference in late November. Eric Garcetti, the mayor of Los Angeles, visited Porter Ranch on his way to Paris. He toured a school and pronounced the methane leak a "natural disaster," though the cause was almost certainly human error, or at least human hubris.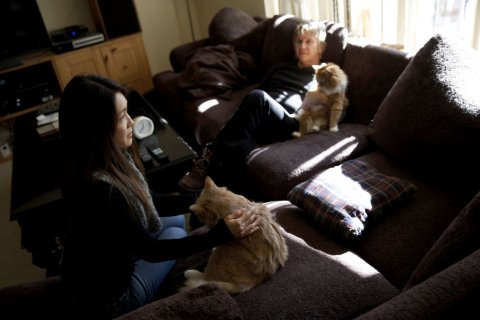 Since then, the sense of crisis has only deepened, moving slowly but surely over Porter Ranch. Two schools are closed, their students relocated. Businesses are suffering because residents are leaving: About 2,500 families have relocated and another 1,800 are on their way out. On Tuesday, California Governor Jerry Brown declared a state of emergency, outlining the work seven state agencies are doing in response to the leak and mandating that SoCalGas "cover costs related to the natural gas leak and its response." The latter move should appease those who've criticized Brown as slow to respond, perhaps, they've suggested, because his sister, Kathleen Brown, sits on the board of Sempra Energy, the parent company of SoCalGas (that charge is "scurrilous and irresponsible," says a spokesman for the governor).
Gas, though, is impervious to politics—and the gas in the well known as SS-25 seems to be especially intractable. Unable to stop the flow with an injection of liquid into the well, SoCalGas called in experts at Boots & Coots Services, the Halliburton subsidiary considered the best in the world at killing wells. But they couldn't kill this one, with six additional liquid injections proving ineffectual. So, for now, the best solution is to drill a relief well into the 8,700-foot-deep sandstone cavern that holds the gas and, ultimately, plug SS-25 with cement. That will take at least another two months.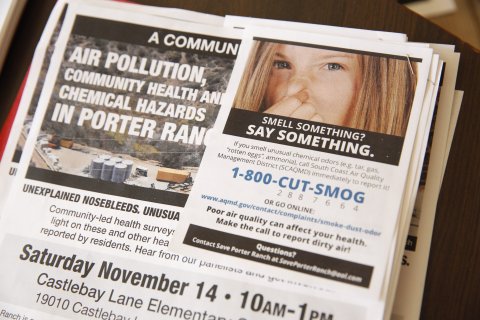 "Our community is starting to look like a ghost town," says David Balen, a local businessman on the Porter Ranch Neighborhood Council. He pulled his 8-year-old daughter out of school at Thanksgiving, his worries for her health trumping SoCalGas's claims that there was no risk. "Nothing is normal anymore," he laments. His little white dog looks even more beleaguered than he does.
Last month, the Paris talks concluded with an accord that would compel—though not force—major polluters like the United States and China to radically curb their greenhouse emissions. "Whatever they agree to in Paris, it's not enough," Brown said before heading to the summit. He has ambitiously pledged to decrease his state's greenhouse emissions by 40 percent of 1990 levels by 2030, which he can do only by weaning the state off carbon.
The methane leak in Porter Ranch, though, is an apt demonstration of our complex affair with carbon fuels. The natural gas stored in Aliso Canyon flows to the homes of about 20 million customers in the greater Los Angeles area. So while we contemplate wind farms and solar arrays, we remain married to an antiquated infrastructure that lets us do what we have done for centuries: extracting energy by burning carbon.
Paris, with all its promises, has come and gone. Porter Ranch is still enshrouded in noxious gases.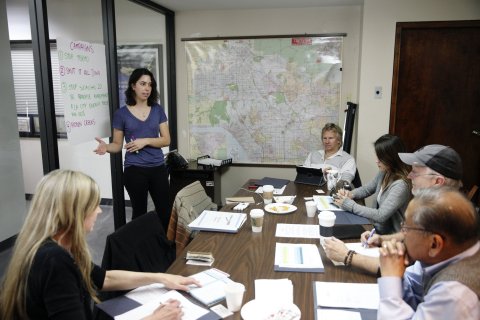 A Fire That Lasted Six Days
Despite its artful hyperbole and stylized violence, the Paul Thomas Anderson film There Will Be Blood got one thing right: Los Angeles is an oil town built by oil men. Today's oil men don't look like Daniel Day-Lewis's rough-hewn Daniel Plainview, but there are still some 3,000 active oil wells in Los Angeles County, none more famous than the one called the Tower of Hope , a rig on the Beverly Hills High School campus cleverly concealed with floral decorations.
Oil was first pumped from Tapo Canyon in 1910, in what is today the community of Simi Valley; Aliso Canyon, directly to the east, yielded its reserve of hydrocarbons in 1938, with SS-25 opening on February 25, 1954. It operated as an oil well for less than two decades; in 1973, SoCalGas converted the Aliso Canyon oil wells to gas storage caverns.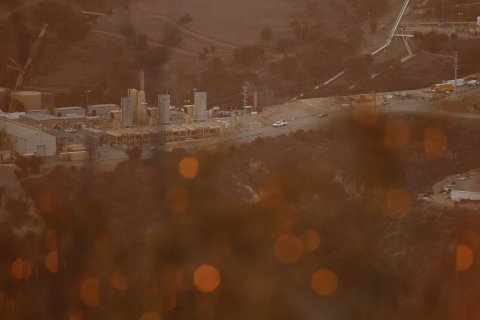 Rodger Schwecke, a vice president at SoCalGas now heading the recovery efforts at Porter Ranch, says the porous sandstone caverns of Aliso Canyon, overlaid with a thick layer of capstone, made perfect natural gas repositories. He compares the geological formation to a bottle full of marbles, with gas sitting in the interstitial spaces. It was a seemingly auspicious reuse of the old oil-drilling infrastructure, one that allowed for easy delivery of natural gas to the stoves and water heaters of Southern California.
But the current SS-25 leak is not the first accident in Aliso Canyon. There was a well blowout in 1968 that led to a fire that lasted for six days, and there was another fire in 1975, according to the Los Angeles Times. Back then, though, there was no Porter Ranch. Residential development in this part of the San Fernando Valley had not reached that far north, explains Kevin Roderick, who runs the LA Observed news site and grew up in nearby Northridge. Only recently did the gated subdivisions of faux-Mediterranean estates start to crawl up the slopes of the Santa Susana Mountains. "These people have paid a lot of money to live on the very edge of the city," says Roderick, who has also authored a history of the Valley . He suspects that many residents of Porter Ranch did not know about Aliso Canyon when they bought their homes. "This is gonna be, for a lot of people in Porter Ranch, a huge wake-up call. Now they know what they live next to."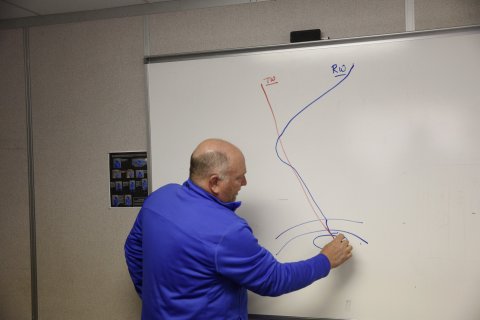 The Porter Ranch residents I spoke to confirmed Roderick's assessment. Maybe it was poor disclosure on the part of the real estate brokers, maybe an eagerness of buyers to believe in the idyllic vision they'd been offered. Whatever the case, most are, as Roderick suggests, only now learning about Porter Creek's legacy, sort of like the archetypal family in a horror movie that discovers its fixer-upper Victorian house was the site of a gruesome killing.
"I didn't know about Aliso Canyon at all," says Paige Hemmis, a real estate broker and television host for the Hallmark Channel's The Home & Family Show who bought a house in Porter Ranch in 2010, in Balen's subdivision. Her 93-year-old grandmother, who also lives in Porter Ranch, had nose bleeds so severe she required hospitalization. One of her two dogs developed lesions. On many mornings, the animals refuse to go outside.
When I met Hemmis, in a half-empty Middle Eastern restaurant in the shopping mall that constitutes the town center of Porter Ranch, she apologized for wearing a hat indoors, a stylish number the color of sand. She had an unsightly rash along her hairline, she explained, which she was sure was related to methane exposure. Rashes don't play on television, but neither do hats, and there were attempts to hide the outbreak with creative hairstyling. These failed. But then Hemmis went to tape an episode of Home & Family in Bakersfield, the city in the Central Valley of California notorious for having some of the dirtiest air in the nation. Three days after she got there, Hemmis says, the rash on her forehead disappeared.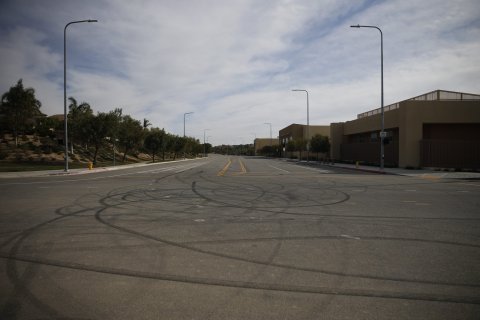 Sinkholes and Stink Holes
The fate Porter Ranch most fears is the one that visited Hutchinson, Kansas, on January 17, 2001. Methane that leaked from an underground cavern there caused an explosion that killed two people and forced many residents to evacuate. "In this case the injected material had done everything that scientists usually describe as impossible," reported ProPublica in a recent article. "It migrated over a large distance, traveled upward through rock, reached the open air and then blew up."
Aliso Canyon is the fifth-largest gas storage facility in the United States. There are 400 such underground natural gas warehouses across the country, found in "d epleted reservoirs in oil and/or natural gas fields, aquifers, and salt cavern formations," according to the federal Energy Information Administration. Many are clustered in the Midwest, as well as along the Gulf of Mexico. The federal government leaves much of the oversight of these underground facilities to states. In Louisiana, a salt cavern collapsed in the rural community of Bayou Corne, creating an enormous sinkhole that released methane (the cavern had been used to make brine, but methane is common in Louisiana's swampy soil), thus serving as a terrifying reminder of the potential risks of trying to tailor the Earth's geology to our energy needs.