"My grandma thinks I'm crazy. She literally does not believe we are making an actual product," says the 28-year-old Reykjavik, Iceland–based entrepreneur. "She says to me, 'Sure—you're making food out of insects. Sure.'"
Thoroddsen has faced similar discussions many times since the summer of 2014, when he and his longtime friend Búi Aðalsteinsson founded the Crowbar protein company. Its flagship product is the Jungle Bar, a protein bar with a savory, cranberry-heavy flavor, slightly tangy aftertaste and pleasingly chewy texture of brown rice and quinoa. However, one main ingredient is more exotic than quinoa, especially in Iceland: crickets. And quite a bushel of them at that: Seventy-five of the insects, milled into powder, are in every fist-sized serving.
Crowbar is the first company to push insect-based food in Iceland, a country with a regional diet heavy on fish and lamb. On the six-legged front, it's an even unlikelier sell, as crickets are not indigenous to the island. (Neither are mosquitos or most spiders.)
Thoroddsen admits that their toughest task has not been acquiring the unusual ingredient—which they buy in powderized form from a Canadian distributor—but rather pushing it past psychological obstacles. "When you ask someone if they would like to eat a cricket, the most common reaction is disgust. Our main mission is to lower the barrier so people are willing to have the first bite," he says. "We did some research on different types of insects we had in mind, and crickets scored the highest over cockroaches, larvae, flies. Crickets are in nature, they have a sound, and they don't directly link into our concept of the disgusting insect."
Aðalsteinsson, 26, has pushed the Jungle Bar to market largely by emphasizing its nutritional composition; cricket powder can be over 50 percent protein, one reason edible insects are an estimated $20 million industry in America, according to Fast Company. He's also championed its green appeal.
"It doesn't only taste good. It's a great source of protein, minerals like iron, calcium, B-12 vitamin, omega-3s and -6s—we use the term superfood for it," says Aðalsteinsson . "Also, people talk about how insects could be the food source that solves world hunger. It's almost 20 times more efficient and sustainable to grow 1 kilogram of protein from insects as opposed to beef."
Though crickets have been a popular snack for years in Asia (particularly China and Thailand, where they are often fried to a popcorn-like crisp), insect consumption was largely verboten in America and Europe until a few years ago. In 2012, hydrologist Pat Crowley launched Chapul, a cricket-based protein food company influenced by his international travels and ecological concerns. Raising livestock consumes more water than any other human activity on earth, he noted, which prompted him to experiment with ways to make crickets more palatable to Westerners.
"We were the first ones to make the cricket flour and coin that term, though there was plenty of anecdotal experience from Native American groups and Aztecs doing a fairly similar process," explains Crowley, 36, who lives in Salt Lake City. "I pulled the concept from the sushi industry, which was very strategic with its entry into the U.S. market. They really focused on the visual aspects of the foreign ingredients, so they put rice on the outside of the first California rolls, they hid the seaweed, and they put avocado in, which was familiar to us. The bar was our version of that California roll; the flour eliminates the visual component [of insects]."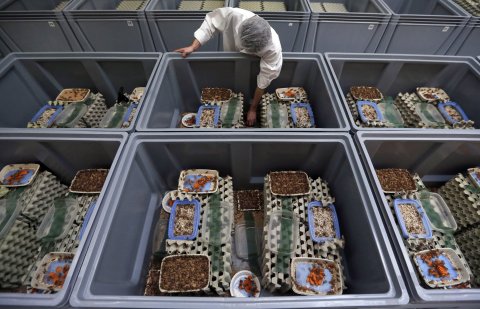 After raising modest initial funding on Kickstarter, Crowley hawked Chapul on the popular reality show Shark Tank in 2014. Several of the investor-judges turned up their noses, and their resident curmudgeon, Kevin O'Leary, immediately responded to Crowley's pitch with "There is no way I'm eating that." Undeterred, Crowley got a $50,000 investment from the show's wealthiest panelist, Mark Cuban. (Cuban was most amenable to the taste as well; Chapul bars are manufactured in four flavors, including the Aztec Bar with cayenne and chocolate and the Thai Bar with ginger and lime.)
"Shark Tank was actually pretty representative of consumers at that time, we found," says Crowley. "There were five judges, and a couple of them immediately were just not into it, and two were on the fence. And there was one who was pretty intrigued, being Mark. We had about $80,000 in sales total when I walked in. That first week [after the episode aired], we had about $100,000 in sales."
Greg Sewitz and Gabi Lewis, the co-CEOs of the eXo protein company, launched their cricket-based bar in the spring of 2014, as college undergrads, after Sewitz attended a conference on environmentalism at the Massachusetts Institute of Technology hosted by the Dalai Lama. They are now based in New York City and have distribution in the United States, Singapore and the United Kingdom.
"Protein bars for us are really just the tip of the iceberg. It's a vehicle to get people used to the idea of consuming insects and cricket protein specifically, so we're working on a far broader portfolio of products," says Lewis, 25, who declined to offer details about specific future products. "There are companies already making cricket chips, cricket cookies—things you wouldn't eat for protein." They are hoping to expand further internationally, including more extensively in Lewis's native Scotland.
Crowley says Chapul's sales have increased more than 200 percent per year. The company will debut a cricket-based all-purpose baking flour in January 2016.
Jungle Bar's inaugural shipment of 10,000 bars arrived in Iceland in late December; Thoroddsen said he and Aðalsteinsson were worried that customs officials would be suspicious and halt their entry. "We didn't know what to expect," he says. "We just had a gut feeling that someone would stop the insects. Fortunately, all went well." They have secured a deal to sell the bars in the major Icelandic supermarket chain Hagkaup, and they are discussing deals with European retailers for 2016.
But that doesn't mean the Jungle Bar team will be pushing to eradicate any other menu staples soon. "We're really trying not to be preachy; we're not trying to get people to stop eating meat," insists Thoroddsen. "We're trying to implement a product that's new, has other possibilities and just so happens to be extremely sustainable."
He admits that a few customers have had negative feedback about the taste, though. "A few people have said, 'Cranberries are not my flavor.'"