The Bill T. Jones/Arnie Zane Dance Company was in Paris last year, performing a new piece titled A Letter to My Nephew/Pretty, inspired by Jones's nephew Lance T. Briggs, "who is now 46 years old and bedridden after quite a profligate life," says Jones, "being taken care of by his mother. Handsome young black man, model, dancer, sex worker, crack addict."
Though Jones is probably best known outside of dance circles for his 1994 work Still/Here, which dealt with AIDS and other life-threatening diseases by using (controversially) the stories and images of real people, he wanted to do more with his "letter" to his nephew. "The conceit was, here I am in Europe with my company, just checking in, [along with] pictures of the Eiffel Tower and pictures of the Syrian refugee crisis and pictures of burning cars in Baltimore." The post-performance champagne was still fizzing in the flutes when Jones and his dancers first got word of the attacks that occurred that November 13 evening. "We walked out from an artwork trying to get its arms around this difficult era and walked smack dab into the middle of it."
The 63-year-old choreographer, director and sometimes provocateur is about to step into it again with his latest work. Analogy/Dora: Tramontane had its debut at the Kasser Theater in Montclair, New Jersey, last year and will have its West Coast premiere at San Francisco's Yerba Buena Center for the Arts on March 10. It was drawn from interviews Jones conducted with 95-year-old Dora Amelan, a French Jewish nurse who survived the Nazi occupation during World War II, and the mother of Jones's partner, designer Bjorn Amelan. Brought to life by Jones's lightsome troupe, Bjorn's mobile constructs (constructivist-style cutouts that double as houses and cattle cars) and spoken excerpts from Dora's harrowing history, Analogy lands at a time when refugees and genocide are once again front-page topics.
Jones had already begun interviewing Dora for an oral history that he meant as a gift to Bjorn and his brother, Ronnie, when it occurred to him that her keenly recalled personal story had the elements he looks for in his work. Inspired by W.G. Sebald's 1996 metafictional novel The Emigrants, which shifts between decades and world wars and uses details both real and imagined, Jones set out to fashion a trilogy that would begin with Dora's journey (part two will focus on his nephew Lance).
"What do I know about the boardwalk in Belgium in 1939, when she first heard Louis Armstrong playing at a casino down the street when she was a 17-year-old girl?" asks Jones, speaking to me from his home in upstate New York. "What do I know about what the blackout was like in Antwerp? Or her father arriving in Vichy on a bicycle and the first thing he wants to do is what the workers do, have a glass of red and some camembert. This was the stuff that moved me."
What has moved audiences is Dora's courage (her mother was dying of cancer when the Nazis invaded Belgium, where her family was living at the time, and the teenaged Dora fled to Vichy France after she died), but also the question of what she did and didn't do during the war. Beginning in 1942, Dora worked with the OSE (Oeuvre de Secours aux Enfants), a French humanitarian organization, sanctioned by Vichy, that rescued many Jewish refugees from extermination.
Dora began by bringing food (much of it donated by Quakers and "skimmed off by people on the way," she says) to an internment camp at the foot of the Pyrenees (tramontane is the name of the harsh wind that blows through the region). Different dancers take turns reciting her images of that time—"unwashed bodies, fetid latrines, open wounds." One day she spilled food she was carrying to the barracks, and "everyone had a spoon with them at all times and was on the ground eating it in the dirt. And this picture you never forget."
Her story became more complicated when the Nazis accelerated the deportation of those interned in France to death camps in Poland. Workers like Dora, just out of her teens, were left to plead for the lives of children, only to be told that the Nazis had a quota and that if the children didn't go someone else would have to.…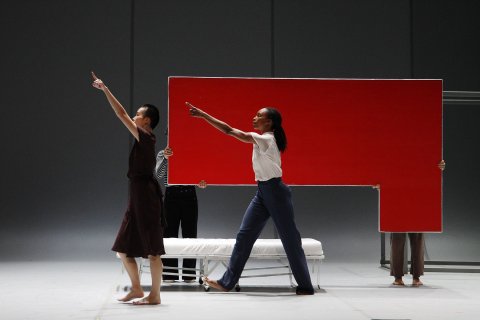 "When we showed the work in progress at Bard College, people were moved by her but also said, 'You have to ask her questions for us! You should be tougher on her,'" Jones recalls. A lot of his Jewish friends in particular saw her as little more than a collaborator. "I had to push her: What was it like knowing these people were going to be separated and someone was going to be deported? And she said, 'Well, what could I do? I just sat there with them.' I think that's an honest, nonaggrandizing point of view that we can learn from. And we can turn the question back: What would you do? Would you try to, Hollywood-style, scale the fences at night?"
Jones has faced his share of tough critics. After his partner Arnie Zane died of AIDS in 1988, Jones "carried the burden of being the best-known AIDS artist," according to former Dance Theater Workshop Director David White, an early champion of Jones's work. "He moved through the lens of Arnie's death from being this amazing physical presence that could almost magically combine voice and muscle into these amazing set pieces to someone who could take on the tragedy of an era."
The work Jones did with Zane was personal (the pieces White commissioned were named after places the couple lived) and delved directly into the difficulties of being in a multiracial gay couple in the '80s. Perhaps there was something about the loss of his partner and his own diagnosis (he is HIV-positive) that led Jones to expand his aperture. In the early '90s, he began to research what would be Still/Here by traveling around the country and meeting with others, in 11 cities, who were facing possibly fatal illnesses (AIDS, cancer, cystic fibrosis). He asked them what they feared and loved, and he gave instructions to the strangers he met—many of whom had never danced at all—instructions such as, "Tell me about your life in one simple gesture." Out of those workshops came the choreography his company would perform, and the words and subjects of his research were part of the performance.
"For me as a person having to deal with his own possible early death, I was looking for people dealing with the same thing," Jones told Bill Moyers, who filmed a special about the piece for PBS in 1997. "I have this little time bomb that is supposedly ticking. I want to find out what this point in my life means."
Still/Here was largely celebrated—"a landmark of 20th-century dance," Moyers said—though a very sour note was struck by The New Yorker's longtime dance critic, Arlene Croce, who labeled the piece a prime example of what she termed "victim art." Not that she'd seen it. "I have not seen Bill T. Jones's Still/Here and have no plans to review it," Croce wrote at the top of her column ("Discussing the Undiscussable," December 26, 1994). She didn't need to, she declared, adding that the piece was symptomatic of what she termed a larger "pathology in art" that set out to manipulate the audience's feelings by including images of real, live (at least for the moment) victims. She felt their inclusion put the piece beyond criticism and acknowledged her resentment at being forced to feel sorry for "dissed blacks, abused women, disenfranchised homosexuals."
Her piece was a shocker then, generating numerous letters to The New Yorker, pro and con, with most of the artistic community coming down, not surprisingly, on the side of the artist. Croce went beyond Jones to include the photographs of Robert Mapplethorpe and even the choreography of Pina Bausch as examples of "victim art" that she found sentimental. The attacks that followed prompted Croce to qualify her criticism (she said her piece could have used some revision), and Jones to this day will not mention her name. He has enjoyed some mainstream success; his choreography won a Tony and an Obie for Fela! and a Tony for Spring Awakening, and he received a National Medal of Arts in 2014. And though he feels scarred by the decades-old attack, he clearly has given the matter some thought.
"Is Dora's story a story of victimization?" he asks. "I don't think it is. I think she, in a way, because of her equipoise and her brave heart and her clarity and her lack of sentimentality, I think she kind of wins.
"Did Dora suffer? It's maddening, but I've never seen Dora cry. Dora never complains. She says the streets of Antwerp were so quiet you could hear your steps fall; her mother was dying of cancer; she's running through the streets after the blackout to try and get laudanum to ease her mother's horrible pain; the Nazis are coming.… And she says she decided there are two types of people: those who need help and those who give help. She decided at age 19 that she was going to be in the second group."
In spite of his ties to political activism, Jones sees himself as, foremost, a formalist. "Bill is not raceless," says spoken-word artist Marc Bamuthi Joseph, chief of program and pedagogy at Yerba Buena Center for the Arts, "and in his body he's not absent from his own history or the history of the U.S., the history of the planet. But what he touches on, dramaturgically and directorially and choreographically, is the motion. Motion is timeless."
Jones and Joseph are currently collaborating, along with composer Daniel Roumain, on a hip-hop opera for Opera Philadelphia called We Shall Not Be Moved. The story involves both the educational system in Philadelphia today and the ghosts of MOVE, the self-proclaimed black liberation group the Philadelphia police bombed after an armed standoff in 1985. When we spoke, Jones said he was pushing back on Joseph to make the lyrics less preachy. "I need, as an audience, a way to get in there. I don't want a sermon, even a very beautiful sermon," he says.
Perhaps working with Dora's story has made Jones averse to the didactic. He never wanted to do a Holocaust piece, he says. "I was trying to keep the focus on that young woman, just like young women everywhere. Are young women everywhere that brave, that poised? To be able to sit on a train when the Nazis ask for passports [and give them the one that identifies her as Jewish]. What is that moment about, that grace? Dora believes that people are basically good. Even after the war. I can't believe it; I'm still trying to get over slavery."