Updated | Los Angeles Rams? Sounds vaguely familiar.
Billings Bighorns? That would have sounded tremendous.
Last Tuesday, Stan Kroenke, who owns the St. Louis Rams, announced that the franchise would be returning to southern California after a 21-year absence. The news did not cause traffic to stop in Los Angeles—and not just because that's already the default mode on its freeways. Angelenos mostly greeted the news with a "Cool, bro," and returned to tracking their daily fantasy lineups.
While it makes fiscal sense for a monolith like the NFL to have a team in Los Angeles, the country's second-largest metropolitan area, the move is uninspired and conservative. In other words, it could have been drawn up by 90 percent of the league's offensive coordinators.
The Rams are returning to Los Angeles. Yawn. But what if they had decided to, for example, migrate to Montana? What if the Rams had moved to a state named after a four-time Super Bowl–winning quarterback? What if the team now fleeing St. Louis, the origin point of the Lewis and Clark expedition, had relocated to the town where Captain William Clark once etched his name (on a slab at Pompeys Pillar)?
Who wouldn't root for the Billings Bighorns? The team's fans would tailgate along the Yellowstone River, proudly donning shirts that read, "Talk is sheep!" Kids all over the state and beyond would proudly refer to themselves as Little Bighorns. Those Montanans whose births predate the first Super Bowl might be known as the team's Old Faithful. Every time the Bighorns scored, a geyser would erupt behind an end zone. From Missoula to Miles City, an NFL franchise based in Montana would incite Ram-demonium.
"We would love the Billings Bighorns to be located at Montana's Trailhead," says the president and CEO of the city's chamber of commerce, John Brewer, referencing the city's nickname. "And I think that there could be some land carved out for a football stadium and parking facility too."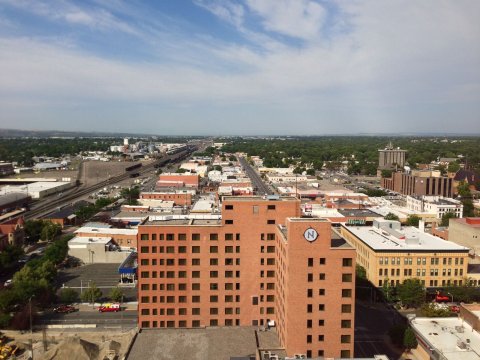 Before you scoff—oh, too late?—think about the possibilities. The town of Green Bay, Wisconsin, home to the most devoted fans in the NFL, has approximately 105,000 people. Billings, the largest city in Montana, has a population of 109,000. True, Green Bay draws fans from Milwaukee and all of Wisconsin, but Billings would draw pilgrims from throughout Montana, as well as its four neighboring states (Idaho, North Dakota, South Dakota and Wyoming), none of which have an NFL franchise.
In fact, if NFL commissioner Roger Goodell were searching a map for the epicenter of the Lower 48 that has yet to be colonized by an NFL franchise, he would place a thumbtack in Billings. The closest NFL franchise is Denver, which is 554 miles—or about the distance between Jacksonville and New Orleans—south. The nearest NFL franchise to the west, the Seattle Seahawks, is 817 miles away, while the nearest to the east, the Minnesota Vikings, is 840 miles away. "We have two NFL season-ticket holders in my office alone," says Brewer, noting co-workers who root for the Broncos and Seahawks.
A Seahawks season-ticket holder in Billings? That, in terms of distance, is the equivalent of being a Pittsburgh Steelers season-ticket holder while living in Kansas City. But who cares? This is Montana. Big Sky country. Where the speed limit is 80 miles per hour and the horizon is more expansive than Vince Wolfork's backside. Folks here would think nothing of driving to Billings from Bozeman, from Butte, even from Boise, Idaho, to attend a Bighorns game.
"Montana is a fanatical sports state and Billings is a sporting community," says Brewer, who adds that there are seven breweries (he recommends the Street Fight Imperial Red Ale from Angry Hank's) within walking distance of downtown. "Plus, we have over 5,000 hotel rooms and a major airport."
It might seem like a paradox to the billionaires who own NFL franchises, but the smaller the market, the more promising the fan base. Green Bay, despite being by far the tiniest urban center of any NFL franchise, finished third in the NFL in average attendance in 2015 (78,413), behind only the Dallas Cowboys and New York Giants. Considering that Lambeau Field has sold out every game for the past 55 years and that there is a 30-year waiting list for season tickets, the factor preventing Green Bay from being atop that pack is not its fan base, but rather the seating capacity at Lambeau.
"Our largest venue currently is MetraPark, which seats about 12,000," says Brewer, "so we'd have to build a stadium. On the other hand, we have no sales tax, and we could build a stadium closer to downtown than, say, the one in which the Arizona Cardinals play."
He's right, you know. And what NFL fans wouldn't circle the date, and visit their favorite online travel site, immediately after seeing their favorite team had a game in Billings? "From Billings, the Little Bighorn battlefield, site of Custer's Last Stand, is about an hour's drive," says Brewer. "And the entrance to Yellowstone National Park is just 90 minutes away. We're a tourism mecca."
Montana has more buffalo than the Bills. It boasts more eagles than Philadelphia—think of that pregame flyovers—more cowboys than Dallas and more grizzlies than the Bears. It is one of only two states among the contiguous 48 that is not either home to an NFL franchise or bordering a state that is. The only other is Maine, whose populace is somewhat assuaged by the inclusiveness of the term New England Patriots, and even if it is not—well, who cares about Maine?
You're about to tell me about the television market, and I'm about to counter: So what? It's 2016. Every NFL game is streaming on your mobile phone. The Packers played six of their 16 games this past season in prime time on Sunday, Monday or Thursday night. Sure, they're one of the NFL's better teams, but Green Bay—the oldest NFL franchise, dating back to 1919—is also one of the NFL's most popular brands. And Lambeau Field certainly is atop any NFL bucket list of stadiums to visit.
Besides, Montana is happening. David Letterman owns a homestead there. It is the setting for The Revenant, which may be this year's Oscar winner for best picture. The Billings Bighorns, a name that goes back to a Western Hockey League franchise in the 1970s, would be a bold and brazen move. Not unlike the Lewis and Clark expedition. And we all know how that turned out.
"I'd love to see it happen," says Brewer. "And I have the perfect person to perform our inaugural ceremonial coin toss: [Montana native] Brent Musburger."
Excellent choice.…although it's hard to pass on Joe Montana.
Correction: A previous version of this article incorrectly stated that Billings has over 500 hotel rooms. It actually has over 5,000.
About the writer
John Walters is a writer and author, primarily of sports. He worked at Sports Illustrated for 15 years, and also at NBC Sports where he won two Sports Emmys for his on-air writing at the Athens and Beijing Olympics. He has also worked at AOL Fanhouse and The Daily, as well as waited at a popular Manhattan steakhouse. Walters is the author of The Same River Twice: A Season With Geno Auriemma and the Connecticut Huskies. He is the founder of mediumhappy.com, a pop culture blog that he updates daily. He holds a B.A. from the University of Notre Dame, where he studied pre-med and rowed crew.