The late Tom Clancy is a household name (or, at the very least, an airport name) because the author of best-selling spy thrillers such as Clear and Present Danger made his readers believe the intricate espionage plots and terrorist attacks in his novels could really happen the way they did on the page. Through military jargon and agency insight, Clancy's detail-heavy narratives sold a lot of books and, starting with the release of Tom Clancy's Rainbow Six in 1998, a lot of video games too.
Clancy's gaming franchises have sold more than 50 million units over 17 years. In addition to Rainbow Six, there's Tom Clancy's Splinter Cell and Tom Clancy's Ghost Recon, each brand a stand-alone series involving multiple games. All told, more than 40 titles have been released on every major platform, from the debut of Rainbow Six on Nintendo 64 to the recent launch of Tom Clancy's The Division on Xbox One, PlayStation 4 and PC. Each previous title is centered on tactical gameplay and accurate details, so when Ubisoft announced The Division, fans knew it would be pretty realistic.
The Division posits a plausible terror: a biological attack on Manhattan that turns the New York City borough into a lawless dead zone. Players are part of the Division, a group of civilian agents who become active only in the event of total societal collapse. It's an urban warfare game, and players patrol an obsessively intricate cityscape riddled with looters and gangsters. For Ubisoft, the commitment to a Clancy-esque level of realism is crucial, and it goes beyond the game itself. Ubisoft wants to build worlds, and the company is accomplishing it with a unique companion book that is part survival guide, part epistolary novel.
Titled Tom Clancy's The Division: New York Collapse, the book looks like it was found in a doomsday bunker. It's weathered, torn and waterproofed with wax. Printed inside is an honest-to-goodness survival guide full of tips about snaring rabbits in Central Park and making space heaters out of terra-cotta flower pots. But the survival guide is only one layer of New York Collapse. Scrawled in what looks like a handwritten font through the margins is the firsthand account of April Kelleher, a 30-something Brooklynite trapped in the citywide quarantine.
"It's a really rigorous exercise in point of view," Alex Irvine, author of New York Collapse, tells Newsweek. "[April] is not a Division agent. She's got no specialized training. She's just like you or me. If the world ended today, what would we do?"
April's story is told with not only journal entries but also removable artifacts such as sticky notes, MetroCards and tourist maps. Since The Division exists in an open-world map of Manhattan's midtown, players can wander in the game and discover pieces of April's life. Certain elements illuminate gaps in her story, which is a combination of a survivor's tale and a murder mystery. Her husband, a biochemist, is gunned down the day the outbreak begins, and an overwhelmed police department can't be bothered to investigate.
"I really wanted to have April be a reader surrogate," says Irvine. "I wanted it to be an interesting experience in its own right that also has the added dimension of interacting with this game space."
Irvine combed through "a gazillion" survival guides before he wrote New York Collapse. Should there be an actual apocalypse in New York, survivors could turn to the book for tips on how to set a tourniquet or build a camp stove out of candle wax, cardboard and a tuna can.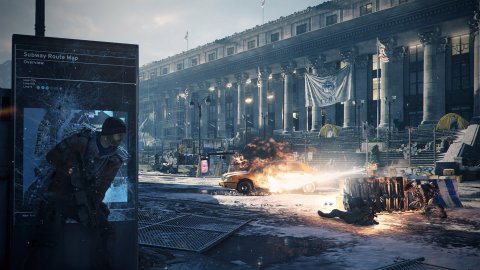 "[Alex] definitely did his research. He wasn't making it up," says John Galvin, a disaster expert who served as a consultant on The Division. "That's part of the whole Tom Clancy thing."
Even the catastrophe at the heart of The Division is realistic. In 2001, the U.S. government launched Operation Dark Winter, a simulation designed to test the country's response to a dangerous outbreak. The results were bleak—overcrowded hospitals and civil anarchy soon followed. For Washington, the project served as a warning. For Massive, the Ubisoft-owned studio behind The Division, it served as inspiration.
"Everything started with the Dark Winter exercise," says Martin Hultberg, intellectual property director at Massive. When they realized a bioterror attack created the right atmosphere for The Division, the Massive team members began researching the ideal scenario for maximum chaos. They realized it already existed: Black Friday.
"That footage we're seeing of people almost rioting in a supermarket to get stuff? That's almost what you see in Haiti after a disaster [when] people need to get to food and water," explains Hultberg. "There is such a scary prospect in the resemblance of those two events."
In The Division, a smallpox-like virus known as the "dollar bug" spreads via contaminated ATM cash during Black Friday in Manhattan. Hultberg says the team was intrigued by a 2014 New York University study called "The Dirty Money Project," which discovered that the linen-based U.S. currency is teeming with pathogens.
"It was real to me," Galvin says. "If you just Google 'the New York money project' there's some really nasty stuff that comes up. White rhinoceros DNA—that was one thing they found on one of the bills. They found DNA from, like, 100 different species."
Irvine scatters pieces of all this throughout New York Collapse by using the fictitious author of the book, a mysterious figure named Warren Merchant, as an authority on survival and insider for the dollar bug pandemic. Hidden within the text are puzzles and secret codes that reveal Merchant knew about the attack before it happened. They range from simple word problems to a complex cryptograph, viewed only with the assistance of April's modified MetroCard cipher.
"There are some puzzles that are actually pretty difficult," Irvine says, which "most people, unless they're serious puzzle nerds, are going to need some help to solve. And that was deliberate, because it drives people together and gets them talking in groups about the book. There's player groups [in the game]. It's a co-op experience. And so the book is a co-op experience too."
April Kelleher may not be the next Jack Ryan, but Ubisoft's work on The Division is in lockstep with what sets Clancy's stories apart—a mix of secret agents, bioterrorism and political conspiracy, all designed to transport the audience into a fully realized world. Ubisoft hopes to combine all this with a thrilling, balanced multiplayer video game and achieve the one thing that defines Clancy above all else: a best-seller.
Correction: An earlier version of this article said the book would come with the game. It will be sold alongside the game. It also said SOCOM was a Tom Clancy game. It was actually Ghost Recon.