Not long ago, Lake Habbaniya was a place for weddings and honeymoons, beach parties and family picnics. Just a few hours' drive west of Baghdad, the lake became a top vacation spot after a luxury resort opened there in 1979, with tennis courts, fairground rides and lush gardens. For several years after the fall of former Iraqi dictator Saddam Hussein, the resort was used as a refugee shelter, but in 2009 U.S.-led forces helped get it back into the tourism business. As recently as 2012, Jet Skis glided across the shimmering waters of Lake Habbaniya and Iraqi children played barefoot on the beach.
That seems hard to imagine now. The once-popular resort is in Iraq's Sunni Arab heartland: Anbar province, a former Al-Qaeda stronghold. Cities like Fallujah in Anbar were the scenes of the bloodiest battles between U.S. troops and Sunni insurgents after the 2003 U.S.-led invasion. In the first half of 2014, the Islamic State militant group (ISIS) occupied much of Anbar; now Iraqi special forces are leading a campaign to reclaim it, with the backing of U.S. airstrikes. Lake Habbaniya lies between Fallujah, which has been controlled by ISIS since January 2014, and Ramadi, which Iraqi forces recaptured in December.
When photographer Moises Saman visited the Habbaniya Tourist Village in early February, about 4,000 Sunni families, including many from Ramadi, were living there in the crumbling six-floor hotel, and in abandoned chalets and tents on the beach. They have no running water, electricity or sewage system and are dependent on humanitarian organizations, such as the International Committee of the Red Cross (ICRC) for emergency food assistance. Long gone are the days of boating and jet-skiing; the lake now provides drinking water to the refugee camp, with water pumped into a purification station rehabilitated by the ICRC.
The plight of tens of thousands of refugees fleeing ISIS has captured the world's attention in recent months; Iraqis and Syrians from war-torn areas have squeezed into overcrowded boats and made the dangerous crossing to Europe's southern shores. But even more Syrians and Iraqis are stranded in their own countries, uprooted from their homes in huge numbers, with nowhere to go.
According to figures from the International Organization for Migration, between January 2014 and August 2015, 3.2 million Iraqis were internally displaced. More than 40 percent, or 1.3 million, of them have fled from ISIS in Sunni-majority Anbar province. Most of them are too poor to afford the journey to Europe; others are unable to travel after suffering injuries in the recent conflict with ISIS or in the fighting that began after the 2003 invasion. Some have been displaced for nearly two years, living in camps where they cannot work, study or rebuild their lives.
Saman, who now lives in Barcelona, Spain, has spent a great deal of time working in Iraq over the past 14 years. He returned recently to document the new wave of Sunni displacement, visiting affected areas in the provinces of Baghdad, Anbar and Salahaddin. Saman wanted to bring attention to Iraq's Sunni community, whose suffering during the country's long periods of conflict and at the hands of ISIS has received relatively little attention—in part because other communities tend to regard Sunnis with suspicion. (Sunni Arabs belong, at least nominally, to the same branch of Islam as ISIS militants.)
"There's a narrative that a lot of the Sunni community supports ISIS, but it's really not that simple," Saman says. Many of the people he met had relatives who had been killed by ISIS, while others used to be in the police or the army, so they were ISIS targets. "Most of the people in these camps fled because they did not want anything to do with ISIS."
Few Sunni Arabs are willing to seek refuge in the Shiite-majority south, and even the Iraqi capital remains divided, with many Sunnis afraid of venturing out of their Baghdad neighborhoods, fearing they will be kidnapped or arrested.
In the areas Saman visited, many Sunnis said the mostly Shiite government in Baghdad does not represent them. They told him they felt marginalized in their own country. These are the same grievances that ISIS has been able to easily exploit—and they are unlikely to be resolved even if Iraqi forces make military gains in Anbar. In the meantime, most of the displaced Sunnis simply dream of one day going home. But with their hometowns still on the front line (in Fallujah), or reduced to little more than rubble (in Ramadi), many have nowhere to go.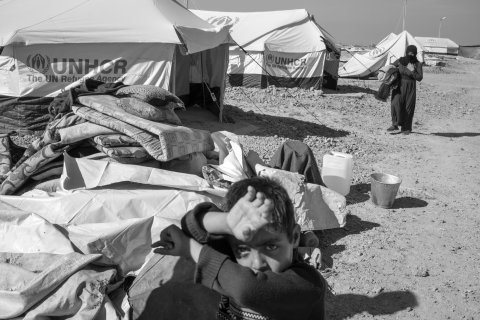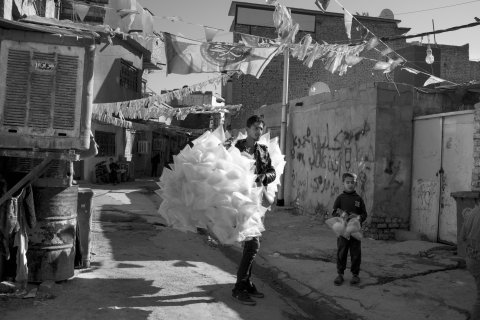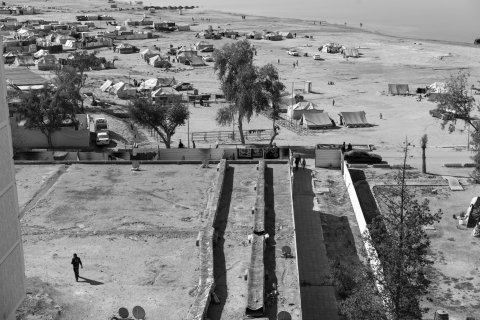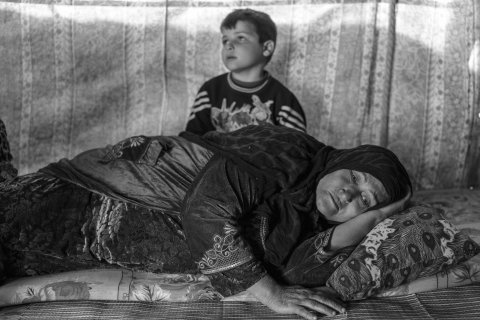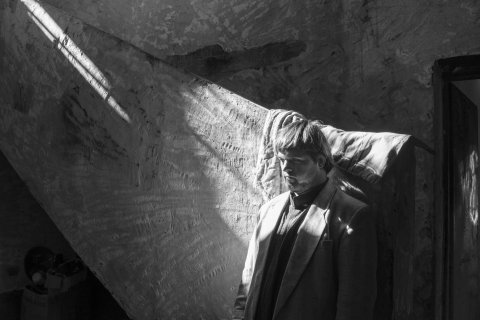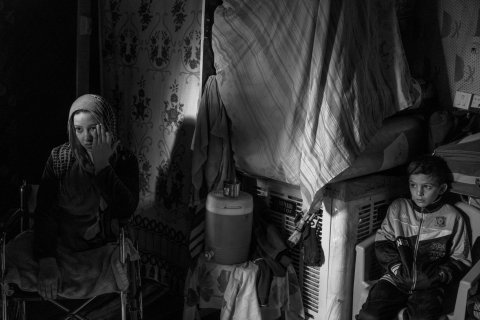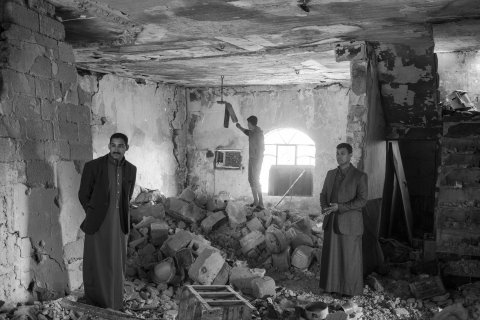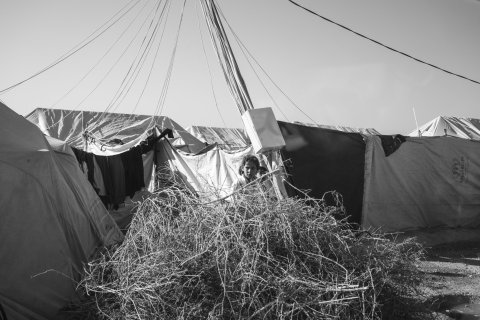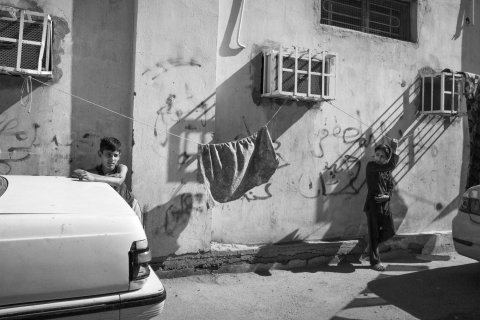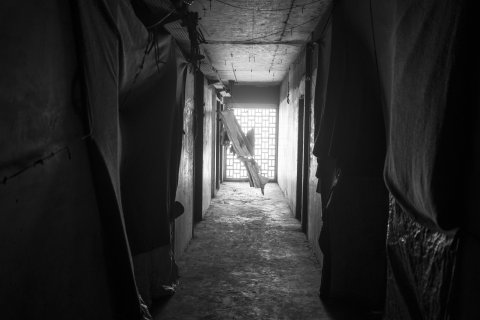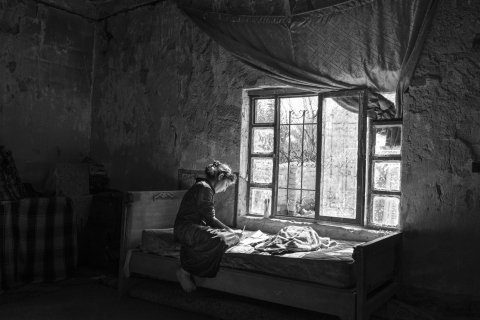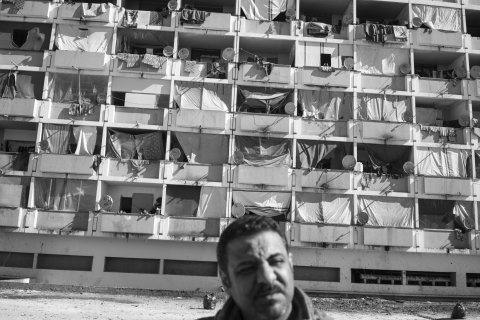 Moises Saman is an American-Spanish documentary photographer and a member of Magnum Photos. His book on the Arab Spring, Discordia, was published in February 2016.