Updated | Feral cats roam the deserted, rubble-strewn streets. The rusted skeleton of a burnt-out car sits outside a house used as a bomb factory; inside, the kitchen floor is littered with mortar parts and metal shavings. Almost a month after Iraqi special forces reclaimed Ramadi from the Islamic State militant group, Iraqi troops are still patrolling the streets and clearing booby-trapped buildings.
"Real estate office" reads a hand-lettered metal sign featuring the now-familiar logo of ISIS, an organization in retreat in Iraq but far from defeated. The Iraqi special forces officers with whom I'm on patrol fling the sign onto the empty street. In the seven months that it held Ramadi, the capital of Anbar province, ISIS financed itself in part by selling off public property, according to residents. In some places, it punished former police officers by forcing them to buy back their own homes.
After the catastrophic collapse of Iraqi security forces in the face of the ISIS onslaught in 2014, recapturing Ramadi in late December has clearly restored confidence.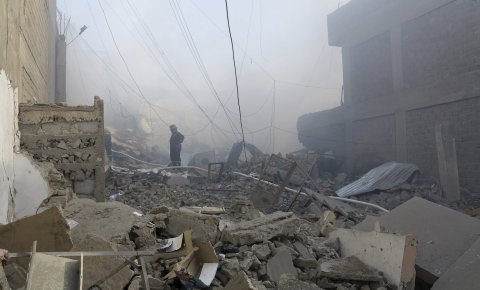 "Iraqis are conquering everywhere now," says Sergeant Major Hussein Youssef, who holds his rifle aloft as if he is posing for a recruiting poster. Youssef, a 26-year-old from Nasiriyah in southern Iraq, has been wounded four times and spent a total of six months in the hospital since he joined the special forces six years ago. (A few days after we meet, shrapnel struck him in the leg as forces retook the neighborhood of Sarajiya, one of the last ISIS holdouts on the eastern outskirts of the city. As an engineer tried to dismantle a roadside bomb, two others next to it exploded.)
In a house on the edge of Ramadi that serves as a tactical operations center, Major General Sami al-Aridhi, 3rd Division commander of the Iraqi Special Operations Forces, gives his go-ahead for a U.S. airstrike on the edge of the city. The radio crackles with grid coordinates as an Iraqi colonel at the center, in barely accented English, answers an Australian officer who is part of the U.S.-led coalition at Taqqadum air base, about 24 miles southeast of Ramadi. The colonel tells Aridhi the target is 12 armed men on the outskirts of Ramadi in an area where there are no friendly forces. Aridhi agrees to the U.S. airstrike. "Sometimes we locate the targets, and sometimes it's the Americans, but they don't hit it until they get our permission," says Aridhi, a former Iraqi army commander who was asked to return to duty in 2008.
The Iraqi colonel is from a different generation. A full colonel at the age of 34, Arkan spent four years receiving training in the United States. He does not want to give his last name or be photographed, but his relaxed, self-assured demeanor, as well as his black trousers and shirt and desert boots, are reminiscent of the American special forces. He says such training has continued in Iraq, and it's paying off. Iraqi security forces, Arkan says, are certainly capable of succeeding against ISIS. "It's not even a matter of opinion" he says. "We're doing it on the ground. We just took over a city."
It was not easy. More than 40 special forces troops and several hundred regular Iraqi army soldiers were killed in this latest battle for Ramadi. Special forces commanders say they killed around 130 ISIS fighters in the city and that about 180 civilians were killed in retaking the city—most by ISIS snipers and explosives laid by the group. As Iraqi troops approached the city late last year, ISIS detonated trucks packed with tons of explosives on bridges across the Euphrates River to keep the troops from advancing. Digging in for a fight, the militants laid explosives throughout the center of the city, connecting bombs to the wiring of houses and laying trip wire under carpets. "Iraqis have a lot of experience in war, but we've never seen these methods of fighting," says Aridhi, adding that almost all the buildings, even hospitals, were rigged with improvised explosive devices.
As the special forces troops advanced in Ramadi, they evacuated almost 4,000 civilians, whom they say ISIS had herded from district to district to use as protection against airstrikes. Medic Zuhair Jameel al-Said says he was able to lead hundreds of women and children to safety—except for one. As the troops were directing families onto a road that engineers had cleared of explosives, a bomb exploded in a house, scaring a small boy, who started running. When his mother raced after him, an ISIS sniper shot her in the chest. "She was six months pregnant," Said says. He put her in an ambulance, gave her oxygen and tried to keep her heart going, but he didn't know how to insert a chest tube that would have evacuated the blood from her lungs. She died before reaching the clinic. "We lost the mother and the baby at the same time," says Said, who sobbed when she died.
The Iraqi special forces found that the city had been divided into sectors. Fighters from Southeast Asia held one area, for example, and Russian and Chechen fighters had control of another neighborhood, one where ISIS leaders reportedly used to live. In some areas, ISIS bombs, Iraqi artillery and U.S. airstrikes had leveled almost entire city blocks.
The special forces troops say they are fighting to save Iraq. "We have Muslims, Christians, Yazidis, Kurds, Turkmen," says one noncommissioned officer, referring to most of the religious and ethnic groups in the country. But the ISIS takeover of large parts of Iraq has again laid bare the ethnic, tribal and sectarian fault lines that have been widening since President Saddam Hussein was toppled in 2003.
After the victory in Ramadi, the national police website featured a video of policemen beheading a captured ISIS fighter. In another photo, a fighter was hanged from the ceiling. The images were removed after complaints from Western officials.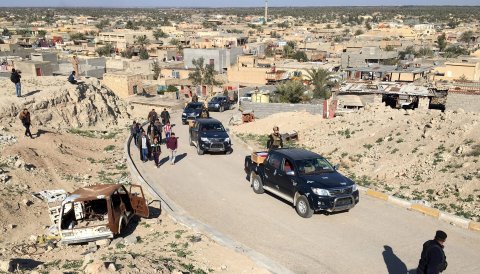 At the destroyed police headquarters in Ramadi, glass has been punched out of the window frames, leaving shards like broken teeth. Lampposts lean into the rubble of concrete and twisted steel bars. Police Constable Mazen Adel says the new national police unit he joined fought with the special forces to retake the city and are staying to hold it. The government recruited 2,000 Sunni fighters from Anbar to play a supporting role in the battle of Ramadi. Another 4,000, including Adel, will become part of the new police force formed as an alternative to the widely distrusted Shiite-dominated federal police.
"There will never be reconciliation. We will completely crush them," Adel says of the former ISIS supporters seeking amnesty, using the Arabic acronym for the group. "The people who support Daesh have no place in Anbar."
Ghost Soldiers
The fall of Ramadi to ISIS in May 2015 was more than just a military setback. Iraqi security forces had abandoned the city, leaving tanks, artillery and weapons behind, prompting a parliamentary inquiry, as well as accusations from the U.S. defense secretary that Iraqi forces were unwilling to fight. That followed the collapse and retreat of two Iraqi army divisions in Mosul in the face of an ISIS onslaught in 2014. Widespread corruption—many officers allegedly bought their commissions to be in a position to demand bribes, and others profited by selling supplies meant for the troops—proved fatal when the army was faced with an actual enemy.
When ISIS swept through the country and the U.S. didn't immediately step in, Baghdad turned to Iran for weapons, ammunition and military support. Iraq's most revered Shiite cleric called on all able and willing Iraqis to fight the militants, creating the Popular Mobilization Forces—a combination of former militiamen and volunteers who have led the fight in central Iraq. Hundreds of PMF troops, acting under nominal command of the Iraqi government, have been killed, and several thousand wounded. But Anbar and its Sunni population have been largely off-limits to Shiite fighters of the PMF.
Retaking the Anbar provincial capital, an ordeal described by one U.S. commander as "tremendously slow" and "intensely frustrating," has strengthened the resolve of Iraqi security forces. Still, "they move in fits and starts," says U.S. Marine Corps Brigadier General William Mullen. "They move for a couple of days. They stop for a couple of days. After six months of 'Why aren't you moving today?' it was 'OK, we really need you to keep moving.'"
Mullen describes their victory in Ramadi with almost no involvement of the Shiite militias or the PMF as a game-changer. "When they first started doing this, they didn't think they could do it, and at points it got very difficult," he says. "We provided significant strikes for them, but the actual fighting on the ground, the wounding and the dying, was all done by Iraqis."
Problems remain, however. One Iraqi army division commander in Ramadi was fired during the campaign for refusing to advance, and Western military officials say systemic reforms in the Iraqi military forces are still needed. The U.S. and U.K. spent years training Iraqi forces and reconstituting an army that had been disbanded after Hussein was toppled. When U.S. forces pulled out in 2011, the most effective training by advisers embedded within the units ended. U.S. commanders say they have seen the difference with counterterrorism troops that maintained a connection with U.S. forces. "All training is perishable," says Lieutenant General Sean MacFarland, the U.S. commander of the anti-ISIS coalition in Iraq and Syria. "That's why those brigades, when they were attacked by the enemy, never gave ground, and they held their own in almost every case. We will do that as we move north, and we saw the power of that."
Iraqi army Brigadier General Yahya Rasool, who is the defense ministry spokesman, says bravery and loyalty are hard to teach. "How can I persuade my soldiers to die without hesitation?" he asks. "That is the art of leadership."
Rasool's cellphone ringtone is the Iraqi national anthem. In his office at the Defense Ministry in Baghdad's Green Zone, an ad for the Iraqi security forces airs on state-run television, showing an Iraqi soldier kneeling after breaking the padlock of a church in Mosul. "The bells of Mosul will ring again," the public service announcement intones. Rasool says the defeats of 2014 and early 2015 caused many Iraqis to lose faith in the army. "After the collapse in Mosul and Salahadin, and also in Ramadi and other areas in Iraq, there was mistrust between the Iraqi people and the Iraqi army," says Rasool. "The liberation of Ramadi restored trust between the Iraqi troops and the Iraqi people."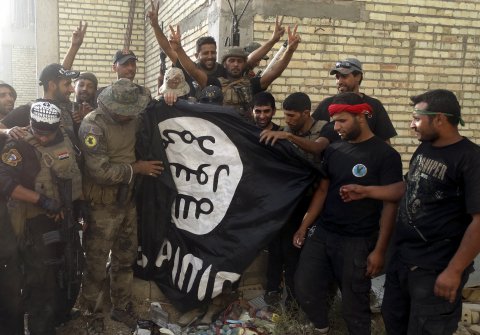 But the special forces and the retrained brigades are an island in what many U.S. and Iraqi officials still consider a sea of dysfunction. U.S. and Iraqi officials widely blame former Prime Minister Nouri al-Maliki for installing unqualified military commanders whose main claim to the job was personal loyalty. Around 40,000 "ghost soldiers" on the government payroll, who either didn't exist or never showed up for duty, have been eliminated, but some Western military officials say tens of thousands more salaries are still being paid to nonexistent personnel both in the army and the PMF. Coalition officials say key army divisions are at less than 30 percent strength. "On the very senior levels, I think there has been a tightening, but…the corruption in the ranks still exists, [and] the understaffing in the ranks still exists," says a senior Western official.
There are currently 3,500 U.S. troops in Iraq, most involved in training, advising and assisting Iraqi security forces, with an unspecified but increasing number of U.S. special operations forces more actively involved on the ground with Kurdish forces. About 19,000 Iraqi soldiers have now gone through coalition training in five military bases across Iraq. At Besmaya, north of Baghdad, Iraqi army companies trained by coalition advisers are put through simulated battles with live fire—aimed at giving them the confidence to stay out on the battlefield and the skills to survive. While most of the six- to nine-week courses focus on training as basic as how to hold a rifle, more specialized courses teach combat engineering and battlefield medical skills.
U.S. Ambassador Stuart Jones says when Ramadi fell to ISIS this past May, the U.S. was unfairly blamed for a failure of leadership and a lack of support. "This represents the reversal of that," Jones says. "It vindicates the U.S. strategy of providing air support…. A lot of the units involved in retaking Ramadi were trained by the United States."
The Militia Conundrum
While few dispute the need for the former Shiite militias in 2014 to prop up the weakened Iraqi security forces, now that ISIS is in retreat, the major question is whether they will willingly be disbanded once the battle is over.
"We have a lot of different groups out there on the battlefield," says MacFarland. "A lot of them are pursuing their own agendas. Some of them are pursuing agendas that are aligned with our agenda, and what we try to do wherever possible is get some sort of synergy between them and us."
Rasool, who worked alongside American troops fighting the Mahdi Army in Sadr City in 2008, acknowledges the inherent tension between the influential Iranian-backed members of the PMF and the United States, as well as the fluidity of armed Iraqi groups. The Sadrist forces that fought against the United States have now become a mainstream political movement. Leading members of the PMF, including Kataib Hezbollah and Asaib Ahl al-Haq, have been blamed for attacks against U.S. forces while they were in Iraq and have pledged to attack any American ground forces. "There is a sensitivity by the Popular Mobilization Forces to the [U.S. presence in Iraq]," says Rasool, adding that the PMF blames the U.S. for a friendly fire airstrike last year that killed some of its members. The U.S. has denied hitting any PMF forces and says only Iraqi aircraft were conducting strikes in those sectors. But concern about accidentally bombing Iranian-backed fighters has imposed strict boundaries on where the U.S. is willing to operate in Iraq.
At the command center responsible for coalition operations in Baghdad and Anbar, Mullen presides over a room of American and other coalition officers, as well as Iraqis. Walls of screens show intelligence, surveillance and reconnaissance images beamed from drones and other aircraft to enable targeting. One of the screens is focusing on a Humvee in ISIS-held territory ahead of Iraqi forces moving down the Tharthar canal in Anbar province. Mullen says his main aim is to ensure "the people we are hitting are the enemy—not civilians, not Iraqi soldiers, and most importantly they're not PMF.