When Sandra Cohen was diagnosed with breast cancer, she did whatever she could to avoid chemotherapy. She took homeopathic remedies and herbs, and she changed her diet. She even tried laser therapy. Nothing worked. When she reached stage IV—the cancer metastasized to her lungs, clavicle bone and lymph nodes—her doctors were shocked. "The doctors here just kind of shook their heads and said, 'How did you let this go so far?'" she recalls.
But she didn't give up. Instead, she went to Stanislaw Burzynski.
As a young doctor in the 1970s, Burzynski began treating patients with antineoplastons, a collection of peptides, amino acids and amino acid derivatives he originally isolated from blood and urine. Since then, by his reckoning, he's used the drugs to treat over 2,300 cancer patients—though he isn't trained as an oncologist. He's been the subject of laudatory documentaries and promoted by the likes of Dr. Mehmet Oz, the famous surgeon and TV personality, and Suzanne Somers, the actress-turned-naturopathic-medicine-advocate. "No one has worked harder, and no one has been more persecuted for his maverick approach," Somers wrote in her book Knockout: Interviews With Doctors Who Are Curing Cancer.
But there's no verifiable evidence antineoplastons work. Nor are they the gentle treatment Burzynski claims them to be. He has run Food and Drug Administration–approved clinical trials on the drugs since the 1990s, during which time at least six study participants died from hypernatremia, or high levels of sodium in the blood—likely due to the sodium-rich antineoplastons. Among the victims was a 6-year-old boy.
Over the years, Burzynski has been the subject of numerous investigations and legal proceedings, brought by grand juries, the FDA and the Texas Medical Board. As it's become more difficult to continue registering his patients in antineoplaston trials, Burzynski has treated patients in other ways, still outside the medical mainstream. He uses chemotherapy drugs in combinations that have not been scientifically tested—and whose toxicities, according to the medical board, pose an unwarranted threat to patients.
Now the Texas Medical Board has brought yet another case against Burzynski, seeking to revoke his license. As the hearing got underway in Austin in November, some of the doctor's former patients and admirers gathered to support him and to protest with placards. "I am a naturalist, and I believe that the body can be healed without the use of burning, cutting and poisoning it," said one woman, whose sister died of lung cancer. "I am for whoever is trying to do their part in saving people from having to go through pain."
Experimenting on People
"When I was first diagnosed, I thought this was it. I started making plans for my funeral," Wayne Merritt says. It was 2009, he had pancreatic cancer metastasized to the liver, and his doctor gave him six months to live. Less than a year before, his wife, Lisa, had been diagnosed with breast cancer, and he saw how difficult it was for her to go through chemotherapy. Wayne was determined that he wouldn't spend the last six months of his life feeling sick.
But then Lisa heard about Burzynski. The Merritts went down to his clinic, where they learned Wayne didn't qualify for antineoplastons but might respond to some other drugs. The couple made it very clear, Lisa said, that Wayne didn't want chemo. They saw Burzynski for 10 minutes, then were turned over to his staff. Lisa says Wayne had a daily appointment with a woman wearing a name tag that said "Dr.," and whom the other staff called "doctor"—but who, the Texas Medical Board says, isn't licensed to practice medicine in Texas.
Back home in Armuchee, Georgia, they got a shock. On their next visit with their local oncologist, she looked at the clinic's prescriptions and dropped three bombshells: One, Wayne was indeed on chemotherapy, among other drugs; two, the medications would cost about $30,000 a month—not the $3,000 to $6,000 a month they had been told; three, his medication regimen was dangerous. "It was devastating," Lisa says. "We felt like we got dropped on our face."
In a 48-page complaint, the Texas Medical Board says Burzynski and his staff knowingly misled patients, attracting them to the clinic with the promise of being included in trials for antineoplastons, when they knew most of the patients wouldn't qualify. The doctor or his staff told patients they would get the antineoplastons, before charging large retainers and ordering other treatments. The Burzynski clinic admits that about 5,700 of its 8,000 patients have received treatment other than antineoplastons.
The board alleges that Burzynski charged "exorbitant" amounts, billed for unnecessary tests, and failed to adequately disclose his stake in the pharmacy and laboratory that provided many patients' drugs and tests. Perhaps even more worrying, the board says Burzynski and his staff made numerous medical and record-keeping errors, including misinterpreting scans and using the wrong tests to evaluate patients' progress. Then there are the untested drug combinations. On its website, the Burzynski Clinic says it offers "personalized cancer therapy," using genetic analysis to customize treatment for each patient. But in expert testimony for the medical board, Dr. Cynthia Wetmore, director of the program in Developmental Therapeutics in the Aflac Cancer and Blood Disorders Center in Atlanta, said, "There's not a possible way to tell what drug is helping and what drug is not helping. The drugs are given in nonstandard combinations that never have been tested. They're given in nonstandard doses that are not known to be effective or safe. And combining them is experimenting on humans, which cannot be done outside a clinical study. That's unethical."
The board concluded that because of Burzynski's actions and those of his subordinates, "each of the patients in this case either suffered considerable toxicity effects or were put at significant risk of considerable toxicity effects."
Burzynski takes a different view—he says the drug combinations are evidence of his innovative approach to medicine. In an email to his former lawyer, Richard Jaffe, in January 2015, he wrote, "It takes a single pioneer to abolish dogma and save countless lives. This is our contribution to medical science." Burzynski argued that it's unfeasible to restrict practitioners only to tested drug combinations, because with almost 100 cancer drugs, testing every combination of five agents would result in "hundreds of thousands of trials." (Burzynski and his lawyers did not respond to a request for comment.)
But this misrepresents how drug research is done, says Andrew Vickers, attending research methodologist at Memorial Sloan Kettering Cancer Center. "You can't do large randomized Phase III trials of all these different combinations of treatments—that's why we do animal experiments. That's why we do cell line experiments. That's why we do Phase I and Phase II trials," Vickers says.
Burzynski's clinical trials for antineoplastons began in earnest after a 1996 appeals court ruling ordered him to stop prescribing the drugs or secure FDA study approval. But the Texas Medical Board says these clinical trials were severely flawed, and that Burzynski knowingly misled patients by describing the drugs as safe and effective when there wasn't enough scientific study to make that determination. The most reliable scientific sources agree with the board's assessment of antineoplastons. The National Cancer Institute (NCI), part of the National Institutes of Health (NIH), says in its summary guidance for health professionals, "No randomized controlled trials showing the effectiveness of antineoplastons have been published in the peer-reviewed scientific literature."
Because of the lack of strong scientific evidence, there is little concrete information about the toxicity or side effects of the drugs. On the one hand, says Dr. Wayne Jonas, who reviewed antineoplastons for NCI, the drugs probably have a lower toxicity than some chemotherapies prescribed for brain cancer. But on the other, studies of antineoplastons have observed serious side effects, including severe neurological toxicity, bone marrow suppression, hypernatremia, fatigue, stupor and coma, and potassium deficiency in the blood.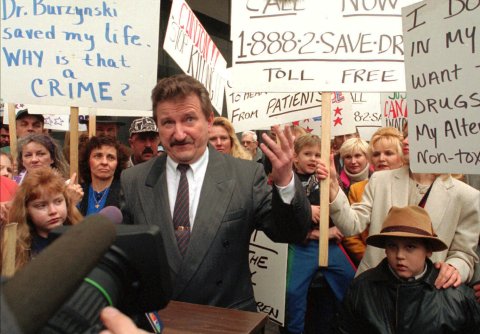 As far back as 1994, an FDA inspection found that Burzynski was misrepresenting side effects as minimal. Eighteen years later, a 6-year-old boy in one of Burzynski's trials died with hypernatremia. When the FDA found out, they put a partial hold on his trials, forbidding him from enrolling children. Later, the agency expanded the hold to include adults. As part of his effort to lift the hold, Burzynski sent the FDA an analysis of 2,185 trial subjects. Nearly half had suffered hypernatremia; the FDA argued that Burzynski had underestimated the number of cases caused by antineoplastons in this analysis and especially in his trial brochure, which claimed, "Most cases were not related to antineoplaston therapy."
While the FDA continued its back-and-forth with Burzynski over the trial data and marketing materials, patients continued to desperately seek out his help. The parents and grandfather of a New Hampshire 12-year-old with a brain tumor were convinced that antineoplastons were their girl's last chance, so they petitioned the FDA, secured a local doctor to oversee the treatment, and even wrote to their senator. In March 2014, they were finally granted a rare exemption.
But the family—who declined to speak with Newsweek— still needed a nurse to administer the antineoplastons, and the Burzynski Clinic said that nurse had to get trained in Houston. "At the time, I had a 7-month-old baby that was being exclusively breast-fed," the nurse, Ariel Dye, says. She told the family she couldn't just hop on a plane, but they said "we're looking for someone to go tomorrow." After a sleepless night, Dye decided to volunteer her services, accepting only travel expenses. But soon after she arrived in Houston for her training, she became suspicious. The training took only 30 minutes—for which, she says, the family was charged thousands of dollars.
At this point, Dye knew something about antineoplastons, and the scant evidence of their efficacy. Still, she fulfilled the family's wishes, returning to New Hampshire and administering the antineoplastons. The drugs were debilitating, causing hypernatremia that led to anemia and sleepiness. Every day, she and the family debated whether to continue, knowing that this could be the girl's last summer. After a few weeks, the family discontinued the treatment, and a few months later the girl passed away. Dye says the clinic never followed up with the family, either before or after the girl's passing.
After two years of Ping-Ponging records and paperwork with Burzynski, in June 2014, the FDA decided that the doctor's submissions to the agency had finally addressed its concerns around poor documentation, and it lifted the clinical hold.
No One to Apply the Brakes
Burzynski's supporters contend he is the victim of a staid and corrupt medical establishment. The popular Burzynski: The Movie , a two-part documentary by independent filmmaker Eric Merola, portrays the doctor as a visionary who has developed lifesaving drugs—but can't get them into the hands of patients because of government and industry obstruction. "Since the mid-1900s, the cancer industry—which means the National Cancer Institute, the FDA, the American Cancer Society, the AMA and some other organizations—have all been involved in one way or another in suppressing any treatments for cancer that are not put out by Big Pharma," says Tanya Harter Pierce, author of the book Outsmart Your Cancer , which includes a chapter praising Burzynski's work.
Chatting with supporters during a break in his Texas Medical Board hearing in November, Burzynski also struck a conspiratorial note, saying of the board, "They're working for big institutions, and their business is to get rid of the people who really are trying to do something on their own, without taking tons of government money." He said the board was trying to shield major cancer research bodies from tough questions about why he had succeeded where they had failed. "They are spending billions of dollars, and in a city like Houston we are the only ones who have come up with the discovery of an original anti-cancer medicine."
But Vickers says so-called "alternative" therapies do get institutional support. He chairs an acupuncture research collaboration and has published his acupuncture findings in JAMA . "The idea that there's these conspiracies to keep out unusual therapies, I just find nonsensical," Vickers says.
When you cut through all the grandiose claims, Burzynski's drug trials appear to be a smokescreen. His goal, it seems, isn't to prove his invention through the scientific process but only to treat as many patients with antineoplastons as he can. That claim doesn't come from his critics—it comes from his former lawyer, Richard Jaffe. "As far as clinical trials go, it was a joke," he wrote of one trial's design in his book, Galileo's Lawyer . "It was all an artifice, a vehicle we and the FDA created to legally give the patients Burzynski's treatment."
Given this startlingly frank admission, many critics ask why Burzynski is still allowed to run his clinic and to enroll patients in trials. "The FDA has inspected him quite a few times, and they always find stuff, but they never can quite seem to shut down his clinical trials," says David Gorski, a surgical oncologist at the Barbara Ann Karmanos Cancer Institute, and a blogger who's written extensively about Burzynski. Gorski says he's asked the FDA why it hasn't shut down Burzynski, and they've never explained. When Newsweek asked the agency the same question, it responded with a general statement, making no reference to Burzynski, saying simply that it takes action based on its most recent inspections, using all available information.
Yale University oncology professor Joseph Paul Eder argues that it's not really the FDA's job to stop trials just because a drug doesn't do anything. The system isn't built that way. "Typically, whoever's funding [the trial], the institution, NIH, or somebody else, would say, 'You're not meeting your goals. We're going to need to stop the study,'" Eder says. Since Burzynski funds his own trials—at least in part through patient fees— and hasn't established a partnership with any institution, there's never been anyone to apply the brakes.
But years of legal battles may have taken their toll. Last year, Jaffe quit as Burzynski's lawyer, claiming he was owed $248,000 in legal fees. The two eventually settled out of court, but not before the action forced Burzynski—a one-time donor to Congressman Joe Barton (R-Texas) and former Texas governor Rick Perry—to reveal that that he was $1.1 million in the red.
"Nothing Was as It Seemed"
Sandra Cohen is a Burzynski success story—sort of. She went to him seeking antineoplastons, and when she didn't qualify, she reluctantly started on chemotherapy and later agreed to surgery. She was also given high doses of sodium phenylbutyrate, a drug that metabolizes into some of antineoplastons' constituent chemicals. The drug is not proven to be effective in breast cancer, but Cohen feels it was an essential part of her treatment. Five years later, she is cancer-free. "Dr. Burzynski saved my life," Cohen says.
The Merritts also found an unexpected happy ending. They enrolled Wayne at a new clinic, one that used chemotherapy. Wayne also made dietary changes and took supplements. Two years into the new regimen, his pancreatic tumor shrank for the first time. Four years after that, the tumor is stable. Contrary to all expectations, he is alive. But Lisa says this is in spite of—not because of—the 20 days Wayne spent on Dr. Burzynski's drug regimen. Of her time at the clinic, she says, "We were deceived.… Nothing was as it seemed."
Meanwhile, Burzynski has vowed to keep fighting. The medical board hearing was due to wrap up in January, but after Burzynski was diagnosed with a heart condition, his lawyers successfully campaigned to put off the remainder of the trial to May. For his supporters and critics, the delay is nothing new—just another temporary cease-fire in a conflict that's gone on for four decades.
"Ultimately what we have will be approved because it works, it will benefit people," Burzynski told supporters at the Texas Medical Board hearing in November. "Whatever they're doing here, it will be exposed, and these people will be taken to justice because of their actions. They slow down the progress of cancer research and thousands of people will die needlessly. There'll be something like the Nuremberg trial for them in the future."
Correction: This article has been updated to include additional information provided by Sandra Cohen after publication.