There are only two methods human beings have figured out for escaping or countering gravity: head for outer space or go scuba diving. The latter is, for most, the more realistic option. I've never floated around in space, away from the natural force that roots us all, heavily, to the ground, but I have spent hundreds of hours floating underwater, and if walking in a true gravity-free field is better than diving, then all I can say is: lucky astronauts. The transformation that takes place when you lug your weighted body into the depths and instantly find yourself no longer pulled down like a stone never ceases to amaze and exhilarate me.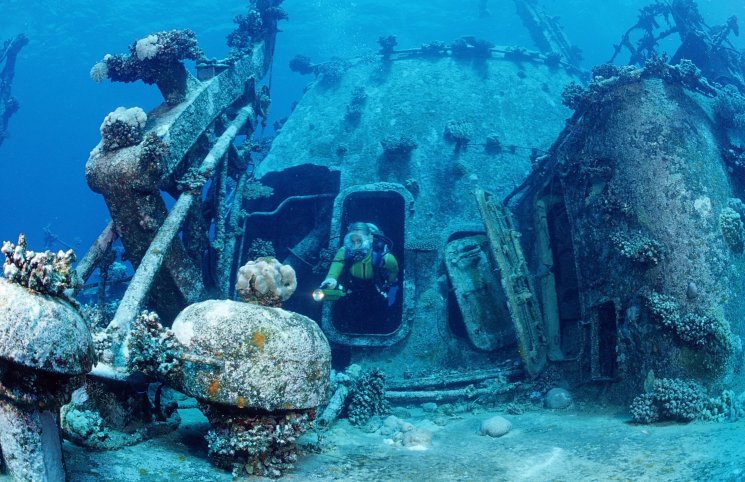 But you don't have to be a diver certified by the Professional Association of Diving Instructors to get close to that same feeling of floating. Just grab a mask, a snorkel and maybe a pair of flippers, and you'll be able to meander along the surface of the water for as long as you want. And through that mask, you'll see a whole new underwater world. Here's a selection of some of the best sites for snorkeling and diving.
Snorkeling
Great Barrier Reef, Australia
Regarded by many as the greatest snorkeling destination in the world, this UNESCO World Heritage Site stretches for 1,430 miles along the Queensland coast—from Bundaberg to the Torres Strait—and is the world's largest protected marine area. It supports more than 400 types of coral and 1,500 species of fish. In some places, it's possible to snorkel from an island resort; in other areas, you'll have to travel by boat to your snorkeling destination. You can make a day trip from the mainland on a high-speed catamaran or spend a few days on one of the islands ( Lizard Island, Bedarra Island, Orpheus Island and Hayman Island) and enjoy the snorkeling that all the luxury resorts there offer.
Ningaloo, Australia
No apologies for including two Australian snorkeling spots because Ningaloo—also a UNESCO World Heritage site—is unique. The 185-mile-long reef is one of the world's largest fringing reefs, which means you merely need to push off from the beach into the water, and you're almost immediately floating above a rich and varied coral garden. Beyond the reef, you can swim with whale sharks during the season (April to July), and several local operators are now offering swimming with humpback whales (August to October) for the first time. The reefs are rich with sea life; swimming with mantas and turtles and floating around shark cleaning stations are particular treats.
The Seychelles
The Seychelles archipelago comprises more than 115 islands; many are uninhabited, and most are surrounded by clear waters, coral reefs and flourishing marine life. The best sites are accessible by boat, and the two largest islands, Mahé and Praslin, are perfect jumping-off points. Mahé's St. Anne National Marine Park is the Indian Ocean's oldest protected marine park. It encompasses six islands and is easily accessible by boat. Curieuse Island, a mile and a half off Praslin, is also a national marine park and is known for its huge schools of vibrantly colored humphead parrotfish. At Channel Rocks, midway between Praslin and La Digue, snorkelers can see long-tailed eagle rays and slow-moving whale sharks—the largest fish in the sea.
San Blas Islands
Panama and Colombia are the gateways to more than 360 islands and cays (only 49 are inhabited) that make up the San Blas archipelago. Most of the reefs lie in shallow, crystal-clear waters, and coral and sea life here is abundant. Most people go to Isla Perro (Dog Island) for snorkeling; a shipwrecked gunboat lies 50 yards off the white sand beach. More than 30 types of tropical fish have been identified here. You can also expect to see turtles, sharks and octopuses.
Fiji Islands
A cluster of more than 300 islands in turquoise waters makes Fiji one of the world's most popular snorkeling destinations. The columns of coral here—Australian divers call them bommies—are home to starfish, mantas, reef sharks, more than 30 species of butterflyfish and angelfish, and giant clams that measure a yard wide. For the most brilliantly colored soft corals, head for Somosomo Strait, where you'll find the vibrant Rainbow Reef, a palette of orange, pink and lavender coral. Or head for Namena Marine Reserve for equally vivid sea creatures, such as neon blue ribbon eels swimming among turtles and tiger sharks. The best time to visit is from July to September, when the waters are clearest.
Scuba Diving
The Maldives
The best—and priciest—way to scuba dive in the Maldives is to go all-in and pay for a dedicated live-aboard boat that will guarantee you'll get up to four dives a day at different sites. This is bespoke diving at its best. The North Male and South Ari atolls provide good diving around the atoll walls with all manner of sharks, turtles and schools of game fish, as well as colorful tropical fish. The luxurious Four Seasons Explorer offers three-, four- and seven-night cruises. A weeklong trip aboard the less cushy MV Sea Spirit starts around $2,200, including airfare.
Sipadan Island, Malaysia
Divers who have not been to Sipadan dream of going there. Divers who have been there yearn to go back. The waters off this 40-acre island south of the Malaysian port of Semporna are home more than 3,000 species of fish and hundreds of coral species growing on top of an extinct volcanic cone. A vast undersea wall plunges 600 yards down just off the island's shore. Diving over that drop-off is truly thrilling—and a little scary. It can get happily crowded here: You can expect to see a lot of sharks, shoals of barracuda, large numbers of sea turtles, eagle rays and giant manta rays, grouper and humphead parrotfish. There are so many species that one diver I met joked that he could barely see the coral for the fish.
Bloody Bay Marine Park, Little Cayman
Although many of the Caribbean's dive sites are not what they were 25 years ago, after being damaged by overdevelopment on the coastline and overfishing, Little Cayman remains a gem. On its northern shore, Bloody Bay Marine Park has two spectacular dive sites. Bloody Bay Wall is a sheer coral cliff that plunges 2,000 yards down into the sea. On the face of the wall are coral gardens that sway as the currents move. It's a humbling sight. Those currents are seldom strong, and clear Caribbean waters offer visibility in excess of 25 yards—and the dive depths are by no means all quite as precipitous. That makes Little Cayman good for divers of all experience levels.
Great Blue Hole, Belize
Since Jacques Cousteau named the Great Blue Hole one of the best dive sites on the planet in the early 1970s, it has been on the bucket list of most scuba divers. The Hole lives up to its name; it's a giant sinkhole in the middle of Lighthouse Reef Atoll, a near-perfect circle 300 yards across and about 120 yards deep. Around 15 yards below the surface, divers usually notice the water shimmer—that means they are passing the halocline, the line that separates the saltwater at the top from the fresh water below. Huge tuna and other pelagics are everywhere, as are all kinds of reef fish. This vertical underwater cave is also a good place to encounter bull sharks and hammerheads.
The Red Sea, Egypt
The Red Sea is great for diving because of its ease of access and the amazing visibility underwater. Sharm el-Sheikh offers outstanding wreck diving; nearby Ras Mohammed National Park offers great wall dives with incredible coral formations; and Hurghada is also popular, as its conditions are perfect for learners, and there are easily accessible wrecks to explore. The most famous site in the Red Sea is the Dahab Blue Hole farther north. Rated by TripAdvisor as one of the world's best diving sites, it also has the reputation for being one of the most dangerous, nicknamed the "Diver's Cemetery." Divers trying to find a tunnel through the reef have sometimes ended up suffering nitrogen narcosis after descending too far beyond the recreational diving limit. The Egyptian Chamber for Diving and Watersports keeps a police officer stationed at the Blue Hole to make sure that a certified guide accompanies divers to enforce safety procedures. It's worth bearing in mind that diving might not be the only source of danger in the Red Sea; the region has been targeted by Islamist militants in recent months. The British government has advised British citizens to fly to Sharm el-Sheikh only when travel is "essential."