You never forget your first wave. Not your first whitewater wave, but your first ride along the face of a green-blue, unbroken and peeling wave. The first wave you truly surf. Everything changes. You just want that feeling—of freedom, speed, excitement and grace, somehow all at once—again and again.
The first wave I surfed properly was at Saunton Sands, a beach on the North Devon coast in England, when I was 18 years old. I grew up in Exmouth, on Devon's south coast, where surfable waves were hard to come by. I windsurfed and rode my skateboard, but I felt myself drawn to what seemed to be the best of all the board sports—surfing. As soon as my friends and I could drive, we would regularly head up to North Devon and try to master what, at least for Hawaiians, has always been the sport of kings.
We would paddle out at Saunton Sands and the area's other well-known surf breaks: Putsborough, Woolacombe and, the best of all them, Croyde Bay. We just wanted to learn to surf; we didn't care if it was a freezing winter's day or high summer—though the latter was certainly preferable. After all, surfing's most iconic film is Bruce Brown's The Endless Summer, in which two surfers follow the warm weather around the world, doing nothing really, except surf. The movie remains most surfers' dream, a point of reference to help measure how far away they are from the life they would most like to lead. The summer after I turned 18, I jumped to my feet, angled my board to the right of a perfectly peeling chest-high wave and sped along its face. The sheer joy was like nothing else on Earth.
Many years later, John McCarthy, a renowned Irish big wave surfer, summed up the appeal of the sport to me. "Surfing is the most blissful experience you can have on this planet," he told me. "It's a taste of heaven."
Without buying into cosmic clichés—well, not too much—McCarthy is right. I'm turning 50, and a lot has happened in the 32 years since I first rode a wave. I've worked in London and missed the ocean every day I did; I've exasperated partners by insisting that every vacation had to be somewhere with decent surf; I've given up the rat race to live minutes from the sea in the far west of Cornwall, England. And I've lived the dream, surfing every swell that came in, organizing my life around the tides, wind and waves.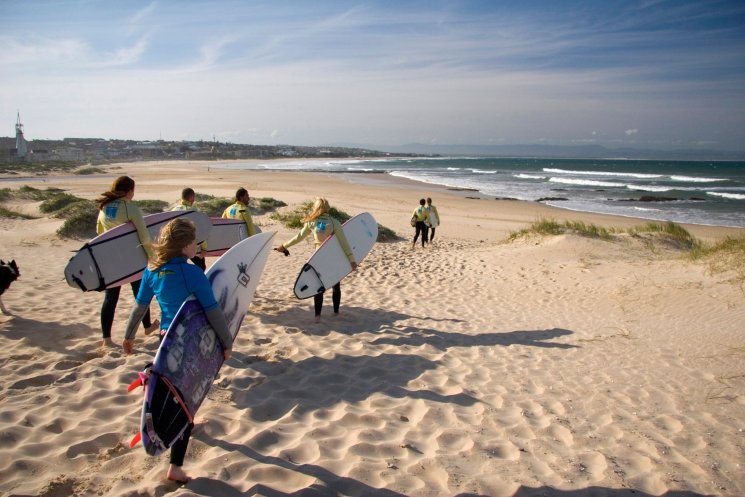 It's not all been good. I've seen the rise of localism, where Neanderthal fools believe that only they have a right to surf their breaks, and the spread of surfing's all-pervasive commercialism. (Take a trip to the casinos of Las Vegas: Surfing imagery is as prevalent there as diamonds and fast cars.) And I've had some bad injuries, including broken ribs and one that left me needing neck surgery.
Broken bones, worn joints, the changes middle age bring—all these things have made me adopt a more mellow approach, only surfing when the conditions are just right. But here's the thing: Even now, after a good session, I can't stop thinking of the last wave I rode. After all these years, that feeling still makes me want to paddle back out for more. So that's what I do—because you never forget your first wave, and your last one takes you right back to where it all began.
Not convinced? Try surfing—or even just watching it—at any of these world-class breaks.
The Soup Bowl, Barbados
Near the village of Bathsheba, on the east coast of Barbados, is an experts-only reef break known as the Soup Bowl, rated as one of the best by 11-time world champion Kelly Slater. At the age of 20, Florida-born Slater became the youngest professional surfer ever to win the world title. (At 39, he won it again, becoming the oldest world champion.) So when Slater rates a surf spot as good, it's going to be something special. Down the coast at Surfer's Point is also a perfect wave for beginner and intermediate surfers. Ask for the charismatic Zed Layson, a Bajan who runs the show there, and he will have you up and riding in no time. Oh, and the water temperature is 77 degrees Fahrenheit all year.
Pleasure Point, California
Santa Cruz has many fantastic surf breaks, but Pleasure Point may top them all. With good surf rolling in 320 days a year, this right-hand point break offers a number of different peaks. Nearby Steamer Lane is the home of the famous O'Neill Coldwater Classic contest. The cliffs above Santa Cruz's breaks make them great for surf watching.
La Santa, Lanzarote
Once dubbed "Lanzagrotty," the Canary Island of Lanzarote off the west coast of Africa has undergone a makeover in recent years, becoming an eco and sports haven. Europe's first underwater museum, the Museo Atlantico—featuring remarkable work by British sculptor Jason deCaires Taylor—opened in February. But for all the changes, one thing has stayed the same: the surf. It's not for nothing that Lanzarote is known as "the Hawaii of the Atlantic." The powerful right-hand reef break at La Santa is a classic, while there's also an ultra-heavy left-hand slab. Neither are for beginners, however—and watch out for the sea urchins (they're everywhere).
Banzai Pipeline, Hawaii
This wave on Oahu's North Shore is still the surfer's mecca, a proving ground for elite surfers from all over the world. It's a photogenic wave—fast, hollow and crystalline—but also deadly. More people have been injured or killed surfing Pipeline than at any other surf spot. It's definitely not for amateurs, but if you fall into the expert category, Pipeline is where reputations and memories are made. If not, you can watch the action from right on the beach.
J-Bay, South Africa
Jeffreys Bay, in South Africa's Eastern Cape province, has a legendary wave named after the town: J-Bay. The fast right-hand point break offers tubular heaven, but there's just one problem: sharks. J-Bay is where Australian surfer Mick Fanning, three-time world champion, was waiting for a wave in a contest last year when a shark attacked him. But you could learn a trick or two from him: Fanning punched the shark and survived unscathed.
Chicama, Peru
The average surfer rarely needs to complain of tired legs—the typical surf ride lasts for 10 to 20 seconds. But the Peruvian left-hand point break of Chicama, situated halfway between Lima and Peru's border with Ecuador, is believed to be the world's longest wave: You can surf for 4 minutes here—and leg cramps are a concern. Once deserted, Chicama now draws crowds from around the world. The upside is that this remote surfing outpost now has plenty of accommodations, from budget to luxury.
The Gold Coast, Australia
With awesome waves such as Kirra and Burleigh Heads along the Gold Coast, it's easy to see why Australia has produced more surfing world champions than any other nation. A suburb of the city of Gold Coast is even called Surfer's Paradise. Crowds aside, surfers of all abilities can find somewhere to surf here.
Alex Wade (AlexWade.com) is the author of Surf Nation and Amazing Surfing Stories. He is currently working on a biography of Russell Winter, the U.K.'s most successful surfer.