On May 20, Norwegian filmmaker Paul Refsdal was in a village in the northern Syria province of Aleppo when he heard an explosion. Camera in hand, he jumped into a white minibus driven by a fighter from the Nusra Front, Al-Qaeda's affiliate in Syria. The bus drove three miles to the nearby town of Tawama, where Refsdal—and the fighters he was with—inspected the damage.
A U.S.-led coalition airstrike had hit a base in the town, leaving at least 10 people dead. Refsdal's footage shows fighters from the Nusra Front struggling to lift the rubble from their "brothers." A clean-shaven civilian speaks angrily into the camera, saying the airstrike has targeted civilian homes and killed innocent people.
A Nusra fighter interrupts. "Easy now. There is both a military base and civilians here. Tell the truth. Tell them what happened," he says, before adding that the blast's intended target was, after all, a Nusra base. Refsdal understood the implicit message from the Al-Qaeda member: Film what you want—we're not going to feed you propaganda.
To his surprise, Refsdal found that the group remained committed to letting a Western journalist film the fighters openly and without censorship. The result is Refsdal's new documentary, Dugma: The Button, which he showed exclusively to Newsweek ahead of its premiere in Oslo, Norway, on March 10. It provides an unusually intimate look at some of the most demonized figures of modern conflict—suicide bombers. (The film will be broadcast on TV in at least four European countries in March.)
Refsdal says the group did not censor his footage at the end of his trip. Its only request was that he not film certain fighters or the exteriors of any houses. The group did not want the footage to help its many enemies identify its bases and safe houses.
Refsdal, 52, is a freelance journalist who has spent more than three decades reporting from conflict zones around the world; he has previously worked with rebel groups in Myanmar, Sri Lanka, Nicaragua and Kosovo. Dugma, which he shot over the course of two trips to Syria in December 2014 and May to June 2015, follows two Al-Qaeda-affiliated suicide bombers battling President Bashar al-Assad's dictatorial regime in Syria: Lucas Kinney, a 26-year-old British convert from West London, who is now known as Abu Basir al-Britani, and Abu Qaswara al-Maki, a 32-year-old Saudi national.
Refsdal spent a total of six weeks embedded with the Nusra fighters. His film offers the viewer a close look at the two men, who talk about their beliefs, their worries and their desires. We learn, for instance, that al-Maki loves singing and fried chicken, and that al-Britani, recently married, is now having second thoughts about martyrdom. His wife is expecting their first child, and he is torn about leaving his family behind. The would-be suicide bombers come across as complicated and even sympathetic human beings.
The U.S. and the EU consider Nusra a terrorist organization, with considerable justification. In the course of the war, the group has taken time out from fighting Assad's forces to kidnap 13 Greek Orthodox nuns and 45 Fijian peacekeepers, execute four Lebanese soldiers, and imprison and torture American journalist Theo Padnos for almost two years until his release in August 2014. In November 2015, Nusra spokesmen and supporters praised the attacks that month in Beirut and Paris that together left more than 170 people dead.
Refsdal's opportunity to embed with Nusra in the war-torn provinces of Idlib, Aleppo and Latakia arose after an earlier trip in 2013 to Latakia with Harakat Sham al-Islam, a Moroccan jihadi group founded by three ex-Guantánamo Bay detainees. While in Syria, he began to think about whether he might be able to embed with Nusra, one of the most influential jihadi factions.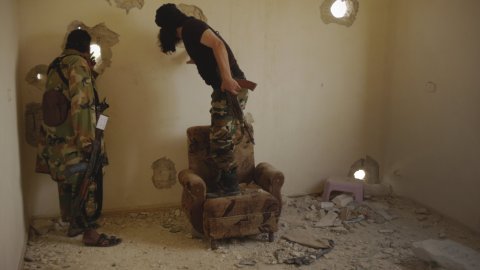 Refsdal had reason to believe the group might be open to working with him. In May 2011, U.S. Navy SEALs raided Al-Qaeda leader Osama bin Laden's safe house in Pakistan, killing him in the process. Among the many documents the SEALs took with them when they left the compound was a letter from Al-Qaeda's American-born spokesman, Adam Gadahn, to an unknown recipient. In the letter, Gadahn (who was killed last year in a U.S. counterterrorist operation) suggested more than a dozen journalists that Al-Qaeda should consider cooperating with. Among them was Refsdal, who had embedded with the Taliban in Afghanistan in 2009 while making a documentary on the war there.
The letter refers to Refsdal as "the Norwegian journalist who spent some time with the students in [Afghanistan] and released a film that was condemned in the West because he shows that the students are humans that have families and children and that they laugh and eat like the rest of the people."
Refsdal had heard about the letter, which was published online in 2012. In December 2013, after searching for a contact in the group, he and his translator approached a Nusra commander in Latakia. The commander informed Refsdal's translator that he could return in the spring.
In April 2014, Nusra's Latakia media office directed Refsdal to send it what he describes as a "job application." In addition to a presentation of his earlier work, Refsdal had to explain the need for such a project and describe what the film would entail. He made a point of noting that he had served in the Norwegian military. "The worst thing you can do is lie to these people and they discover it," he says.
Nusra accepted Refsdal's proposal in July 2014. He managed to secure funding from the Norwegian Film Institute, which is run by the country's Ministry of Culture, a Norwegian film center called Viken and Fritt Ord, a Norwegian private foundation that supports freedom of expression. (Refsdal struggled to find any TV stations willing to send a journalist to Syria, because it was so dangerous. But after filming was over, he received further funding from British, German and Danish TV stations for editing and production.)
Refsdal had made a decision very few Western journalists have made in recent years—to go back to rebel-held Syria. Five years into its civil war, Syria has become the world's deadliest arena for journalists. According to the Committee to Protect Journalists, 91 journalists have been killed in Syria since 2012. After the Islamic State militant group (ISIS) beheaded American journalists James Foley and Steven Sotloff in 2014, most news organizations and freelance journalists decided that rebel-held Syria was off-limits.
So why did Refsdal feel he could trust his hosts?
"Nusra do kidnap people, or arrest them," says Refsdal. "But that is if they enter their area without permission." He believes the group is sufficiently sophisticated to understand the potential upside to letting in a Western journalist—even if it restricts access to journalists approved by its late leader's inner circle.
"I think Al-Qaeda in general need to have some relations with journalists to bring their message out," says Refsdal. "They don't have to accept that these journalists are 100 percent in their favor, but if they can trust them to give a fair coverage, I think that's OK." It was a deal Refsdal was willing to make, and a risk he was prepared to accept.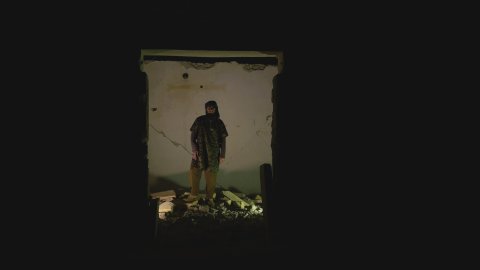 When he arrived in Syria from Oslo, he and his local translator drove for an hour across Syrian territory to reach the Nusra media office, located somewhere in Latakia province, in the northwest of the country. (Refsdal declined to name the town or to give more details about how he got into Syria.) There they met up with Nusra fighters.
Refsdal says the group made efforts to ensure his security while he was embedded with them, advising him to dress as a fighter. In the town of Harem, in the northwestern province of Idlib, the group's foot soldiers warned him to lock his doors because ISIS members were in the town. In Aleppo province, the group dispatched a Nusra shari (religious leader) to defuse tensions when a group of Chechens in an Internet café accused Refsdal of being a spy.
For the most part, Refsdal says he felt safe. In the evenings, the group would retreat from the front lines to villages, where Refsdal could walk around freely or spend time in Internet cafés connecting with his family back in Norway. "[Nusra] were just happy for me to be alone if I wanted to be alone," he says.
"It sounds very difficult and very dangerous, but when you are there, everything is easier in a way," he says, explaining that it was much easier to communicate with the Nusra troops in Syria (who were largely educated and spoke good English) than with the Taliban fighters he had met in Afghanistan.
Refsdal may have felt safe with Nusra, but he also had to consider the legal implications of embedding with a designated terrorist organization that considers itself part of the group that perpetrated the September 11, 2001, attacks in the U.S. Martin Bernsen, senior adviser at the Norwegian Police Security Service, the country's equivalent of the FBI, tells Newsweek the filmmaker was not detained for questioning upon his return to Norway because he did not pledge allegiance to an extremist group or join its ranks. Nevertheless, Refsdal's embed brought him face to face with the preparation and execution of terrorist attacks, which means he has a fairly in-depth knowledge about the group's workings.
In one scene in the documentary, for instance, al-Maki shows Refsdal around an armored truck in which a dugma (button) is located next to the driver's seat and connected to an explosive device in the trunk. (In a suicide mission, the assailant drives toward a target and presses the button on impact.) Another scene, which Refsdal captures from afar, shows a Turkish Nusra fighter detonating his explosive vehicle amid shouts of "Allahu akbar" (God is great). The film alternates between such moments of high drama and scenes of disarmingly ordinary daily life. Shortly afterward, we see al-Maki ordering kabsa, an Arabic dish of meat and rice, in a restaurant with fellow fighters and making a phone call to his mother in Saudi Arabia.
At another point in the film, as al-Britani clips roses in the garden of a Nusra safe house, another fighter jokes that he is "like [ISIS] to the flowers—he decapitates them."
There's a tension built into these scenes, and indeed in every moment of the film, because the viewer is always wondering: Did they end up doing it? Are the men we're watching already dead? Refsdal asked Newsweek not to reveal the fates of one of the suicide bombers. The other, al-Britani, does not carry out a suicide mission because he is part of a "long waiting list." The Norwegian journalist says he is happy to make public this detail because he believes that al-Britani's mother, Deborah Phipps, is "very worried" about her son. Refsdal and his producer, Ingvil Giske, are attempting to locate Phipps to show her the footage of her son.
Giske says Refsdal has made a film that challenges the world's perceptions of extremist groups. "He's trying to say that they are normal people and we have to treat them like normal people," she says. Come March, audiences can make up their own minds about that.