Over the past decade, swimmers around the world have been turning their backs on dull swimming pools in favor of the planet's almost limitless natural swimming spots. Just as surfers crisscrossed the globe in the 1970s in search of the best breaks, swimmers are now on the move, traveling the world to find new places in which to dive.
The experience of swimming outdoors was what drove the revolution in the beginning: the rediscovery of what it felt like to be in a river, or lake, or sea; how immersion managed to make you feel calm and energized at the same time. Swimmers often talk about how they find their "still point" through water, how it shocks them back to life. They say swimming helps them find their "tribe," forging deep connections to other swimmers and to the landscape that surrounds them when they are swimming.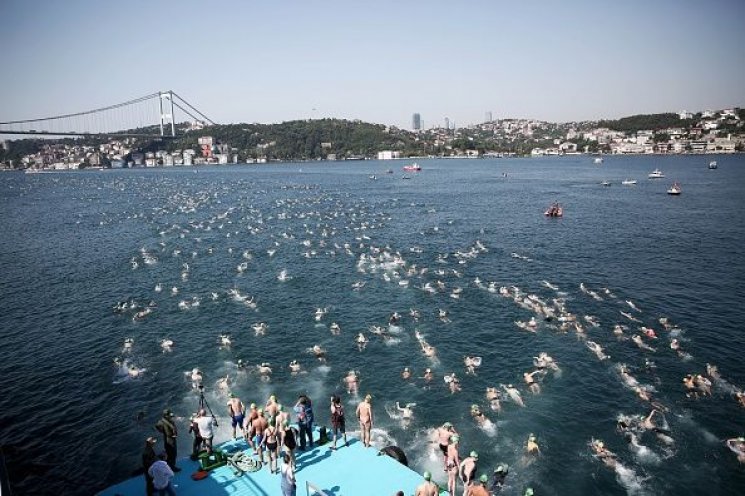 The opportunity to enjoy new parts of the natural world is what most thrills many people in the wild swimming community. Whether it's a river pool just a few miles from your house, or a wadi in Oman, water allows ordinary people to discover something new. There are rivers to swim down, seas to cross, and remote mountain lakes to catalog. You can dip into ice holes, paddle in river pools and waterfalls, and escape into the bright turquoise underworld of cenotes.
It's a bit of a shame that the term wild swimming even exists. This is an activity, after all, almost as old as humanity itself. I hope the wild will be dropped in time. Let's make "pool swimmers" the outliers. Here are some the best outdoor swimming spots to inspire you to join the revolution.
The Dart Estuary, Devon, England
Downstream swims don't come much more spectacular than the River Dart in Devon, England. It's one of the most iconic British swims: Flanked by old oaks and rolling hills, the Outdoor Swimming Society Dart 10K is an education in water and landscape. The 10K course—just over 6 miles—is an endurance test, perhaps the swimmer's equivalent to a marathon. The route begins narrow and the water there is relatively fresh; it becomes more brackish as the river widens and the closer swimmers get to the coast. The course is marked out by natural markers: a cormorant tree, the Sharpham Bends, the entrance to a huge creek. As they progress downstream together, swimmers become more like a community rather than competitors. The Outdoor Swimming Society has even invented its own collective noun to suit the experience: a contentment of swimmers.
Bosporus Cross Continental Swim, Istanbul
Once a year, almost 2,000 people take to the waters of the Bosporus—a sea strait that runs through the center of Istanbul and usually operates as a major shipping channel—for an annual swimming race. Every July since 1988, the city has opened up the strait for the Bosporus Cross Continental Swim, which begins on the Asian side of Istanbul and finishes on the European side. Huge tankers are held up on either side of the 4-mile course to allow the race to go ahead. The water itself is clear and fast. Take all the advice you can get from other swimmers about avoiding eddies (swirling currents) around an island in the middle, and when to start heading toward the finish line to avoid being swept right past it by the powerful current. But seeing as you swim under two of Istanbul's huge landmark bridges, remember to take a minute to simply enjoy the view.
Seljavallalaug Pool, Iceland
Iceland is a swimmer's paradise—full of hot pots and pools that make use of the island's geothermal energy, offering warm swims in a cold climate. You can swim in hot rivers, whizz down water slides and dip in hot pots that are signposted from highways everywhere. Most hot pots are free (and have changing shelters to protect you from the icy winds), though they can vary from purpose-built pools to repurposed cheese tubs.
One of my favorite swims is Iceland's oldest swimming pool: a 92-by-32-foot pool hidden in the Seljavellir valley in the south of the country. Filled with hot spring water, the pool was originally constructed in 1923 to teach Icelanders how to swim. It occupies possibly the most stunning location of any swimming pool on Earth: On one side is a rocky cliff wall, while the other side leads down into the river valley. It takes about 10 to 40 minutes to walk there from a parking spot at the end of a gravel road, and you can hop between rocks all along the Laugara river's black sand beaches. It is a peaceful, joyful, open place, and when the sun shines, the water becomes the color of fresh spring grass. Above are snowcapped mountains and a meltwater river falling down a gully in stages. There are no lifeguards and no rules—except, perhaps, be friendly to other bathers and take away all of your own litter (and perhaps anyone else's, if you spot it).
Finger Lakes, New York
Lush vineyards, warm summers, bald eagles, epic sunrises, hiking and cycle paths: the Finger Lakes of upstate New York offer a myriad of pleasures before you even get to the swimming. But the lakes here scream, "Swim me!" And pontoons, inland beaches and change houses welcome families. My ideal trip would be to rent a house with a private dock, maybe even a spare kayak, on Seneca or Cayuga, for swimming adventures. Try AirBnB or FlipKey for properties.
Cenotes, Yucatán, Mexico
In the Yucatán area of southeastern Mexico, rivers are sometimes swallowed whole. The limestone bedrock is so porous that the rock collapses, exposing groundwater pools, known as cenotes . These pools were considered holy in ancient Mayan culture and were often used for sacrificial offerings. Filtered naturally by the surrounding rock, the water is left cool and clear.
If you have been lucky enough to stumble upon a cenote, you will know that they are one of nature's most wonderful surprises: Above ground lies jungle scrub, dirt and dust; beneath, a bright blue subterranean world, with tree roots acting as rope swings and ladders. Floating on your back looking up at the sky, the view framed by hanging vines and giant tropical trees, is likely to be the high point of any trip to the Yucatán—though the region's tequila isn't bad either.
Twenty-five years after my first random cenote encounter, I long to go back to make a map. These days, cenotes are often signposted, with walkways and within eco-parks. Some swimmers and divers venture into cave systems with headlights and torches. On my list to visit: Cenote Azul, Cenote Dzitnup, Cenote Dos Ojos, Cenote Sac Actun and Cenote Yokdzonot. Go clean and freshly washed—deodorant and sunscreen hurt the biota—and aim for early in the morning before the crowds arrive.
Wadis, Oman
In the deserts of Oman, you can sometimes come across a striking oasis: green-blue water amid golden gullies. Wadis (the Arabic word for "valley") are usually dry but can contain water in the rainy season. Some are even fed all year round by natural springs. About a 40-minute hike from Muscat, Oman's capital, is Wadi Shab, a popular place for a swim and barbecue. Start by wading through the pools at the bottom of towering rock stacks until you reach what appears to be an impenetrable wall of rock. Closer inspection will reveal a crack to swim through; on the other side is a water-filled cave with a waterfall. "If you're lucky, you'll catch the sun filtering through the roof and the rainbow it creates," says one swimmer. Other wadis that offer a place for a discreet swim: Wadi Damm, Bimmah Sinkhole and Wadi Hawasinah. At Wadi Bani Khalid , which is fed by a natural spring, there are picnic spots and coffee shops. Two warnings: Wadis are prone to flash floods, which can prove fatal; and it is customary in Oman to swim in a T-shirt and shorts.
Ice holes, Lapland, Finland
An ice swimming craze is sweeping the U.K., South Africa and the U.S., and alongside it, an international chain of ice swimming galas has flourished. But the idea of making a hole in the thick ice of a lake—simply because getting in will make you feel wonderful—is not news in Finland, Siberia, Sweden, China or many other Baltic and Nordic countries.
Finland makes my bucket list of places to swim, because there are so many lakes that during the summer months you can practically swim across the country. You can also stay in Finnish summer houses on a tiny island. In winter, however, the real fun begins. Saunas tend to be found next to ice holes, allowing the dipper to heat up and cool down—all in a controlled environment. The combination of frozen lake, epic snowy landscape, ice hole and smoke sauna are unbeatable—and in Lapland, the northernmost region of Finland, the chances of glimpsing the Northern Lights add an extra thrill. Most ice holes are maintained by local clubs so tourists can't always get access. But as more tourists start to visit Finland in the hope of doing a little ice swimming, the country is opening up more and more locations. In the meantime, the Fell Centre Kiilopää near the village of Saariselkä in northern Finland has hotel rooms and cabins that allow you to enjoy river swimming and smoke saunas in style.
Kate Rew is the author of Wild Swim, a book about swimming around the U.K., and founder of the Outdoor Swimming Society, a worldwide collective of swimmers. She also founded WildSwim.com, a crowdsourced map with over 1,000 swims on it from Mongolia to Mexico.