Deep in the basement of the Tehran Museum of Contemporary Art, behind a door that opens with a spoked wheel like a bank vault, are some 2,000 paintings by artists such as Francis Bacon, René Magritte, Claude Monet and Paul Gauguin. Iranian curators say the collection is estimated to be worth $5 billion, but only a select group of people have seen it since the 1979 revolution. A few days after I arrived in Tehran in February, I was given a rare opportunity: a private underground tour of the former shah's art collection, one of the largest in the Middle East, housed in a building that the shah's wife, Farah Pahlavi, erected in the 1970s. There have been occasional limited exhibits, but most of the art has been in storage for decades. A few lucky visitors are now allowed to view the collection, and there are negotiations underway for at least part of it to travel to Germany and the U.S. in 2016.
"What do you want to see first?" I was asked as huge canvases were wheeled out one by one. There was an Andy Warhol portrait of Chairman Mao Zedong and an enormous painting by Pablo Picasso. (The collection is said to include some risqué works, including paintings by Picasso and Edvard Munch, but I was not shown those.) I stood in the cavernous, slightly dusty room and stared in awe. Upstairs, Chinese tourists, wearing smog masks to protect against Tehran's notorious pollution, were wandering through the gardens, gazing at Alberto Giacometti sculptures and looking at the paintings of a gifted Iranian artist, Farideh Lashai, who died in 2013. We could have been at the Museum of Modern Art in New York or the Tate in London. Later, I sat in the museum's sunlit café with Vida Zaim, who is working with her colleague Leila Varasteh, a Paris-based curator, to bridge the gap between the West and Iran through art. We drank Italian coffee and talked about how her country is changing. "As an Iranian, I'm very proud to know that many Western museums are discussing showing a part of this unseen collection to the outside world," she says.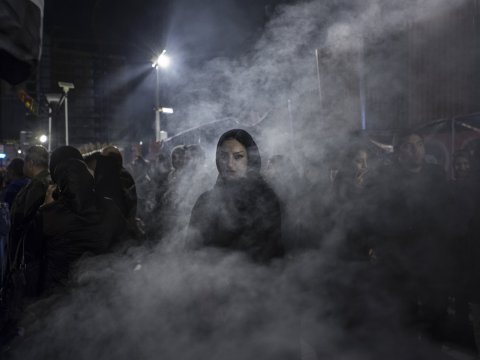 I've reported from 20 countries in the Middle East and North Africa, but it took me nearly 15 years to get a visa for Iran. I arrived a few weeks after the lifting of international sanctions in return for Iran's agreement to curb its nuclear program. Tehran is changing fast, and the art collection to me was a symbol of the country's emergence from a cocoon.
My hotel on Valiye Asr Street, a long, winding thoroughfare that runs through the city, was full of visiting delegations of European business executives and EU officials. There was a buzz of deals being brokered at informal meetings in the coffee shop.
I had to fly in via Turkey, but that will soon change. Air France is establishing direct flights from Paris to Tehran in the spring, and Iran Air is trying to get more competitive. In January, the Iranian government agreed to buy $25 billion worth of planes from Airbus, the France-based aeronautical company, and Iran Air is considering resuming flights to the U.S., where many Iranian expatriates have lived since the revolution. "We all have American relatives and family outside, so this means a lot to be able to travel more easily," says a dentist living in North Tehran whom I met at a party (like others I spoke to, he was reluctant to be identified so as to avoid drawing government scrutiny in a country where arbitrary arrest is common).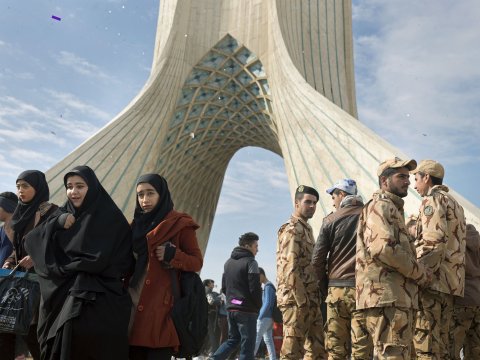 China is also expanding its trade with Iran, and there were many Chinese tourists on the streets. The Chinese, who have already built Tehran's modern subway system, have agreed to finance a high-speed railway modeled on France's TGV. China is also relying on imported Iranian oil, and President Xi Jinping visited Tehran in January to sign a deal expanding trade between the two countries to $600 billion in the coming decade.
In Paris, where I live, many friends are trying to visit Iran for business or pleasure, eager to study the cultural and historic treasures of the country before it is "ruined" by tourism. Sylvie Franquet, a French Arabist based in London, recently brought a group of writers, publishers and academics on a three-week tour of Iran. "There is so much to take in. History, friendly people, fabulous landscape," says Franquet. "Now is the time to go, before every brand moves in and it becomes like the rest of the world. It will change very fast now."
Two Cities
Perhaps the greatest schism I witnessed during my visit to Iran was between the conservative Tehran that many in the West imagine when they think of Iran's Islamic Republic and the wealthy suburbs of North Tehran, in the shadow of the Alborz Mountains. In the Elahieh (Paradise) neighborhood, which was once covered by lush private gardens, there are now expensive marbled apartments that are increasingly hard to buy. Here there are no chadors. The shops sell elegant clothes, and the women carry Chanel and Balenciaga bags, wear Lanvin and hold fantastic parties in their elegant homes, where servants circulate among the guests, carrying silver trays of delicious Persian specialties. These Iranians do not call for death to America—they speak several languages, many have graduated from American universities, and their children go to local French, British or German schools. I met several people in one afternoon who went to my alma mater in the U.S., Tufts University.
Weekends, which begin here on Thursday night, are spent at second homes, skiing at nearby Mount Tochal or racing purebred Persian horses. "But this isn't the way life is for most Iranians," says a banker who travels between Tehran, London and Boston. "We're Iranians, but people who live like this are really tourists in this country."
The elite in North Tehran are enjoying the changes since sanctions were lifted. Real money is coming back to Iran. Many of the crowd I saw in Elahieh are buying and restoring old homes from the Qajar and Pahlavi dynasties in Kashan, a lovely city about halfway between Tehran and Isfahan, for their getaways. A renowned Belgian neo-conceptual artist, Wim Delvoye, has purchased several houses in Kashan and is preparing to open a luxury hotel and a museum gallery in Kashan. A retrospective show by Delvoye, who worked with the curators Zaim and Varasteh, opened at the Tehran Museum of Contemporary Art on March 7. "It's thriving," says Nikki Diana Marquardt, who hosted an exhibition for the Iranian artist Reza Derakshani at her Paris gallery in 2008. "It's like London, Paris. It's like Dubai. It's not emerging; it has emerged."
Of course, the conservative Tehran of the last three decades still exists too. On February 11, a clear winter morning in Tehran, I walked through dense crowds to join a celebration of several hundred thousand Iranians carrying green, white and red flags, banners and placards with photos of their religious leaders. They gathered in Azadi (Freedom) Square to celebrate the anniversary of the fall of the shah 37 years ago. On that day in 1979, Ayatollah Ruhollah Khomeini returned from a 14-year exile in Iraq and France, and life changed radically in Iran. Miniskirts and champagne disappeared, and a violent rupture ended a long association with America, reviled as the sponsor of the autocratic shah. The epoch of the mullahs began. Among the crowd in Azadi Square were religious women in chadors, young boys with the Iranian colors smeared on their faces, families who came out solely to see the military hardware on display, and young soldiers marching in formation in red, white and green hats.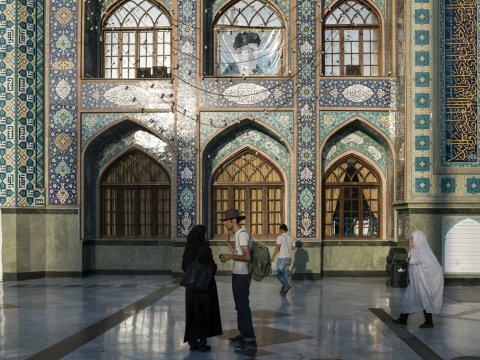 Some were hard-line supporters of the clerics who have dominated this country for years now, and I heard and saw plenty of slogans and signs saying "Death to America" and "Death to Israel." Still, people were friendly. Even clerics stopped to talk to me, as did groups of teenage girls, who echoed their support of the mullahs. Others tried to explain the context to me: "'Death to America' doesn't mean death to the American people," says an engineering student who studied at Georgetown University in Washington, D.C. "It means the end of the U.S. government controlling us. It means independence."
One afternoon, my government-assigned companion and translator, Ali Kejani, took me to the Tehran neighborhood Bahar Shiraz, where he grew up playing soccer on the streets in the days of the shah. He brought me to meet a friend, Fatimah Abbasi, a 78-year-old woman who lost four sons fighting in the Iran-Iraq War, which ended in 1988 and left 1 million dead. We sat and talked in her tiny flat, and this elderly woman seems to bear no bitterness to the government over the loss of her sons. They were martyrs for Iran, she says proudly. Instead, she blames America for her loss.
"I am still an enemy of the U.S.," she says. "I don't want relations with the U.S. We weren't in favor of the nuclear deal—we were forced. For years, they kept us under sanctions, and we survived. We ate less, but we were free of them."
Breaking Bad
Most of the anxieties expressed by Iranians I met have to do with whether they can fully trust Washington's intentions after the nuclear deal that was signed this past July between Iran and six world powers. Many in the United States, especially Republicans, have the same suspicions about Iran—as does Israel, which lobbied hard against the deal and is concerned by the anti-Israel rhetoric that has continued unabated from Iranian leaders. The nuclear accord was President Barack Obama's signature overseas achievement, and whether it endures will say as much about the wisdom of his foreign policy as it will about President Hassan Rouhani, who was the driving force behind it in Iran.
Iran has finally gained access to tens of billions of dollars of assets that were frozen overseas, and oil exports have resumed. The lifting of sanctions, Oil Minister Bijan Namdar Zanganeh told Iranian television, will allow Iran to "expand our relationship with the international community better than before." A strong performance by reformist candidates in the February 26 elections indicates a majority of Iranians support the deal, but there is also widespread suspicion that Iran compromised more than it should have.
"We were not the decision-makers in all this," says Rafat Bayat, a former conservative member of parliament whom I met in her office in a less elegant part of North Tehran on a snowy afternoon. Bayat wore a chador, but her son, a student whom I met before she arrived, brought coffee and fruit and talked to me about his favorite American TV shows, including Breaking Bad and House of Cards.
His mother, though educated at the University of Texas, seems more conservative than her son. "If the U.S. doesn't live up to its promises, we will start our program again," she warns. "You have to remember that we have not lost our scientists." She is also dubious that things will change quickly, at least for ordinary Iranians. "So far, even after sanctions, nothing has really happened. Our cash has not been returned. It has been all to the benefit of the Europeans who sold to us," Bayan says. "The foreigners are deciding whether they sell airplanes or Peugeots—we will truly feel the sanctions are gone when we make our own decisions about our own money."
Many Iranians feel that they were expected to accept strict limits on their nuclear program while other countries—including Pakistan, Israel and even the U.S.—are allowed to continue their nuclear development. On this point, there is real anger.
"[The West has] to take heed of what people say today," Ali Akbar Salehi of the Atomic Energy Organization of Iran told Press TV, the English-language channel in Iran, on the day of the anniversary celebrations. "There is no room for mistakes on their side. They have to understand this is a nation that never submits itself. Please stop testing this nation."
It may have been that kind of defiance and refusal to appear cowed by the West that led Iran to test a ballistic missile in late 2015, sparking howls of anger from those in the United States who have never trusted the Iranians and cries of "I told you so" from Israel. Obama responded by having his administration draw up a list of new sanctions against Iran, even as he was preparing to lift the nuclear-related ones in mid-January. Republicans complained that was too little and demanded a tougher response. While Obama has insisted sanctions related to Iran's support for terrorism and missile tests are separate from the nuclear deal, Iranians want all sanctions lifted.
"It can go either way," says Foad Izadi, a professor of American studies at Tehran University with whom I had tea. "Even the new generation, the youth with iPhones drinking Coca-Cola, can go anti-American if they don't hold their end of the bargain."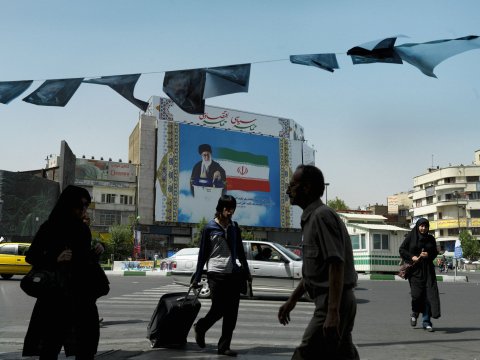 Vote for the Future
The two elections—Iran's this past February and the upcoming U.S. presidential vote in November—will be critical for the Islamic republic's future. "Donald Trump and other [conservatives] would be a disaster for Iran," says Saeed Laylaz, who has been an adviser to the Iranian government. "They've already said they would tear up the nuclear deal."
The doubts about the deal put Rouhani in a difficult position. He has fought for years to reach out to the West, but his power extends only so far: Supreme Leader Ayatollah Ali Khamenei has the final say on nuclear policy and controls the powerful Revolutionary Guard, which is playing a crucial role in Iran's overseas endeavors.
February's elections, for parliament and for the 88-member Assembly of Experts that chooses the next supreme leader, appeared to be a vote of confidence in Rouhani. Reformists did particularly well in Tehran, taking all 30 parliament seats and 15 of the 16 seats on the Assembly of Experts. Across the country, the result was more mixed, but reformists gained a substantial number of seats, which should give Rouhani leeway to push through more changes.
The gains came despite efforts to keep some reformists off the ballot. The powerful Council of Guardians, a watchdog that supports Khamenei, has the right to vet candidates, and it disqualified about 60 percent of the 12,000 people who came forward as parliamentary candidates. Many of those disqualified sought better relations with the West, reforms to promote a free market economy and less government control. The culling by the Council of Guardians meant that in some parts of the country, there were no reformist candidates on the ballot.
For all those in Iran who want reform, there are as many who resist change. There has been no let-up in repression of those considered dissidents. And while the United States negotiated a prisoner swap in January to free several Americans, another dual U.S.-Iranian citizen, Siamak Namazi, who was detained by the Revolutionary Guard in October while visiting family in Iran, remains in prison. His elderly father was also arrested in February.
"While in the long term the power of the Pasdaran [Revolutionary Guard] in Iran may wane with the country opening up, I think they can still do a lot of damage in the region, emboldened by the very deal that is designed to weaken them," says Nadim Shehadi, director of the Fares Center at the Fletcher School of Law and Diplomacy, pointing to the Revolutionary Guard's role in Iraq.
The lifting of sanctions and the subsequent resumption of oil exports give Iran a chance to ramp up its support for allies overseas. Israel complains that Iran continues to supply weapons to Hezbollah in Lebanon and others bent on the destruction of the Jewish state. Iran has, with Russia, backed the regime of Syrian President Bashar al-Assad, sending weapons, fighters and expertise to battle both the Islamic State militant group and the rebels backed by the United States and Saudi Arabia. Iranians are also fighting alongside Iraqi forces against ISIS in Iraq, and after the fall of Mosul in June 2014, the Revolutionary Guard was instrumental in pushing back the Sunni extremists from Baghdad.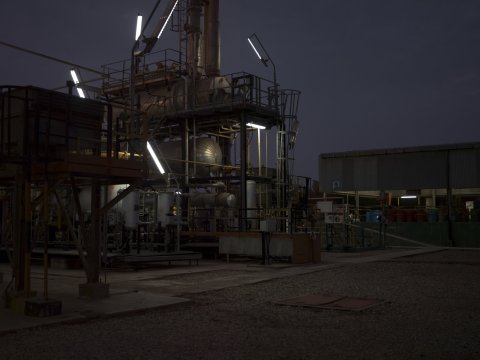 Hossein Sheikholeslam, a former Iranian ambassador to Syria from 1998 to 2003 and a government adviser on international affairs, is adamant that Iran is involved purely to fight ISIS and not to carve out a greater Shiite role in the Middle East. "From the beginning, we have always said and believed that the Syrian people should have their own destiny," he says.
Iran's support for Houthi rebels in Yemen, a Shiite group battling a Sunni government backed by Saudi Arabia, is another proxy war between Tehran and Riyadh, and could deepen into an outright Shiite-Sunni regional schism. The hatred between Iran and Saudi Arabia is deep. Saudi Arabia, feeling particularly vulnerable with an occasionally restive Shiite population of its own, made no secret of its opposition to the Iran nuclear deal. Many in Saudi Arabia see the biggest security threat in the region not as ISIS, but as the rising Islamic Republic of Iran.
"Whatever one thinks about other aspects of the Iran deal, it was an excellent outcome for the Iranian regime," says Shadi Hamid of the Brookings Institution. "Iran, benefiting from cash inflows and greater legitimacy among its people, will continue to play a more assertive and likely destabilizing role in the region." But, adds Hamid, "this isn't just about the Iranians. Saudi Arabia, Iran's archenemy, is also intent on playing a more muscular—and ultimately destabilizing—role, in part due to panic over U.S. disengagement from the region. Iran, for its part, senses and sees U.S. disengagement, which makes it all the more eager to step in and fill at least part of the power vacuum. This is not a good mix."
U.S. policy, he predicts, is the key factor. "As bad as U.S. involvement in the region has historically been, the region—as we have seen—is even worse off without it."
Tehran may be showing signs of change, but the struggle between reformers and conservatives is far from settled. "The problem with Iran is that there are two voices that are unable to solve their problems, like a man and wife who can't divorce," says Laylaz. "They cannot live together, and one side is set to destroy the other."