"In music...there's such a thing as a breakout moment for a brand-new artist, where they come out of nowhere and all of a sudden everybody is singing this song," Taylor Swift said to a roaring crowd of 50,000 in Philadelphia last June. It was her 1989 tour, and she was about to introduce a surprise guest. "The song I'm referencing is a song called 'Fight Song!'" The crowd erupted as if Swift had just promised to perform at every American girl's sweet 16.
Moments later, Swift sat down next to a singer-songwriter who, up until recently, most people had never heard of. With a clear, airy voice, Rachel Platten sang the first verse of "Fight Song," the spirited indie-pop anthem she wrote to convince herself not to quit an industry that had been rejecting her for over a decade. In the hazy video footage available online, you can see Platten gape at Swift as the Grammy-Hoovering pop star belts out the second verse of her song. Platten's cover girl smile flashes across her face, and she slowly, gently shakes her head. This was clearly the biggest holy shit moment in her life.
"Hearing [Swift] introduce me and the song brought tears to my eyes," says Platten, whose major-label debut album, Wildfire, hit No. 5 on the Billboard 200 in January, four spots behind Adele's 25. "During all of the difficult years of writing my album, I'd do an exercise where I'd envision different goals and things happening—me being presented with a triple-platinum plaque from a label, me sitting on my own tour bus, an arena throwing their fists in the air and screaming 'Fight Song!'—and it's crazy that every single one of those seemingly impossible things came true."
At 34, Platten is nearly twice the age of many of her pop star peers in an industry bewitched by youth. Swift, Lorde, Selena Gomez, Demi Lovato, Avril Lavigne, Christina Aguilera, Rihanna—they were all under 20 when they first made it. When I ask Platten to name other female singers who've gotten their big breaks in their 30s, she stops to think for a moment, then says, " I think Sheryl Crow? Tori Amos, maybe Sia. I don't know—that's interesting!"
She wasn't far off. Crow was 31 when her debut album, Tuesday Night Music Club, was released, and it wasn't until a year later that her hit single "All I Wanna Do" launched her career—and helped her win three Grammy Awards in 1995: record of the year, best new artist and best female vocal performance. Tori Amos was 29 when Little Earthquakes came out, and Sia was 29 when "Breathe Me" played on the finale of HBO's Six Feet Under, a moment she's described as "resuscitat[ing] my truly dying career."
Earlier in Platten's career, a manager asked if she wanted to lie about her age. She fiercely declined. "My age is not something I really focus on. I never saw it as a barrier, and I guess I still don't see it as much of a problem," Platten says. "I've shown that there are no barriers or age limits to being a 'pop star.'
"I'm so proud of the struggle. It's so easy to look back now and connect the dots—this is exactly how it was supposed to be. If you'd told me when I was 20 that I had 14 more years to go, I would have been like, What?!"
'What the Hell Am I Doing?'
Platten grew up in Newton, Massachusetts, and attended Buckingham, Browne & Nichols, a private school in nearby Cambridge. Some of her earliest memories are of her mother, a therapist, playing classical music on the piano. Platten started taking lessons as a child and later sang a cappella in high school. After graduating from Trinity College in 2003, she moved to New York City and started paying her dues, gigging at small clubs and bars, playing the 1 a.m. to 4 a.m. shift and getting fired from temp jobs. She joined a cover band and lived in a fifth-floor walkup in Greenwich Village, in the same building on MacDougal Street where Bob Dylan once lived.
When Platten describes her 20s, they sound like the trailer for Girls: The Movie —"lonely" walks in Washington Square Park, tear-stained journals, late-night pizza at Joe's and "beautiful nights of cramming all of my musician friends into a tiny bar in the village and singing at the top of our lungs and playing any and every weird cover song and instrument we could find and getting screamed at by the poor old lady who lived above the bar."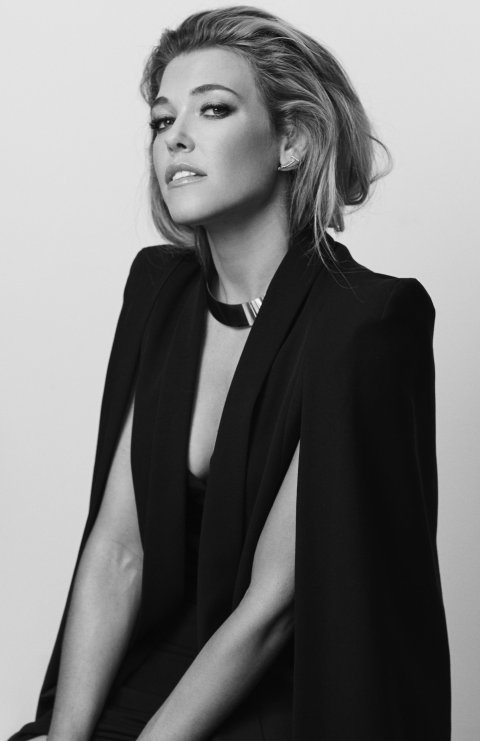 Platten scheduled her first tour by pretending to be her own agent, contacting small coffee shops around the country and booking gigs. She and her drummer, Craig Meyer, traveled from show to show in Platten's van. She put out two albums early on—Trust in Me in 2003 and Be Here in 2011—but they had only fleeting success. Her 2011 single, "1,000 Ships," reached No. 24 on the U.S. Billboard Adult Top 40 chart, and despite piquing the interest of major record labels, the minor hit wasn't enough for her to secure a contract.
"What the hell am I doing?" she remembers thinking at the time. "I'm broke. I'm about to be 30 years old. This is crazy to believe in myself."
That's when "Fight Song" came pouring out of her. Tears rolled down her cheeks as she wrote the chorus: "This time this is my fight song/Take back my life song/Prove I'm all right song." Steeped in fist-pounding determination, the song is a love letter to everyone who's about to give up on anything—a dream, a friend, a workout.
Over the past year, "Fight Song" reached No. 6 on the Billboard Hot 100 chart and spent nine weeks at the top of the magazine's Adult Contemporary songs chart. It's made cameos on Pretty Little Liars, The Biggest Loser, The Voice and the Supergirl trailer, and has been used in a Ford commercial and a Good Morning America inspirational campaign called #MyFightSongGMA. The song is so versatile you can imagine it blaring in fraternity basements, elementary school car pools, hip clubs and your local CVS. With 2.48 million downloads, "Fight Song" was the ninth biggest-selling pop digital download song in 2015. Hillary Clinton chose it as her victory song in the Iowa Democratic caucuses. And then there was the day Swift walked around in a "This Is My Fight Song" T-shirt. Platten's latest single off Wildfire, "Stand by You," is her second No. 1 song on Billboard's Adult Pop Songs radio airplay chart.
"Once in a while, I look through old journals that I kept during the writing of 'Fight Song' and Wildfire, and I'm so surprised by how sure I sound and how determined I seemed to be that 'Fight Song' would reach the world and help people. I don't remember feeling that confidence," Platten says. "I do remember feeling brokenhearted and hopeless and working even harder, maybe to make up for my lack of confidence."
Platten meditates, practices yoga and reads so many self-help books that she says her bedside table looks like it belongs to "a crazy person." She talks a lot about recognizing her heart's needs, quieting her ego and fighting her demons ("I still have them. I'm still insecure"). Platten, who's married, says one of the hardest parts about her newfound fame is balancing her career with her personal life. She's in the midst of touring around the country—in the last two weeks of March alone, she'll be in Chicago; St. Louis; Salt Lake City; Vancouver, British Columbia; Portland, Oregon; and Seattle—and she misses her family and friends.
"It's honestly one of the most difficult parts about having all my career dreams come true so suddenly. My life has changed so drastically so quickly, and I've felt a little strange lately," she says. But she grounds herself. In the midst of an "outrageously amazing" year, the most rewarding moments have been getting to know her fans. "It's overwhelming to get to hear and witness so much vulnerability," she says.
Vulnerability isn't the word we typically expect a pop star to use when talking about a hit song, but "Fight Song" has morphed into an anthem of strength for people fighting life-threatening illnesses. With the hashtag #MyFightSong, fans post photos, videos and messages about their struggles, and Platten curates them online. Over 50 million people have watched a video by metastatic breast cancer patient Holley Kitchen, who, before her death, shared her story as "Fight Song" played in the background.
The song also inspired the family of 5-year-old Kycie Terry, who suffered seizures and slipped into a coma after being diagnosed with Type 1 diabetes. When Terry woke up, her family made a video about her recovery, calling it "Kycie's Rehab Fight Song." (Soon after, she died of complications from pneumonia.)
For over a decade, Platten has worked with Musicians on Call, an organization that connects musicians with people facing difficult diseases. Of the tens of thousands of stories she's heard, one stands out. Christine Luckenbaugh was diagnosed with fatal brain tumors after 13 years of remission. "Her niece reached out to me to share an email that Christine had sent to 150 of her friends and family, where she had not only notified her family about her tumors' return but also included a link to 'Fight Song' and expressed how positive and strong she felt, and how the lyrics truly represented how she felt."
Platten wrote back—and then flew to Luckenbaugh's hometown of Montclair, Virginia, and performed the song in her church with all 150 of those friends and family. "It's something in my life I'm most proud of," she says.