Jackie Dill finds it nearly impossible to talk about her 1930s homestead without dissolving into tears. "We feel so helpless and hopeless," says the 65-year-old, quietly sobbing with her husband, Jim, beside her. "I try to be a brave soul, but it rips my heart out. Last year was ungodly. I held my breath every day."
In Oklahoma, a stone or brick home might save you from a tornado. But it might kill you if there's an earthquake—and the Dills, who live in the one-story stone-and-mortar farmhouse with their five dogs, have been overwhelmed with quakes. "Each year, it's gotten worse," Jackie says. "I counted 34 earthquakes in a single day last year. You know when it's coming, because there's a roar like thunder in the ground and the dogs start to howl. Then there's a big bang and a drop. The big bang is the ground breaking. Under our house, which is built on sand, the earth is giving way."
The earthquakes have cracked her home's foundation, walls, windows, sills and plumbing. A magnitude-4.4 quake last November buckled the rafters and split the front porch off the house, which is now sunken below the ground at one corner, she says.
When the Dills first moved to Coyle, Oklahoma, a rural town with just a few hundred people 37 miles northeast of Oklahoma City, they didn't notice any earthquakes. That was in 2006. When energy prices hit record highs in 2008, oil and gas drillers flocked to Logan County. The Dills fretted about the noise and the pollution—one rig a half-mile down the road keeps Jim awake at night, Jackie says—but they did not expect the quakes.
She says a local builder recently came to look at the house. "He said, 'I'm sorry, Jackie,' and he held my hand. The damage was catastrophic, greater than the value of our home." They do not have earthquake insurance and cannot afford the repairs. "Even if we had the resources, the house could just get hit again," she says.
Logan County has been one of the hardest-hit areas. It started feeling the tremors in 2012. Since then, Jackie has kept a log, counting more than 20 quakes in the Coyle area registering 4.0 or higher and countless smaller ones, which have increased in frequency and intensity every year.
Drillers in Oklahoma rely on new advances in hydraulic fracturing (or "fracking") technology, which involves injecting massive amounts of water deep underground, which can trigger seismic activity. In April 2015, the Oklahoma Geological Survey at the University of Oklahoma in Norman issued a statement that stunned many Oklahomans: The rate of earthquakes registering 3.0 or higher in the state had "increased from one and a half per year prior to 2008 to the current average of two and a half per day." For the first time, it also placed the blame on the oil and gas industry for "the majority of recent earthquakes," estimating the rate of quakes had spiked to "approximately 600 times" the historical average.
Even with that dire warning, members of the state Legislature and Oklahoma Republican Governor Mary Fallin have not acted fast enough, says Cory Williams, a lawyer and Democratic state representative for Stillwater, Oklahoma, which was hit by a magnitude-5.1 earthquake in February, the state's third largest. (The biggest one was in 2011 in Prague, registering 5.6.)
"I think it will take multiple deaths or injuries and significant property loss before we really see change," says Williams, who lives 20 miles from Coyle and estimates that one-third of Oklahomans are affected by quakes. "I called for a [fracking] moratorium three years ago, but we're not about to pass any legislation that might be at all detrimental to the oil and gas industry."
The Oklahoma Independent Petroleum Association (OIPA), the industry's largest trade group, has yet to acknowledge a direct link between energy companies' practices and earthquakes, calling for further study of the issue. (OIPA did not return Newsweek's calls for comment.) Meanwhile, on March 28, the United States Geological Survey (USGS) published its annual seismic hazard forecast, which, for the first time, accounted for induced earthquakes. " Wastewater disposal," the agency wrote, " was the primary cause for recent events in many areas of the [central and eastern U.S.]."
Oklahoma has a history of oil and gas drilling going back more than a century. Until the mid-1930s, it was one of the top oil producers in the world, and drilling hit a 25-year high in 2014. "We grew up together, all of us and the oil and gas industry," Williams says. "So we tolerate far more risk than we ever should.... We hate lawyers, but if our leaders aren't doing enough to reduce seismic events, citizens have no recourse other than the courts at this point."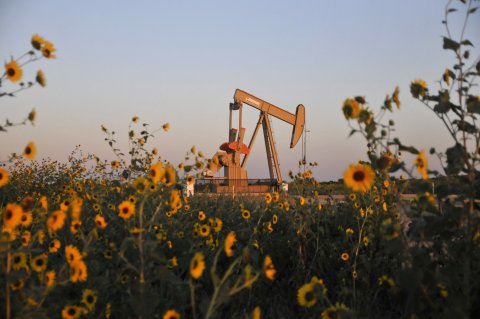 Last year, the Oklahoma Supreme Court ruled that people could sue energy companies for damages due to property loss and personal injuries (there have been many, but no deaths yet).
There's just one catch: Any citizen suing oil and gas companies for damages in Oklahoma can be forced to pay the industry's legal costs if the person loses the case. That means a lawsuit isn't an option for people like the Dills. "Our property has lost much of its value, but we can't afford to sue because we could lose everything," Jackie says. In this way, the laws hurt Oklahoma's poorest.
Now a lawsuit filed by the Sierra Club in Oklahoma City is taking a different tack. Rather than seeking damages under state law, it's suing for injunctive relief from a judge under federal law to stop the earthquakes, charging that four major oil and gas companies—Chesapeake Energy, New Dominion, Devon Energy and SandRidge Exploration and Production—are in violation of a national waste-management law, endangering both Oklahomans and the environment. (The companies declined to comment.)
"Damages lawsuits look backward. This is unusual in that what we are trying to do is stop future events like a really big earthquake," says Richard Webster, lead counsel in the lawsuit and a senior attorney with Public Justice, a Washington-based nonprofit law firm. A hydrogeologist by training, he says that to his knowledge, it's the first U.S. lawsuit ever filed to prevent earthquakes.
In 2015, Oklahoma was one of the most seismically active regions in the world, according to the USGS, registering more than 6,000 quakes—nearly 1,000 of them measuring 3.0 or higher. While most earthquakes are natural, the ones in Oklahoma are man-made, and preventable, says Daniel McNamara, a research geophysicist at the USGS's Geologic Hazards Science Center in Golden, Colorado.
"I've never seen anything like it," he says. "The increase is unprecedented for the number of earthquakes in one area. In Oklahoma's case, it's clearly connected to the injection of wastewater into the ground by the oil and gas industry." He estimates that even if the oil and gas exploration stops immediately, it could take a decade or more for the quakes to subside.
Johnson Bridgwater, director of the Sierra Club in Oklahoma City, says earthquakes have been violent in the central part of the city. "It's unbelievable to me that we're 18,000 earthquakes into this mess and no one has died yet," he says.
Fracking involves blasting water into the ground to unlock oil and gas from shale, but most of the damage is caused by the release of an enormous quantity of ancient and toxic groundwater—about 12 to 50 barrels for every barrel of oil produced, says Kyle Murray, a hydrogeologist at the Oklahoma Geological Survey. Once the oil and gas is extracted from the polluted groundwater, the latter is injected back into the earth via disposal wells stretching thousands of feet down. This is triggering seismic activity in underground faults, some of which haven't been activated for hundreds of millions of years.
Disposal wells have recently proliferated in central and northwest-central Oklahoma, where the earthquakes are most heavily concentrated, Murray notes, citing data he's been collecting since 2012. "The question is, How do we reduce the volume of water we're disposing of?" he says. "This is very filthy water, but we're looking at technology that can help us treat it" so the water can be repurposed for surface disposal, which should ease the stress on faults causing earthquakes.
In recent weeks, the Oklahoma Corporation Commission (OCC), the chief watchdog for the state's oil and gas industry, has asked energy companies to reduce the amount of wastewater they inject into the most earthquake-prone areas of the state. The OCC has also shut down disposal wells in Cushing, Oklahoma, site of the world's largest onshore oil-storage and pipeline facilities, which was hit by 4.0 and larger quakes in 2015, alarming the U.S. Department of Homeland Security, which considers Cushing's infrastructure critical to national security.
"The goal is to be able to manage the risk of increased seismicity, the same way we manage pollution," says OCC spokesman Matt Skinner.
The Sierra Club lawsuit seeks to go further, insisting that energy companies "reduce, immediately and substantially, the amounts of production wastes they are injecting into the ground." It also seeks an order requiring an independent earthquake monitoring and prediction center and a better way to verify wastewater-injection data received by the state, which is currently self-reported by the industry on an annual basis. The latter situation leads to poor data and "leaves room for bad actors," says Williams, the Democratic representative.
"Sometimes I feel incredibly irresponsible for staying to fight this battle and having my kids here," says Williams, a father of two. "When we have a tornado, we know it's coming and can prepare for it. This, you can't prepare for. You never know when it's going to hit. It takes a real toll on your nerves. You are lying in bed, thinking, Is this the time the earth collapses on me? Oh, it's just another 4.0."
There has been one cause for relief: The recent plunge in oil and gas prices has reduced drilling. "We were saved by the global economy," Williams says. "If oil had stayed at $75 a barrel, it would have only been a matter of time before a horrifically tragic event."