It was a miracle, the Nepalis say, that the 2015 Gorkha earthquake, which registered a magnitude of 7.8 and shook their Kathmandu Valley onto the world stage, happened on a Saturday morning. Throughout rural Nepal, children were in their home villages instead of away in the schoolhouses, and most everyone was out in the fields planting, picking, cooking and playing. When the ground rumbled on April 25, the people swayed, fell to their knees in the dirt and felt their hearts race as they looked out across the valleys and saw homes topple. When the shaking stopped, they ran through the switchbacks carved into the terraced hills to their stone-and-mud homes, most constructed at great cost and with their own hands over many years, to assess the damage.
Over 600,000 houses crumbled that day, according to the Ministry of Home Affairs (some 300,000 more were partially damaged)—but only around 9,000 people died; consider that the death toll of Haiti's 2010 quake is thought to be well above 100,000. The people of Nepal counted their blessings and resigned themselves to making a new life.
A year later, roads have been cleared and businesses have reopened; the traffic in Kathmandu is again making rush hour unbearable, and the city air unbreathable. But most of the rubble remains, and state-of-the-art, earthquake-resistant structures have not risen from the dust. In fact, among the dozen or so villages I visited in the first week of April 2016, not a single ruined home had been rebuilt. Instead, the majority of Nepali families who lost their houses now reside in precarious temporary dwellings made of corrugated metal, plastic tarpaulin and whatever other materials they could salvage.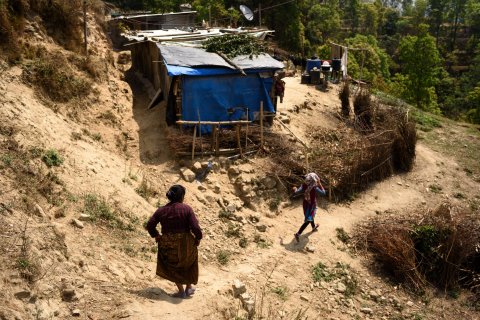 This was not the plan, of course. But in the months following the earthquake, the cost of building materials skyrocketed thanks to massive demand, and while people sought shelter under tarps, they were scrambling for necessities like food and clothing—most lost not only their homes but also all their possessions. The government of Nepal tried to help, assessing the damage as quickly as it could and providing families that lost their homes 15,000 Nepali rupees (about $140) to tide them over. Six months later, when government officials realized survivors were still living day to day and with winter on the way, another 10,000 rupees ($94) per family was distributed for blankets and warm clothing.
The government has promised an additional 200,000 rupees ($1,881) to help rebuild but has yet to deliver. "People come and go but never do anything. We've yet to receive anything," says Tejkumati Nagarkoti, a 52-year-old woman living in a temporary shelter in Bajrabarahi. There were about 120 houses in this hillside community before the earthquake; just three or four are still standing. Nagarkoti says that for a while her neighbors would regularly visit the local government office to ask for financial help. The last time they went was two months ago, though. People give up, my translator tells me, because the answer is always the same: "Later." (Even if that money comes through, model designs the government has circulated estimate that the cheapest house meeting the newly instituted building code standards will cost 500,000 rupees, more than double the government pledge.)
The old houses in this region tended to be two stories and comfortable; the metal walls of the new homes turn them into ovens in the summer and offer no insulation in the winter. One woman tells me she wraps herself in three blankets when she goes to bed and still shivers through the night. In Kharelthok, Ganga Mainali struggles to take care of her 10-month-old baby boy. Her husband suffers from a severe mental disability; if he doesn't take his medication, he becomes violent, but the medication makes him sleep all day, which means that neither Mainali nor her husband can work. Soon after the earthquake, she says, the police came to their village and told them they had to clear the rubble that remained from their fallen two-story stone-and-mud home. But the police didn't help them rebuild or provide any shelter. They were given 15,000 rupees, but, says Mainali, that went immediately to buy medicine for her newborn. "I miss my old home," she says. Both Mainali and her husband seem to be in a post-traumatic state: "I'm afraid of the aftershocks," she says. "I sleep by the door so I can run."
[RELATED: A Year After the Earthquake, the Poorest in Nepal Suffer the Most]
Nighttime is particularly frightening for women and children. "At night, I'm scared someone—drunkards—will get in the house," says Prapti Tamang, a 24-year-old living in a one-room shack in Nagarkot. She is alone with her 5-year-old son in a house with no locks and walls made of tin. "The doors are weak, and anyone can break in." The fear, she adds quietly, is of rape. Since before the quake hit, Tamang's husband has been living and working in Qatar, sending money home. This is common in Nepal; more than 2 million Nepali nationals are currently working abroad. There are 12 households here in Ward 11 of Nagarkot, and in six the father is thousands of miles away.
In other parts of Nepal, new communities have been formed. Laxman and Hariyama Gonga used to live with their children and grandchildren in a five-story home in the city of Bhaktapur; the family ran a shop on the ground floor. Now the elderly couple lives with about 60 other families in the Libali Internally Displaced Persons Camp, where 100-square-foot, one-room tin sheds are packed wall to wall like freight containers on a cargo ship. Each houses up to six people; some members of the Gonga family live here, while others are dispersed through the district. In the center is a courtyard where children play, and one of the sheds acts as a shared kitchen. Residents help one another gather water, sew blankets and track down food.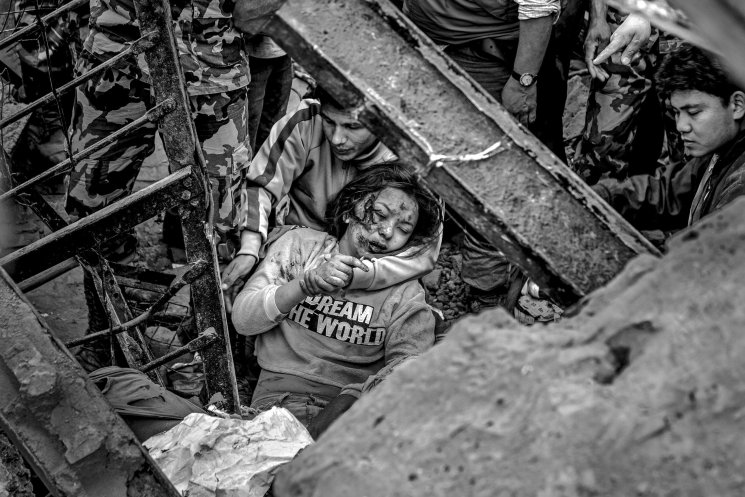 The hardest part of living in the Libali IDP camp, residents say, is the lack of water and sanitation. "For the first three months, the municipality provided drinking water, but then they stopped supplying because of fuel shortages," says Narayan Prasad Khaitu, president of the camp management committee. Now, to get drinking water, residents leave the camp and either use the tap of a friend or family member nearby, or walk 15 to 20 minutes to the nearest public tap—which runs just once a week and for one hour at a time, Khaitu says. Estimates are that 117,000 IDPs live in this sort of camp in Nepal.
Throughout Nepal, water has become a pressing concern. The earthquake destroyed nearly 5,200 water supply systems and 220,000 personal toilets, says Ram Chandra Devkotka, director general of the Department of Water Supply and Sewage. In some cases, tanks cracked or pipes broke. In others, the shifting earth changed groundwater levels or stream flow, causing water sources to suddenly disappear. Around 1.14 million people are now in need of a consistently safe supply of drinking water, and 1.04 million do not have access to usable toilets. At first, says Pyati Nagarkoti, a 32-year-old resident of Bajrabarahi, "we lived in tents. Food was more pressing than rebuilding. Now, after a year, it's water. We can't grow vegetables. We can't bathe, and we can't properly clean the children."
The financial requirements to fix these problems nationwide might be insurmountable. According to a Post-Disaster Needs Assessment prepared by Nepal's National Planning Commission, the total amount required to fully recover and rebuild is estimated to be $6.6 billion—about one-third the annual gross domestic product of Nepal. The World Bank predicts Nepal's annual GDP growth rate will plummet from around 4.5 percent in the early 2010s to just 1.7 percent in 2016, and UNICEF's Nepal representative, Tomoo Hozumi, says an estimated 700,000 to 982,000 people have been pushed into poverty after the quake.
Meanwhile, inflation is rampant. When the April 2015 earthquake hit, Nepal was still governed by an interim constitution; in September 2015, a final constitution went into effect and was immediately met with controversy—certain ethnic minorities felt it did not address the needs of their communities. Protests began, and a blockade was put into place along checkpoints at the Nepal-India border, leading to a fuel shortage across Nepal, which triggered further price increases. "While food prices are now returning to normal across the country, markets and market access in earthquake-affected areas have not returned to normal in many areas," says Pippa Bradford, the World Food Program country director for Nepal. In the hill villages of Bajrabarahi, for example, a sack of rice that cost 500 rupees before the quake costs 1,800 as of April 2016.
The experience of other countries devastated by natural disasters is not encouraging. Recovery from the 2005 Kashmir earthquake in Pakistan, for example, has been exceedingly slow, to the point that many gave up hope and migrated, says Emily So, director of Cambridge University's Centre for Risk in the Built Environment. After the 2010 earthquake in Haiti, an unprecedented amount of aid—at least $13.5 billion—was pledged and donated. Nevertheless, six years later, real rebuilding still has not begun in earnest. Even in the U.S., it wasn't until July 2012, nearly seven years after Hurricane Katrina, that the Federal Emergency Management Agency's temporary housing was cleared.
In Nepal, the rebuilding process is largely in the hands of the National Recovery Authority, the agency formed to supervise and distribute the $4.1 billion in international aid and donor funds that have flooded into the country. The NRA has been widely criticized for the glacial speed at which it has been working. "Government intervention has been slow," admits Devkota of the Department of Water Supply and Sewage. But it's difficult to put the blame squarely on the NRA. "It took over six months to establish the authority, and then we had to finalize the legal framework and the human resources needed," says Sushil Gyawali, the NRA's chief executive officer, who was appointed in December 2015. Finally, after the government announced the monetary relief schemes, the number of those claiming homelessness suddenly shot up from about 570,000 households to about 770,000, and the NRA was called upon to do a complete reverification, further setting back the recovery timeline.
Meanwhile, the people had no choice but to begin constructing something better than tarps. The effort that some families have put into their temporary homes suggests that they understand it could be years—even decades—before they save enough to rebuild properly. Everywhere I went, I saw families working together to improve their tin sheds—pouring better foundations, adding reinforced studs, building covered porches, second rooms and even second floors. Before the 2015 earthquake, 31-year-old Prakash Parajuli and his family lived in a three-story stone house built by his father. "I grew up there," he says. "When I saw the damage, I cried. Only the clothes I had on remained. I cried for a week. But life couldn't be spent under a tent." So he laid a raised clay foundation that sets their new home apart from the surrounding properties and engineered a patio with built-in flowerpots and crop gardens, set off by a trim of angled bricks; it's covered by a rooftop held up by wooden beams painted periwinkle and is Pinterest-ready.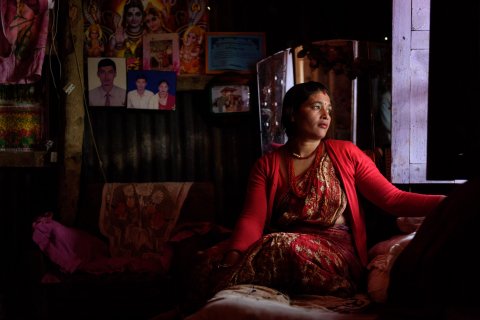 But despite the pleasing aesthetics, the home has weak bones, and it does not keep out the cold in the winter or the heat in the summer. "We are afraid every time there is a storm," says 31-year-old Sabita Parajuli. Her 10-year-old daughter, Prapti, sometimes wakes up from nightmares, crying, and there have been over 400 aftershocks, an ongoing terror to Sabita, who knows their temporary home is just that. "If another earthquake happens," she asks, "what are we going to do?"
Correction: A previous version of this article misspelled the name of the director general of Nepal's Department of Water Supply and Sewage​. It is Ram Chandra Devkota, not Devotchka.