Updated | One day after tabloids revealed that Huma Abedin's husband, Anthony Weiner, had sexted yet another picture of his junk in underwear to yet another female "friend" he'd never met, the long-suffering Hillary Clinton aide finally did something her boss never did—she announced in August that she was leaving her errant spouse. Their separation closed one avenue of attack for Donald Trump, who had made Weiner's instability a talking point since before he won the Republican primary.
But the FBI's discovery earlier this month of a reported 650,000 of Abedin's emails on Weiner's computer, and FBI Director James Comey's announcement Friday, has made Abedin herself a campaign issue, if not a liability.
The FBI investigation into alleged mishandling of classified information ended without charges filed in July. But partly because FBI Director James Comey, in his unprecedented public explanation of that decision, called her "extremely careless," Clinton was unable to shake suspicions that she did something wrong.
Now all eyes will be on how the candidate, with eight days left until the election, handles revelations that her most trusted aide left hundreds of thousands of emails—some believed to be related to her work with Clinton when she was secretary of state—on her husband's laptop.
Abedin has arguably been closer to Hillary Clinton than any other single person in the last 20 years. Her remarkable rise from girlhood in Jeddah, Saudi Arabia, to lowly intern during the Monica Lewinsky scandal, to campaign vice chairman and possible White House chief of staff, remains one of the least understood and most intriguing aspects of Hillary Clinton's organization.
In 1996, two young, ambitious women worked at the Clinton White House. One was assigned to the West Wing—the presidential wing—and became known for her stained blue Gap dress, a sordid manifestation of Bill Clinton's baser appetites. The other served in the East Wing, where the first lady's offices are situated. This is the story of the second one, whose selfless servility and uncanny knack for predicting what the boss wants have put her closer than almost anyone to the most powerful woman in American politics.
For most of the past 20 years, Huma Mahmood Abedin, now a vice chair of Hillary Clinton's campaign, has served as Clinton's "body-woman"—basically a glorified lady's maid. But she has also expanded her role and now monitors all access to Clinton. According to her many fans in Hillaryland, Abedin possesses a skill set that cannot be taught: the emotional intelligence to keep big-ego VIPs and other "clutches" (in the argot of Washington, civilians and celebs who overstay their face time with the boss) at bay without making them angry. Also, she wields a black-belt organizing talent that enables her to toggle between directing classified emails to the right people, keeping an eye on how weather is affecting the D.C.-LaGuardia shuttles and knowing which donors need a photo op—all while monitoring Clinton's meals and hair appointments and cellphone. The perpetually lipsticked and soigné Abedin is elegant and gentle—qualities Clinton sometimes lacks—but also relentlessly obedient, a quality her boss treasures.
She was born in Kalamazoo, Michigan, in 1976. At age 2, she moved with her parents, Pakistani and Indian Muslim academics, to Jeddah, Saudi Arabia, and only returned to the U.S. at 18 to study at George Washington University. Two years later, she got a White House internship, entering Hillaryland in 1996, around the time President Clinton was first locking eyes with intern Monica Lewinsky. In 1998, when that sex scandal detonated, Abedin was the gofer in the girls' club forming a leak-proof shield around the humiliated first lady.
"She was a very, very religious person—she didn't smoke, drink or swear, always very polite," recalls one Clinton friend, who, like most people who spoke to Newsweek, asked not to be named. "A lot of times, Hillary would snap her fingers and go, 'Gum.' And Huma would fetch it." Abedin took her duties so seriously, the source recalled, that when she learned that Clinton had once carried her own bag up a flight of stairs in her aide's absence, Abedin nearly burst into tears.
When Clinton ran for the Senate in 2000, older White House aides moved on, and Abedin moved up the ladder. By 2007, as Clinton was organizing her first presidential run, Abedin had become close to fashion icons like Anna Wintour and Oscar de la Renta and was becoming a kind of cult figure in New York politics because of her penchant for designer bags and dresses. Consider this dispatch from a 2007 rally published in The New York Observer: "It was like 110 degrees outside. We were all just pouring down with sweat. But I have this distinct memory of Huma traipsing in in this blue pantsuit, it was like this wool pantsuit—not a bead of sweat on her brow, not a hair out of place, with everything perfectly organized in her Yves Saint Laurent handbag."
Some insiders think the glam mystique is a joke. "She wasn't that interesting a person," says a Clinton confidante who refused to be named because of her proximity to the candidate. "She has been turned into myth."
During Clinton's first run for president, in 2008, she brought Abedin on the road with her. The young aide proved such an efficient loyalist that after Barack Obama's election that year, newly appointed Secretary of State Clinton made Abedin her deputy chief of staff. In that post, besides toting coats, Abedin was arranging meetings with world leaders, scanning Clinton's talking points for those meetings and being cc'd on sensitive email traffic between the boss, diplomats, the White House and world leaders. She also managed Clinton's intimate care—booking appointments for massages and yoga, and vetting menus.
Insiders understand that if they want anything from Clinton, they need to hit Abedin's direct number first. Says New York financier and Clinton supporter Alan Patricof, "I don't even waste time trying to find Clinton directly. I only would go to Huma. It's like talking to Clinton." On the campaign trail, Abedin still travels everywhere with the candidate. She does some bag-schlepping, but her job has evolved: She carries her own purse (she has a collection of designer "it" bags), but tucked inside it is Clinton's cellphone. Even aspiring first husband Bill has reportedly complained that he cannot get past Abedin.
Abedin's fans—including the "Don't quote me, but she's amazing" sources for this story—uniformly marvel at her grace and gentleness. Twenty years since her White House internship, Abedin has evolved into a mini-Clinton. Even ex-Clinton aides with no role in the campaign quake at the mention of her name. Abedin is said to be the third rail of the Clinton camp. One terrified former Clinton aide in Washington, now a consultant, claimed he felt electricity starting to singe his hair as he shared a small, anodyne anecdote.
The Sleeper Sell
In Clinton circles, it's the height of uncouth to mention Abedin's nationality or childhood, especially after the risible accusation, lobbed by former U.S. Representative Michele Bachmann in 2012, that she might be a Muslim Brotherhood sleeper. But her Saudi Arabian childhood is an intriguing facet of her story and the one about which the least is known.
Abedin's parents spent their careers at Saudi Arabian universities. Abedin's mother, Saleha, is a sociologist and vice dean at a women's college in Jeddah. Her late father, Syed, helped start an international journal devoted to the Muslim diaspora in non-Muslim lands, called the Journal of Muslim Minority Affairs. Abedin worked part time at the Journal between 1998 and 2009, until she went to the State Department. Right-wingers see evidence of a possible sleeper in that association, as well as in the fact that she served on the board of a Muslim Student Association at George Washington University that, a few years after she left, was advised by Al-Qaeda-affiliated cleric Anwar al-Awlaki.
But congressional Republican leadership swiftly shut down Bachmann for alleging links between Abedin's family and the Muslim Brotherhood. Abedin has said little about her upbringing in Jeddah, other than that her father instructed her to read a lot of English novels and that she watched Christiane Amanpour and decided to become a journalist. A former high-level State Department staffer, who worked closely with Abedin, said she never expressed any opinions about Middle Eastern politics or Islam, other than occasionally helping organize Muslim holiday celebrations at State.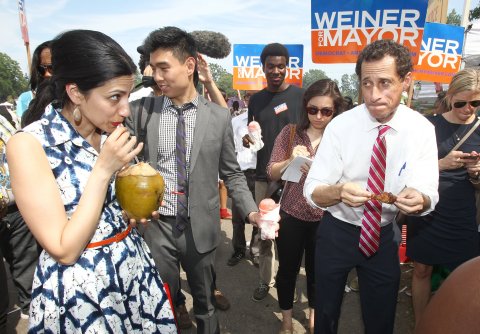 For a practicing Muslim, Abedin's choice in husbands couldn't have been more provocative. In 2010, she married Anthony Weiner, then an ambitious, hyperactive U.S. representative from Brooklyn. He is Jewish, which would prompt many conservative Middle Eastern Muslim families to disown their daughters, or worse. Bill Clinton officiated at their designer-dressed, pricey and pastoral New York wedding. Two years later, the couple found themselves in an eerily Clintonian sex scandal. Abedin was five months pregnant and in London—meeting Queen Elizabeth with Clinton—as her husband's underwear selfie went viral. After lying about it for a few days, he resigned.
Abedin gave birth to their son, Jordan, later that year, and the family moved into a Park Avenue apartment in Manhattan owned by a Clinton supporter. With Weiner unemployed, Abedin took a second job as a consultant for Teneo Holdings, a phenomenally well-connected global consulting company. Clinton signed off on Abedin's dual role, but a State Department investigator last year subpoenaed records about the arrangement.
A year after Weiner's resignation, and after what Abedin called "lots of therapy," she took a very public role in her husband's comeback bid: running to be New York's mayor. At his campaign announcement in July 2013, she read a statement of support. New York Post writer Adam Weiss scoffed: "Huma comes from the Clinton school of forgiveness—power is more important than dignity."
The campaign disintegrated into farce when a 24-year-old Indiana woman who called herself a "wannabe political satirist" named Sydney Leathers told reporters she and Weiner had phone sex five times a day, well after he had confessed to the underwear pics, resigned from Congress and begged forgiveness from Abedin. Directed and shot by one of his former political aides, the documentary Weiner is a cringe-worthy inside look at the brutality of politics and the humiliations to which the most ambitious players will submit to stay in the game. Abedin comes off as supremely smooth, even a bit cynical. As the sexting scandal's second chapter exploded, she kept an eye on what she called "the optics." ("You will look happy," she advises one Weiner aide as the woman breaks down in tears. "I'm saying this for you.")
Like her boss, Abedin has mastered the steely glare, and the film shows her frequently deploying it on her manic spouse. One of the movie's final images is of Abedin in a car, heading to Weiner's concession speech. There, his aides are frantically plotting how to avoid Leathers (whom they mysteriously code-named "Pineapple"), who had shown up at the venue to confront him. "I'm not going to face the indignity of being accosted by the woman," Abedin says. As the car pulls up, Weiner, who had insisted she come with him, says, "Huma, go home" as he steps out into the tabloid flashbulbs, alone. He stayed in the race and got 2 percent of the vote.
Until Sunday, the humiliation of those years was a fading memory; if anything, it might have been a badge of merit at the Clinton campaign offices in Brooklyn, where, as campaign vice chair, Abedin reportedly vetted the entire Clinton for President campaign staff. She still answers her boss's phone more often than the boss does and runs interference while they are on the road—foraging for fast food in the hinterlands, standing beside Clinton at a Chipotle or Dunkin' Donuts.
But after a career of being seen but not heard, she has been promoted to a post that makes her a public figure. She's already living the downside: the Islamic State militant group (ISIS) put her on a hit list of Muslim apostates, and thousands of her emails have been dumped on the public thanks to a lawsuit brought by a right-wing legal group. She has been a campaign issue. Ted Cruz once released an ad depicting Abedin calling the shots while Clinton stands by, and Donald Trump has said Abedin should not have access to classified information, alleging that she shares it with her "perv" husband. Abedin stepped into the limelight for a split second last year, after Trump announced he would temporarily ban Muslims entry into the U.S. She fired off an uncharacteristic public email to millions of Clinton supporters in response. "I'm a proud Muslim," she wrote, "but you don't have to share my faith to share my disgust."
But Abedin has submitted to few interviews and has never uttered a substantive word about her job. As campaign co-chair, she speaks only at closed or carefully vetted events. From the wounded master who taught her everything she knows, she has learned that to be candid is to be crucified.
She declined multiple requests from Newsweek for an interview but did submit to a lengthy tongue bath on the obscure podcast Call Your Girlfriend earlier this year. The two self-described fangirls who conducted that interview did not mention scandals and subpoenas but did elicit a starry-eyed recollection of how Abedin felt when she first met Clinton (she was "so beautiful and so tiny"). The interviewers didn't laugh when the meticulously organized political attaché and Hillaryland survivor disingenuously suggested she has never looked at any of the more than 10,000 emails of hers now helpfully indexed online by WikiLeaks.
"It's something I can't really think about," she said airily, resorting to a tactic straight from her boss's stonewall playbook. "But I can't imagine what's in those emails. I would probably be mortified."
This article has been updated with news of the FBI's discovery earlier this month of a reported 650,000 of Abedin's emails on Weiner's computer and other recent developments.