In 2010, Thomas Adams, a 16-year-old boy from New Jersey, died on the baseball field. A catcher on an all-star traveling team, he was warming up a pitcher and got hit in the chest with a ball. He stood up and said, "I can't breathe" and then collapsed, dying nearly instantly.
Strange as it sounds, every year approximately 15 athletes of high school age or younger die from commotio cordis—when a blow to the area over the heart's left ventricle in the 0.0005 of a second between heartbeats stops the heart. In the U.S., commotio cordis is most common in baseball but happens in lacrosse, as well; overseas, soccer and cricket are the most dangerous sports. Only young athletes, whose thoraxes are not yet fully developed, are at risk, and even heavy gear like the catcher's chest protector Adams was wearing when he was hit can't help.
Rob Vito was shocked when he saw the TV news story about Adams's death. Vito is CEO of Unequal Technologies, which uses military-grade composites for protective sports gear, but he had never heard of commotio cordis. He talked to Dr. Mark Link of Tufts University, who has studied the phenomenon for decades and was working on a protocol for testing whether gear could protect against the potentially fatal injury. The two decided to team up.
It took nearly five years before they came up with a composite that could protect against all sorts of different impact speeds and types of projectiles, Vito says, but also be light, thin and flexible enough to be worn not just as chest protectors by catchers but also as a protective undershirt by fielders and athletes in other sports. "It's like our competitors are selling 8-tracks and we have MP4s," he says. "Most chest protectors, if you remove the logos and the high price tags, all you're left with is cheap couch foam."
Last year, Walker Johnson, then 13, became one of the rare survivors of a commotio cordis incident when the young pitcher was hit in the heart by a batted ball. His heart stopped, but unlike most victims, he recovered. So far, Walker is pitching only on the sidelines, but he has been wearing Unequal's new armor during these warmups. "It fits so well I don't even know it's there," he says.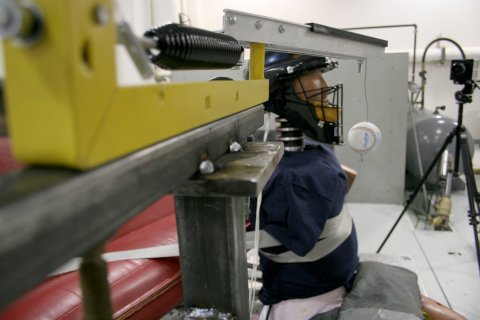 Link is still working with the National Operating Committee on Standards for Athletic Equipment (NOCSAE) on establishing performance standards for commotio cordis. The NOCSAE has recently opened drafts of the standards for public comment and will move toward finalizing them by January 2017. Until then, Executive Director Mike Oliver says, Unequal and other companies cannot get their commotio cordis equipment certified.
Meanwhile, a group of doctors from the New England Cardiac Arrhythmia Center at Boston's Tufts Medical Center tested Vito's product in the lab. The results, published in March 2016 in the Clinical Journal of Sports Medicine, said the materials were likely to be effective in stopping commotio cordis.
With those results in hand, Vito plans to take the product to youth leagues. After that, he says, Unequal will try to partner with a major sports manufacturing company to get the equipment out to retail customers worldwide.
"This is the first product to show improvement over a placebo and that's what's so exciting," says Dr. Jeffrey Mandak, a cardiologist who sits on the science and health committee for U.S. Lacrosse, the sport's governing body in the U.S.
Mandak has been studying the issue since 2000, when there were four lacrosse deaths in one month from commotio cordis. "I think this Unequal chest protector is the first step," Mandak says. "But there is still a lot we don't know. I think they will improve theirs even more, and 10 years from now the chest protectors will look very different."