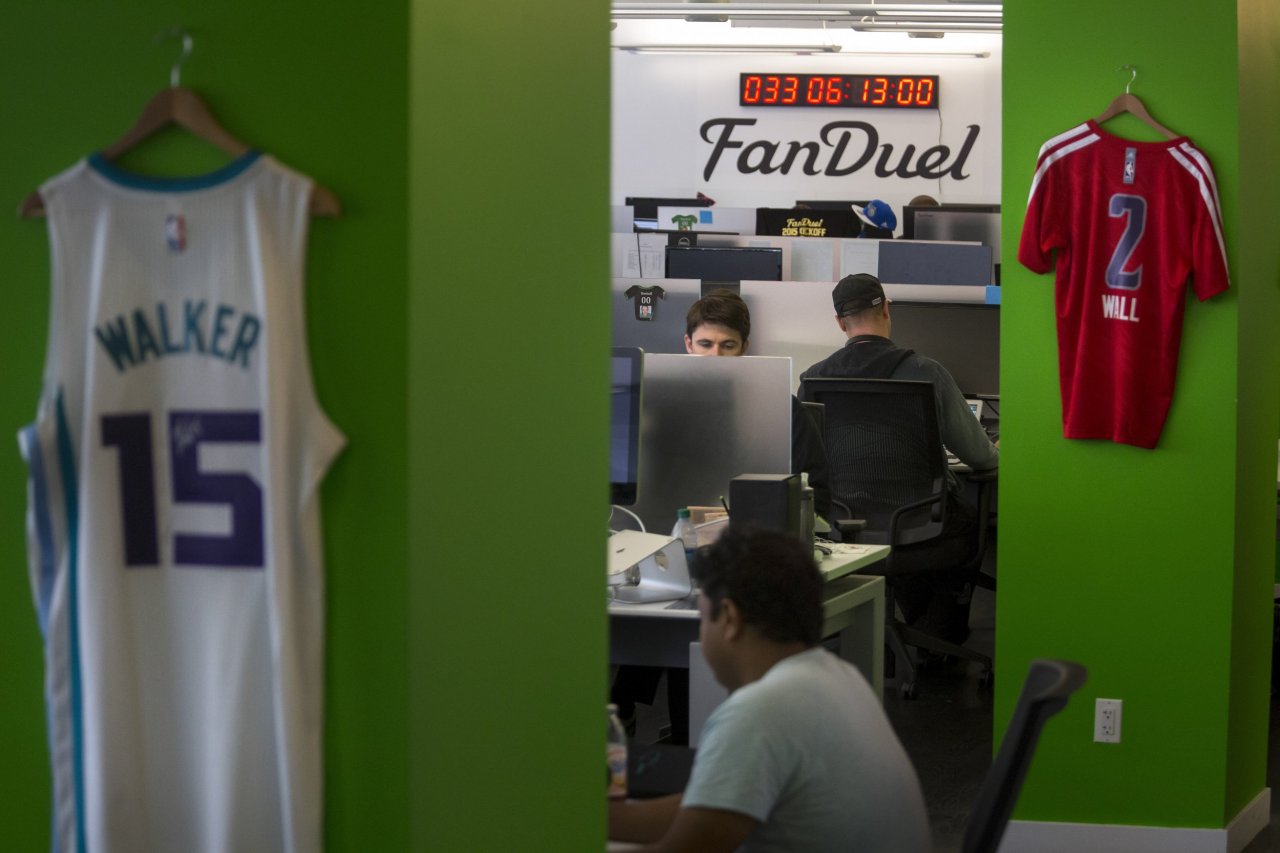 Daily fantasy sports, led by FanDuel and DraftKings, may be on the verge of becoming one of the most important fan engagement inventions ever, up there with baseball cards and sports talk radio.
Or the companies might drive the whole concept into irrelevance if they keep doing what they've been doing the past couple of years, like pitching their games as a kind of roulette for bros, agitating regulators and fighting a cash-sucking war against each other.
The sports ecosystem really wants these companies to succeed. As the term implies, daily fantasy sports games last a day instead of a whole season, packaged in app-size chunks for the smartphone generation. The major sports leagues know daily fantasy games can draw fans closer and get them hooked on a sport. Broadcasters know that daily fantasy pulls fans to TV screens to watch their chosen players. This is why MLB, the NHL, several NFL teams, Comcast and others in that world are investors in or partners with either FanDuel or DraftKings.
Looking ahead, daily fantasy games should get only better and more engaging as sensors and motion-tracking cameras gather ever more data about sports and players. Nobody now can be a fantasy fan of some NFL left guard because no statistics show how a left guard performs. In coming years, sensors and data will change that.
So this business is teed up for FanDuel and DraftKings. And to avoid blowing it, they likely need to do three things: (1) get back to being about sports instead of money, (2) make peace with regulators and (3) merge. At least two of those moves seem to be in the works.
The way the companies went wrong says a lot about how they can turn it around. FanDuel gave birth to daily fantasy sports, and to hear the founders tell it, the value proposition was never intended to be "win a jackpot." It was supposed to be a game that was so fun for sports fans that they'd pay to play it.
I recently interviewed FanDuel co-founder Tom Griffiths in front of an audience at New York University. We got to talking about the FanDuel story. The founders, all from the U.K., met in Edinburgh, Scotland. Two had advanced degrees in artificial intelligence, one had been a mathematician, and one studied industrial design. Before starting FanDuel, they built a site called Hubdub, a prediction market where people could buy and sell virtual shares (with virtual money) in the outcome of news events. Hubdub was a complex site that hardly anyone used, and it had no business model—things that are, to say the least, problematic for a startup.
As Hubdub tanked, the group brainstormed other ideas. They turned to data from Hubdub, which was telling them that more than any other topic, users loved predicting the outcome of sports. That led to a conversation about fantasy sports. "We'd learned that short-form predictions are really fun, and we saw that fantasy sports are a big market, so how can we combine the two?" Griffiths asked. The answer led them to build FanDuel.
While testing the product, they found that people wanted to play for real money, not virtual money. Then they found that ads about winning money pulled in more new users than ads about a fun game. Hungry for success, FanDuel took a marketing fork in the road that positioned the game more like a lottery than a sports hobby.
At that point, enter DraftKings, founded three years after FanDuel. In its first 18 months, DraftKings raised around $75 million, so it had the bank to compete against FanDuel on the one feature that reliably won new customers: the amount of cash payouts. By 2015, the two were in an all-out war, each spending millions on ads that focused on one-upping each other on promises of winning big.
Sure enough, all those competing ads got the public's attention. Daily fantasy participation rocketed. FanDuel's revenue grew from $14 million in 2013 to $57 million in 2014, and an estimated $100 million last year. But this also got the attention of officials in states such as New York and Nevada. They saw the promises of cash payouts and concluded the games look a lot like gambling. FanDuel and DraftKings ran into regulatory buzz saws. The category's very success threatened to get it killed.
Which leads to the way the category can get out of its mess.
First, there's getting back to the roots of the idea. FanDuel's Griffiths seems to get it. He talked to me about moving forward "in a way that perhaps repositions the way we talk about the category so that it's less about money and more about fun." He suggested that we'll see a different sensibility in the company's marketing. If FanDuel and DraftKings can manage to be seen as fantasy sports instead of as gambling, they'll have a better chance with regulators and an even better relationship with the sports leagues.
The companies are already starting to work with states to create regulations, with a goal of operating within the rules instead of testing the rules. "We're at the point now where there are 30 states that have got bills, legislation and regulation introduced or even passed that clarify the situation for the category," Griffiths told me. "They recognize that this is a game format that millions of people love to play, so let's make sure that it's operated the right way. We're all on board for that." (This is clearly still a challenge, since the day after Griffiths said that, Alabama's attorney general ordered the two companies to cease operations in his state.)
Then there's the last item on that to-do list: a merger. Technology markets tend to be winner-take-most. Users tend to like to be on sites where other users are, and they don't want to have to evaluate their choices. Two equals in a long-term head-to-head fight can damage a category. Look how that played out in online freelance marketplaces. Two companies, oDesk and Elance, fought each other, exhausting resources. Finally, in late 2013, they merged, forming Upwork, which seems to be thriving. The same thing happened with Seamless and GrubHub. FanDuel and DraftKings would probably be better off going that route.
Griffiths, when we talked, wasn't having it. "The be-all and end-all to us isn't to create this monolithic daily fantasy site," he said. But he didn't specifically say a merger would never happen.
So now you have the details and can make your own prediction. Will the daily fantasy sites win or lose? And if you make a bet on the outcome, is that a game or is it gambling?