The house is a 1930s Craftsman on the banks of the emerald-green North Fork of the Nehalem River, in the foothills of the Oregon Coast Range, a few miles from the Pacific. It was one of the region's first homestead sites, a dairy farm for the collective that makes Tillamook cheese. Until two years ago, a quintet of 20-something dudes who worked for the U.S. Fish and Wildlife Service rented it, playing foosball in the living room. But on a stormy Sunday in March, the house played host to an entirely different kind of affair.
In the massive kitchen that overlooks the river, a crew arranged trays of Scotch eggs, scones, brownies, bites of frittata and cake, and beet tartare-laden crackers. In the living room, a stream of 29 guests helped themselves to Haiku White Tea from Portland's Jasmine Pearl Tea Co., pondering whether to spike it with one of two PNW Potions lined neatly along a wooden console table: mysterious tinctures labeled "Medi Mate" and "Plain Jane." As the guests sat, the staff carried out sets of three-tiered serving trays for each cluster of attendees: one with the snacks they'd prepared in the kitchen, another with three levels of organically grown, freshly ground marijuana. Welcome, said the top-hatted host, to High Tea.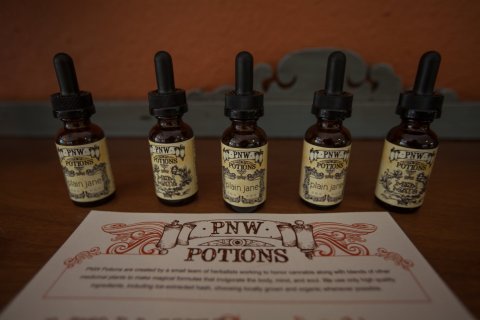 What followed was a pairing of cannabis and fine tea, the flower meticulously chosen to perfectly complement the beverage, the snacks carefully chosen to, uh, be wolfed down by a room full of people about to get pretty stoned—all for $65 per person. The hosts, Ginger and Brigham Edwards, intend to hold monthly marijuana-themed brunches as long as people are willing to attend them. They've converted the house into a four-room bed and breakfast.
On New Year's Eve, they put on a Moroccan-themed dinner, matching cannabis' terpene profiles with the rich flavors of that food. There were belly dancers. On Easter, North Fork 53 hosted a "Stoner Eastern Egg Hunt Bud 'n Brunch," with cannabis prizes hidden in eggs.
This is the evolution of the legal weed industry in states like Oregon, where residents can grow their own pot in their homes or yards, buy it in dispensaries, eat ice cream laced with it and attend concerts in the living rooms of the mansions of pot growers. There are way too many people in the business of selling cannabis in cannabis-legal states, most industry experts agree, and a reckoning awaits those retailers who can't distinguish themselves in a market with a finite level of demand. But the ancillary endeavors, like the Edwards' pot brunch? Those are just getting fired up.
Last November, Portland chef Leather Storrs and several partners launched a membership-based dining club called Kitchen Chronicles, where "stoney snacks" take the place of hors d'oeuvres, and where vape pens loaded with cannabis extract sit at each table for a five-course pairing of wine and high-end food. On March 26, Portland's HunnyMilk restaurant put on a Wake and Bake, a multi-course marijuana weed brunch featuring cronuts and a tour bus stationed just outside the venue where participants can avoid running afoul of smoking marijuana in a public place.
In San Francisco, medical marijuana card holders attended a five-coursed cannabis-and-food pairing in February at a private venue in the Mission District. Colorado has food, wine and cannabis pairing tours, as well as a sushi restaurant with suggested pot-food combinations.
Lime Twist With a Tangie
"If you're new to cannabis," Brigham Edwards said at the outset of his High Tea, "take it slow. This is probably some of the best cannabis I've ever seen and smoked."
The first pairing: Yuzu Black Tea with Gnome Grown Farms's "Tangie Banana" cannabis, the tea a blend of black tea and the ring of the Japanese citrus yuzu, "with a round mouthfeel and no astringency." The cannabis was a hybrid that should "make you happy and talkative," Edwards promised. The pot came with lighters wrapped in strands of hemp and a few pre-rolled joints and pipes to choose from. One group of diners brought their own bongs and vaporizers.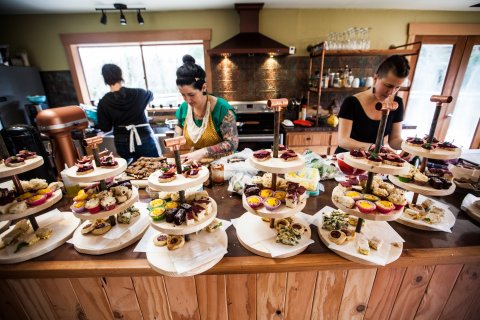 "I remember getting in trouble for this as a kid," said Christina Provencio, Jasmine Pearl's brand ambassador.
Next up: Lime Twist Tea paired with "Tangie" (minus the banana), a "cross of sweet California orange with a skunk hybrid," Edwards said. Because it's a heady strain—"I often tell people when I'm perfectly high, I'm wearing my crown," says the guy who grew this pot, Dan McAllister—North Fork paired this pot with a non-caffeinated tea.
And for the final course, guests sipped Caravan Black Tea and Kush Breath, a cloned variant of the popular Girl Scout cookies strain, a "slow-growing indica-dominant plant with a mutated growth structure," Edwards said. "Her buds are dense and doughy, with a sweet yet peppery aroma, which can linger on the palate for hours...a great smoke for folks on the go all day and right into a relaxing evening."
"That's me!" quipped one of the guests, and the room dissolved in laughter.
Ginger Edwards has owned the land across the highway from the bed-and-breakfast for several years, and she built an organic farm there. When the Fish and Wildlife guys moved out, she and Brigham snapped up the four-acre property and opened the B&B in October of last year. "I'm just learning business," says Brigham, who is studying to become an "herbalist" along with the North Fork project. "I skateboarded all my life and grew weed for years." He's learning fast.