Updated | During his 18 years as president of Lebanon Valley College during the middle of the past century, Clyde Lynch led the tiny Pennsylvania liberal arts institution through the tribulations of the Great Depression and World War II, then raised $550,000 to build a new gymnasium before he died in 1950. In gratitude, college trustees named that new building after him.
Neither Lynch nor those trustees could have predicted there would come a day when students would demand that his name be stripped from the Lynch Memorial Hall because the word lynch has "racial overtones." But that day did come.
When playwright Eve Ensler wrote The Vagina Monologues, which premiered in 1996 and has been performed thousands of times by actors, celebrities and college students, she probably did not foresee a day when a performance of her feminist agitprop would be canceled because it was offensive to "women without vaginas." And yet that day did come—at Mount Holyoke, one of the nation's premier women's colleges.
Graduates of the Class of 2016 are leaving behind campuses that have become petri dishes of extreme political correctness and heading out into a world without trigger warnings, safe spaces and free speech zones, with no rules forbidding offensive verbal conduct or microaggressions, and where the names of cruel, rapacious capitalists are embossed in brass and granite on buildings across the land. Baby seals during the Canadian hunting season may have a better chance of survival.
Their degrees look the same as ever, but in recent years the programs of study behind them have been altered to reflect the new sensitivities. Books now come with trigger warnings—a concept that originated on the internet to warn people with post-traumatic stress disorder (veterans, child abuse survivors) of content that might "trigger" a past trauma. Columbia's English majors were opting out of reading Ovid (trigger: sexual assault), and some of their counterparts at Rutgers declined an assignment to study Virginia Woolf (trigger: suicidal ideation). Political science graduates from Modesto Junior College might have shied away from touching a copy of the U.S. Constitution in public, since a security guard stopped one of them from handing it out because he was not inside a 25-square-foot piece of concrete 30 yards away from the nearest walkway designated as the "free speech zone"—a space that needed to be booked 30 days in advance. Graduates of California public universities found it hard to discuss affirmative action policies, as administrators recently added such talk to a list of "microaggressions"—subtle but offensive comments or actions directed at a minority or other nondominant group that unintentionally reinforce a stereotype.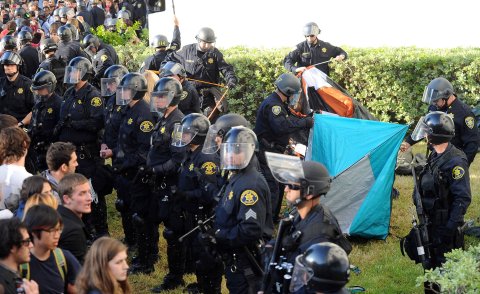 More than half of America's colleges and universities now have restrictive speech codes. And, according to a censorship watchdog group, 217 American colleges and universities—including some of the most prestigious—have speech codes that "unambiguously impinge upon free speech."
Judges have interpreted the First Amendment broadly, giving Americans some of the most expansive rights of speech in the world. But over the past two decades, and especially the past few years, American college administrators and many students have sought to confine speech to special zones and agitated for restrictions on language in classrooms as well. To protect undergrads from the discomfort of having to hear disagreeable ideas and opinions, administrators and students—and the U.S. Department of Education—have been reframing speech as "verbal conduct" that potentially violates the civil rights of minorities and women.
American college campuses are starting to resemble George Orwell's Oceania with its Thought Police, or East Germany under the Stasi. College newspapers have been muzzled and trashed, and students are disciplined or suspended for "hate speech," while exponentially more are being shamed and silenced on social media by their peers. Professors quake at the possibility of accidentally offending any student and are rethinking syllabi and restricting class discussions to only the most anodyne topics. A Brandeis professor endured a secret administrative investigation for racial harassment after using the word wetback in class while explaining its use as a pejorative.
As college campuses have become bastions of rigorously enforced political correctness, the limits on speech have come crashing down in the real world, with the presumptive Republican nominee for president dishing out macroaggressions on a daily basis. Donald Trump's comments about the alleged criminality of Hispanics and Muslims, and about how fat or ugly his female enemies are, need no restating here, but many of his words would almost certainly be prohibited speech on most college campuses.
Business leaders, authors, politicians and even comedians are now routinely barred from American campuses. Springtime—the commencement-speech time of year—is now dubbed "disinvitation season." Students and faculty debate the moral fitness of announced commencement speakers on social media and engage in bitter fights over whether even mildly controversial speakers deserve to be behind a podium. Some disinvite themselves. Christine LaGarde, the head of the International Monetary Fund and one of the most powerful women on the planet, canceled a speech at Smith, one of America's pre-eminent women's colleges, after a Facebook protest against her by some students and faculty for her connection to "global capitalists." Those who turn up can find themselves facing a heckler's veto, as mild-mannered University of California, Berkeley, Chancellor Robert Birgeneau discovered in 2014 when he had the temerity to show up at tiny Haverford College without first apologizing for how his campus cops had treated Occupy Wall Streeters.
As students are labeling more and more words as hate speech, demanding more trigger warnings and shouting down both commencement speakers and comedians, the censorship flashpoints can be sorted into three topics: sex, race and Donald Trump.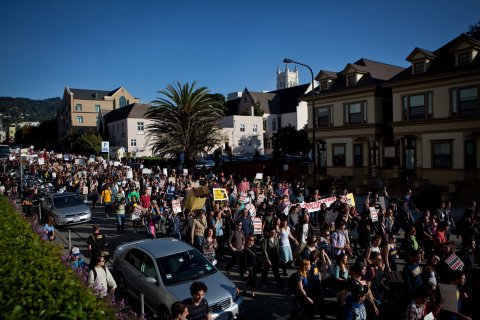 Trump: Chalk and Awe
The people backing Trump's run for the White House frequently gush that he "speaks for me" or "says what I can't." At a rally in April in Bethpage on New York's Long Island, his supporters parked a giant mobile highway sign near the venue that advertised, in blinking lights, "Free speech zone," and Trump has made supposedly unfettered speech a major part of his campaign's shtick. "I wrote something today that I think is very, very salient, very important and probably not politically correct, but I don't care," he said at a rally in South Carolina after announcing he would temporarily ban Muslims from entering the U.S.
His opponents call such talk racist dog-whistling, and at most American campuses, racist speech of any kind is not just repugnant but forbidden. And sometimes even Trump is forbidden. At DePaul University in Chicago, Students for Trump snuck out to the student center around midnight on April 4 and chalked the sidewalk, scrawling their candidate's name and phrases like "Blue lives matter" and "Don't feel the Bern." They then posted photos of their handiwork on Facebook. By morning light, other students had complained to the administration, and the university had dispatched custodians to wash away the offending chalk.
Nicole Been, a national political/recruitment director with Students for Trump at DePaul, says their slogans were selectively washed off; for example, janitors erased "Don't" and left "feel the Bern." After students began a social media campaign to file a hate crimes complaint against the Trump supporters, Been and other Students for Trump went to the administration, demanding their right to free speech. "We said we are sick of being called 'racist' and 'bigot,' and this is on you," Been recalls. "And they said, 'Well, [your slogans] can be triggering.'"
After ordering his janitors to hose away the pro-Trump chalkings, DePaul President Dennis Holtschneider sent an all-school email with an explanation: "The phrase 'All Lives Matter,' for example, sounds obvious, even banal. In fact, we are all aware it is frequently used to reject out-of-hand the core message of the 'Black Lives Matter' movement…. It's simply insensitive to repeat something that we know in advance will bring pain and frustration to others. Our policies are not devised to prevent its use. Nor can we compel students to avoid its use. Can DePaul ask our students for kindness and sensitivity? Yes."
DePaul isn't the only school where students have deemed the word Trump a trigger, or even hate speech. At Atlanta's Emory University, students protested outside the administrative offices after supporters chalked "Trump" on sidewalks. "You are not listening! Come speak to us! We are in pain!" they shouted. The Emory newspaper quoted one protester: "I'm supposed to feel comfortable and safe [here].… I don't deserve to feel afraid at my school."
Emory officials did not erase the chalk, though. Rather, university President James Wagner was videotaped chalking the words "Emory stands for free expression!"
DePaul's wonkier explanation for erasing the Trump slogans is that the university forbids political signs anywhere on campus except in dorm rooms and only if faced away from windows. The school's legal rationale is that, since it is an apolitical 501(c)(3) category institution, political signs could put its Internal Revenue Service designation at risk. Other schools are also invoking the IRS to curtail political activity, including Georgetown, which cited its tax status in banning Bernie Sanders supporters from politicking on campus last year.
Robert Shibley, a lawyer with a free speech watchdog group, says the IRS invocation is a fig leaf for administrators who want to ban political speech. "Almost all private universities are 501(c)(3)s," he says. "But the tax law doesn't apply to students. And students get this message. They have been taught this, that if something unpleasant is coming, they have a right to avoid it altogether."
Race: 'I'd Rather Sell Crack!'
Until it was squashed by administrative decree, Williams College sophomore Zachary Wood headed up an on-campus lecture series called "Uncomfortable Learning." Wood, an African-American who grew up in one of the poorer neighborhoods in Washington, D.C., is a self-described liberal, devoted to learning and books. He liked inviting controversial speakers, usually from the political right, to challenge young progressives cloistered in a collegiate utopia at one of the nation's great small liberal arts institutions.
Last year, though, Wood encountered the limits of free speech at Williams. First, he invited Suzanne Venker, an anti-feminist author and lecturer. After a campus and social media outcry, Wood's fellow "Uncomfortable Learning" leaders disinvited her and then, to avoid further shaming on social media, resigned from the organization.
Wood then formed a club of one and invited an even more confrontational speaker, British-American writer John Derbyshire, whose contributions to the racial discourse include a snide white dad's version of "the talk" black men give their sons about police. After suggesting that blacks are more "antisocial" than whites, he wrote that a small percentage "is ferociously hostile to whites and will go to great lengths to inconvenience or harm us," while "around half will go along [with violence] passively if the five percent take leadership in some event."
An hour after Wood advertised Derbyshire's speech with a Facebook post, he was swarmed. On Facebook, someone wrote that Wood deserved the "oil and whip"—a reference to a punishment for slaves. Others accused him of providing a space on campus for "hate speech" and began debating how to file a complaint against him. When Wood replied to one critic, "So you would never bring a speaker on the far right, like Venker and Derbyshire? I value the work I do with UL," someone retorted, "I'd rather sell crack first."
A few days passed, the outrage kept building, and the university president disinvited Derbyshire.
Wood believes students need to hear provocateurs like Derbyshire in order to formulate their own thoughts and challenges. "What is hate speech to begin with?" he asks. "It's what people don't like to hear. Trump has the support of a considerable portion of the American electorate. With someone like him running for president, speaking on national television every day, saying controversial things about the most important issues of our time, it is imperative that we confront offensive views and afford college students the opportunity to learn how to engage constructively with people they vehemently disagree with. Shielding students from microaggressions does not improve their ability to argue effectively; it coddles them. At a time like this, uncomfortable learning is vital."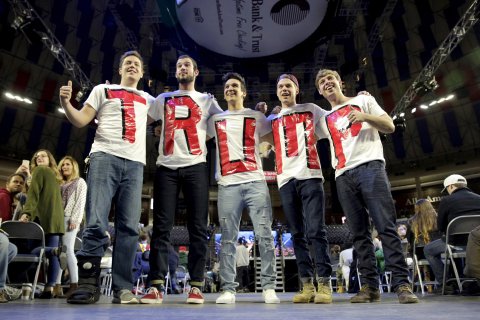 Racial grievances lie behind a host of other campus speech battles. At Amherst, students called for a speech code that would have sanctioned students for making an "All lives matter" poster. Activists at Wesleyan trashed their student newspaper, then pushed to get it defunded after it ran an op-ed critical of Black Lives Matter. Columbia professor John McWhorter has called anti-racism "America's new religion," saying, "When someone is called a racist in America in 2016, it is practically equivalent to calling them a pedophile."